Mick Jagger
The Rolling Stones Have Postponed Their North America Tour Due To Mick Jagger's Health
Mick Jagger has been advised by doctors that he can't perform.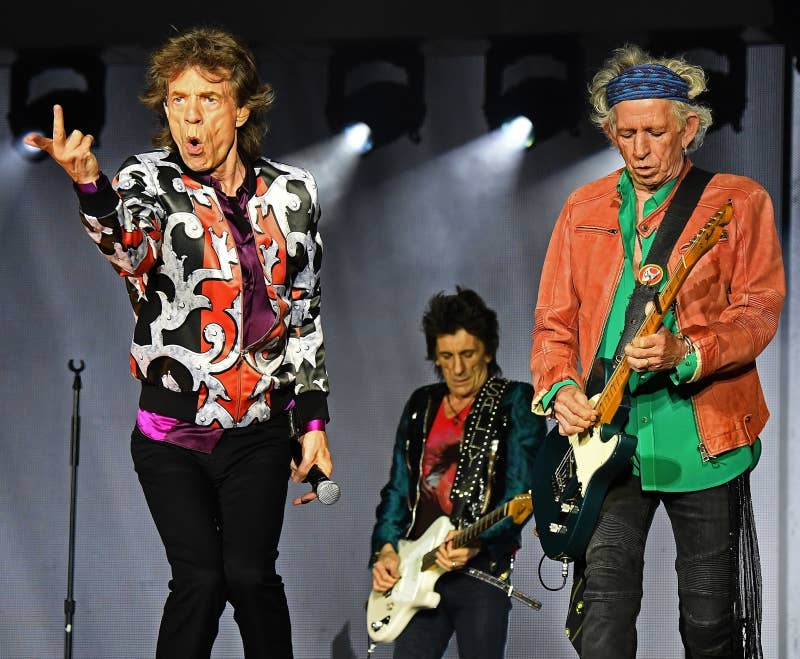 The Rolling Stones are postponing upcoming tour dates in the United States and Canada so that frontman Mick Jagger can receive medical treatment.
The band made the announcement on Saturday morning.
"Mick has been advised by doctors that he cannot go on tour at this time, as he needs medical treatment," said a statement from the band.
The band didn't specify why Jagger, 75, needs medical treatment.
Jagger shared a personal apology on Twitter, saying he is "so sorry to all our fans in American & Canada with tickets. I really hate letting you down like this."
The North American tour dates were set to start on April 20.
The statement from the band said fans should hold on to their tickets "as they will be valid for the rescheduled dates, which will be announced shortly."
This isn't the first time the Rolling Stones have had to cancel tour dates for medical reasons.
Guitarist Keith Richards, for example, once fell out of a coconut tree while on vacation, resulting in a concussion and postponed shows.
PewDiePie
PewDiePie's YouTube throne overtaken once again by Indian music channel T-Series as the two channels race toward 100 million subscribers each
Felix "PewDiePie" Kjellberg's YouTube channel was overtaken by Indian music label T-Series this week.
The two channels have been bouncing back and forth between first and second place as each nears 100 million subscribers.
As of Saturday morning, T-Series is only ahead by about 100,000 subscribers.
The competition between Felix "PewDiePie" Kjellberg and Indian music label T-Series continues, as T-Series overtook PewDiePie once again early Saturday on YouTube.
As of Saturday morning, T-Series remains the most popular channel on YouTube with nearly 92 million subscribers. Kjellberg's channel is a close second, with 91.8 million subscribers.
The ongoing competition between the two channels is the first time in years that a competitor has overtaken PewDiePie, and it's a credit to the mass appeal of T-Series as a Bollywood-focused record label and film production firm.
The T-Series YouTube channel primarily features music, music videos, performances, and movie trailers aimed at the Indian market. It has seen steady growth across the last several years, according to social media statistics and analytics firm Social Blade.
Kjellberg's channel is focused on gaming videos, vlogs, and commentary. He's been operating the most popular YouTube channel with few exceptions for the past six-plus years.
Read more:PewDiePie's huge campaign to swat away T-Series and keep his YouTube crown is slowing down
As T-Series began to approach his subscriber number, a "Subscribe to PewDiePie" campaign was launched that has at times been connected with illegal and horrific acts — including the recent New Zealand mosque attacks. The suspected gunman said "Subscribe to PewDiePie" in a Facebook Live video broadcast of the attacks.
"I feel absolutely sickened having my name uttered by this person. My heart and thoughts go out to the victims, families, and everyone affected by this tragedy," Kjellberg said on Twitter in response.
The next stop for both channels: 100 million subscribers. Who will get there first remains to be seen.
Buzz Tracker: Here's where Texas A&M stands in pursuit of coach Buzz Williams
It's no secret Texas A&M is zeroing in on Buzz Williams to become the Aggies' next men's basketball coach.
And after Virginia Tech's heart-breaking loss to Duke in Friday night's Sweet 16, things could quickly come to fruition of Williams making his way to College Station.
Here's a thread of the latest updates of where the Aggies stand in their pursuit of Williams:
Saturday morning, March 30:
With Virginia Tech's season over, Adam Zagoria from The New York Times reported Williams to A&M is 'done' with CBS Sports' Jon Rothstein adding details of Williams potential contract at A&M.
Friday night, March 29:
Williams had peculiar comments about his future as Virginia Tech's head coach following the Hokies' heartbreaking 75-73 loss to Duke in the Sweet 16, leading to further speculation Williams will definitely come to A&M.
Tuesday, March 19:
Four days after A&M officially relieved Billy Kennedy of his duties as head coach, Brent Zwerneman of the Houston Chronicle reported Williams, a former A&M assistant, was the Aggies' leading candidate for the open spot.
Paul Goldschmidt
Paul Goldschmidt hits three home runs as Cardinals beat Brewers
MILWAUKEE — It figured to be bad news for the Milwaukee Brewers when Paul Goldschmidt joined the St. Louis Cardinals during the offseason.
And it didn't take long for the former Arizona Diamondbacks slugger to make his presence felt as he blasted three home runs off three pitchers Friday night to power the Cardinals to a 9-5 victory at Miller Park.
Goldschmidt accounted for six of those runs with a two-run homer in the first, a solo shot in the sixth and a two-run blast in the seventh for the second three-home run game of his career.
Goldschmidt also smashed a single off the glove of third baseman Travis Shaw in the second inning and was retired for the only time on a line drive to Lorenzo Cain in center field in the fourth inning — his hardest hit ball of the night at 107.3 mph.
The Brewers finally wised up and walked him intentionally in the ninth.
Miller Park has been one of Goldschmidt's favorite places to hit, although he didn't play there that often with Arizona.
Among players with at least 100 plate appearances at Miller Park, Goldschmidt entered the season ranked No. 1 in batting average (.407), on-base percentage (.491), slugging (.780) and OPS (1.271).
After his first two games in Milwaukee as a Cardinal those numbers are up to a .414 average, an even .500 on-base, .848 slugging and 1.348 OPS.
With Goldschmidt signed to a five-year extension to keep him in St. Louis through 2024, the Brewers will get plenty of opportunities to try to figure a way to get him out.
"He definitely got us today," manager Craig Counsell said. "We're just going to have to make better pitches. The great hitters, the margin for error is far more slim. Once in a while they're going to hit a tough pitch out, but when those guys are locked in mistakes are likely to get hit hard."
Brewers starter Freddy Peralta struggled from the beginning, walking leadoff hitter Matt Carpenter and then surrendering Goldschmidt's first home run as a Cardinal on a 3-2 fastball that ended up in the first row of the left-field bleachers.
"Freddy missed his location badly, but it was probably a ball," Counsell said of the home run pitch to Goldschmidt. "I think it was ball four, but he obviously had a great night."
Peralta then hit Paul DeJong with a pitch and he scored two batters later on a double by Yadier Molina.
Following a walk to Dexter Fowler, Counsell used up one of his mound visits and Peralta responded by striking out Kolten Wong and Harrison Bader to end the inning after throwing 39 pitches.
"He was scattered with his fastball," Counsell said of Peralta. "It got him into trouble and they took some close pitches that weren't called and they made him work pretty good."
Peralta worked his way out of trouble the next two innings and the Brewers were able to even things up with a three-run home run by Ryan Braun in the third.
Cardinals starter Jack Flaherty retired the first two batters of the inning, Cain reached on an infield single, Christian Yelich walked and Braun then drove a 2-1 pitch over the Brewers' bullpen for the first home run with his newly revamped swing.
"Hitting behind Christian is going to be a big challenge and you're going to have a lot of big spots like that," Counsell said. "He's definitely capable of it and getting off to a good start is always a good feeling. Making a swing change and then producing some results in the first couple games is good feedback for him to know that it's something that's going to stick."
St. Louis regained the lead in the fourth as Peralta was pulled after allowing singles to Flaherty and Carpenter to start the inning. Flaherty then came home on a one-out single by DeJong off reliever Matt Albers.
The Brewers tied it again in the bottom of the fourth when Jesus Aguilar led off with a single, advanced to third on a double by Mike Moustakas and scored on a sacrifice fly by Yasmani Grandal — the first run of the season for the Brewers that was not the result of a home run.
Goldschmidt then put the Cardinals ahead to stay with his second home run, this one off Taylor Williams in the sixth. His final homer came off Jacob Barnes.
The Brewers got their final run in the ninth on a leadoff homer by Yelich off lefty reliever Andrew Miller.
Hits: 12