#1

Cowboys vs Rams. Saturday Night. #FinishThisFight
#2

SpaceX • Iridium satellite constellation • Iridium Communications • Falcon 9
'A travesty to this nation': People are destroying Joshua trees in Joshua Tree National Park
In most depictions, Joshua trees tower above the earth. Feathery-looking limbs topped with spiky green leaves twist skyward, completing the gangly succulent's striking appearance.
But now, viral pictures of these protected trees show a vastly different scene unfolding at Joshua Tree National Park in Southern California.
The trees in the photos have been felled and are lying on the dusty ground — and Park Service officials saypeople, not Mother Nature, are to blame.
Shared widely on social media Thursday, the photos have sparked outrage over the plight of national parks that remain open amid a partial government shutdown, leaving them understaffed and vulnerable to the antics of unruly visitors. Parks nationwide have struggled to deal with a variety of issues ranging from rampant littering and overflowing public restrooms to the vandalism of habitats.
"I don't care if you're a Democrat or Republican, what's going on at Joshua Tree National Park is a travesty to this nation," one person tweeted.
The park spans more than 1,200 square miles, straddling the Mojave Desert and Colorado Desert, but there are only eight law-enforcement rangers patrolling the vast landscape during the shutdown, National Parks Traveler, a nonprofit dedicated to news about national parks, reported.
"While the vast majority of those who visit Joshua Tree National Park do so in a responsible manner, there have been incidents of new roads being created by motorists and the destruction of Joshua trees in recent days that have precipitated the closure," the Park Service release said.
On Wednesday, the Park Service 
announced
 that it would be able to remain open by using funds from recreation fees.
Joshua Tree National Park Superintendent David Smith told National Parks Traveler that visitors have been illegally off-roading, cutting down trees and spray painting rocks, among other infractions.
"Joshua trees were actually cut down to make new roads," Smith said.
Joshua Tree resident Rand Abbott, who has frequented the park since the 1980s, said seeing the damaged trees was "devastating."
Aside from being one of the park's most recognizable features, Joshua trees are at risk of being affected by climate change. Researchers from the University of California at Santa Cruz found that Joshua Tree National Park is on track to lose most of its Joshua tree habitat to rising temperatures by 2100, according to a September study published in Ecosphere, an open-access journal affiliated with the Ecological Society of America.
Since the shutdown began, Abbott, a paraplegic veteran, told The Washington Post that he has gone to the protected area almost every day to clean bathrooms, pick up trash and "kindly persuade people to not destroy the park."
"The true issue is that people ... think that they own the park," the 55-year-old said. "They don't own it. They're guests in the park."
He added: "If I climbed in somebody's backyard and I went up to one of their trees and I jumped on it and broke it, they'd call the police on me. But they feel like they have the right to come to Joshua Tree and spray paint rocks and break trees and cut down trees, and steal historical stuff."
On social media, many were horrified by the state of Joshua Tree, which the Los Angeles Times described as "a worst-case example of parkland abuse."
"Its like if someone took a pickax and started breaking up the geysers at Yellowstone," one person tweeted.
"They cut down Joshua trees in Joshua Tree National Park," tweeted Bill Prady, executive producer of CBS's "The Big Bang Theory." "Donald Trump is literally destroying America."
Another person 
wrote
 on Twitter that Joshua Tree was "just a minuscule example of what #GovernmentShutdown will do to U.S. precious National Parks."
Others, however, disagreed.
"Don't go blaming this on the #shutdown," tweeted biologist Daniel Schneider. "There are just people with black hearts among us."
"Christmastime and New Year's is one of the busiest times for the park," he said. "You take that, and then you take away anybody that's in a national park uniform, and there's no regulations whatsoever. I was astonished at what people were doing."
On Thursday, a massive juniper tree near one of the park's campsites caught his attention. People had climbed up into its branches and broken them off for firewood, Abbott said.
"I camped in that campsite two years ago," he said. "This thing was huge. We used to get shade underneath it and it's gone. I started crying, because what did that tree do?"
But Abbott said there could be a "silver lining" to the shutdown: It has drawn people's attention to the abuse that has been going on at national parks nationwide for years.
His own efforts to preserve Joshua Tree have also received recognition and may be starting to spark change. Abbott said visitors have approached him saying how they took extra care to tidy their campsites before leaving the park. Some have even volunteered to take a day out of their trips to help pick up trash.
"If they truly realize that there is no Plan B for our national parks, then maybe they will start taking care of Plan A," he said. "It has to be done."
Joshua Tree National Park Will Stay Open After All
Joshua Tree National Park will not shut its gates after all as it works to recover from the effects of the ongoing government shutdown, the park announced Wednesday.
"By immediately utilizing revenue generated by recreation fees, National Park Service officials have been able to avert a temporary closure of Joshua Tree National Park that had been previously scheduled for January 10," the park said in a statement.
The park had originally said it would close temporarily in order to repair damage done to the unique desert ecosystem by unsupervised visitors who had created new roads and destroyed the protected Joshua trees. Instead, the park remained open and even restored access to campgrounds that had been closed early in the month when toilets reached capacity.
The park was able to avoid closing because of a 
controversial Interior Department decision
 to allow parks to use visitor fees to address the maintenance and safety issues that have arisen as the parks remained open to the public while a majority of their staff has been furloughed.
"National Park Service officials have determined that by using Federal Land and Recreation Enhancement funds to immediately bring back park maintenance crews to address sanitation issues, the park will be able to maintain some visitor services, including reopening the campgrounds. The park will also bring on additional staff to ensure the protection of park resources and mitigate some of the damage that has occurred during the lapse of appropriations," Joshua Tree said.
"Some of these projects have involved years of organization and planning, so the administration's political pressure for superintendents to use those funds is throwing all of that work in the trash," National Parks Conservation Association Director of Budget and Appropriations John Garder said.
It is unclear how long parks might need to run on these fees. The shutdown will become the longest in U.S. government history if the government does not reopen by this coming Saturday, 
The New York Times reported
. This seems unlikely, as attempts by Senate Republicans to broker a deal to reopen the government while continuing the discussion of funding for President Donald Trump's desired 
border wall
 fell apart when Trump's team indicated he would not agree. The President is considering diverting money earmarked for the U.S. Army Corps of Engineers following last year's hurricanes and wildfires to build the wall, 
The New York Times also reported Thursday.
#4

Samsung The Wall Meet Samsung's massive new Wall TV
Samsung Reveals 219-Inch TV Called 'The Wall'
Anyone who brags about having a 65 inch TV needs to sit down and be humble after Samsung's announcement of "The Wall."
The TV is 219 inches! That's more than 18 feet. It was introduced at the Consumer Electronics Show in Las Vegas.
"The Wall" uses micro-LED technology for a brighter picture than current TV's. If it's not big enough, you can add screens to snap onto the side to expand it.
Don't worry. If you don't have the wall space, Samsung is releasing a 75-inch version of "The Wall."
All hail 'The Wall:' Samsung's new 219-inch TV
Posted: 10:31 AM, January 11, 2019Updated: 10:31 AM, January 11, 2019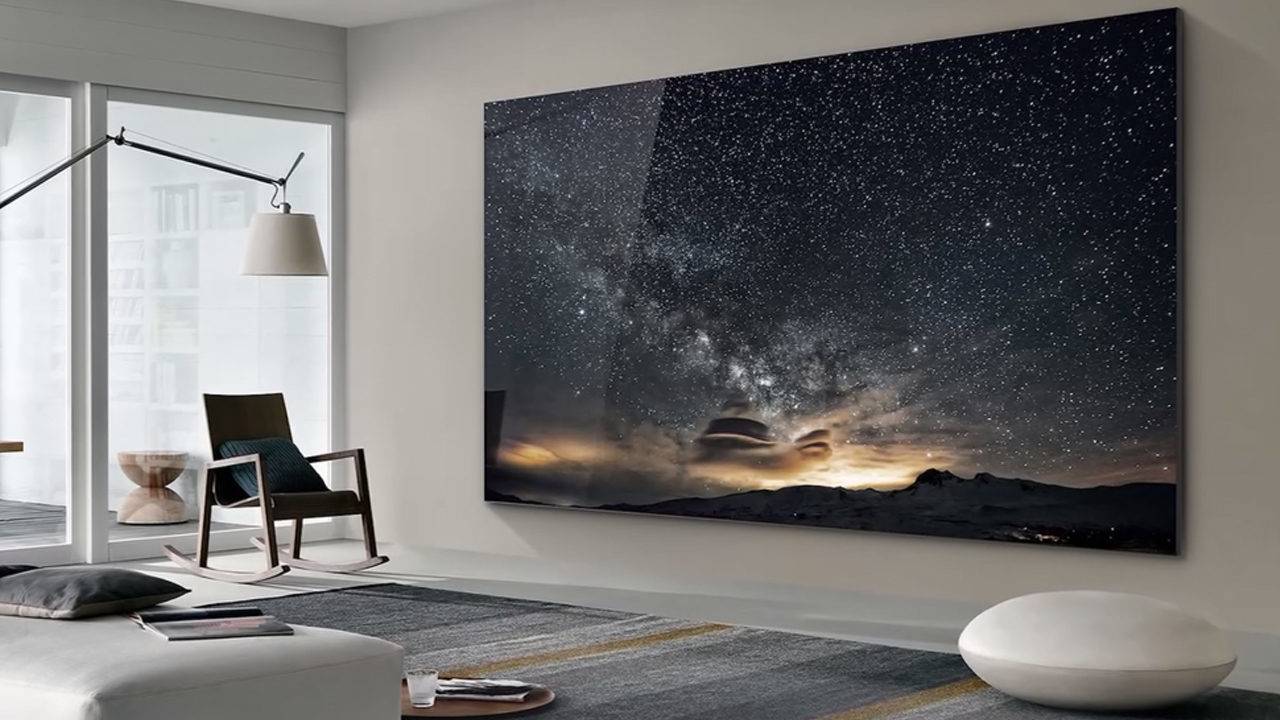 LAS VEGAS - If you can't get to the movie theater, maybe you can bring the movie theater to you. At least the screen, that is.
At this year's Consumer Electronics Show, Samsung introduced its massive "The Wall" television set, or screen, or whatever.
Using new technology that uses less energy that televisions that are currently in use, "The Wall" is actually made up of modules that allows owners to configure the set however they choose.
Of course, with a 219-inch television set, your next decision is probably going to be which realtor you will call to find a house that has walls that can fit an 18-foot screen.
#5

Velvet Buzzsaw Trailer 1 – Jake Gyllenhaal Movie
Netflix movie 'Velvet Buzzsaw' looks like the overwrought, bloody, absurd guilty pleasure of the year
You won't be able to look away from Jake Gyllenhaal's new Netflix movie about painting that – yes! – come to life and murder people
Much like you shouldn't judge a book by its cover, you probably shouldn't judge a film by its trailer. But Velvet Buzzsaw, the upcoming Jake Gyllenhaal-starring Netflix movie, is so completely absurd, it's hard not to immediately leap to conclusions about the whole thing.
The movie's premise is this: Zawe Ashton's Josephina discovers a series of haunting paintings by a recently deceased and unknown artist, and takes them to the ridiculously named art dealer Morf Vanderwalt (Gyllenhaal) to sell on. The pair begin raking in the cash ("Demand has people ready to kill," claims Toni Collette's gallery owner Gretchen) but things take a terrifying and bizarre turn when the paintings begin to not only come to life but attack people.
image: https://static.apester.com/js/assets/loader_100x100.gif
Cue some fantastically absurd scenes in which one man seems to spontaneously be engulfed by flames while he's driving his truck. When he tries to clean himself up at a sink beneath one of the paintings, the chimps within the frame reach out and try to strangle him. In another clip, the colours flood out of a piece of art hung in a gallery, along the floor, and all over Josephina's entire body. Her reaction is to scream her lungs out but, to be quite honest, it seems like she's getting off lightly compared to the other guy. Better to look like a bit of multi-coloured marble than suffer asphyxiation at the hands of acrylic monkeys.
The trailer is filled with this kind of overwrought acting, not least when it comes to Gyllenhaal's scenes. When he tries to explain what's going on with the seemingly possessed paintings, his eyes look like they're about to pop out of his skull and he yells: "Something truly goddamn strange is going on!" You don't say, Jake. There's also a truly great bit when a robot that appeared at an art fair at the start of the trailer suddenly reappears as Gyllenhaal tries to lock the artwork away. It blocks the art dealer's path with a crutch and creepily croaks, "I can save you".
Velvet Buzzsaw isn't just some absurd, twisted horror movie, though. It seems as though writer and director Dan Gilroy (Nightcrawler, Roman J. Israel, Esq.) wants it to make some big points about both the art world and society. The paintings seem only to attack the wealthy or corrupt because they hold "a disgust for the world of money." There's also an unbelievable scene where Gretchen is murdered in the gallery overnight and discovered by visitors the next day who think she's part of an exhibit. "We're trending on Instagram," Josephina quavers. "It's a major hit." But even with the world's addiction to 'like'-grabbing content and viral fame, the idea that not one person – including the gallery's staff – would think to check the pools of blood and lifeless body weren't real seems more than a little extreme.
Netflix: Immerse yourself in the insane trailer for Velvet Buzzsaw
I saw, the ambitious new Netflix horror film from Nightcrawler writer/director Dan Gilroy, just released its first trailer, and you're going to want to immerse yourself in this strangeness immediately.
Like Nightcrawler, Velvet Buzzsaw features Jake Gyllenhaal in the eccentric lead role. This time playing an art critic who finds himself in the midst of a nightmarish supernatural mystery when a dead artist's paintings begin coming to life and slaughtering people who allow their greed to get in the way of art.
There's an undeniable bizarre quality to the film, from the foreign feel of the art world, to the absurdity of paintings — one of which is a group of monkeys — coming to life. Despite a premise that could be downright silly in the hands of a less capable filmmaker, Velvet Buzzsaw still manages to evoke a significant amount of fear with its trailer.
In the last pairing between Dan Gilroy and Jake Gyllenhaal, the actor delivered what has perhaps been the greatest performance of his consistently acclaimed career, playing a sociopathic photojournalist who manipulates crimes scenes to his benefit before recording them and shopping them around to news outlets.
Disappearing entirely into his twisted Nightcrawler character is a high point that should have earned him an Academy Awards nomination (it's been four years, but we're still mad about it), and judging by his commitment to character in the new trailer for Velvet Buzzsaw, Gilroy will be gifting us with another brilliant performance from the actor.