#1

Japan national football team • Vietnam national football team • 2019 AFC Asian Cup • Vietnam Vietnam vs. Japan – Game Highlights
Vietnam vs Japan: Park's warriors ready to upset Samurai Blue
Thursday, 2019-01-24 13:34:09
NDO – Vietnam will take on higher-rated Japan in the Asian Cup quarterfinals at the Al Maktoum Stadium in Dubai on January 24. Tough as it may be, the Golden Dragons, who are in a comfortable mood following their round of 16 win over in-form Jordan, now stand ready to upset the Samurai Blue and deliver one of the most stunning upsets in Asian Cup history tonight.
Japan are currently the most successful team at the Asian Cup arena with four championship trophies. After unexpectedly stopping in the last eight four years ago, the Samurai Blue are determined for revenge in the United Arab Emirates. With a squad stock-full of players who have seen action in top leagues around the world, coach Hajime Moriyasu's troops have been emerging as the favourites for this year's crown.
As assessed by experts, Japanese players rank first in Asia concerning skills, discipline and diverse playing style. Therefore, it is undeniable that the Vietnamese team will face numerous difficulties in tonight's game.
Despite that fact, the Golden Dragons still stand a chance to create a stir. Seen as the title favourites, Japan will head into the quarterfinal clash against Vietnam under huge psychological pressure. Speaking to the media, the Japan head coach admitted that it would be a challenge for his players. "In the tournament, Japan introduce some new and inexperienced players. We need to learn through each match. The Vietnam encounter will undoubtedly be a challenge". Coach Hajime Moriyasu added that his side currently face some fitness problems ahead of the quarterfinals. "Some of my players are fatigued after the round of 16. The whole team are utilising the remaining time to recover fitness for the clash against Vietnam".
Besides, Moriyasu will be without suspended Newcastle United striker Yoshinori Muto, which is good news for the Vietnamese side in their bid to create a miracle against the Asian football powerhouse.
Throughout their Asian Cup 2019 campaign, the Golden Dragons have demonstrated a resilient and brave fighting spirit in every match.

On the opposite, Vietnam will head into the quarterfinal match without any pressure, with even a very comfortable mood and great confidence after making the last eight of the continental showpiece for the second time in history.
Throughout their Asian Cup 2019 campaign, the Golden Dragons have demonstrated a resilient and brave fighting spirit in every match, which has helped them come through a tough group, also featuring former champions Iran and Iraq, before rallying from a goal down to beat in-form Jordan on penalties in the last 16.
With the skillful, ambitious, cohesive and highly disciplinary players, trained and inspired through the hands of Park Hang-seo, the current generation of Vietnamese football has full reason not to fear any opponents. It is strongly hoped that Park's warriors will carry on with the brave fighting spirit of their previous matches to surge past powerhouse Japan to make the last four of the continental showpiece, thus opening up a new glorious page for Vietnamese football.
AFC Cup 2019: Vietnam-Japan match grasps international headlines
The encounter between Vietnam and Japan, the first Asian Football Confederation (AFC) Cup 2019 quarter-final in the United Arab Emirates (UAE) on January 24 night, has made international headlines.
The encounter between Vietnam and Japan, the first Asian Football Confederation (AFC) Cup 2019 quarter-final, will take place in the United Arab Emirates (UAE) on January 24 night.
Iran's Varzeshi newspaper said Park Hang-seo, head coach of Vietnam's national football team, has shown his resolve and confidence after Vietnam gained a berth in the round.
The newspaper also lauded the performance of Vietnamese players in the past matches, especially their 2-0 win over Yemen in the last match of Group D, saying they also surprised football fans during the breath-taking shootout with Jordan.
Both Varzeshi and the Washington Post of the US commented on the solid defence of Japan, who, the Post said, are expected to defeat Vietnam in the upcoming match.
Pojoksatu newspaper of Indonesia also mentioned Japan as favourites to advance after reviewing their achievements in previous Asian Cups and their performances this year.
Vietnam advanced to the quarter-finals of the tournament after a breath-taking shootout with Jordan on January 20 in the UAE.
Vietnamese fans are heading to the UAE to support the national football team. In the knockout match with Jordan, about 2,000 Vietnamese fans living and working in Dubai cheered on the Golden Dragons.
Japan reached the quarter-finals after beating Saudi Arabia 1-0 on January 21 with a header from defender Takehiro Toniyasu in the 20th minute.
PM wishes national team good luck ahead of Asian Cup quarterfinal
Prime Minister Nguyen Xuan Phuc made a personal call to Vietnam head coach Park Hang-seo and his players, encouraging them in the run-up to the Asian Cup quarterfinal match against Japan.
He made the call ahead of his departure for the World Economic Forum in Davos, Switzerland.
Over the phone with head coach Park Hang-seo, the government leader hailed the national squad's efforts.
He hoped that the team would play well in the quarterfinal match against Japan Al Maktoum Stadium in Dubai today, January 24, at 8 pm.
Early this morning, hundreds of Vietnamese fans have left Vietnam for Dubai to cheer the national team.
Five large-size screens will be installed on Le Duan Street in HCM City for the public to enjoy the match.
#2

Walmart • Truck driver Walmart – Home
[embed]https://youtu.be/AJhMG_Cgtrs[/embed]
Walmart wants to hire 900 truckers and pay them nearly $90,000 a year
Starting next month, truck drivers will get a per-mile hike of one cent and an extra $1 each time they drop a trailer at a destination, Walmart said Wednesday. That will bring average pay for drivers to $87,500 a year. The company also said people can expect predictable schedules, at least 21 days of paid time off and possible quarterly bonuses.
As of May 2017, the median annual pay for heavy and tractor-trailer truck drivers was $42,480, according to the U.S. Department of Labor. Driver pay has since climbed, and by March 2018 came to more than $53,000 for a driver on a national, irregular route, the American Trucking Association found. The industry group projects the U.S. will be short 175,000 drivers by 2026.
Walmart requires job candidates to have at least 30 months of full-time commercial driving experience and no serious traffic violations in the past three years.
Walmart has had its own trucking fleet since the 1970s, with drivers making deliveries to 4,700 Walmart and Sam's Club stores around the U.S.
#3

New York City • Kenneth C. Griffin, 220 Central Park South, 238 million
NEW YORK CITY PENTHOUSE SETS RECORD FOR HIGHEST PRICED HOME EVER SOLD IN AMERICA AT ALMOST A QUARTER OF A BILLION DOLLARS
The sale of a New York penthouse for around $238 million has broken the record for the most expensive home ever sold in the U.S., the Wall Street Journal reported.
The property at 220 Central Park South—an under-construction high-rise in Manhattan designed by Robert A.M. Stern Architects—was purchased by American billionaire Ken Griffin, according to his spokesperson.
Griffin, founder of the global hedge fund company Citadel, reportedly bought the 24,000 square foot apartment as a place to stay while he is in New York for business, given that his firm is expanding its operations there.
According to the developers of the high-rise complex, Vornado Realty Trust, the building provides views of Central Park's full expanse.
"Magnificent views of the park from every residence; a unique architectural composition featuring an intimate 18-story Villa and 79-story Tower both accessible from a secured off-street motor court with its arbor of mature trees; comprehensive lifestyle enhancements including private dining rooms and entertaining spaces, and an expansive athletic club and spa: all combine to create this new landmark in New York living," the company's description of the address reads.
Other apartments at 220 Central Park South have already been snapped up by other high-profile buyers including musician Sting and billionaire hedge fund manager Daniel Och, the Journalreported. In total, Vornado is expected to make around $1 billion from selling apartments at the address.
Griffin is well-known for extravagant, record-breaking purchases, particularly when it comes to homes. Just last month, he bought one of the most expensive residences in London, near Buckingham Palace, for around $122 million. CNBC reported that the property was the most expensive to be sold in the city for more than a decade.
He has also purchased the most expensive home in Chicago for $58.75 million as well as the priciest condo in Miami ($60 million). Furthermore, he has poured around $250 million into purchasing land in Palm Beach, Florida, where he plans to build a mansion.
Aside from property, Griffin splashed out $500 million in 2016 to buy two paintings by Jackson Pollock and Willem de Kooning—in what was one of the world's priciest private art deals. He has also made significant philanthropic contributions notably, a $125 million gift to the University of Chicago's Department of Economics.
The hedge-fund manager's latest property purchase ranks among the priciest deals ever completed in the world, comfortably surpassing the previous U.S. record—$147 million for a home in the Hamptons, set in 2014.
According to Christie's International Real Estate, the most expensive property ever sold is the Pollocks Path Estate located in one of Hong Kong's priciest neighborhoods, which was purchased for around $360 million by Yeung Kin-man—head of a company that manufactures the glass for smartphone screens.
220 Central Park South is seen from the top of Rockefeller Center on March 21, 2014 in New York City.ANDREW BURTON/GETTY IMAGES
The resi world reacts to Ken Griffin's record-setting buy at 220 CPS
Experts see $238M deal as more of a one-off than a resurgence of New York's super luxury market
Billionaire hedge funder Ken Griffin's record-breaking purchase of a penthouse at 220 Central Park South is both a strong sign of confidence in New York's real estate market and an exceptionally rare type of purchase that won't happen again anytime soon, experts say.
"It's a massive deal in size and price, but it's an outlier," said broker Jeffrey Fields of R New York. "It doesn't reflect market conditions—far from it."
Griffin, founder of the hedge fund the Citadel, just closed on his $238 million purchase of the 23,000-square-foot quadplex, which spans the 50th through 53rd floors of the Vornado Realty Trust tower. He went into contract for it back in 2015.
Jonathan Miller, founder of the appraisal firm Miller Samuel, said it was more reflective of the market back then than of the current market.
"This doesn't represent the super luxury market today," he said. "This is a sale from the past that's closing today."
The deal also doesn't indicate a widespread resurgence of the super luxury market, he added, but does illustrate that there is still demand for properties worth more than $100 million. He predicted these types of deals would become more common moving forward.
"Five years from now, I think we'll be jaded," he said. "You'll read about $100 million transactions, and it will become less of a novelty than it is right now."
Griffin's Central Park South deal set a record for the priciest home ever sold in the United States, but it's just the latest astounding real estate purchase he's made in this cycle. He's something of a real estate addict. Griffin has also purchased a house in London for about $122 million and several floors of the Chicago condominium No. 9 Walton for $58.75 million. The hedge funder set a Miami record in 2015 when he spent $60 million on a penthouse at Faena House.
Andy Gerringer from the Marketing Directors said the purchases suggest that real estate is still a smart bet.
"You don't spend that type of capital if you think the real estate markets are going into a free fall," he said.
Phil Gutman, president of Brown Harris Stevens Miami, said the deal shows "that the wealthy may want their money in real estate rather than the rocky stock market right now" and that the U.S. is still an appealing option for buyers of luxury real estate even with a government shutdown.
In New York, luxury brokers were simply elated that the deal closed.
"There was a lot of speculation about whether this would ever happen," said Compass' Michael Graves. "In some ways, it exemplifies belief in New York from a long-term perspective. It's a nod to value in New York's luxury market."
His colleague Leonard Steinberg echoed this sentiment, saying that "all in New York should be celebrating this close because the volume of revenue it delivers for New York City is spectacular."
Katherine Kallergis contributed reporting.
#4

OPEC • Venezuela • Russia • Reuters • Alexander Novak • Petroleum OPEC – HomeThumbs Up Sign
Russia: no OPEC, non-OPEC meeting proposed over Venezuela turmoil
Reuters  |  MOSCOW Last Updated at January 24, 2019 16:46 IST
Venezuelan opposition leader Juan Guaido declared himself interim president on Wednesday, winning the backing of Washington and prompting socialist incumbent Nicolas Maduro, who has led the oil-rich nation since 2013, to sever diplomatic relations with the United States.
(This story has not been edited by Business Standard staff and is auto-generated from a syndicated feed.)
Russia: no OPEC, non-OPEC meeting proposed over Venezuela turmoil
MOSCOW (Reuters) - There have been no proposals to convene an emergency meeting of the OPEC and non-OPEC monitoring committee because of the political turmoil in OPEC member Venezuela, Russian Energy Minister Alexander Novak said on Thursday.
Venezuelan opposition leader Juan Guaido declared himself interim president on Wednesday, winning the backing of Washington and prompting socialist incumbent Nicolas Maduro, who has led the oil-rich nation since 2013, to sever diplomatic relations with the United States.
Reporting by Anastasia Lyrchikova; writing by Tom Balmforth; editing by Maria Kiselyova
JANUARY 24, 2019 / 4:20 AM / UPDATED 7 HOURS AGO
Russia warns U.S. against military intervention in Venezuela: Ifax
MOSCOW (Reuters) - Russia on Thursday warned the United States not to intervene militarily in Venezuela, saying such a move would trigger a catastrophic scenario, the Interfax news agency cited the deputy foreign minister as saying.
Venezuelan opposition leader Juan Guaido declared himself interim president on Wednesday, winning the backing of Washington and many Latin American nations and prompting socialist Maduro, who has led the oil-rich nation since 2013, to sever diplomatic relations with the United States.
Interfax cited Sergei Ryabkov, Russia's Deputy Foreign Minister, as saying Moscow would stand with Venezuela to protect its sovereignty and the principle of non-interference in its domestic affairs.
Ryabkov was also quoted as saying that Moscow expected the United States and other countries to step up pressure on Caracas.
#5

LON:AAL • Anglo American plc • LON:APF • Anglo Pacific Group • London Stock Exchange • Stock • NYSE:GBX • NASDAQ:AAL Anglo Pacific Group PLC – HomeThumbs Up Sign
CANACCORD GENUITY ISSUED "PURCHASE" RATING FOR ANGLO PACIFIC GROUP (APF)
Anglo Pacific Group (LON:APF)'s stock had its "buy" rating reiterated by research analysts at Canaccord Genuity in a research note issued to investors on Monday. They presently have a GBX 225 ($2.94) price target on the stock. Canaccord Genuity's target price suggests a potential upside of 41.51% from the company's current price.
Separately, Peel Hunt reaffirmed a "buy" rating on shares of Anglo Pacific Group in a research note on Monday, September 24th.
APF stock opened at GBX 159 ($2.08) on Monday. Anglo Pacific Group has a 52 week low of GBX 101 ($1.32) and a 52 week high of GBX 165 ($2.16).
Anglo Pacific Group Company Profile
Anglo Pacific Group plc operates as a natural resources royalty company. The company, together with its subsidiaries, engages in securing natural resources royalties by acquisition and through investment in mining and exploration interests in coking and thermal coal, vanadium, gold, uranium, anthracite, nickel-cobalt, chromite, iron ore, copper, and silver.
Anglo Pacific Group (APF) Given "Buy" Rating at Canaccord Genuity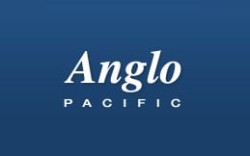 Canaccord Genuity reiterated their buy rating on shares of Anglo Pacific Group (LON:APF) in a report released on Monday morning. The brokerage currently has a GBX 225 ($2.94) price target on the stock.
Separately, Peel Hunt reiterated a buy rating and set a GBX 205 ($2.68) target price on shares of Anglo Pacific Group in a report on Friday.
LON APF opened at GBX 157.50 ($2.06) on Monday. Anglo Pacific Group has a 12 month low of GBX 101 ($1.32) and a 12 month high of GBX 165 ($2.16).
The business also recently declared a dividend, which will be paid on Thursday, February 14th. Shareholders of record on Thursday, January 3rd will be issued a GBX 1.63 ($0.02) dividend. This represents a yield of 1.18%. The ex-dividend date is Thursday, January 3rd.
About Anglo Pacific Group
Anglo Pacific Group plc operates as a natural resources royalty company. The company, together with its subsidiaries, engages in securing natural resources royalties by acquisition and through investment in mining and exploration interests in coking and thermal coal, vanadium, gold, uranium, anthracite, nickel-cobalt, chromite, iron ore, copper, and silver.
#6

Australia national football team • Hans Segers • AFC Asian Cup • Asian Football Confederation • Goalkeeper • Uzbekistan national football team Socceroos – HomeThumbs Up Sign
Roos goalkeeping coach banned, fined
Australian goalkeeping coach Hans Segers was suspended for the Socceroos' Asian Cup round of 16 clash with Uzbekistan, the AFC have revealed.
Segers received a one-match ban and $US10,000 fine after he used "abusive language" towards the Syrian bench during Australia's 3-2 group stage win in Al Ain.
It's understood the incident happened after Tom Rogic scored a 93rd minute winner for the Socceroos in the clash.
Segers served a one-match ban in Monday's clash with Uzbekistan, which Australia won 4-2 on penalties after a 0-0 draw with the White Wolves.
The ex-PSV Eindhoven and Wimbledon goalkeeper will be back on the bench for Australia's quarter-final with the UAE in Al Ain on Friday.
An AFC Disciplinary and Ethics Committee decision statement released on Thursday states Segers faces "more severe punishment" for any repeat violations.
#7

Tottenham Hotspur F.C. • Mauricio Pochettino • Chelsea F.C. • EFL Cup • Harry Kane Tottenham Hotspur – Home
Kazaiah Sterling models his game on Sergio Aguero and was deliberately not loaned out by Mauricio Pochettino so he could train with Harry Kane... so can the young Tottenham striker make an impact in crunch Chelsea clash?
Tottenham defend a 1-0 lead at Chelsea in Carabao Cup semi-final on Thursday
They will be without Harry Kane, Dele Alli and Son Heung-min for second leg
Striker Kazaiah Sterling, just 20, could be named among the substitutes
Mauricio Pochettino has name-checked the academy player in recent weeks
Sterling has just six minutes of first-team football under his belt to this point
But he has been working closely with Kane in training during recent months 
 injured, and Son Heung-min away at the Asian Cup with
, it's hardly the ideal time for Tottenham to be facing their great rivals Chelsea.
Worse still that it's the semi-final second leg of the Carabao Cup, with Wembley very much within view, and with a one-goal lead to defend from the first fixture.
It will be a real test of the fortitude of Mauricio Pochettino's team at Stamford Bridge, with Manchester City then lying in wait in the final should they pass it.
Rising star Kazaiah Sterling, 20, is once again likely to be on the Spurs bench, the young striker hoping to make an almighty impact by sending his team to the final.
Sportsmail 
tells you everything you need to know about Sterling ahead of the crunch match in west London.
Kazaiah Sterling takes on Jan Vertonghen as Tottenham train ahead of the Chelsea semi-final
Mauricio Pochettino faces a tough Carabao Cup semi-final, second leg at Stamford Bridge in the absence of star players Harry Kane, Dele Alli and Son Heung-min
Stakes are high as struggling Spurs and Blues face final test
For both Chelsea and Tottenham Hotspur, tonight's Carabao Cup semi-final second leg has come at the worst possible time.
But with Spurs bringing just a 1-0 lead from the first leg, and with the tie perfectly balanced, it feels as if both sides would rather such a big game came round at a more helpful time, other than right now, when both sides find themselves under more pressure than they were expecting.
This will be Tottenham's first game since the news of Dele Alli's hamstring injury, which will leave them without two of their most dangerous attacking players for the most important six weeks of the season. Alli's injury has devastatingly dovetailed with a six-week ankle absence for Harry Kane.
This means Mauricio Pochettino has to find a way past Chelsea in the Carabao Cup, Chelsea and Arsenal in the league, Borussia Dortmund twice in the Champions League, and quite possibly Manchester City in the Carabao Cup too, all without his two most incisive forward players.
The story of this Tottenham season has been Pochettino getting better performances than ever with an even thinner squad.
The team is desperately short in midfield, and Pochettino has had to get so much out of Harry Winks and Moussa Sissoko just to keep the team afloat. At least Eric Dier is back, although Spurs still need another body there.
But now the attention turns to the front line, especially as Heung-min Son, Spurs' second top scorer, is still playing in the Asian Cup.
You might think that this puts Chelsea in the box seat. Given Spurs' injuries, their fatigue, and the worrying sense that they under-perform in the games that have the most riding on them. And yet Chelsea are in the midst of their own difficult period. Maurizio Sarri took the unusual step of hammering his players in the press conference after Saturday's defeat at the Emirates, questioning their mentality and saying they were difficult to motivate.
Six months into Sarri's time at Chelsea, there have been more bad performances than good ones, and neither the players nor the crowd seem fully sold on his methods yet. They do not have any real rhythm yet, and this could just as likely be a Manchester City at home as it could be an Arsenal or Spurs away.
It is the biggest test of Sarri's reign yet and he must know that a bad result could destabilise him at the most delicate moment.
High stakes, then, and a challenge that has snuck up on both sides and will catch one of them off guard tonight.
• Chelsea have announced that striker Gonzalo Higuain has signed on loan from Juventus until the end of the season.
The Argentinian, who will wear the No.9 shirt at Stamford Bridge, told the club's website last night: "When the opportunity to join Chelsea presented itself, I had to take it."
Belfast Telegraph
#8 The Big Lebowski • Jeff Bridges • The Dude • Coen brothers Jeff Bridges Super Bowl Ad Teaser
Jeff Bridges Teases Something The Dude-Related Coming in February
Posted by 2 Comments

January 24, 2019 
Bridges just tweeted this teasing video, where he dons the signature sweater and sunglasses of his character from The Coen Brothers cult-favorite film from 1998:
The date in question is Super Bowl Sunday, so it could very well be a trailer drop during the sportsball event.
Jeff Bridges teases return of The Dude
A Big Lebowski sequel to be announced? Super Bowl ad? The Dude teases announcement of something on Twitter
It's been a couple of years since we last heard rumour of a sequel to The Big Lebowski and Jeff Bridges himself has said there'll never be a follow up while doing the rounds in 2017 for the 20 year anniversary. But the star just dropped a huge hint on Twitter that that might not be the case.
In the tweet, Bridges cryptically states, 'Can't be living in the past, man. Stay tuned,' and with it a video of The Dude, resplendent in his famous cardigan, sandals, lounging pants and sunnies, walking into frame and slyly giving us a knowing laugh. Tumbleweed reveals a date of 2.3.19.
Sunday 3 February is the date of the Super Bowl, so our theory is keep an eye on those Super Bowl ads, because this might be when we get the full reveal. Course, it might just be that The Dude is appearing in a Super Bowl ad... in which case this is particularly cruel. If not, well, they say Hollywood has run out of ideas, but sometimes, just sometimes, that's fine by us.
Come back, Dude, we need you right now.
The Coen brothers give their unique twist to a Chandler-esque LA noir, as 70s hippy throwback Jeff 'The Dude' Lebowski (Bridges) is drawn into the sordid affairs of his millionaire namesake. Suddenly he has to sleuth his way through disorganised crime. Trademark oddball characters, surreal imagery and excellent…