#2

BYU Cougars football • American football • Brigham Young University • National Signing Day • Utah Utes football
Message before National Signing Day is BYU football is full of opportunities for new recruits
Football players are competitors, guys who want to earn playing time as quickly as possible.
That's why athletes considering joining the BYU football team had to be drawn to the fact that the Cougars had more than 25 freshmen get playing time in 2018.
"We were definitely capitalizing on that messaging, letting people know that that is the attitude of our staff," said Alema Fitisemanu, BYU player personnel coordinator, in a conference call on Monday. "If you can play, you are going to see the field. The best guy plays. That creates good culture on the team. They all know they have to play. It's not just going to be given to them. It's a good way to display the culture we have on our team and I think that is positive for our recruiting."
There are also some extra openings as current Cougar players like running back Riley Burt, defensive lineman Tevita Mo'unga and offensive lineman Jacob Jimenez have already announced their intentions to transfer
"Those are great kids and we are sad to see them go, but sometimes they need to go find where their opportunities are and that's a positive thing," Fitisemanu said. "We want to make sure we are helping them in that regard. As far as opening up spots, it does create a lot of opportunity to turn over the roster and find talent and replace them with good guys."
Fitisemanu explained that BYU tries to always have a few more guys in mind, just in case something happens.
"With transfers and natural attrition, we kind of look at it in recruiting as we should always have three or four guys we are thinking of that we can slot in there," Fitisemanu said. "Recruiting looks at it as an opportunity to build the team and make it even better. Transfers add a new wrinkle. I don't know if it is negative or positive. I don't think the entire process is quite settled yet."
The Cougars are expecting to sign a few additional guys on National Signing Day on Wednesday, although the bigger class was the 14 players who signed in December.
"We signed most of our guys in December," Fitisemanu said. "We're really excited about the entire group. I think we were able to satisfy the things we had needs at."
Everyone is waiting to see if BYU adds to a thin group of running backs, as no specific running back signed in December and the Cougars lost three (Squally Canada and Matt Hadley to graduation, Burt to transfer) from last year's roster.
"We are hoping to sign running backs," Fitisemanu said. "We are aiming at multiple guys, so it could be one or more than one. That's one of the things that is fluid at the moment, because we do have some options. We'd like a fast guy who getting to the second level can take the top off and take it to the house but our goal is to find a featured back who can wear out a defense."
As always, many of the guys who have signed (and probably others who will sign) will elect to serve two-year missions for The Church of Jesus Christ of Latter-day Saints before joining the program.
Memories from BYU Football Signing Day's in the past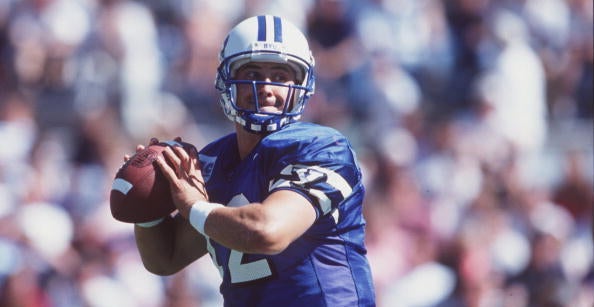 PROVO - Doesn't it feel good that Signing Day is here? Regardless of any ranking that BYU receives, Signing Day is always a special and ultimately fun day.
I've been following BYU football and recruiting since I was seven years old. It's hard to describe, but I've always had a love for personnel, transactions, and ultimately college football recruiting.
National Signing Day was always viewed as a holiday in the Harper household. The first Wednesday in February has always been met with excitement, and it still is to this day.
That's why I'm thrilled to be working on an incredible network here at 247Sports that have allowed me to showcase my passion for BYU football recruiting. I have a lot of fond memories over the years and I wanted to share a few as this Signing Day marks my 25th BYU football Signing Day I've followed.
I got hooked on recruiting because of Steve Sarkisian. The No. 1 Junior College quarterback in the class of 1995 out of El Camino JC had me hooked as a seven-year-old. My dad had a subscription to H.B. Arnett's Cougar Sportsline and I would read the latest edition when it arrived in the mailbox and then I would ask my dad questions about his thoughts on these recruits.
I kind of laugh thinking of how the written word would get fans (including myself) over recruits. There was no internet, no 247Sports, no Hudl, to do personal research on these players. The summaries typed up by H.B. Arnett or Dick Harmon of the Provo Daily Herald (at the time) were my only links to who these recruits were back then and I would soak it all up, especially Sarkisian.
The idea of a Catholic kid who was the first team Gridiron Wire All-American from the JUCO ranks picking BYU was something that had me hooked on recruiting. Then I learned he was a mid-year enrollee and he would be competing in spring ball, I was even more hooked and wanted to keep learning about this recruiting stuff.
One of my favorite things that I miss was the day after National Letter of Intent Day the USA Today would put in their sports page every signee for each and every school in the country.
In the 1999 class, I remember USA Today specifically mentioning in their paper BYU running back commit and Oregon Player of the Year Luke Staley and how he turned down a late push from the Nebraska Cornhuskers to play for BYU.
I used to call into KSL SportsNight with Greg Wrubell when he would have Greg Biggins on the show, yes THE Greg Biggins, and I'd ask Biggins questions on the show about BYU's class as a kid and now I'm honored to say Biggins is a good friend and someone I work with.
In 2002, like so many others like me, my passion for recruiting went to another level with the advent of TheInsiders.com network and the hiring of head coach Gary Crowton to BYU.
LaVell was never much of a Signing Day type of guy, but Crowton was all about recruiting. I remember my dad getting a letter in the mail to attend a Signing Day event, the first of its kind for fans to ask questions to Gary Crowton and recruiting coordinator Paul Tidwell about the 2002 class.
You bet my dad checked me out of school that day to attend this thing. That's one thing that I always love about recruiting and Signing Day is that it has always been something my dad and I have bonded with over the years and it's no different to this day. But the 2002 class, I remember walking into LaVell Edwards Stadium's old Cougar Club room with the glass window pillars all over the area and old pictures of BYU's Hall of Fame inductees dotting the walls. My dad and I were the first ones there and we were greeted by Paul Tidwell and a spread of Hogi Yogi to enjoy and talk crootin'! Man, it was a beautiful time.
I'm asking questions to Tidwell and he says, "excuse me guys, I gotta take this call. It's Walt Williams." I turn to my dad and tell him, Walt Williams is going to be so good. Even though I didn't see a damn thing on the guy and the only thing I've seen to this day on Williams is a blurry Big Foot-esque photo courtesy of ESPN 960's Ben Criddle. But Walt had those five-stars next to his name so I was all in.
Gary Crowton walked into the Cougar Club room on crutches after suffering an injury after the Liberty Bowl and he was disappointed in losing out on Haloti Ngata but was still excited about landing a Top 25 recruiting group in that 2002 class. They had just landed Ben Olsen, Jake Kuresa, Scott Young, Chad Barney, and of course, Walt Williams. Big names with big star ratings coming out of the gates in 2002.
Crowton took questions from the 15 or so people that were there for the event and one person asked, "Is Scott Young related to Steve Young?" Crowton laughed and I remembered he said we hope he will have a Steve Young-like impact on defense.
Guys like Brandon Gurney continued to feel my appetite for all things BYU recruiting. It just kept growing and growing. Couldn't get enough.
Who can forget BYU landing Ofa Mohetau over the Miami Hurricanes when they were at their apex again as a program? Then in week one against Georgia Tech, Marcus Whalen steps on Mohetau's foot and we pretty much never saw anything from Mohetau again in Provo.
I remember Stanley Havili in 2006 picking USC over BYU on KUTV Channel 2, Jake Heaps and the Iggy's trio, Uona Kaveinga picking USC on Fox Sports West with his family in the background wearing BYU gear, the recruitment of Vince Feula and how it was a signal to me that Bronco Mendenhallcould recruit and he was the guy who needed to be the head coach over Lance Reynolds.
I could go on and on and there have been great stories in the Kalani Sitake era already and there will be many more great recruiting stories in the future. Keanu Saleapaga picking BYU over Colorado on Signing Day and giving the Cougars a rare hat ceremony victory, Troy Warner signing with the Cougars, Mique Juarez taking an official visit before ultimately committing to UCLA, Zach Wilson's rapid-fire recruitment and saving the 2018 class, and the pursuit of many, many running backs in 2019.
2COMMENTSHappy Signing Day! Proud to be the Publisher of Cougar Sports Insider and I'm excited to cover many more Signing Days in the future.
Not a subscriber? Sign up now for a seven-day free trial and to get access to everything Cougar Sports Insider has to offer, including daily the best team and recruiting coverage on BYU sports. Don't forget to sign up for our Cougar Sports Insider Newsletter. It's free and a great way to get daily updates on BYU football, basketball and more delivered straight to your inbox. Like us on Facebook. Follow us on Twitter.