#1

NZ vs Ind LIVE: NZ v IND, 2nd T20I, Post-match show
#2

Austin • Zebra mussel, Zebra mussels blamed for stinky tap water in Austin
#3

Brighton • Colorado • Conflagration
Firefighters battle large blaze at vacant building in Brighton
BRIGHTON, Colo. — A large fire broke out at Arthur Grain Mill in Brighton on Friday morning.
SkyFOX arrived over the scene around 7:50 a.m. and found the building, which is located at the intersection of North Main and Denver streets, engulfed in flames.
Brighton Fire Rescue said the building is vacant and ask that people avoid the area while they work.
No further information about the fire was immediately released.
We have a crew on the way and we're working to find out more information.  
#4

Product recall • Airbag • Automotive industry • Daimler AG • Mercedes-Benz • Takata Corporation • Volkswagen
Automakers Recall 1.7 Million Cars With Fatal Airbags
Subaru, Tesla, Volkwagen and others recall a combined 1.7 million cars with deadly Takata airbags.
FILE - This June 25, 2017 file photo shows TK Holdings Inc. headquarters in Auburn Hills, Mich. Subaru, Tesla, BMW, Volkswagen, Daimler Vans, Mercedes and Ferrari are recalling about 1.7 million vehicles to replace potentially deadly air bag inflators made by Takata Corp. of Japan, Friday, Feb. 8, 2019. The inflators can hurl shrapnel into drivers and passengers. . (AP Photo/Paul Sancya) THE ASSOCIATED PRESS
BY TOM KRISHER, AP AUTO Writer
DETROIT (AP) — Subaru, Tesla, BMW, Volkswagen, Daimler Vans, Mercedes and Ferrari are recalling about 1.7 million vehicles to replace potentially deadly air bag inflators made by Takata Corp. of Japan.
The inflators can hurl shrapnel into drivers and passengers. At least 23 people have died from the problem worldwide and hundreds more were injured.
The moves, announced Friday by the U.S. government, are part of the largest series of automotive recalls in U.S. history. About 10 million inflators are being recalled in the U.S. this year, with as many as 70 million to be recalled by the time the whole mess ends late next year.
Takata used the chemical ammonium nitrate to create a small explosion to inflate the air bags. But the chemical can deteriorate over time due to high humidity and cycles from hot temperatures to cold. The most dangerous inflators are in areas of the South along the Gulf of Mexico that have high humidity.
The recalls, which began in 2001, are being phased in over time and managed by the U.S. National Highway Traffic Safety Administration.
Many of the recalls are limited to specific geographic regions in the U.S. Owners can check to see if their vehicles have been recalled by going to https://www.nhtsa.gov/recalls and keying in a 17-digit vehicle identification number.
In the latest round, Subaru is recalling 826,144 vehicles, including various Forester, Legacy and Outback models from 2010 to 2014. Mercedes is recalling 288,779 vehicles from model years 2010 to 2017. Volkswagen is recalling 119,394 vehicles, including Audi and Passat models from 2015 to 2017. BMW is recalling 266,044 vehicles from 2000 to 2004 model years and the 2007 to 2015 model years.
The recalls also include 159,689 vehicles from Daimler Vans spanning model years 2015 to 2017. Tesla is recalling 68,763 Model S vehicles from 2014 to 2016 and Ferrari is recalling 11,176 vehicles of various models ranging from 2014 to 2018 model years.
As of December, automakers have recalled 50.36 million inflators and replaced 27.2 million of them. That leaves more than 23 million yet to be replaced, according to the NHTSA website.
Ford, Honda, Toyota, and Fiat Chrysler already released their 2019 Takata recalls totaling more than 5 million vehicles.
The recalls forced Takata Corp. to seek bankruptcy protection and sell most of its assets to pay for the fixes.
#5

Law • Abortion clinic • Louisiana • Supreme Court of the United States • Brett Kavanaugh • John Roberts
Supreme Court Stops Louisiana Abortion Law From Being Implemented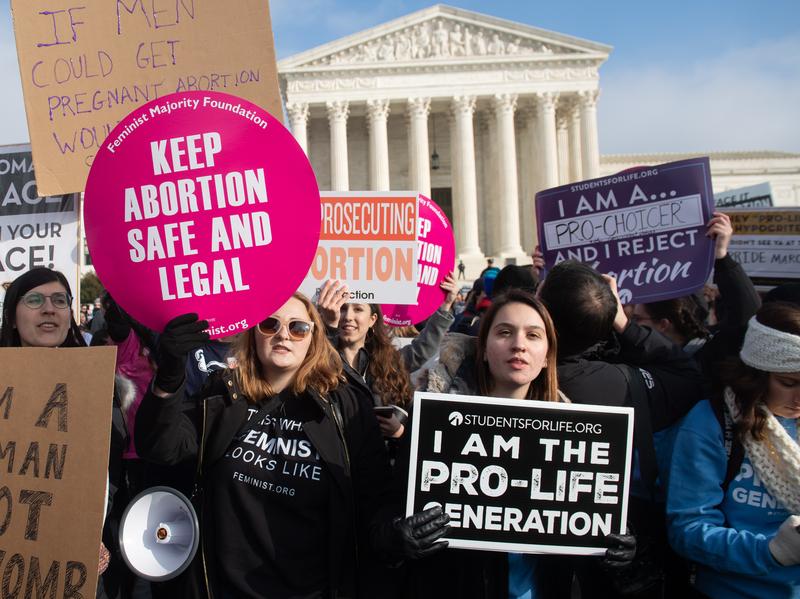 Updated at 10:55 p.m. ET
The Supreme Court, divided 5-4, has temporarily blocked implementation of a Louisiana abortion law nearly identical to the Texas law the high court struck down in 2016. The court's action, however, is only a pause.
It allows abortion-rights proponents time to bring an appeal to a newly constituted conservative court majority that may nonetheless be willing to reverse course dramatically on the subject of abortion.
Chief Justice John Roberts sided with the court's four liberal justices in voting for the stay. Justices Clarence Thomas, Samuel Alito, Neil M.Gorsuch and Brett Kavanaugh opposed the stay.
Kavanaugh wrote a dissent that said he would have let the law go into effect because the appeals court had said "the new law would not affect the availability of abortions from ... the four doctors who currently perform abortions at Louisiana's three abortion clinics."
Kavanaugh's dissent deferred to the precedent of the case in which the restrictive Texas law was overturned in 2016. But dissent signals Kavanaugh's openness to state restrictions on abortion rights with limitations and without overturning Roe v. Wade outright.
The question, Kavanaugh wrote, is whether three clinic doctors without hospital admitting privileges can obtain them. "If they can ... then the new law would not impose an undue burden for purposes of [the precedent in the Texas case.]"
He added that if they can not, "then even [Louisiana] acknowledges that the law as applied might be deemed to impose an undue burden."
Like the Texas law that the court previously struck down, the Louisiana law requires any doctor performing an abortion to have admitting privileges at a nearby hospital; it also requires that clinics that provide abortions be, in effect, mini-hospitals, with everything from wide corridors to expensive equipment. The Supreme Court said in the Texas case that neither was needed to protect women's health, and that both requirements imposed "a substantial burden" on a woman's right to abortion.
Louisiana has conceded that its law is virtually identical to the Texas law. The difference between then and now is that Justice Anthony Kennedy, who cast the decisive fifth vote in the 2016 Texas case, retired last June and has now been replaced by Trump-appointee Justice Brett Kavanaugh.
The Louisiana law has never gone into effect. It was blocked after U.S. District Judge John deGravelles held a hearing and found that the state law is a remedy for "a problem that does not exist." He noted that abortions performed in Louisiana are "safe procedures" with "very few complications" and that in the "extremely rare" cases where serious complications arise, Louisiana law requires clinics to have transfer agreements with local hospitals, where patients are routinely treated by hospital staff.
DeGravelles further found that were the Louisiana law allowed to go into effect, only one clinic and one doctor in the state would be qualified to perform abortions. Even if that doctor worked seven days a week, the judge said, the physician could not provide for the 10,0000 women a year seeking abortions in the state.
Louisiana appealed to the U.S. Court of Appeals for the 5th Circuit, and a three-judge panel voted 2 to 1 to allow the state law to go into effect.
Writing for the majority, Judge Jerry E. Smith, conceded that the state had not provided any instance in which a patient sustained "a worse result" because a doctor lacked hospital admitting privileges. Nonetheless, Smith maintained the the Louisiana law did not impose "an undue burden" on women seeking abortions. He said the closing of clinics would not impose driving distances as long as those in Texas, and he said that it was easier to get hospital admitting privileges in Louisiana.
Finally, Smith rejected the district court's factual finding that the law would make access to abortion more difficult for 70 percent of women seeking abortions in the state. Smith put the number instead at "at most 30 percent."
Judge Patrick Higginbotham, a Reagan appointee like Smith, dissented, accusing his colleague of failing to "meaningfully apply" the Supreme Court's prior rulings on abortion.
The 5th Circuit is among the most conservative federal appellate courts in the country. Eleven judges on the appeals court are Republican appointees, five of them Trump appointees. Of the eleven active Republican appointees, only one, a George W. Bush appointee, voted to rehear the case. One, a Trump appointee, was recused.
With the Louisiana law about to take effect, abortion providers in Louisiana went to the Supreme Court, seeking an emergency order putting the lower court decision on hold until it can be reviewed by the nine justices.
The high court has now agreed to grant that pause in the litigation, but it could still refuse to hear the case and leave the lower court decision in place. That would be a tacit acknowledgment that a majority of the justices no longer support the 2016 decision, and an invitation to anti-abortion state legislatures to pass more laws aimed at gutting Roe v. Wade, without reversing it outright.
The court, of course, could accept the Louisiana case for review next term, reopening the abortion debate, and perhaps even entertaining the possibility of reversing Roe.
Copyright 2019 NPR. To see more, visit https://www.npr.org.
#6

Fortnite • Epic Games • Battle royale game • Valentine's Day
Fortnite Share The Love time: What is the release time? When does Valentine's event start?
FORTNITE Share The Love is starting today - but when is the Valentine's Day event release time? When does Fortnite Share The Love start?
13:34, Fri, Feb 8, 2019 | UPDATED: 13:45, Fri, Feb 8, 2019
Fortnite introduces new explosive weapon 'bottle rockets'
Fortnite Share The Love is bringing with it new rewards and challenges for Battle Royale players.
The Fortnite Valentine's event kicks off today and will run all the way through till February 27.
The upcoming Fortnite Overtime challenges will unlock next week after the Fortnite update 7.40 release.
Ahead of the Fortnite Share The Love event launch, fans may be wondering when the release time is.
But the Fortnite makers did not reveal what time the Valentine's Day event will be kicking off.
Express.co.uk has got in touch with Epic Games to ask what time Fortnite Share The Love will be starting.
Fortnite Share The Love - What is the release time? When does Valentine's event start? (Image: EPIC GAMES)
The last Fortnite themed challenges all launched at different times so it's difficult to predict when it could launch.
The Fortnite Marshmello challenges went live around 2pm UK time while the Fortnite Ice Storm challenges went live around 7pm UK time.
Either of those times are possibilities, or alternatively looking at the time the Fortnite Share The Love event was announced may indicate a start time.
The Fortnite Twitter account yesterday posted just before 6pm UK time about Fortnite Share The Love.
Fortnite Share The Love - New Valentine's Day event kicking off today (Image: EPIC GAMES)
So these tweet could have been timed 24 hours ahead of the Fortnite Share The Love event going live.
Stay tuned to Express.co.uk as we will keep you up-to-date on all the latest Fortnite Share The Love news.
In the meantime here's what else you can expect from Fortnite Share The Love in Epic's own words:
SUPPORT-A-CREATOR REWARD
Players who currently support a Creator or enter a Creator Code between February 8 - 22 will receive the free Cuddle Hearts Wrap. You'll receive the item wrap when the v7.40 update releases. Don't worry, we're keeping track.
Jump into Fortnite and share the love with your favorite Creator!
DOUBLE XP WEEKENDS
All players will receive double XP during the weekends of February 15-17 and 22-24. Level up your Battle Pass before the season ends!
Fortnite Share The Love - Start time and release date on February 8 (Image: EPIC GAMES)
FEATURED ISLAND FRENZY
We're celebrating the brilliance of our community creators with a rotating set of featured islands, appearing in Fortnite Creative... Every. Single. Day. The Featured Island Frenzy will start on February 12 and end on February 22. Show your support by jumping into Creative each day and playing with friends.
COMPETITIVE
Announcing the "Share the Love" Competitive Series. We will run several placement matches on the weekend of February 9 and 10, placing top performers directly into the higher divisions based on their performance. Some new features in the tournament system will be used during the "Share the Love" Competitive Series with more unlocking with the v7.40 update.
Competition will be split across four separate divisions which will run simultaneously each day:
[Open Division] --> [Prospect Division] --> [Contender Division] --> [Champion Division]
Fortnite Share The Love kicks off on February 8 (Image: EPIC GAMES)
Players will unlock the next division by earning a pin during any daily session. Players who manage to earn a pin during a Champion Division session will unlock access to the Champion Division Finals to take place February 23 and 24.
Look out for special sprays related to the "Share the Love" Competitive Series for each division of the competition!
SHARE THE LOVE
This event is all about you and your squad, enjoy it! The #ShareTheLove event ends on February 27, right before the arrival of Season 8.
From everyone at Epic, thank you.
#7

Mattel • NASDAQ:MAT • NASDAQ • Stock
WHERE EXPERT ANALYSTS THINK MATTEL, INC. (MAT) AND VEREIT, INC. (VER) ARE HEADED?
It is expected that in Dec 2018 quarter MAT will have an EPS of -$0.11, while that of Mar 2019 is projected at -$0.31. It means that there could be a 84.72% and 48.33% growth in the two quarters respectively. Yearly earnings are expected to rise by 0.93% to about -$1.07. As for the coming year, growth will be about 100.93%, lifting earnings to $0.01. RSI after the last trading period was 51.37. MAT recorded a change of 4.39% over the past week and returned -13.32% over the last three months while the MAT stock's monthly performance revealed a shift in price of 5.28%. The year to date (YTD) performance stands at 23.72%, and the bi-yearly performance specified an activity trend of -20.82% while the shares have moved -26.65% for the past 12 months.
Mattel, Inc. (MAT) currently trades at $12.36, which is lower by -1.04% its previous price. It has a total of 345.29 million outstanding shares, with an ATR of around 0.5. The company's stock volume rose to 7.89 million, better than 4.71 million that represents its 50-day average. A 5-day increase of about 4.39% in its price means MAT is now 23.72% higher on year-to-date. The shares had marked a $18.02 52-week high price and the 52 week low of $9.09. Overall, it has seen a growth rate of -26.65 over the last 12 months.
Mattel, Inc. (NASDAQ:MAT)'s EPS was $0.18 as reported for the September quarter. In comparison, the same quarter a year ago had an EPS of $0.09. That means that its growth in general now stands at 100%. Therefore, a prediction of $0.2 given by the analysts brought a negative surprise of -10%. MAT Sep 19 quarter revenue was $1.44 billion, compared to $1.6 billion recorded in same quarter last year, giving it a -10% growth rate. The company's -$0.16 billion revenue decline that quarter surprised Wall Street and investors will need to consider this as they assess the stock.
VEREIT, Inc. (NYSE:VER) shares appreciated 0.99% over the last trading period, taking overall 5-day performance up to 1.36%. MAT's price now at $8.19 is greater than the 50-day average of $7.63. Getting the trading period increased to 200 days, the stock price was seen at $7.44 on average. The general public currently hold control of a total of 966.49 million shares, which is the number publicly available for trading. The total of shares that it has issued to investors is 967.8 million. The company's management holds a total of 0.4%, while institutional investors hold about 94.9% of the remaining shares. MAT share price finished last trade 5.13% above its 20 day simple moving average and its upbeat gap from 200 day simple moving average is 10.15%, while closing the session with 7.54% distance from 50 day simple moving average.
VEREIT, Inc. (VER) shares were last observed trading 0.61% down the peak of $8.14. Last month's price growth of 9.35% puts VER performance for the year now at 14.55%. Consequently, the shares price is trending higher by 25.61%, a 52-week worst price. However, it is regaining value with 6.23% in the last 6 months. From a technical perspective, it appears more likely that the stock will experience a Bull Run market as a result of the strong support seen recently between $8.04 and $8.11. The immediate resistance area is now $8.23 Williams's%R (14) for VER moved to 1.54 while the stochastic%K points at 97.21.
Estimated quarterly earnings for VEREIT, Inc. (NYSE:VER) are around $0.17 per share in three months through December with $0.17 also the estimate for March quarter of the fiscal year. It means the growth is estimated at -5.56% and -5.56%, respectively. Analysts estimate full-year growth to be 2.86%, the target being $0.72 a share. The upcoming year will see an increase in growth by percentage to -4.17%, more likely to see it hit the $0.69 per share. The firm's current profit margin over the past 12 months is 0%. VER ranks lower in comparison to an average of 57.4% for industry peers; while the average for the sector is 32.46%.
Mattel (MAT) Issues Earnings Results
Mattel (NASDAQ:MAT) released its earnings results on Thursday. The company reported $0.04 earnings per share for the quarter, topping analysts' consensus estimates of ($0.11) by $0.15, 
Bloomberg Earnings
 reports. Mattel had a negative return on equity of 65.25% and a negative net margin of 17.99%. The firm had revenue of $1.52 billion during the quarter, compared to the consensus estimate of $1.44 billion. During the same period in the prior year, the firm posted ($0.72) earnings per share. The firm's revenue for the quarter was down 5.4% compared to the same quarter last year.
NASDAQ MAT opened at $12.36 on Friday. Mattel has a 1-year low of $9.09 and a 1-year high of $18.02. The company has a debt-to-equity ratio of 4.28, a quick ratio of 1.21 and a current ratio of 1.70. The firm has a market capitalization of $4.31 billion, a PE ratio of -11.44, a P/E/G ratio of 93.68 and a beta of 1.38.
Hedge funds and other institutional investors have recently bought and sold shares of the company. Franklin Resources Inc. increased its stake in shares of Mattel by 10.8% in the third quarter. Franklin Resources Inc. now owns 30,050,865 shares of the company's stock worth $471,861,000 after acquiring an additional 2,936,278 shares during the last quarter. Mackenzie Financial Corp increased its stake in shares of Mattel by 1.5% in the third quarter. Mackenzie Financial Corp now owns 840,803 shares of the company's stock worth $13,201,000 after acquiring an additional 12,447 shares during the last quarter. Ardevora Asset Management LLP increased its position in Mattel by 10.3% during the third quarter. Ardevora Asset Management LLP now owns 2,205,336 shares of the company's stock worth $34,624,000 after buying an additional 205,800 shares during the last quarter. Cumberland Advisors Inc. acquired a new position in Mattel during the fourth quarter worth $910,000. Finally, Korea Investment CORP acquired a new position in Mattel during the third quarter worth $212,000.
A number of brokerages have recently commented on MAT. BidaskClub upgraded Mattel from a "sell" rating to a "hold" rating in a research report on Thursday, October 18th. Wells Fargo & Co cut their price objective on Mattel from $18.00 to $16.00 and set an "outperform" rating for the company in a research report on Tuesday, December 4th. B. Riley set a $11.00 price objective on Mattel and gave the company a "hold" rating in a research report on Friday, December 21st. Barclays cut their price objective on Mattel from $11.00 to $10.00 and set an "underweight" rating for the company in a research report on Wednesday, November 14th. Finally, UBS Group set a $15.00 price objective on Mattel and gave the company a "hold" rating in a research report on Thursday, November 1st. Two equities research analysts have rated the stock with a sell rating, ten have given a hold rating and three have given a buy rating to the stock. The company has a consensus rating of "Hold" and an average target price of $14.18.
Mattel Company Profile
Mattel, Inc designs, manufactures, and markets a range of toy products worldwide. The company operates in three segments: North America, International, and American Girl. It offers Mattel Girls & Boys branded products, including Barbie dolls and accessories, Monster High, DC Super Hero Girls, Enchantimals, Polly Pocket, Hot Wheels and Matchbox vehicles and play sets, CARS, DC Comics, WWE Wrestling, Minecraft, Toy Story, and games and puzzles.
See Also: Growth Stocks
Hasbro's profit took harder-than-expected hit from Toys R Us store closures
Hasbro's profit was hit harder by Toys R Us' bankruptcy and liquidation than the company had forecast.
Sales in the toy industry fell 2 percent last year as toy manufacturers endured their first Christmas without Toys R Us in more than 60 years.
Hasbro's gaming category, which includes "Magic: The Gathering" and "Monopoly" also took a hit, falling 22 percent.
Published 4 Hours Ago  Updated 40 Mins AgoCNBC.com
Hasbro's fourth-quarter earnings missed estimates by a wide margin, but investors shrugged off the news after the company outlined a promising slate of new toys for 2019.
Shares of the toy maker were down 4.9 percent Friday after falling as much as 10 percent before the opening bell.
The company teased new toys from popular franchises like "Star Wars," "Frozen" and Marvel's "Avengers," hinting that these products could be major sales drivers for Hasbro in the coming year.
In the quarter ended Dec. 31, the company said it was hurt by the closure of Toys R Us stores more than it had forecast.
"2018 was a very disruptive year, driven by the bankruptcy and liquidation of Toys R Us across most of the world and a rapidly shifting consumer and retail landscape," CEO Brian Goldner said in a statement Friday. "During 2018, we diversified our retailer base, meaningfully lowered retailer inventories, and delivered innovative new offerings to our global consumers.
"We were not, however, able to recapture as much of the Toys R Us business during the holiday period as we anticipated as the effect of its liquidated inventory in the market was more impactful than we and industry experts expected," he added. "It is an unprecedented yet finite event."
Before its bankruptcy filing, Toys R Us was Hasbro's third largest customer in the U.S. and its second largest customer in Europe and Asia, Goldner said during an earnings conference call Friday.
Hasbro reported net income of $8.8 million, or 7 cents per share, compared with a loss of $5.3 million, or 4 cents per share, a year earlier, when it took a one-time charge related to changes in U.S. tax laws.
Excluding certain items, the company earned $1.33 per share, below analyst estimates of $1.67 per share, according to Refinitiv.
Revenue fell 13 percent to $1.39 billion in the quarter from $1.6 billion a year earlier. Analysts had forecast revenue of $1.52 billion.
Hasbro and rival toymaker Mattel had to scramble to find new retail locations for their products in the wake of Toys R Us' bankruptcy.
While several retailers, including Target, Walmart, and even drugstores, expanded their toy sections this past holiday season, there were still far fewer shelves showcasing toys in 2018 than in previous years. The loss of shelf space appeared to disproportionately affect items like plush toys, building sets and sports toys.
Sales in the toy industry fell 2 percent last year as toy manufacturers endured their first Christmas without Toys R Us in more than 60 years. In the U.S., customers spent $21.6 billion on toys in 2018, less than the $22 billion shelled out for action figures, dolls and games in 2017, according to market researcher NPD Group.
Hasbro's portfolio took a big hit in the quarter. Sales of franchise brands like Nerf, Monopoly, and My Little Pony, fell 8 percent and partner brands, which include "Star Wars," "Frozen" and "Marvel" merchandise, slumped 20 percent in the fourth quarter.
Notably, Disney did not release a "Star Wars" film during the fourth quarter this year and therefore sales of "Star Wars" merchandise had a difficult comparison with last year's release of "Star Wars: The Last Jedi."
Hasbro's gaming category, which includes "Magic: The Gathering" and "Monopoly," also took a hit, tanking 22 percent.
The only bright spot was Hasbro's emerging brands, toys like Lost Kitties and Yellies, which were up 5 percent during the period.
In 2019, Hasbro should benefit from a number of entertainment licenses. The company will sell toys from movies like "Star Wars: Episode IX," "Captain Marvel," "Avengers: Endgame" and "Frozen 2" throughout the year. In the past, "Star Wars" toys alone have brought in more than $500 million in sales during the quarter in which they were sold.
"We're also seeing the opening of a new theme park land of Galaxy's Edge, which is both in Anaheim and in Orlando, and we get to the end of the movie 'Star Wars: Episode IX,' which debuts in theaters in December, and that impact from the film and all of our efforts will reach across both 2019 and 2020," Goldner said. "So we're really excited about a full-year effort."