#1

So Far Gone • Drake • Hip hop music
'So Far Gone': How Drake Sparked A Bidding War, Emerged 'Successful'
With his third mixtape, 'So Far Gone', Drake edged ever closer to world domination, teaming up with Lil Wayne and Young Money Entertainment.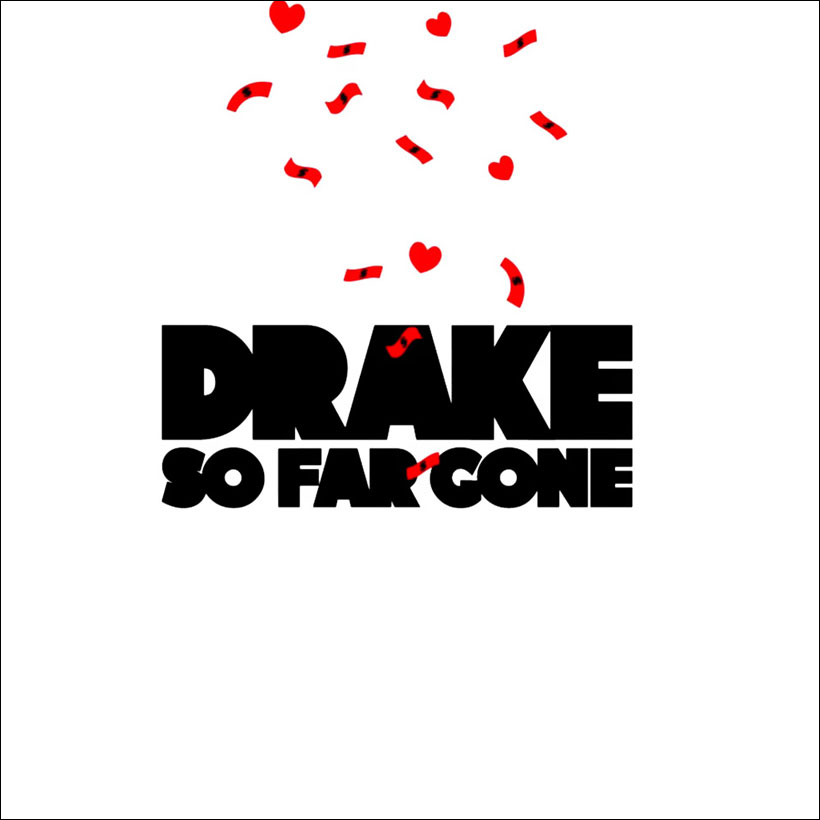 Launching his career as a child actor (on Canadian TV show Degrassi: The Next Generation), Drake's musical journey began with the self release of two mixtapes: 2006's Room For Improvement and 2007's Comeback Season. Both were blessed with the type of charismatic turns that Drake would later become famous for, though the sheer variety of styles covered betrayed an artist still searching for his musical voice. Impressed by the immense potential shown by the mixtapes, however, New Orleans rapper and entrepreneur Lil Wayne invited Drake to tour with him in 2008 and soon established himself as the young Canadian's mentor. The following year, a still-unsigned Drake released his third mixtape, So Far Gone, on 13 February, as a free download on his OVO blog. The results led to a highly publicised bidding war to sign him; Lil Wayne's Young Money Entertainment emerged victorious and subsequently used the mixtape as the basis for the So Far So Gone EP, released on 15 September 2009.
Listen to the So Far So Gone EP right now.
Influenced by Kanye West's 808s & Heartbreak in both sound and emotional openness, Drake's frank lyrics – which told of heartache, loneliness and his hunger for fame – were delivered with a mixture of singing and rapping. Fellow Canadians Noah "40" Shebib and Boi-1Da were behind the majority of the mixtape's productions – their winning combinations of electro-soul, pop and tough hip-hop beats adding a crucial element to his sound; collectively, they provided a template which would set Drake on his path to superstardom.
Two singles, the silky-smooth, Trey Songz collaboration 'Successful' and the bright and breezy 'Best I Ever Had' led the way. The former proved a sizeable hit, reaching No.17 on the Billboard Hot 100, but it was the latter track which provided Drake with his first genuine smash, charting for 24 weeks and peaking at No.2 before being certified double-platinum by the RIAA.
Other highlights, such as the Lil Wayne-guesting, 80s boogie-referencing 'Ignant S__t', the Billy Joel-sampling 'Uptown', the brilliantly murky 'The Calm' and the experimental, electro-pop of the Santigold collaboration 'Unstoppable' provided an impressive demonstration of versatility on a release would mark a huge turning point in Drake's career.
Only five of the mixtape's tracks ('Houstatlantavegas', 'Successful', 'Best I Ever Had', 'Uptown' and 'The Calm') would, however, make it to Drake's first official release, the So Far So Gone EP, for which Drake recorded two new songs, 'Fear' and 'I'm Going In'. Debuting at No.6 on the Billboard 200, the EP shifted over 500,000 copies to earn gold status, paving the way for Drake's US chart-topping debut, Thank Me Later.
The So Far So Gone EP can be bought here.
Listen to the best of Drake on Apple Music and Spotify.
#3

Louisville • Duke Blue Devils men's basketball • Zion Williamson • Mike Krzyzewski • College basketball Duke vs. Louisville Basketball Highlights (2018-19)
Duke erases 23-point deficit, pulls off incredible comeback win over Louisville
It looked bleak for the Duke Blue Devils early, but the team came alive late. After falling behind by 23 points in the second half, No. 2 Duke pulled off an incredible win over the No. 16 Louisville Cardinals.
That didn't seem possible in the first half. Zion Williamson showed up for the Blue Devils, but his teammates were nowhere to be found.
By halftime, only Williamson had made a significant impact for the Blue Devils. He scored 13 of the team's 29 points heading into the second half.
Jones finished with just six points.
Cam Reddish picked up some points early for the Blue Devils, but couldn't hit from 3-point land. He started the night 0-for-5 from beyond the arc. His first successful 3-point attempt came with nine minutes left in the game.
It looked like it would be more of the same early in the second half. Duke scored just 10 points during the first 12 minutes of the second half, which allowed Louisville to jump out to a 23-point lead.
A late surge by the Blue Devils made things tense late. With five minutes to go, Duke had whittled down Louisville's lead to just 10 points.
The Blue Devils kept up that pressure, eventually tying the game 69-69 after Reddish got hot from 3-point range. Reddish finished the contest with 22 points.
With 40 seconds to go, Reddish was called for an offensive foul that would have given Louisville the ball back with 14.9 seconds left. That foul was reviewed, and it was determined it was actually a defensive foul. Reddish drained both free throws to give Duke the 71-69 lead.
Louisville had a last-second chance to tie things up, but missed the shot. Williamson pulled down the rebound, and held the ball until the clock hit zero.
Williamson's rebound finished yet another impressive night for the freshman. He finished with 27 points and 12 rebounds in the 71-69 win.
Williamson also revealed the message from Mike Krzyzewski that inspired the team in the second half.
The loss drops No. 16 Louisville to 17-8. They'll look to bounce back against Clemson on Saturday.
With the win, Duke improves to 22-2 on the season. They should also at least retain their No. 2 ranking, which seemed improbable after the team's rough first half.
Duke will look to carry over their second half momentum when the team takes on N.C. State on Saturday.
#4

Leopard • Kenya • Will Burrard-Lucas • Black panther • Africa Move over T'Challa, the black leopard's here.
African black leopard photographed for the first time in over 100 years, scientist says
(CNN)Turns out, the mythical African black leopard really does exist.
Biologists shot rare footage of the sleek big cat walking majestically in Kenya -- the first time the animal has been photographed in Africa since 1909, said Nick Pilfold, a global conservation scientist at the San Diego Zoo.
Pilfold said they captured the footage after months of watching and waiting. His team of biologists had placed remote cameras to track the leopard population near a conservancy area in Laikipia County last year when they heard reports of a possible black leopard sighting.
"We intensified our camera placement in the area the reports were being made," he said Tuesday night. "Within a few months, we were rewarded with multiple observations on our cameras."
The female leopard's coat color is pitch black as a result of melanism, a gene mutation that results in an over-production of pigment, Pilfold said. It's the opposite of albinism -- and although the leopard's coat appears black during the day, its rosette patterns are visible in nighttime infrared imagery.
Other sightings reported but without as much footage
While there have been reports of sightings of black leopards -- also known as black panthers -- the last confirmed observation with photographic evidence was in Ethiopia more than a century ago, he said.
"It is likely that black leopards have been living in Kenya all along, it is only that high quality imagery to confirm it has been missing until now," Pilfold said.
The footage shot by Pilfold's team includes a slew of photos and video footage of the agile animal moving in darkness, its eyes glittering in the night like two shiny marbles.
While there may be reported sightings in Kenya, black leopards are still considered rare in the continent, Pilfold said.
"Melanism occurs in about 11% of leopards globally, but most of these leopards live in South East Asia," Pilfold said. "Black leopards in Africa are extremely rare, and prior to the observations in our published paper, the last confirmed observation was 1909 in Ethiopia."
A longtime dream to photograph the black panther
Will Burrard-Lucas, who shot the images of the black leopard, described his longtime dream to photograph the big cat.
"For me, no animal is shrouded in more mystery, no animal more elusive, and no animal more beautiful," he
 posted on his blog.
 "For many years, they remained the stuff of dreams and of farfetched stories told around the campfire at night. Nobody I knew had ever seen one in the wild and I never thought that I would either."
Burrard-Lucas said he shot the images at Laikipia Wilderness Camp using a 
Camtraptions Camera, 
which focuses on wildlife photography and footage. The cameras were placed near animal trails, and water sources such as pools and natural springs. They were left on 24 hours a day in most places but were only turned on at night in public places, according to 
the African Journal of Ecology.
The total extent of the animal's population decline is still unknown, San Diego Zoo said in a statement. But several factors have sharply reduced their numbers, including hunting, habitat loss, competition for prey, and conflict with livestock and farmers.
Pilfold is part of a team from the San Diego Zoo working with local partners, including the Kenya Wildlife Service, to monitor leopard populations in the area and help preserve the species.
He marveled at the coincidence of the location of an animal that's also called the black panther, the title of one of last year's biggest movies.
"Coincidentally, our observations are very close to where the fantasy Marvel comic country of Wakanda is suggested to be located," he said.
Black panthers refer broadly to any melanistic leopard, jaguars and other big cats.
It started in the local community
Ambrose Letuai, a local leopard conservationist who was part of the project, said it started after residents complained about leopards. He said the black leopards are famous for killing livestock in the region, where they refer to them as "calf killers."
"I first heard about the black leopard when I was growing up from the stories of elders, but I didn't believe it at all until I saw it myself," he told CNN. "As a local, people have always been talking about the black leopard."
Kenyan conservationist Paula Kahumbu said there have been many unconfirmed sightings of black leopards, but this is the first time one has been proven.
"I've spoken to a couple of safari guides who have seen black leopards in the Aberdares, one of them in the late 80s," she said. "Despite many challenges in the sector, Kenya's wildlife continues to awe and inspire the world. ... I hope that this rare find persuades the authorities that we must balance conservation with development to protect our spectacular and mysterious species."
Kahumbu congratulated Letuai for helping spearhead the international project. "I ... hope it inspires a new generation of Kenyan wildlife scientists," she said.
#5

Westminster Kennel Club Dog Show • Docking • Cropping Dog • Rottweiler
https://www.facebook.com/166970770643349/videos/377320649733345/
Want your dog to win at Westminster? You might need to cut off its ears or tail
NEWS 10:00 AM by Kim Kavin The Washington Post
Danny the Chow at the 143rd Westminster Kennel Club Dog Show at Piers 92/94 on February 11, 2019 in New York City. - Sarah Stier,Getty Images
Siba, a standard poodle, is groomed before competing in the Best of Breed event at the Westminster Kennel Club dog show on Monday, Feb. 11, 2019, in New York - Wong Maye-E , The Associated Press
A Lhasa Apso is groomed at the Westminster Kennel Club Dog Show in New York, Feb. 11, 2019. The event brought hundreds of dogs into Manhattan for two days of grooming, petting, barking and judging. - JEENAH MOON , NYT
1 / 3
Leslie Fried is a prominent dog breeder who has been turning out champion Rottweilers since 1986. She says she knows a winning Rottie when she sees one, and a number of years ago, she thought she had an outstanding female for the show ring.
There was just one problem: Unlike all the other Rottweilers on the circuit, Fried's dog Tyra still had a "natural" tail — a big, long one. Tyra was from the first litter of puppies whose tails Fried, after seven generations of breeding, had left undocked.
"People were saying, 'Get that mongrel out of the ring,' " said Fried, who lives in New Jersey. "You feel intimidated — and I'm not new to this world or a weak-temperament person."
Fried says she wanted to show that a Rottweiler could be a great competitor with a natural tail. But after paying the entry fees and travel expenses to show Tyra in various rings for more than two years, Fried and Tyra's owners gave up. Tyra never earned American Kennel Club champion status. One of Tyra's puppies did, though, and she will compete this week at the elite Westminster Kennel Club Dog Show — with what's left of her docked tail.
Fried is among a small but growing number of breeders willing to voice opposition to docking tails or cropping dogs' ears to make the point that these are cruelties that should end. But they say the practices are so deeply embedded in show culture that any undercurrent pushing to end them remains overwhelmed by the sport's tradition-bound majority.
"She wouldn't be there, either, if she had a tail," Fried said of Brandi, the dog that will show at Westminster. "This should not be happening in today's world."
Docking and cropping date back generations to times when, for instance, people falsely believed that removing part of a dog's tail could prevent rabies. The practices became common for several breeds, ranging from silky terriers to miniature schnauzers. Today, even though the American Veterinary Medical Association shuns the procedures as painful and cosmetic, some breeders insist they are necessary to, say, prevent animals from having something to latch onto in a fight.
Ultimately, the practices of cropping and docking became written into many of the judging standards used to evaluate dogs in AKC-sanctioned shows, including Westminster. As of 2013, the AKC recognized 20 breeds with cropped ears and 62 breeds with docked tails.
To be sure, beliefs are evolving in some breeds. The silky terrier that won best of breed on Monday — Lamplighter Bendill Tail Wind, who goes by "Windy" at home — has a natural tail. Her breeder, Barbara Beissel, said she stopped docking her puppies nine years ago in defiance of the breed standard, which states "the tail is docked," and has made it her mission to show that natural-tailed silkies can win.
"I've been at Westminster every year consistently with a dog with a natural tail, but this is the first time we've won the breed," Beissell said in an interview shortly as she prepared the dog for its next round of judging. "This is big ... And no matter what, the world will see this beautiful dog with a natural tail."
Because each breed's parent club creates the standards, language about docking and cropping varies. Unlike the silky terrier's, which decrees that its docked tail is "set high and carried at twelve to two o'clock position," the Doberman pinscher standard says: "Ears normally cropped and carried erect."
"They have been fighting, nattering, for decades now over the meaning of 'normally,' " said Kathy Davieds, a Virginia-based veterinarian and breeder of Dobermans since 1983. "There are two camps. One says 'normally' means what most sane people think, which is usually. But the rabid pro-croppers say it means cropped in a normal fashion."
Breeders who stand by the procedures can be fervent. When the AKC's Terrier Group Breeder of the Year for 2016 was charged with eight counts of animal cruelty for illegally cropping the ears of her miniature schnauzers, she vowed to continue. And she did: After being convicted, she was arrested again and charged with felony torture.
In several nations, including the United Kingdom and Australia, docking and cropping are banned and considered animal cruelty.
But in many show rings, including the widely televised event that the Westminster Kennel Club hosts every February in Manhattan's Madison Square Garden, traditions die hard. Men will be wearing bow ties at ringside, the official colours will include regal purple, and, some breeders predict, "naturals" will be excluded from the winner's circle in some breeds.
Teresa La Brie, an upstate New York breeder who has produced more than 70 champion Great Danes since 1985, took her first dog to Westminster in the early 1990s. She was at the event again last year, with a Great Dane that had long, floppy ears.
"The problem with the naturals is that you don't go to Westminster expecting to win," La Brie said. "The judge didn't give me even a sideways glance. I go to show the audience, the public, to say, 'Yes, you can have natural ears.' "
A few years ago, at a show in Massachusetts, La Brie said a judge separated the cropped Danes from the natural-eared dogs.
"She made a point of showing us all that she would not even evaluate our dogs," La Brie said. "I've had judges close their eyes when they walk by ... They want you not to exist."
Lisa Peterson, a spokesperson for the Westminster Kennel Club, said the organization abides by AKC regulations and stands by the decisions of its judges, whom she said are "responsible for interpreting" standards set by breed clubs.
AKC spokesperson Brandi Hunter said many dogs with natural ears and tails from traditionally cropped and docked breeds earn championships. All newly recognized breeds whose standards include docking or cropping must also include descriptions for undocked tails or uncropped ears, she added.
"More and more parent clubs have addressed the judging of undocked tails via their judges' education, even if the standard does not state it," Hunter said.
Jeff Shaver, the vice president of the American Rottweiler Club and husband of an AKC judge, said he has shown and won with docked and undocked Rottweilers, and he believes both should be equal competitors. But he said breeders who perceive a bias against natural dogs are correct.
"It's worse in some breeds than others," he said. "When the first Rottweiler with a tail showed back in 2006 back in Florida, there was almost a riot. People were crazy — cursing, yelling, screaming, all kinds of threats. It was ridiculous. There were Facebook wars, this that and the other. Friendships ended over it."
Shaver said things are calmer now in the Rottweiler show rings, and that his wife is among the judges who don't care if a dog has a tail. He said he anticipates a day when cropping and docking will be banned in the United States, rendering any controversy about them irrelevant.
"Frankly, it's going to take a major city like Los Angeles, or like New York City, where they have Westminster, to pass a crop and docking ban," he said. "If one state passes that, it's over."
Breeders who insist on cropping are bucking a change in public sentiment, Davieds said. In the 1980s, she said two-thirds of people who contacted her to purchase a pet Doberman wanted puppies with pointy ears.
"Now, nine out of 10 people want uncropped," Davieds said. In many cases, she said the customers mention that they've reached out to other breeders who refused the request. "I have actually had people cry," she said.
Fried, whose Rottweiler Brandi will show at Westminster with a shortened tail, said she would stop docking altogether if she could still compete "on an even playing field."
But then, she added, she thinks about the fact that so many of her buyers want only Rottweiler puppies that come from champion lines.
"If Brandi had not been docked, she may not even be a champion today," Fried said, "let alone the number five female going to Westminster."
#6

Galentine's Day • Valentine's Day • Parks and Recreation • Amy Poehler
Show Your Girlfriends Some Love This 'Galentine's Day'
Published 3 hours ago | Updated 2 hours ago
Move over Valentine's Day, there is another holiday showing the ladies some love. Wednesday is "Galentine's Day," the unofficial holiday celebrating the your favorite gal-pals. It was inspired by the NBC show "Parks and Recreation."
Whether you and your girlfriends want to indulge in a fancy dinner, have a night out at movies, or a walk in the Botanical Gardens there is something for every group of ladies.
Dwell Coffee and Biscuits in Fort Worth is offering $1 Sprinkle biscuits and mimosas.
"It was my wife's idea to celebrate Galentine's Day," said owner Jeff Bannon.
#7

Teva Pharmaceutical Industries • NYSE:TEVA • New York Stock Exchange • Stock
Teva Pharmaceutical Industries Limited (TEVA): Institutional Investors Don't Hold All The Cards
Teva Pharmaceutical Industries Limited (NYSE:TEVA) has made a 28.99% comeback from a 12-month low price of $14.59. It was seen 3.29% higher, changing the price to $18.82, when the closing bell rang on 02/11/2019. At recent session, the prices were hovering between $18.31 and $18.82. This company shares are 19.39% off its target price of $22.47 and the current market capitalization stands at $20.93B. The recent change has given its price a 1.6% lead over SMA 50 and -27.5% deficit over its 52-week high. The stock witnessed 3.58% gains, -20.69% declines and -15.72% declines for the 1-month, 3-month and 6-month period, respectively. To measure price-variation, we found TEVA's volatility during a week at 3.53% and during a month it has been found around 2.44%.
Teva Pharmaceutical Industries Limited (TEVA) Top HoldersInstitutional investors currently hold around $11.72 billion or 60.2% in TEVA stock. Look at its top three institutional owners. Capital Research Global Investors owns $2.17 billion in Teva Pharmaceutical Industries Limited, which represents roughly 10.35% of the company's market cap and approximately 18.48% of the institutional ownership. Similar statistics are true for the second largest owner, Franklin Resources Inc, which owns 66,534,105 shares of the stock are valued at $1.21 billion. The third largest holder is Capital World Investors, which currently holds $864.66 million worth of this stock and that ownership represents nearly 4.13% of its market capitalization.
Teva Pharmaceutical Industries Limited 13F Filings
At the end of September reporting period, 242 institutional holders increased their position in Teva Pharmaceutical Industries Limited (NYSE:TEVA) by some 62,240,184 shares, 242 decreased positions by 95,300,432 and 128 held positions by 485,524,861. That puts total institutional holdings at 643,065,477 shares, according to SEC filings. The stock grabbed 76 new institutional investments totaling 8,584,202 shares while 72 institutional investors sold out their entire positions totaling 8,434,444 shares.
Teva Pharmaceutical Industries Limited (NYSE:TEVA) Insider TradesMultiple company employees have indulged in significant insider trading. Teva Pharmaceutical Industries Limited disclosed in a document filed with the US Securities and Exchange Commission (SEC) that Executive VP, Global R&D Fridriksdottir Hafrun has sold 1,643 shares of Teva Pharmaceutical Industries Limited (TEVA) in trading session dated Jan. 02, 2019. These shares are worth $25,795 and were traded at $15.7 each. The SEC filing shows that Fridriksdottir Hafrun performed a sale of 933 shares. The Executive VP, Global R&D disposed these shares by way of transaction on Nov. 30, 2018. The company's shares were given away at $21.76 per share worth to an income of some $20,302 on account of Fridriksdottir Hafrun.
EVP, CFO, Mcclellan Michael James, sold 346 common shares of Teva Pharmaceutical Industries Limited (TEVA) in the open market. In a transaction dated Nov. 05, 2018, the shares were put up for sale at an average price of $22.73, raking in a sum of $7,865. After this sale, 11,644 common shares of TEVA are directly owned by the insider, with total stake valued at $219,140.
In the transaction dated Sep. 18, 2018, the great number of shares disposed came courtesy the Exec. VP, European Commercial; Daniell Richard disposed a total of 2,488 shares at an average price of $23.69, amounting to approximately $58,941. The insider now directly owns shares worth $.
Teva Pharmaceutical Industries Limited (TEVA) Analyst GuideSeveral analysts have released their opinion on Teva Pharmaceutical Industries Limited (NYSE:TEVA), with 3 analysts believing it is a strong buy. Whereas 15 of them predict the stock is a hold. Also, there are 3 buy, 2 sell and 0 strong sell ratings, collectively assigning a 2.7 average brokerage recommendation.
#8

Scuderia Toro Rosso • Formula 1 • 2019 Formula One World Championship • Red Bull
Formula E testing 'useful' for Alexander Albon ahead of F1 debut
12 Feb 2019
Alexander Albon
 feels his experience driving a Formula E car will prove useful when he samples a hybrid power unit for the first time upon his Formula 1 debut for Toro Rosso.
Albon completed Formula E testing for Renault e.dams in January 2018, and was due to race for Nissan before being released in order to take up an F1 seat with Toro Rosso.
The ex-Formula 2 driver has never raced with a hybrid powertrain before, but feels the experience of driving a Formula E car will help his preparation for his F1 debut in March.
"I was fortunate to do some Formula E testing, so when I did that I learned a lot about the powertrain and it's quite surprising how similar the two are," Albon said.
"I wouldn't say the technology is the same, but the way you have to save energy and things like that, they're very similar. It was useful to have done that testing, I think it won't be too difficult to adapt to that."
Albon explained how he expects the speed and downforce difference between F1 and F2 to be the bigger challenge upon his maiden outing, as well as growing accustom to the bigger size of the race team at Toro Rosso.
"Obviously, these cars are quicker than ever now, even if speeds might drop a little this year. But in terms of the jump from Formula 2 to Formula 1, it's really, really big," Albon said.
"That's mainly from the downforce. I think the speed won't be too difficult to deal with, it's more just the pure width of the car I'll have to get used to.
"Secondly, something which I think people don't realise, is just the sheer amount of people and the work ethic involved in F1. It's different in the sense that you have so many people working for you and they're all striving to be as quick as possible, so for a driver there's a lot of interaction with the team. There's always someone that I need to speak with in order to get the maximum out of the car.
"In Formula 2, I had two engineers, there was a head engineer and I had two mechanics in total. So that's six or seven people and now I'm going to a team that's got almost 400 people.
"It's a different ball game but I'm getting used to it - It's a nice problem to have!"
Red Bull, Toro Rosso will get equal share of new Honda F1 personnel
Published on Tuesday February 12th 2019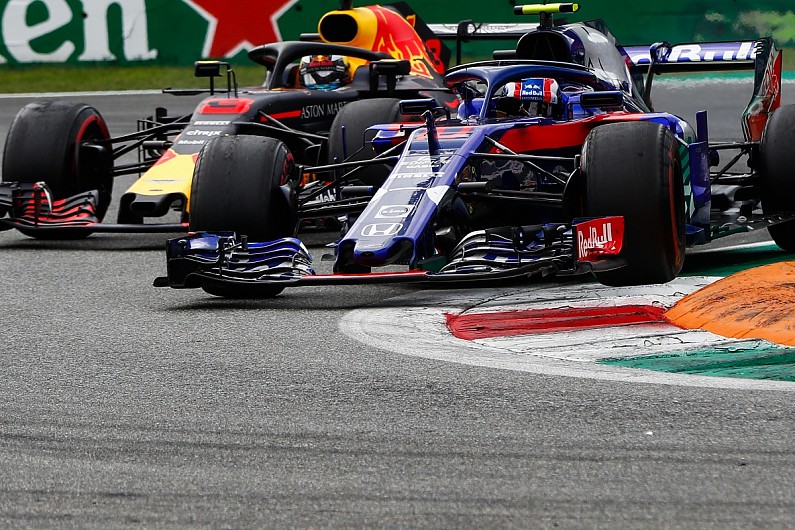 Red Bull and Toro Rosso will evenly share the new Formula 1 personnel Honda will deploy this season as its prepares to supply engines to two teams.
The decision made by Red Bull to switch from Renault to Honda means the Japanese manufacturer is responsible for two teams for the first time in the V6 turbo-hybrid era.
While exact figures are unknown as Honda does not disclose its staffing numbers, it has had to increase F1 personnel on the ground to supply engineers and mechanics to the two teams.
Honda F1 technical director Toyoharu Tanabe will be in overall charge of the F1 project with each team assigned a Honda chief engineer.
There is also an increase in personnel at Honda's research and development facilities in Sakura and Milton Keynes to develop and prepare twice the number of engines, and Honda has "strengthened the functionality" of its mission control rooms at those locations to deal with working for two teams on race weekends.
FIA regulations mandate engine manufacturers supply all teams equally, but Tanabe said "it's not just a case of supplying the two teams with the same technical hardware".
"We will also treat them equally in terms of the resources we allocate to manage our operations and on the development side," he said.
"This should be quite a straightforward procedure as the two teams are part of the same family and because we can work with Red Bull Technology."
Honda has not supplied two teams in F1 since its works team was supported by the Super Aguri outfit in 2008.
But it began preparing to expand its current F1 programme in 2017 as it had provisionally agreed to add a Sauber customer deal to its then-works McLaren partnership.
Now Honda is officially supplying two teams, Toro Rosso team manager Graham Watson said the use of its new recruits effectively amounts to "we keep 50% of the Honda personnel who worked with us in 2018, and Red Bull gets the other 50%".
He said: "So, both teams get half the 2018 guys and half new Honda personnel. I think that's the best and fairest approach.
"Given we have new people on board, we need to do our best to integrate them within the team and find the best practices to work efficiently with each other.
"If the past has taught us anything, this should be a simple process and by the end of the first test everyone will be familiar with one another."