#1

Pulwama attack: Family members of martyred jawans want 'revenge'
https://www.facebook.com/ZeeNewsEnglish/videos/608437479603255/
Pulwama attack: Who is militant group Jaish-e-Mohammad?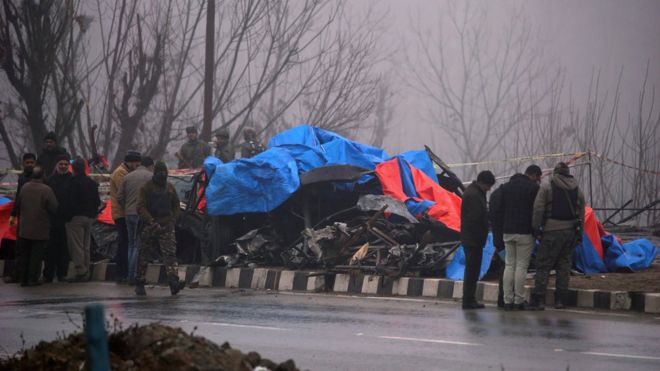 Jaish-e-Mohammad (JeM), a Pakistan-based group, has claimed responsibility for the suicide bombing on 14 February in Indian-administered Kashmir.
At least 46 soldiers died, making it the deadliest single attack against Indian forces in the region since 1989.
The group is designated a terror organisation by India and the UN, as well as the UK and the US.
It aims to unite Kashmir with Pakistan and has been held responsible for attacks in India and Kashmir.
Media reports say JeM spokesman Muhammad Hassan spoke of "dozens of [Indian] forces' vehicles" destroyed in the attack, when the bomber rammed a convoy in a vehicle filled with explosives.
What is JeM?
Jaish-e-Mohammad literally means the Army of Mohammad.
Pakistan-based Muslim cleric Maulan Masood Azhar founded the group after he was released by India in 1999.
He was one of three men set free in exchange for the crew and passengers of an Indian Airlines plane hijacked and flown to Taliban-ruled Afghanistan.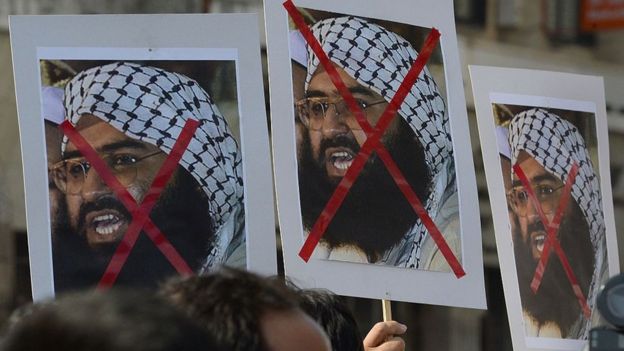 Mr Azhar reportedly met with the former Taliban leader Mullah Omar and with al-Qaeda head Osama Bin Laden when he was in the country.
India blame JeM for an attack on their parliament in New Delhi in December 2001 - a claim JeM denies.
JeM was officially banned in Pakistan soon after that attack but the group still operates, sometimes using the names Afzal Guru Squad, Al-Murabitoon and Tehreek-al-Furqan.
More recently, India has blamed JeM for an attack on its Pathankot airbasenear the Pakistani border in January 2016, which left three security forces dead.
JeM commander Noor Mohammad Tantray was killed by Indian forces in December 2017, which was seen as a massive blow to the organisation.
But the violence did not abate, and a report in the Indian newspaper The Print suggests covert Pakistani support may be the reason for its expansion.
JeM has however attacked Pakistani military targets and even made an attempt on former leader Pervez Musharraf's life in 2003, despite India's accusations that Pakistan harbours the group.
What have India and Pakistan said?
India frequently asks its neighbour to extradite Mr Azhar - reportedly in the eastern Pakistani province of Punjab - but Pakistan refuses, saying there is a lack of proof against him.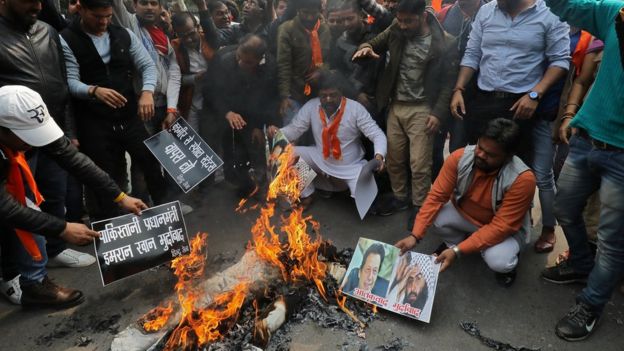 New Delhi has also called on the UN to list Mr Azhar as a global terrorist, but Pakistan's close ally China continues to block the move.
Speaking after the Pulwama attack, India's foreign ministry demanded that Pakistan "stop supporting terrorists and terror groups operating from their territory, and dismantle the infrastructure operated by terrorist outfits to launch attacks in other countries".
But Pakistan has condemned any suggestion it is linked to the attack.
"We have always condemned acts of violence anywhere in the world," a foreign office spokesman said.
Uri vs Pulwama: How govt reacted to the two terror attacks
Here is how key members of the Modi government have responded to the Pulwama and Uri attacks.
India has revoked Pakistan's Most Favoured Nation status.
The terror attack in Pulwama has refreshed memories of another terror attack that took place more than two years ago -- the 2016 Uri attack.
While on both occasions the government agreed that Pakistan should be isolated internationally for its continued support to terror groups, it was severely criticised for continuing trade with the neighbouring country in the wake of the Uri attack.
However, this time the significant change in the government's response is the withdrawal of the Most Favoured Nation status for Pakistan (read here for what MFN means).
In a media briefing after the meeting of the Cabinet Committee on Security (CCS), Finance Minister Arun Jaitley on Friday said, "The most favoured nation status to Pakistan stands revoked."
Follow live updates on the fallout from the Pulwama attack here
He said the Ministry of External Affairs will launch an all-out effort to isolate Pakistan and all diplomatic efforts will be launched in this regard.
Here is how key members of the Modi government have responded to the two attacks:
Prime Minister Narendra Modi
Uri attack: Terrorists should hear out clearly that India will never forget the Uri attack... I want to tell the leadership of Pakistan that the sacrifice of our 18 jawans will not go in vain."
Pulwama attack: "I want to tell terror groups and their supporters that they have made a big mistake. I want to assure the nation that those behind this attack will pay a big price."
"If our neighbour who is totally isolated in the world thinks it can destabilise India through its tactics and conspiracies, then it is making a big mistake."
Arun Jaitley
Uri attack: "The perpetrators of the Uri terror attack will face consequences. Diplomatic efforts to isolate Pakistan internationally will be intensified."
Pulwama attack: "The Ministry of External Affairs (MEA) will initiate all possible diplomatic steps that have to be taken to ensure complete isolation of Pakistan, of which incontrovertible evidence is available, for having a direct hand in this gruesome incident."
Rajnath Singh
Uri attack: "Pakistan is a terrorist state and it should be identified and isolated as such. There are definite and conclusive indications that the perpetrators of Uri attack were highly trained, heavily armed and specially equipped."
Pulwama attack: "Jaish-e-Mohammed has carried out this terror attack. We assure the country that we will undertake whatever it takes to avenge this."
Manohar Parrikar
Uri attack: "As a nation should ensure this is not repeated again and again. I will take steps to ensure it doesn't go wrong again. PM's statement that 'those behind Uri attack will not go unpunished', will not remain a mere statement."
Pulwama attack: "The attack on CRPF jawans at Pulwama is an act of extreme cowardice and disregard for human life. India's resolve for peace mustn't be counted for weakness & passivity. India stands with CRPF, its martyred jawans and their families."
Get real-time alerts and all the 
news
 on your phone with the all-new India Today
#2

New York City • Amazon.com • Headquarters • Amazon HQ2 new york city amazon.com headquarters amazon hq2
Victory or catastrophe? Amazon's pull-out leaves New York divided
February 15, 2019 by Thomas Urbain
Thousands of lost jobs or a victory against a monolith: reactions were sharply divided Thursday after Amazon abandoned its plans for a new headquarters in New York.
"I was nervous about Amazon bringing in just a lot more crowd," said Danielle Quagliata.
"I feel that the area is pretty built up as it is," she said. "I, for one, feel relieved."
Others feared skyrocketing rents—and doubted claims that Amazon would have inundated the area with jobs.
Carlos Dall'Orso, who runs the bicycle shop Spokesman Cycles, would have undoubtedly benefited from the influx of thousands of executives with disposable income—but he too is breathing easier now that the online giant pulled out.
"As someone who works in retail, I don't have fun things to say about Amazon," Dall'Orso said. "Amazon is killing retail. When all the retail is gone, then they're going to control the price and they won't be cheap anymore."
And of the theory that Amazon employees could have boosted his business, the entrepreneur is nihilistic.
"It's prolonging the death," he said. "Do I take chemotherapy now or do I shoot myself in the head?"
Lost opportunity
But some heard the Amazon news with dismay, having looked forward to the global operation's move into town.
"Think about all the infrastructure and tech jobs and construction jobs and all the support that needs to go in for a campus like that," said David Katzen, who owns a construction company in the area."All those jobs are gone."
He blames local politicians—many of whom fought the project, saying the state governor and city's mayor pushed it without their input—whom he accuses of "wanting to make noise."
"I think it was just a bully pulpit for which local legislators wanted to get up and beat their drums and be heard," Katzen said.
"And now it backfired on them because they never thought that Amazon would pull out."
Some 56 percent of New Yorkers were in favor of the project, according to a poll from Siena University, while 36 percent were opposed.
Katzen dismissed claims that the already stretched public transport system would have collapsed under the demands of thousands of new riders.
"They would have adapted it," he said. "They would have done something else to compensate."
Some critics had pointed to the risk of gentrification that Amazon would have caused, a prospect John Paul Palace, who moved there a year ago, rejected.
"It's already gentrified! That's why I moved here," he said.
Katzen, whose business has been in "LIC" since 1928, echoed that sentiment: "The people that used to live here were older immigrants; Italian, Irish people."
"Those people are already gone."
#3

Lion • Cougar • Colorado The trail runner who successfully fought off a mountain lion during an attack in Colorado holds a press conference.
Travis Kauffman Is No Chuck Norris, but He Did Kill a Mountain Lion
Travis Kauffman on Thursday recounted the mountain lion attack that left him with seven stitches along his cheek, six along the bridge of his nose and three on his wrist.
Credit

David Zalubowski/Associated Press
Travis Kauffman has been a cat dad for only about six months. But during that short time, he has observed that anytime he plays with his house cat, the cat will get on its back and "just kind of go crazy with his back legs and start scratching."
This experience, he said at a news conference on Thursday, "was definitely a good thing to know" on the afternoon of Feb. 4, when Mr. Kauffman was attacked by a young mountain lion while running on a Northern Colorado trail.
CPW NE Region @CPW_NE

LIVE || press conference featuring the trail runner who survived the Feb. 4 mountain lion attack.

pscp.tv
38 people are talking about this
The wisdom gleaned from his pet cat came to him, he said, as he was wrestling with the mountain lion — his wrist in its jaws, its teeth audibly grinding through his ligaments and tendons. And so fearing that the perhaps-50-pound cat would rip through his guts with its claws, he mounted it and used one of his knees to pin down its back legs.
Mr. Kauffman, 31, then tried to stab the cat in the throat with sticks, before trying to strike it in the head with a large rock. After both efforts failed to stop the attack, he shifted his body weight and contorted himself so he could step on the cat's neck with his other foot.After a few minutes, the mountain lion had suffocated, Mr. Kauffman said. Only then did it release his wrist from its jaw.
"There was a point," he conceded, "where I was concerned I wasn't going to make it out." But managing to free himself, he then raced several miles back to safety on what he called a "fear high." Along the way, he encountered a few helpful people, one of whom drove him to a hospital
At the news conference, where he detailed the encounter publicly for the first time, he said it was weird "to feel kind of famous" for what he said was "an unearned reason."
Since the attack, Mr. Kauffman has been lionized as officials have recounted the tale of him killing a mountain lion that was intent on killing him. While meeting with the news media, he was reminded that some have called him "The King of the North."
His girlfriend, Annie Bierbower, who also spoke at the news conference, noted that some have remarked that Mr. Kauffman will not have any trouble getting dates. (She agrees that he will not, because she will be taking him on said dates.)
Mr. Kauffman, who is a lanky 5-foot-10 and about 150 pounds, opened his news conference by asking reporters whether they were disappointed that he was "not, in fact, Chuck Norris."
"I know," he added. "Pretty big letdown."
And reminded of the "Game of Thrones" nickname he had been given, he was quick to admit: "I will never be able to live up to the reputation. And maybe that's what has led to some of my reticence for actually coming out. The story is bigger than my puny form."
Those self-deprecating remarks provided several moments of levity and good humor on Thursday as Mr. Kauffman recounted the details of the deadly serious attack, which left him with seven stitches along his cheek, six along the bridge of his nose and three on his wrist, which the mountain lion had latched on to. He wore the blue jacket he had on during the attack, and several cuts were visible on his face.
Despite somber introductions from wildlife officials who cautioned that there could have been "a much different outcome," Mr. Kauffman said he felt great, was healing well and has started running again with the intention of training for a race. With wildlife officials accompanying him, he has already returned to the trail where he was mauled.
He plans to run there again. But in the future, he said, he will do his trail runs with a friend. And he urged other runners to do so, too.
Mr. Kauffman, of Fort Collins, Colo., also urged other runners not to listen to music while running. Had he put any devices in his ears as he was running along the West Ridge Trail at Horsetooth Mountain Open Space, he might not have heard the pine needles rustle behind him, which alerted him to the mountain lion.
In a video interview played during the news conference, Mr. Kauffman said that after the mountain lion attacked, he threw his arms up and tried to protect his face. Then he started screaming, doing a sort of "barbarian yell." Then came a wrestling match, the pin and, eventually, the strangulation.
Mr. Kauffman said Thursday that he had not returned to the environmental consulting company where he works.
As for Mr. Kauffman's relationship with his pet cat, Obie: "He knows that something's up," Mr. Kauffman said, "so he's been extra nice to me."
Julia Jacobs contributed reporting.
#4

National Emergencies Act • President of the United States "Special Report" Panel: Border Security Battle
Constitution experts: President has right to declare emergency
It is a tactic that President Trump could use to fund a border wall — although the declaration will likely be challenged in court, said Scott R. Meinke, professor and chair, department of political science, Bucknell University.
Congress passed the National Emergencies Act in the 1970s, he explained, which effectively delegates power to declare certain types of national emergencies to the president.
When the Supreme Court tries to figure out what the limits of presidential power are in situations where the Constitution doesn't speak to it, said Jud Mathews, professor of law, Penn State Law, State College, the court uses a test that it came up with in a 1952 case, when President Truman sent troops to operate steel mills that were idled because steelworkers had gone out on strike. In that case, presidential power was checked.
"The court said if it is not clear if a president is doing something within its power, we'll want to see what the other branches of government are doing. If Congress seems to be on board with what the president is doing then his power is at its maximum; if Congress is not on board with the president, his power is at its minimum."
And if they are not sure where Congress stands, Mathews said, then we're in kind of a twilight area — uncharted ground, and that might be the case with Mr. Trump.
Still, said Meinke, "there is a fair chance that the courts will ultimately uphold a declaration, since the Supreme Court has tended to defer to presidents when they are using power that Congress has delegated. But, under the National Emergencies Act, it is also possible for Congress to disapprove the emergency, and it is likely that Democrats in the House will try to do so."
Although Trump's declaration could survive these hurdles, Meinke said, "some Republicans have voiced caution about this move for prospective reasons: A future Democratic president could use emergency declarations in the same way to make policy that Congress won't support."
#5

Maine • National Emergencies Act • United States Congress • Susan Collins • Donald Trump • Angus King • Chellie Pingree • Jared Golden • State of emergency What You Need to Know: National Emergencies Act
https://www.facebook.com/ActionNewsJacksonville/videos/2187710878162838/
Maine congressional delegation criticizes Trump's plan to declare national emergency
Republican Sen. Susan Collins joins Sen. Angus King, an independent, and Democratic Reps. Chellie Pingree and Jared Golden in questioning the wisdom and constitutionality of such a move.
Sen. Susan Collins questioned the wisdom and constitutionality of President Trump's plan to declare a national emergency to build a $5.7 billion wall on the southern border, joining a chorus of criticism from Maine's congressional delegation.
"Such a declaration would undermine the role of Congress and the appropriations process," the moderate Republican said in a statement Thursday. "It's just not good policy. It also sets a bad precedent for future presidents – both Democratic and Republican – who might seek to use this same maneuver to circumvent Congress to advance their policy goals.
"It is also of dubious constitutionality, and it will almost certainly be challenged in the courts."
The other members of Maine's congressional delegation – Sen. Angus King, an independent, and Democratic Reps. Chellie Pingree and Jared Golden – also issued statements condemning the plan soon after the White House announced it.
The move by the White House came after a compromise on border and immigration enforcement gave Trump just a fraction of the money he wanted for his border wall. The White House said the president would sign the bill and then declare a national emergency to try to shift money to wall-building from elsewhere in the federal budget.
The bill passed the Senate, 83-16, in the afternoon and the House, 300-128, Thursday night.Collins, who serves on the Appropriations Committee, said the bipartisan agreement funds the government through Sept. 30 and avoids "another harmful government shutdown."
She wasn't the only Republicans to cast doubt on Trump's plan.
Sen. Marco Rubio of Florida tweeted there is a crisis on the southern border, but added, "no crisis justifies violating the Constitution." And Sen. Rand Paul of Kentucky tweeted that he is "disappointed" with the president's intentions.
King, who caucuses with Democrats and voted for the spending bill, decried the president's intention, saying that any attempt by the president to circumvent the nation's system of checks and balances should be challenged in court.
"As to the news that the president is planning to declare a national emergency to fund his border wall even as his own Department of Homeland Security reports that illegal border crossings are declining: this is not what the Framers of the Constitution intended when they separated powers between the executive and the Congress, and explicitly assigned spending powers to the Congress," King said in a statement."This is antithetical to our American system of government, and I hope and expect that any move by the president to circumvent Congress will be quickly challenged in court."
Pingree and Golden both ripped Trump in separate statements.
Pingree said such the plan to declare a national emergency is being driven by Trump's "broken campaign promise."
"It is an abuse of power for President Trump to declare a national emergency because he failed to fulfill his campaign promise of Mexico paying for his multi-billion dollar border boondoggle," Maine's 1st-District congresswoman said. "If President Trump cares about border security, he will continue to work with Congress through the fiscal year 2020 budget process."
Golden, who recently replaced Republican Bruce Poliquin as Maine's 2nd District congressman, said he remains committed to strengthening the border and keeping the government open."Democrats and Republicans have developed a compromise plan that achieves both those goals. That's how our government is supposed to work," Golden said.
Collins said any attempt by the president to declare a national emergency would be a "mistake," explaining that the National Emergencies Act was intended to be used to fund major natural disasters or catastrophic events, such as the 9/11 terrorist attacks.
"A far better approach would be for the president to submit a timely budget request for additional border security funding and work with Congress through the normal appropriations process," Collins said.
Golden said the president would be making a mistake if he declared a national emergency.
"Just because you can do something doesn't mean you should," Golden said. "The president is wrong to use his authority to declare a national emergency. The sky is not falling and most Americans don't buy his empty rhetoric."
#6

Earnings • PepsiCo Pepsi – Home
PepsiCo earnings: $1.49 per share, in line with estimates
Amelia Lucas
PepsiCo will report earnings before the bell Friday.
The fourth quarter is Ramon Laguarta's first as chief executive.
Investors were disappointed by rival Coca-Cola's outlook for its 2019 earnings Thursday.
© Provided by CNBC LLC An employee pours Pepsi from a soft drink pump behind the bar of a restaurant. PepsiCo will report fourth-quarter earnings before the bell Friday.
Here's what Wall Street is expecting, according to a survey of analysts by Refinitiv:
Earnings: $1.49 per share
Revenue: $19.52 billion
Shares of rival Coca-Cola fell Thursday after the company gave weaker-than-expected earnings outlook for 2019, citing headwinds from currency, Fed rate hikes and changing tax rates. PepsiCo is the more diversified company with its stable snack business, but its North American beverage business was struggling until it began spending more on marketing.
PepsiCo doubled down on beverages with its $3.2 billion acquisition of SodaStream, the at-home sparkling drink maker. It closed the deal in December.
In September, it raised prices on drinks, which will be reflected in the sales numbers for the fourth quarter. Coke's own midsummer price increases led North American unit case volume to drop 1 percent during its fourth quarter
The fourth quarter is Ramon Laguarta's first as chief executive. He took the helm in October after Indra Nooyi stepped down.
MOODY'S: 4Q EARNINGS SNAPSHOT
AP
#7

Louisiana State University • Omaha • LSU Tigers baseball • -eaux • College World Series The Road To Omaha Begins
LSU: The Road to Omaha...Just Don't Say That Out Loud
BATON ROUGE -- - Why can't the LSU Baseball team utter the word "Omaha" en route to a College World Series run this season??
It's more than just a superstition, but Geaux Nation Sports Reporter Ashley Liotus delves into the quirky world of baseball players to find out.
And, she may have accidentally got the forbidden word out of one of the new Tigers on this year's squad!
Click the video provided for the full story.
Then, tune in to your Louisiana Geaux Nation at 5, 6 & 10pm to get LIVE coverage from Alex Box Stadium on opening night.
LSU will take on UL-Monroe on Friday night at 7pm.
#8

Hellertown • Easton Road 748 Easton Road, Hellertown
Coroner called to incident in Hellertown with police activity
The Northampton County coroner has been called to an incident in Hellertown borough with police activity.
Police entered a home in the 1000 block of Easton Road just before 8 a.m. and emerged a short time later. Officials on scene then called for the coroner.
Easton Road was reopened a short time later.
The incident began around 6:30 a.m., a Northampton County dispatcher said. Initial scanner reports indicated a possible "barricaded subject."
Lower Saucon police, Northampton County Emergency Management, and various emergency services units remain on scene.
Check back as more details become available.
Twitter @ssigafoos
610-820-6612
Police activity' shuts block in Hellertown, authorities say
Updated 8:14 AM
Posted 6:58 AM
UPDATE: Easton Road reopens in Hellertown after standoff ends with coroner call
The 1000 block of Easton Road was shut early Friday morning by police in Hellertown, authorities report.
Borough police at 6:50 a.m. tweeted, "Please avoid the 1000 block of Easton Road for police activity."
The incident began about 6:05 a.m., a Northampton County emergency dispatch shift supervisor said.
Emergency radio reports indicated a "possible barricaded subject," but police did not immediately confirm.
WFMZ tweeted that police were "using megaphones to talk to someone in a house."
Gregory Park is near the scene.
This is a breaking news post and it will be updated as more information becomes available.
Tony Rhodin may be reached at arhodin@lehighvalleylive.com. Follow him on Twitter@TonyRhodin. Find lehighvalleylive.com on Facebook.