#1

Phoenix Suns • Devin Booker • Three-Point Contest • 2019 NBA All-Star Game • Three-point field goal
Suns tying Devin Booker's All-Star Weekend performance to discounted tickets
Back to back for Book means half off tix.
Suns offer up to 50% off tickets this weekend
Above: Phoenix Suns guard Devin Booker will defend his title from last season in the MTN DEW 3-Point Contest at NBA All-Star 2019 on Saturday, Feb. 16. (Photo by Tyler Strachan/Cronkite News)LIFESTYLE | 15 hours ago | EXPERIENCE AZ
Phoenix Suns guard Devin Booker will defend his title from last season in the MTN DEW 3-Point Contest at NBA All-Star 2019 on Saturday, Feb. 16, and the team will celebrate his participation with the "Devin Shoots, You Score" Flash Sale, exclusively on Suns.com/ThreePoint, immediately following the event through Midnight on Tuesday, Feb. 19. Fans will have the opportunity to purchase tickets at a discounted price of up to 50 percent off all home games in March and April, excluding the team's matchup with the Los Angeles Lakers on March 2, based on Booker's performance in the competition.
Fans will receive 50 percent off if Booker wins the MTN DEW 3-Point Contest, 40 percent off if he advances to the championship round and 30 percent off if he does not advance past the first round. Fans can visit Suns.com/ThreePoint following the event to receive the discount code necessary to unlock the sale prices.
The MTN DEW 3-Point Contest will be the second event during State Farm All-Star Saturday Night in Charlotte, airing on TNT and ESPN Radio at 6 p.m. MT.  Booker, who is averaging 24.9 points per game on a career-high 46.3 percent shooting from the field including 32.4 percent from three-point range, will compete against Seth Curry (Portland), Stephen Curry (Golden State), Danny Green (Toronto), Joe Harris (Brooklyn), Buddy Hield (Sacramento), Damian Lillard (Portland), Khris Middleton (Milwaukee), Dirk Nowitzki (Dallas) and Kemba Walker (Charlotte).
The 2018 3-Point Contest Champion, this will be Booker's third time competing in the event. Last year in Los Angeles, he set an event-record 28 points by making 20-of-30 shot attempts in the final round to take home the trophy. In 2016 in Toronto, Booker advanced to the final round against Klay Thompson and Stephen Curry as a 19-year-old rookie, the youngest competitor in 3-Point Contest history.
Single-game tickets for all Suns home games are on sale at Suns.com or by phone at 602-379-SUNS. Download the Official Suns Mobile App to stay connected with access to team news, highlights, stats, videos and more.
The Bookers know that winning games is the key to All-Star nods
Booker looks at best friends and All-Stars D'Angelo Russell and Karl-Anthony Towns as motivation.
#2

Vatican City • Theodore Edgar McCarrick • Pope Francis
Ex-cardinal McCarrick defrocked by Vatican for sexual abuse
[embed]https://youtu.be/rzJBju-F3MA[/embed]
ROME — The Vatican on Saturday said it had defrocked ex-cardinal Theodore McCarrick, leveling a historic penalty against a onetime church power broker and former archbishop of Washington after the church found him guilty of sexual abuse.
It is the most significant abuse-related punishment given to a former cardinal in the modern history of the Roman Catholic Church.
In a short statement, the Vatican said a canonical process had found McCarrick guilty of two charges: soliciting sex during confession and committing "sins" with minors and adults "with the aggravating factor of the abuse of power."
The defrocking, which strips McCarrick of the rights of the priesthood, marks the conclusion of a closed-door Vatican proceeding and comes just days before Pope Francis plans to gather bishops from around the world for an unprecedented summit on abuse.
It also finalizes the downfall for a figure who entered the priesthood six decades ago, climbed the ranks of the faith and earned influence and honorifics — before becoming a symbol of the church's struggle to root out abuse in its highest ranks.
"He was cardinal up until a few months ago. Today, he is Mr. McCarrick," said the Rev. Davide Cito, a canon lawyer at Rome's Pontifical University of the Holy Cross. "This is a humiliation in that world such as one cannot imagine."
The decision against McCarrick is known formally as a "dismissal from the clerical state." The sentence is considered by the Catholic Church to be the most severe form of canonical punishment for a cleric — worse than excommunication, which is temporary and lasts only as long as a person persists in sin.
McCarrick, 88, accused of sexually abusing three minors and harassing adult seminarians, probably won't face criminal prosecution, because the allegations that have been made public relate to crimes that would be beyond statutes of limitations in the U.S. jurisdictions where they are said to have occurred.
In its statement Saturday, the Vatican said that its Congregation for the Doctrine of the Faith had found McCarrick guilty of the charges on Jan. 11. On Wednesday, the Vatican "considered the recourse" that McCarrick presented but confirmed its original decision: a determination that McCarrick was informed of on Friday. Pope Francis has affirmed the decision, meaning it is final.
A Virginia man, James Grein, who has said McCarrick abused him for years, starting when he was 11, said in a statement on Saturday that "nothing can give me back my childhood and I have not taken any pleasure in testifying or discussing what happened to me.
"With that said, today I am happy that the Pope believed me. I am hopeful now I can pass through my anger for the last time. I hope that Cardinal McCarrick will no longer be able to use the power of Jesus' Church to manipulate families and sexually abuse children."
The accusations against McCarrick, and the notion that they languished for years, have been a central component of a renewed and painful global crisis for the church. To critics of the Vatican and of Pope Francis, McCarrick's case exemplified a persistent culture of secrecy and coverup, and a reluctance to hold church leaders accountable.
McCarrick's defrocking had been widely expected among church experts, who had said that the Vatican was trying to conclude the proceedings in advance of the four-day meeting on sexual abuse. Francis has tried to tamp down expectations for that summit, but the decision on McCarrick acts as a "signal moment," said Austen Ivereigh, a Francis biographer.
Ivereigh said it is telling that the Vatican's charges included McCarrick's alleged actions with minors but also adults.
"Francis sees very clearly that sexual abuse is an abuse of power," Ivereigh said. "You can't get a clearer signal of that than this."
In a statement, the Archdiocese of Washington said it hoped and prayed that this "decision serves to help the healing process for survivors of abuse, as well as those who have experienced disappointment or disillusionment because of what former Archbishop McCarrick has done."
Cardinal Daniel DiNardo, the president of the United States Conference of Catholic Bishops, said the Vatican's decision showed that "no bishop, no matter how influential, is above the law of the church."
McCarrick was a globe-trotting diplomat, representing the Vatican abroad, advocating for human rights and religious freedom. He was the de facto lead spokesman among U.S. cardinals when the abuse crisis first exploded in the early 2000s, and he helped draw up rules in the United States for how the church would handle abuse, rules that provided zero tolerance for predator priests but did little to improve oversight of bishops or cardinals. McCarrick served as archbishop of Washington from 2001 to 2006 and afterward regularly testified before Congress and attended White House meetings.
But abuse allegations against McCarrick exploded into public view in the summer, along with reports that some in the church hierarchy had known about his misconduct for years.
McCarrick was suspended from ministry in June after the church determined he had been credibly accused of molesting a minor when he was a priest in New York nearly 50 years ago.
McCarrick maintained he had "absolutely no recollection of this reported abuse and believe in my innocence."
He has not responded publicly to subsequent allegations, including that two New Jersey dioceses settled cases brought by men who said he harassed them when they were seminarians or young priests.
In July, under intense pressure, McCarrick became the first cardinal in nearly a century to fully resignhis position. Pope Francis ordered him to a life of "prayer and penance," and he moved to a friary in Kansas.
The outrage over McCarrick — coupled with additional scandals in the United States, Europe, Latin America and Australia — has damaged the reputation of Francis, who said after becoming pope in 2013 that he wanted the church to act "decisively" on abuse. Advocates and abuse survivors say the pope has succeeded in acknowledging the severity and seriousness of the issue, but he hasn't backed up his words with action, either by making changes in church law or adding ways to hold bishops accountable.
Even as the canonical proceeding explored the facts directly surrounding McCarrick, the Vatican has remained silent about who might have helped protect McCarrick during his long career. In the summer, a former Holy See ambassador, Archbishop Carlo Maria Viganò, accused Francis and a litany of Vatican higher-ups of knowing about — and failing to act on — McCarrick's alleged misconduct. Francis has not responded to the accusations, and the Vatican has not released the findings of a promised investigation into its archives on McCarrick.
Francis last year defrocked several priests in Chile at the center of a nationwide scandal. Also last year, Archbishop Anthony Apuron of Guam — tried on charges that included sexually abusing minors — was found guilty on some charges, though the Vatican did not specify which ones. He is appealing his case.
Experts in church law say the punishment technically does not mean McCarrick is no longer a priest, because ordination cannot be undone. But McCarrick can no longer perform priestly duties.
In an open letter released last month, Viganò called on McCarrick to repent publicly as a way to "bring a significant measure of healing to a gravely wounded and suffering Church."
Stefano Pitrelli contributed to this report.
#3

nba • slam dunk • the starters
[embed]https://youtu.be/OnDWtfXRpfI[/embed]
Top 10 Dunks of The Decade
Before the teens come to a close, The Starters count down the Top 10 Dunks of the Decade so far. Watch The Starters daily at 6:00ET throughout the season or get more of them on their website: http://nba.com/thestarters
#4

Northampton Saints • Premiership Rugby • Sale Sharks • Ken Pisi • Rugby union • Dorian West
https://youtu.be/p3iSNCkjsFU
https://youtu.be/iA7i2CERJIw
Gallagher and Northampton Saints combine to show inclusivity is a key priority for rugby
Northampton Saints' James Haskell displayed rugby's inclusive values this week as he helped put on a training session for the only LGBTQ club in the East Midlands.
Northampton Outlaws RFC were formed in 2012 as the only gay and inclusive rugby team in the region and recently entered Gallagher's 'Train with your Heroes' competition.
The Outlaws won the nationwide competition by displaying how their team embodies the spirit of rugby, and as a result received the prize of a training session led by Saints Haskell, Tom Wood and Ken Pisi.
Haskell commented: "The Outlaws are really putting their hands up and saying, 'we can do this' and they're giving people a sanctuary.
"My view on sexuality is it's a shame that it's something people still have to announce or deal with, but obviously we do, and it's like that because a lot of people aren't informed as they should be.
"I think there's a multitude of religions that make sexuality a very uncomfortable thing which is a shame – I never came out as straight, so I don't see why other people should have to put their hand up and say 'I'm gay or I'm this or I'm that' but we live in this world.
"I can't imagine what it's like to be struggling to actually be yourself, to live a life where you're not able to be yourself and to come to a team like the Outlaws where you're not judged, you're accepted, it's essential.
"We all have our struggles and sexuality for a lot of people is a massive struggle – having teams like this where you know you can get involved is massively important.
"Long may it continue but hopefully one day we'll reach a stage where sexuality is not a thing, hopefully rugby will keep being a pioneer in this area."
The Saints players and coaches passed on plenty of experience and tips to the Outlaws in the energetic evening session, working on areas such as breakdown and communication skills.
The squad enjoyed the professionally-delivered, full-blooded session, as exemplified by club president Simon Law: "It's really good for the lads to have England internationals down, local players as well, and just to really engage more in the local RFU scene as well and getting some great tips from the guys!
"Generally, I think rugby's fine in terms of inclusivity, but I think it's very daunting for somebody from the LGBTQ community to get into a normal rugby club, because generally people have come through from school, university, college and they've gone through that culture already.
"To then come into that culture as a complete outsider is a difficult thing to do, so when you've got a club like this where people have been here for two months or six years or whatever, it doesn't matter.
"We play together, we socialise together, we train together, all as one team, and no matter your experience we all play as one team and just try to have a good time but also to win matches!
"It's great that the Saints boys can come out and show the guys here that they can be part of it – it doesn't matter - age, shape, size, ability, rugby is a game for all!"
#5

Monster Energy AMA Supercross An FIM World Championship • Arlington • Ken Roczen • Eli Tomac
2019 ARLINGTON SUPERCROSS | BEST IN THE PITS
For the second time this season, Ken Roczen has the points lead. 
For the seventh round of the 2019 Arlington Supercross inside AT&T stadium,  Ken Roczen will be running the red plate for the second time this year. Eli Tomac lost the red plate and the points lead by getting a bad start last weekend in Minneapolis and wasn't able to break into the top five finishing sixth on the night. In the 250 class the red plate will be occupied by Austin Forkner for the second round of 250 East division. His ride in Minneapolis, Minnesota at round six was flawless as he won his heat race and main event from start to finish.
We had Brian Converse catch what was going on in the Arlington pits to bring you close-up shots of the bikes, teams, mechanics and more in this weeks Best in the Pits gallery. Enjoy!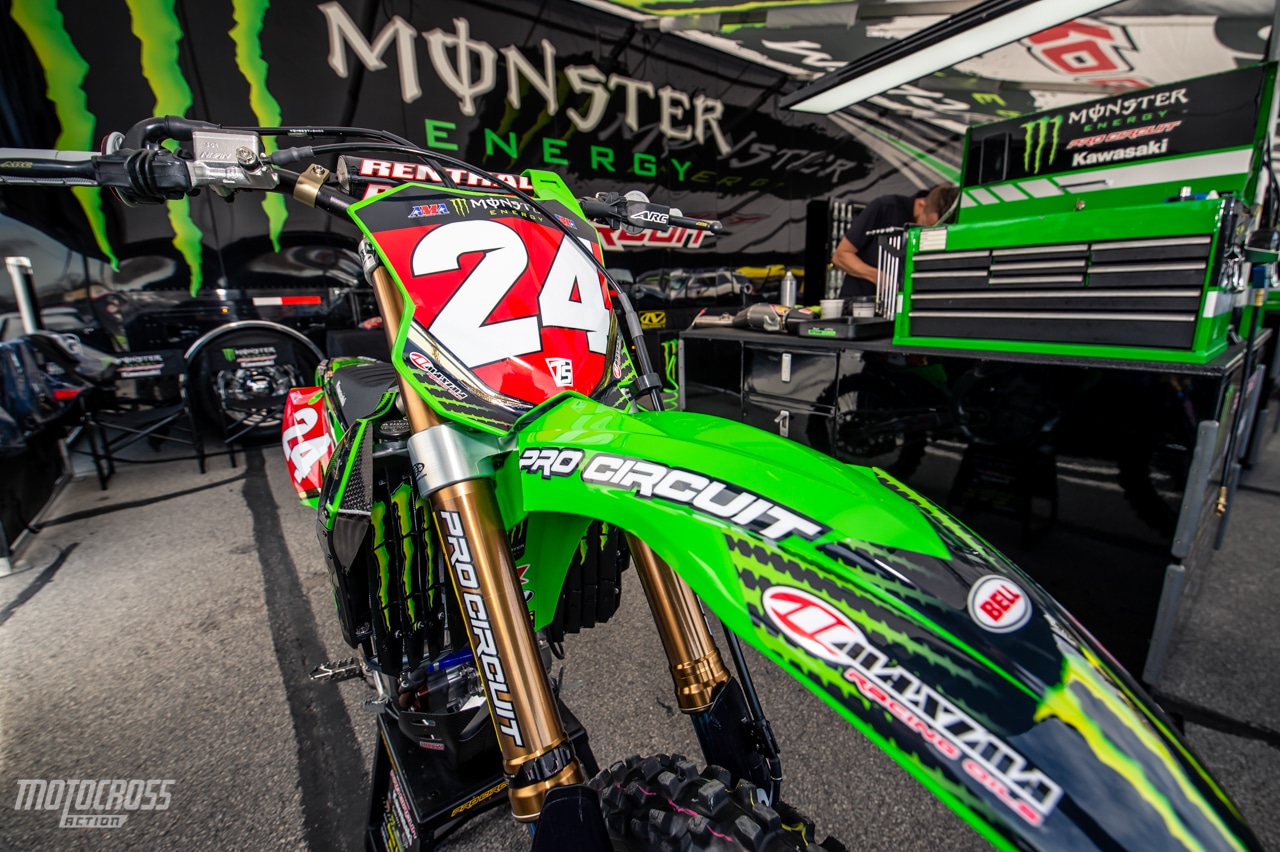 Austin Forkner led every lap and won the 250 Main Event last weekend in Minneapolis. It will be interesting to see if Jordon Smith and the rest of the 250 East class will be able to give him more of a challenge this weekend in Arlington. 
Zach Osborne's Rockstar Husqvarna FC450 is ready for it's first Supercross of the year.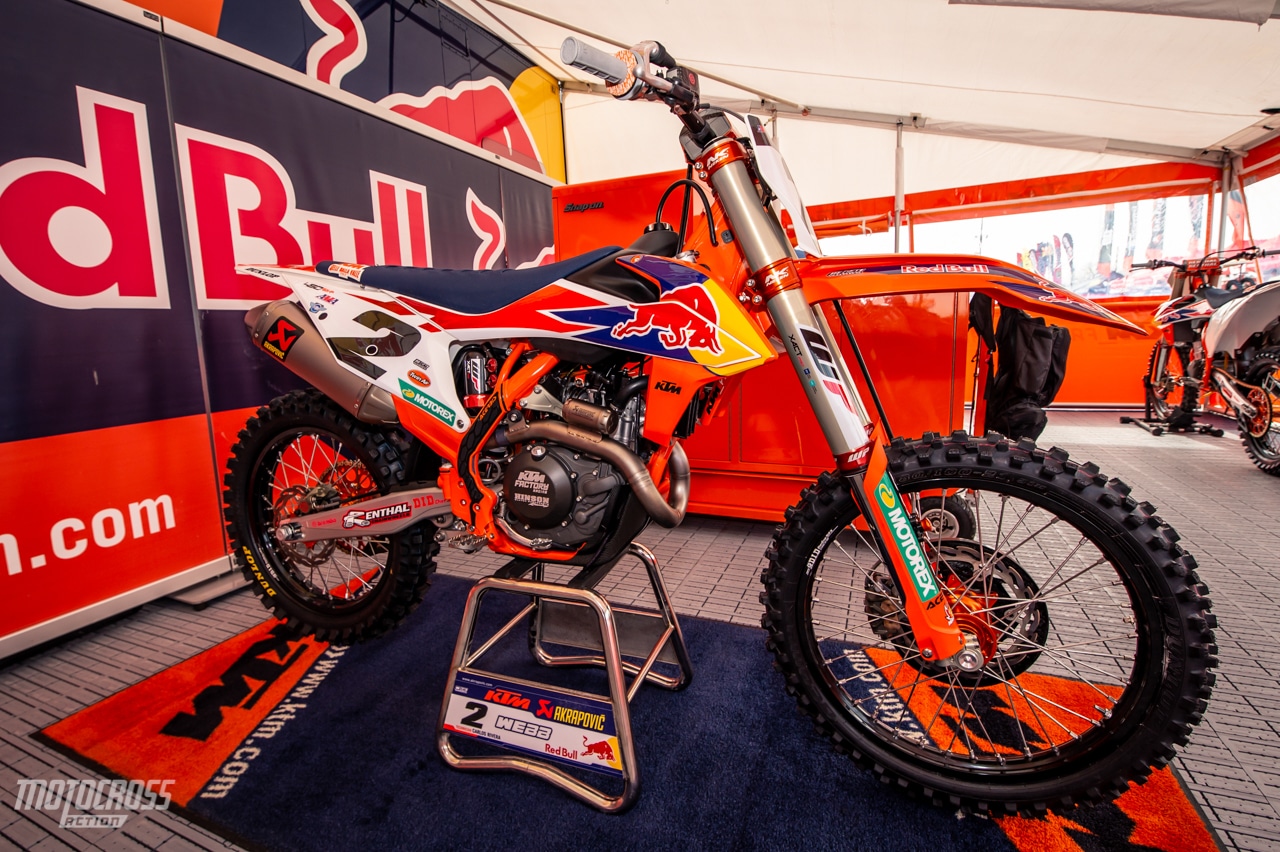 Cooper Webb is just one point away from having the red plate again. He has been looking awesome this year on his new Red Bull KTM ride. 
Dean Wilson's Rockstar Husqvarna FC450.
The Troy Lee Designs Red Bull KTM team has all four of their 250 race bikes in Arlington. No, Shane McElrath and Sean Cantrell won't be racing, but the team is still hauling their race bikes across the country because the West riders will soon meet the East riders in the first East/West showdown of the year at Atlanta. They were outside shortly, but they will be stored back inside the rig during the pit party.
Chad Reed's JGR RM-Z450. Chad looked good in Minneapolis and he finished seventh. It will be interesting to see how he does if he can get a good start.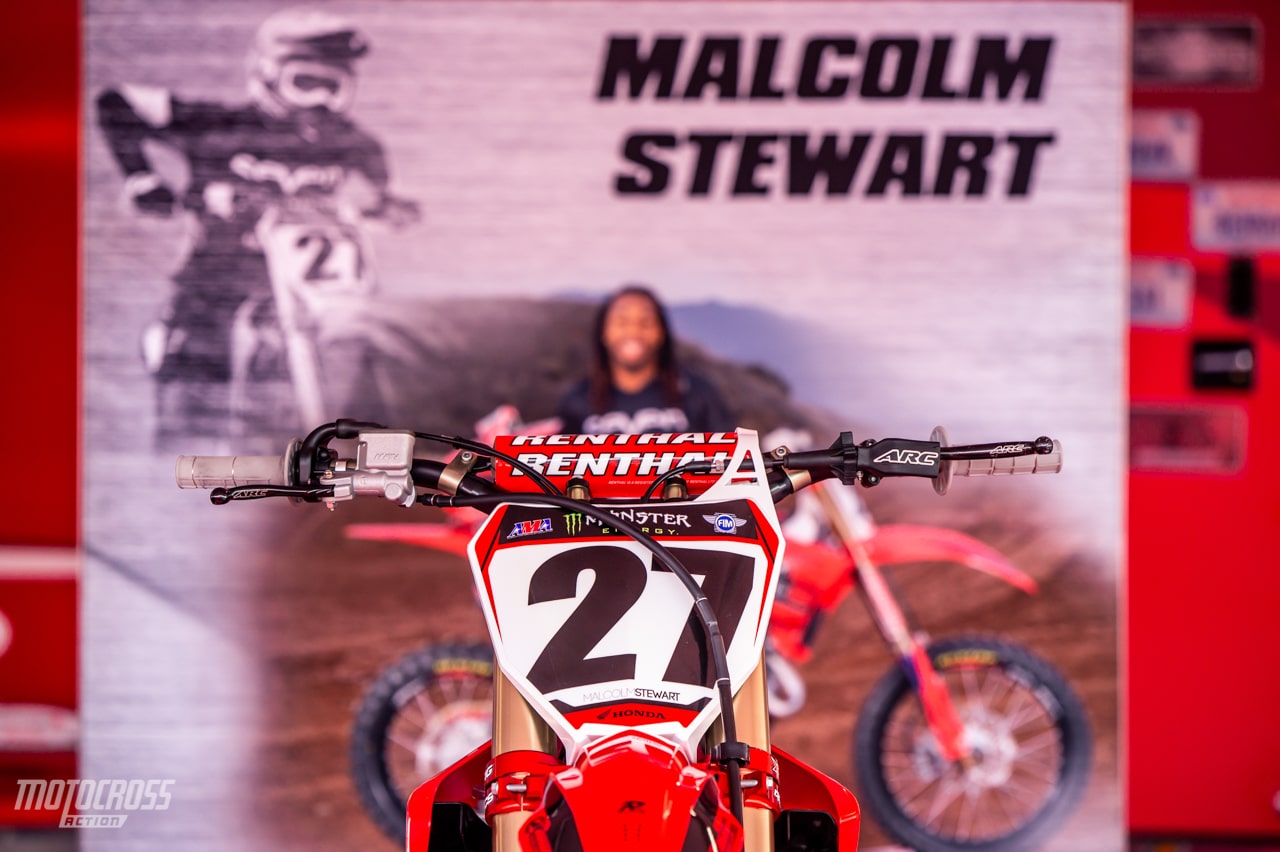 We are sad that Malcolm Stewart is out with a broken femur, but it's still cool to see the Smartop Moto Concepts team display his bike at the races.
Chase Sexton's Geico Honda. Chase was fifth at the first round of the 250 East Division in Minnesota.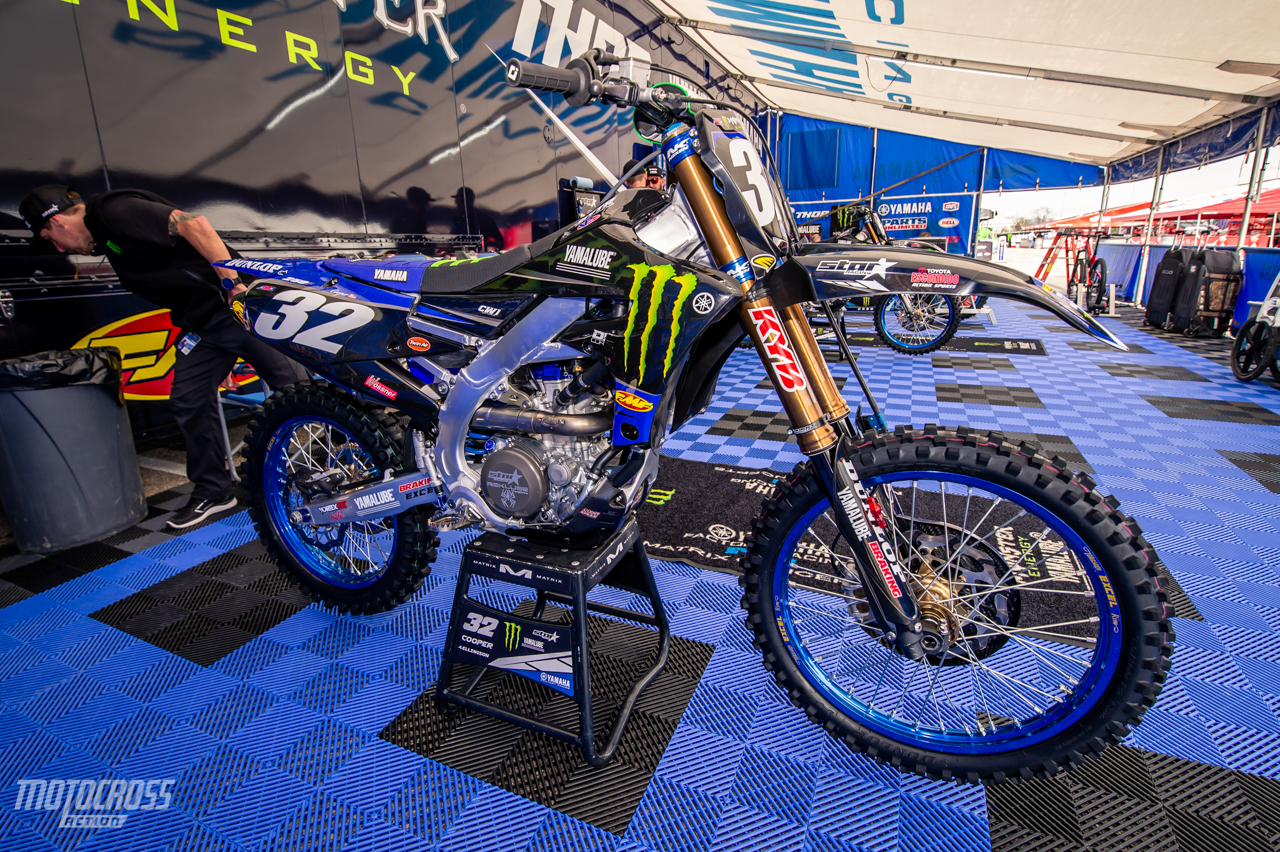 Justin Cooper's Star Racing Yamaha YZ250F.
Ken Roczen's HRC Honda CRF450.  
Justin Hill is back racing in Arlington after missing the Minneapolis round. 
Marvin Musquin is only two points away from having the red plate and he still hasn't won a main event in 2019 yet.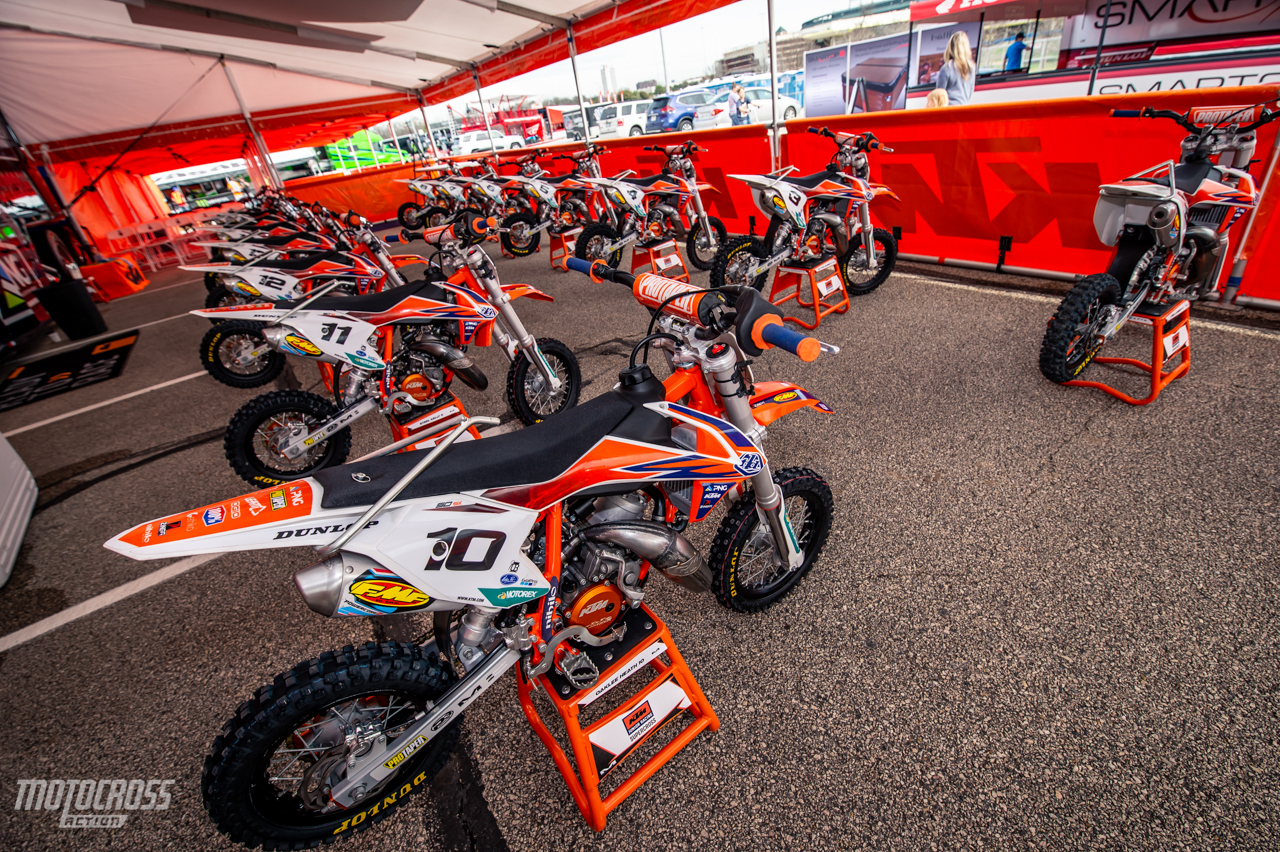 The KJSC 50's are ready for the big show.
Martin Davalos' Monster Energy Pro Circuit Kawasaki. We expected Martin to be a title contender, but after a sixteenth at round one in Minneapolis it's going to be tough for him to catch up.
Mitchell Oldenburg's mechanic makes sure the tire pressure is just right.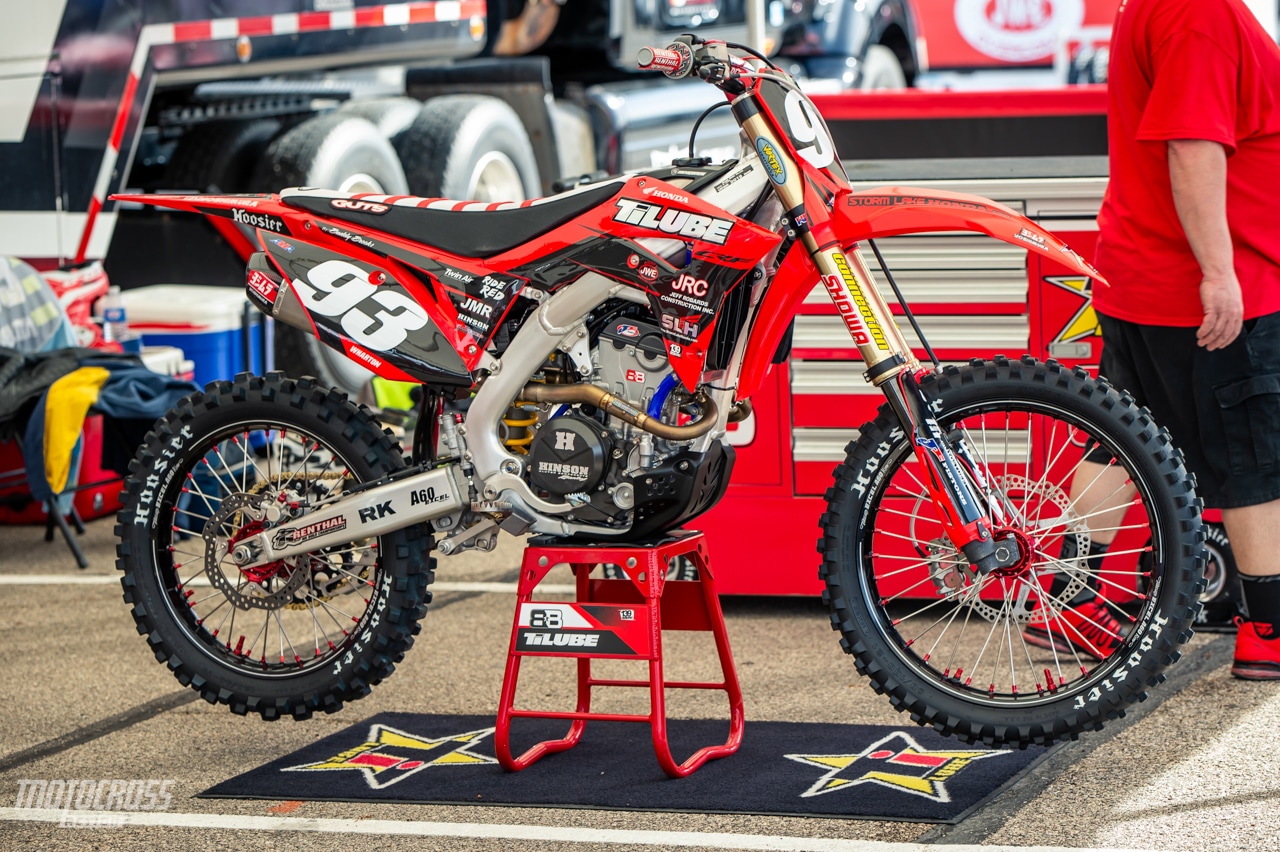 We're sure the Texan, Blake Wharton will have lots of fans in the AT&T Stadium. In 2012 Blake Wharton placed fourth in the 250 Main Event at the Arlington Supercross. Later, Blake retired before coming back to Supercross in 2018. He rode great in Minneapolis and even placed third in his heat race. We're excited to see how the Texan will do at round two of the 250 East Divsion.
Blake Baggett had a great ride going on last weekend until he crashed hard in one of the rhythm sections. 
Most of the race teams prepped and built their bikes in Arlington as the weather in Minneapolis was sup-zero. 
Are we seeing double?
Dylan Merriman is focused on racing the 250 West Coast series but will jump on a 450 for Dallas.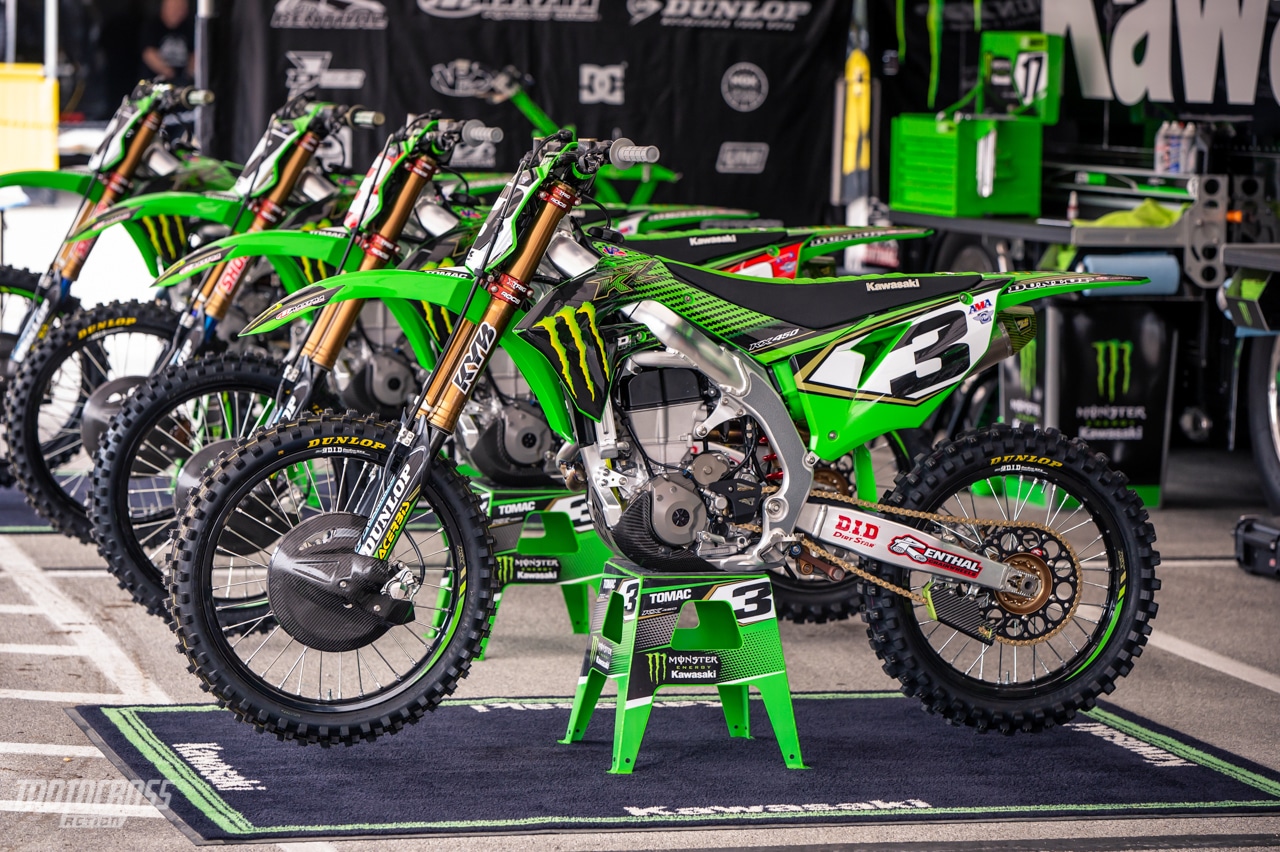 Eli Tomac still has the red plates on one of his bikes from last week. 
Cole Seely's factory Honda CRF450. 
Jordan Bailey's factory Husqvarna FC250.
2019 Arlington Supercross Preview and Track Map (6 Fast Facts)
2019 Arlington Supercross Preview:
Roczen Leads, Barely
We now have a battle royal going at the top of the 2019 Monster Energy AMA Supercross Championship Series standings. Everyone expected Ken Roczen, Eli Tomac, and Marvin Musquin to be near the top, and this year Cooper Webb takes the gatecrasher role that injured defending champion Jason Anderson filled last year. Going into AT&T Stadium in Arlington, just two points separate the top four riders in the standings. If any one of those four racers wins the Main, he leaves with the red plate. A third of the way into the series, things are getting serious.
Photography by Rich Shepherd, et al
2019 Monster Energy AMA Supercross Standings (after 6 of 17 rounds)
Ken Roczen, 125 points
Cooper Webb, 124 (3 wins)
Eli Tomac, 123 (1 win)
Marvin Musquin, 123
Dean Wilson, 95
Justin Barcia, 88 (1 win)
Blake Baggett, 82 (1 win)
Chad Reed, 81
Aaron Plessinger, 79
Cole Seely, 77
Justin Brayton, 70
Vince Friese, 65
Justin Bogle, 60
Joey Savatgy, 59
Jason Anderson, 46
Tyler Bowers, 42
Justin Hill, 39
Kyle Chisholm, 29
Ben Lamay, 28
Alex Ray, 25
Cole Martinez, 18
Carlen Gardner, 18
Malcolm Stewart, 17
Ryan Breece, 8
Ronnie Stewart, 7
Cheyenne Harmon, 6
Theodore Pauli, 5
Daniel Herrlein, 5
Cade Autenrieth, 4
Angelo Pellegrini 4
Casey Brennan, 3
Austin Politelli, 3
Heath Harrison, 1
AJ Catanzaro, 1
#6

Kentucky Wildcats men's basketball • John Calipari • Tennessee Volunteers men's basketball
https://youtu.be/_yogR62QOl0
https://youtu.be/2WXhjQAdlJM
With his program's dependence on one-and-done players, Kentucky Coach John Calipari does not often talk about freshmen hitting the metaphorical wall deep in a season. But he did Friday when asked about guard Ashton Hagans.
"Ashton the last three games has not played well," Calipari said. "As a matter of fact, he's not played well at all."
When asked why Hagans had not played well, Calipari said, "He's a freshman. (He) hit a little bit of a wall."
UK needs the pre-wall Hagans against Tennessee, Calipari said. The Vols' point guard, junior Jordan Bone, ranks 11th in the country in assists (6.5 per game) and 15th in assist-to-turnover ratio.
"So this is a game where we're going to need him to get back where he was 10 days ago, 12 days ago. Where everybody was talking about him being the best on-ball defender in the country. A difference-maker. A creator."
Calipari suggested that playing against inspired opponents every game makes the metaphorical wall more formidable.
"You kind of get numb to it," he said. "And all of a sudden, you're not playing with the energy, the focus you need to play with. He's had a heck of a year. Just had a bad week and a half."
S-E-C?
A loss would drop Kentucky three games behind Tennessee with six games left in the Southeastern Conference regular-season race.
UK regularly touts its 48 SEC regular-season championships. A note trumpeting those titles in the information package distributed to the media Friday was headlined "S-E-C! S-E-C! S-E-C!"
But don't let that fool you. When asked what the SEC race meant, Calipari said, "To me, nothing."
Calipari said UK stressed improving its NCAA Tournament seed, not winning the SEC's regular-season nor tournament titles.
LSU HANGOVER?
Calipari and Keldon Johnson did not dismiss the notion of Kentucky suffering from a hangover after losing on a controversial tip-in against LSU on Tuesday.
"I don't know," Calipari said. "I hope so. I mean, I have. Usually if I move on, they'll move on. And I'll grieve for 24 hours. Then I'll move on."
Johnson suggested UK had little time for depression.
"We've got to get over it pretty quick," he said. "We've got another big game coming up. That's every game in the SEC."
HANDLING FLATTERY
Tennessee has had to deal with an unusual issue: basketball bouquets thrown their way all season.
"They're not walking underneath championship banners every day," Barnes said of his players. "To have a spotlight put on them, I think they've done an unbelievable job. I do. … It's been a new experience for them. They've learned.
"I think they have a great appreciation for those teams that stay there year in and year out. We've understood that (opponents) go at it like they never have gone at it before."
UK VS. NO. 1
This will be the fifth time a No. 1 team has played Kentucky in Rupp Arena. UK defeated Florida 70-55 on Feb. 4, 2003, and Indiana 69-58 on Dec. 15, 1979.
UK lost to No. 1 North Carolina 86-77 on Dec. 1, 2007, and to No. 1 Florida 64-61 on Feb. 10, 2007.
FRIENDLY COMPETITION
For the coaches, it will be a friendly competition.
When asked at SEC Media Day about his relationship with Barnes, Calipari said, "I love Rick like a brother."
Then with his sense of humor kicking in, Calipari added, "Let me say this: an older brother. But he's helped me throughout my career."
Calipari, who turned 60 last Sunday, recalled one of his UMass teams playing poor defense. He called Barnes for advice. Barnes, 64, suggested Calipari emphasize a few things rather than overload the players with demands.
"A great guy," Calipari said of Barnes. "A good human being."
For his part, Barnes said he first met Calipari in the mid- to late-1970s.
"He's a person I trust," the UT coach said. "And he's a guy, and I really believe this, if I need something, I call him and ask him for it. He wouldn't ask me why or what. He would say here it is."
ETC.
Tennessee has been behind by 10 or more points once this season. The Vols trailed West Virginia by 12 in the first half before winning 83-66. … Dan Shulman, Jay Bilas and sideline reporter Maria Taylor will call the game for ESPN.
Tennessee-Kentucky Betting Guide: Can Vols Handle Step Up in Class?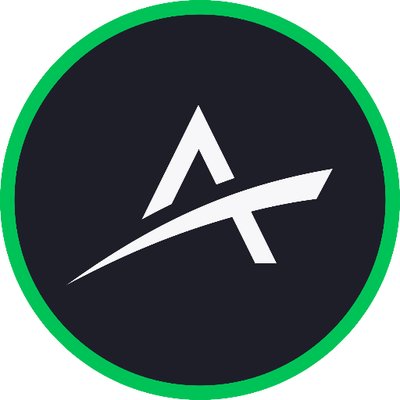 6 hours ago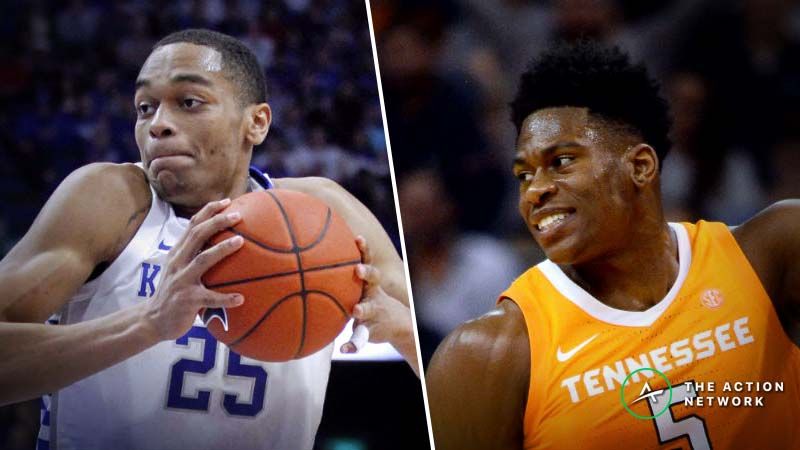 Credit:USA TODAY Sports. Pictured: PJ Washington and Admiral Schofield
Tennessee-Kentucky Betting Odds
Odds: Kentucky -3.5
Total: 145
Time: 8 p.m. ET
TV: ESPN
---
>> All odds as of 6 a.m. ET. Download The Action Network App to get real-time odds and win probabilities on your bets.
---
Kentucky has been here before. Top 5 matchups in mid-to-late February are the norm for John Calipari's teams.
Tennessee is a little bit of a newcomer to this stage, at least in recent memory. And the Vols have not been tested on the road — nothing even close to the caliber of team or environment they'll face in Lexington on Saturday.
Does that mean there's a betting edge? Let's dive in.
Market Moves for Tennessee-Kentucky
Kentucky opened at -2.5 across the market and was bet up a full point overnight, and even to -4 at some books.
The Vols are getting the majority of the betting tickets, but money is split down the middle. — Steve Petrella
Trends to Know
Tennessee is the second-best shooting team in the country, connecting on 51.5% of its attempts this season, while Kentucky is shooting 47.5% (tied 41st). When two good shooting teams meet, making at least 45% of attempts, it has been profitable to bet the under since 2005. This season, under bettors following this system have gone 203-141-1 (58.5%). — John Ewing
March 4, 2009. That's the last time Kentucky lost back-to-back home games. The Cats ended up going to the NIT that year, the season before John Calipari arrived in Lexington. And since Cal arrived at UK, the Cats have never lost back-to-back games at Rupp Arena (8-0), where it has gone 123-9 in those 10 seasons.
However, one of those losses did come at the hands of Tennessee last season, 61-59. — Stuckey
Since John Calipari arrived in Lexington in 2009, the Wildcats have only played two games against a top-10 team coming off a straight-up loss. Kentucky is 0-2 SU and ATS. — Evan Abrams
#7

Manchester City F.C. • FA Cup • Newport County A.F.C. • Pep Guardiola Newport County Vs Manchester City
Newport County vs Manchester City: TV channel, live stream, squad news & preview
11:30
2/16/19
COMMENTS(0)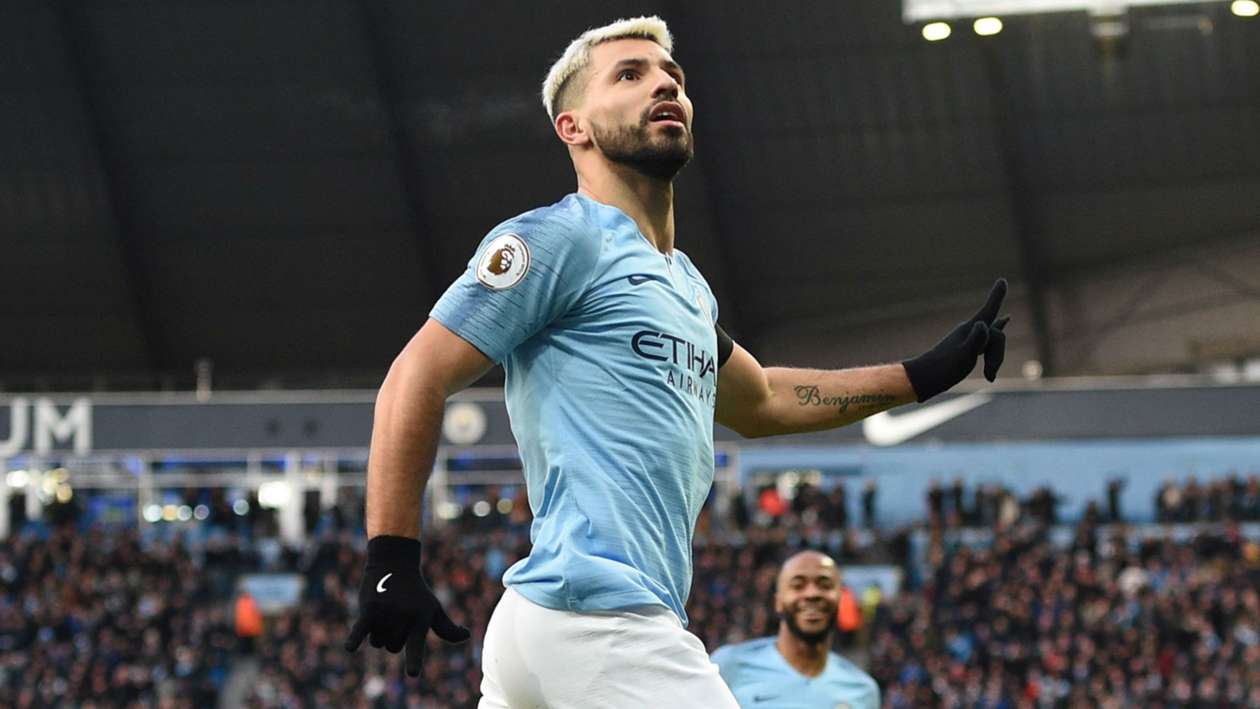 Oli Scarff
Having reasserted their lead at the top of the Premier League table in dominant fashion against Chelsea, Manchester City turn their eye back to knockout football with a trip to Newport Country in the FA Cup fifth round.
Pep Guardiola's side head to Rodney Parade to kick off a run of three games across three different competitions, with Champions League and Carabao Cup encounters against Schalke and the Blues on the horizon.
As such, their League Two hosts may seem like small opposition in comparison – but City will be wary of something a potential giant-killing at the hands of the Welsh outfit, having slipped up to Wigan at the same stage last season.
With Leicester already dismissed in the third round, Michael Flynn's side will be chasing a second top-flight scalp – and arguably the biggest of them all in the history of the club.
| | |
| --- | --- |
| Game | Newport County vs Manchester City |
| Date | Saturday, February 16 |
| Time | 5:30pm GMT / 12:30pm ET |
---
TV Channel, Live Stream & How To Watch
---
In the United States (US), the game will not be broadcast on television but will be available for streaming on the ESPN+ service.
| US TV channel | Online stream |
| --- | --- |
| N/A | ESPN+ |
In the United Kingdom (UK), the game will be shown on BT Sport 2 and streamed on the BT Sport Live app.
| UK TV channel | Online stream |
| --- | --- |
| BT Sport 2 | BT Sport Live |
---
Squads & Team News
---
| Position | Newport County squad |
| --- | --- |
| Goalkeepers | Day, Townsend |
| Defenders | Poole, Franks, Demetriou, O'Brien, Neufville, Pipe, Hornby-Forbes |
| Midfielders | Willmott, Bakinson, Bennett, Butler, Dolan, Crofts, Labadie, Sheehan |
| Forwards | Kennedy, Amond, Matt, Marsh-Brown, Ayeez, McKirdy |
Newport County starting XI: Day; Butler, Demetriou, O'Brien, Bennett, Poole, Bakinson, Labadie, Willmott, Matt, Amond
| Position | Manchester City players |
| --- | --- |
| Goalkeepers | Ederson, Muric |
| Defenders | Stones, Laporte, Otamendi, Mangala, Sandler, Zinchenko, Walker, Danilo |
| Midfielders | Fernandinho, Gundogan, Foden, Delph, De Bruyne, D. Silva |
| Forwards | Sane, Sterling, B. Silva, Mahrez, Aguero, Jesus |
Manchester City starting XI: Ederson; Danilo, Stones, Otamendi, Zinchenko; Foden, Fernandinho, D. Silva; Mahrez, Jesus, Sane
---
Betting & Match Odds
---
City are overwhelming favourites to progress and are odds-on at 1/20 with bet365. Newport are priced at a very distant 33/1 while a draw is available at 14/1.
Click here to see all of bet 365's offers for the game, including goalscoring markets, correct score predictions and more.
---
Match Preview
---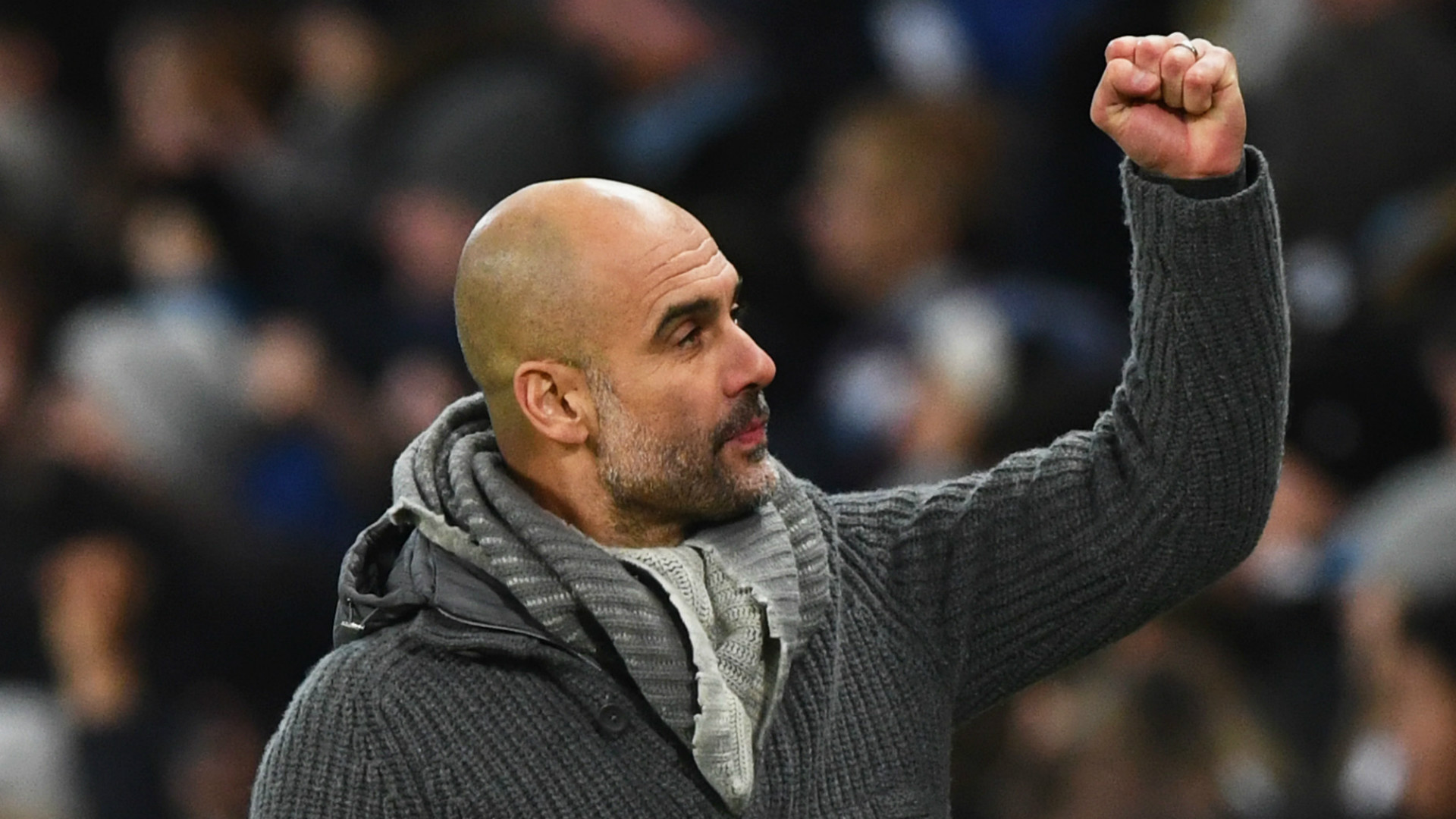 With their grasp on the summit of the Premier League restored following a 6-0 humiliation of Chelsea, Manchester City look to have overcome their brief blip and are firing on all cylinders once more.
The Sky Blues remain in contention for all three major domestic honours and the Champions League – and it is to those knockout competitions that their attention now turns as they travel to Newport County in the fifth round of the FA Cup.
With defences of their top flight and Carabao Cup titles well on track and the final of the latter against Maurizio Sarri's Blues in only a matter of days, Pep Guardiola's dream of a treble or even a quadruple remains alive.
But with football's oldest competition the only key English trophy he is yet to lift, the Spaniard will be wary of falling foul of another giant-killing.
It was at this very stage last season that Wigan Athletic delivered an upset to knock the Citizens out of the running, and they will be determined to not let lightning strike twice.
Michael Flynn and his League Two hosts, however, will have something different in mind as they look to claim their visitors as the second Premier League scalp of their season.
A third-round win over Leicester City upset the bookmakers and, having overcome Middlesbrough since to reach the last 16, the Welsh outfit will be determined to write a little bit of history of their own.
#8

Oklahoma Sooners men's basketball • Big 12 Conference • Texas Christian University • TCU Horned Frogs men's basketball • Basketball
OU men's basketball: Sooners try to snap five-game freefall at TCU
One victory could go a long way for Oklahoma's men's basketball program.
The Sooners have lost five consecutive games heading into their matchup at 11 a.m. Saturday at TCU. It's a slide that has shifted them from a probable NCAA Tournament team to one needing a strong finish to make the 68-team field.
"We need that (win), for sure," OU coach Lon Kruger said. "These guys have been great in practice. They haven't played consistently with the confidence of shooting the ball in games, but their attitudes have been unbelievable. They need a win so badly, and they are going to keep working at it.
"You never know what impact a win might have."
OU (15-10 overall, 3-9 Big 12) has struggled with its shooting.
In conference games, the Sooners and Oklahoma State are tied for last in scoring offense (64.5 points per game), and OU ranks next-to-last in shooting percentage (.404) and 3-point shooting percentage (.297).
OU also has been held to 54 points or fewer in three of the past five losses.
Rebounding also has been problematic and the issue has popped up at critical times. In their 59-53 loss Monday at Baylor, OU gave up an offensive rebound and putback in the final minute that sealed its fate.
"You have to be more physical. We've been getting knocked around in there a little bit at critical times and late-game opportunities, we haven't gotten the board," Kruger said. "We've gotten the stop, but we haven't finished it with a board. That's hurt us in two or three ball games, for sure."
What is hurting OU is playing without Jamuni McNeace. The senior is expected to be sidelined again Saturday with a right ankle injury.
Kruger said the 6-10 forward has tested his ankle but can't get the lift he needs. Not playing on Saturday would allow nearly 2 ½ weeks off until a Feb. 23 home game against Texas.
It has been difficult seeing McNeace not able to play at 100 percent in his final season at OU, Kruger said.
"Money was doing so well in late November and early December," Kruger said, using McNeace's nickname. "It's disappointing because you want them to have a great senior year, and Money hasn't been able to do what he's able to do."
The Sooners defeated TCU 76-74 on Jan. 12 when Kristian Doolittle made a basket with less than three seconds left.
"They are playing great," Kruger said about the Horned Frogs. "They have a lot of weapons with guys who shoot the ball really well. (Alex) Robinson and (Kendric) Davis now are playing a more significant role. They have length inside with (Kevin) Samuel and (J.D.) Miller backs him up at the 5. They have a lot of good weapons and they're making shots."
OU women's basketball: Four things to know before Oklahoma plays Baylor
Winning never felt so good.
The Oklahoma women's basketball team claimed a victory for the first time in 10 tries Wednesday, providing some momentum going into Saturday's game at No. 1 Baylor.
Here are four things to know before hand.
1. Toppling Baylor seems like a lot to ask, but OU coach Sherri Coale believes the positives from beating Kansas this week can translate moving forward.
The Sooners shot better than 45 percent from the field and 3-point line for just the fourth time this year and held KU to 39 percent shooting and 7 of 30 from 3-point range.
"There's just a lightness, a lift that comes. I know [players] feel it because I can feel it too — when you finally have more points than the other guys," Coale said. "It just feels completely different.
"I just thought we were more immersed offensively and did a better job relaxing, watching our defender [against Kansas]. Then defensively, communication was just a little bit better. Still not where it needs to be yet, not anywhere close, but it was better."
2. Ana Llanusa's emergence since foot surgery early this season has been critical. She's up to 15.1 points per game and averaging 20.6 points over her last five outings.
Her offense is more important considering sophomore guard Shaina Pellington's digression. Pellington averages 14 points per game, but has missed two of the last four games — one due to a team suspension and the other a coach's decision; she played minimal minutes against KU.
"I trust [Llanusa] with everything I have. We're better when she's on the floor," Coale said. "Her production is fantastic, but it's not really about production and mistakes as much as it is energy, how hard she plays. You can cover a multitude of sins during a basketball game if you just play your tail off, and she does that and it's contagious."
3. OU's found some stability with the starting lineup of Jessi Murcer, Llanusa, Taylor Robertson, Madi Williams and Mandy Simpson.
The group is just 1-5 overall, but has been together the past six games.
4. Baylor rolled over OU 73-54 on Jan. 27 and has only elevated from there, holding the No. 1 spot in the Associated Press poll for the past three weeks.
The Bears' front line of Lauren Cox (6-4) and Kalani Brown (6-7) is a load to handle. Cox shot 3 for 12 in the first meeting with OU, but finished with 12 rebounds. Brown scored 20 points and pulled down six boards.
Oklahoma at
Baylor
Time/Place: 7 p.m. | Ferrell Center; Waco, Texas
Records/Rankings: OU (6-17, 2-10 Big 12); No. 1/1 Baylor (22-1, 12-0)
OU starters: G 0 Jessi Murcer (5-7, Fr./8.9 ppg, 2.6 rpg); G/F 25 Madi Williams (6-0, Fr./12.4 ppg, 8.3 rpg); G 30 Taylor Robertson (5-7, Fr./14.4 ppg, 3.4 rpg); G 22 Ana Llanusa (6-0, So./15.1 ppg, 2.8 rpg); F 3 Mandy Simpson (6-1, So./5.4 ppg, 6.1 rpg)
Baylor starters: G 2 Didi Richards (6-1, So./6.78 ppg, 3.8 rpg); F 15 Lauren Cox (6-4, Jr./12.3, 7.6 rpg); G 20 Juicy Landrum (5-8, Jr./10.7 ppg, 5.4 rpg); C 21 Kalani Brown (6-7, Sr./16.3 ppg, 7.5 rpg); G 24 Chloe Jackson (5-8, G.
Series: BU leads 28-26
TV: FSSW+
Radio: KREF 99.3 FM; 1400 AM