#1

WWE • D-Generation X • WWE Hall of Fame • Triple H • Sean Waltman • Chyna • Shawn Michaels • Road Dogg Look back at D-Generation X's history, Raw: 10/8/18
D-Generation X to be inducted into WWE Hall of Fame
D-Generation X, one of the cornerstones of the WWE's Attitude Era and the formative period that led into it, will be inducted April 6 into the WWE Hall of Fame as part of the class of 2019.
Both key versions of DX will be recognized as a collective group of six, including Triple H, Shawn Michaels, Chyna, Road Dogg, Billy Gunn and X-Pac."I think it's the most meaningful for us all to go in together and to be recognized together," Paul "Triple H" Levesque told ESPN. "Because I think both groups were [just] as impactful."
D-Generation X -- a group of wrestlers who collectively helped bring crotch chops and "suck it" into the pop culture mainstream during the peak of its powers -- was initially formed in 1997 as a trio featuring Triple H, Michaels and Chyna. To Levesque's recollection, it was an idea that had been swirling around for some time before a few key events and decisions allowed everything to slide into place.
"It's a funny thing, because DX was something that, before Kevin [Nash] and Scott [Hall] left, at the time we all talked about using 'The Kliq' as it was -- kind of morphing that into television, since it was so out there anyway," Levesque said. "But things worked out the way they did -- they left, and the timing was right.
"Shawn and I still wanted to do it. Vince saw the value in it, I guess, and finally let us go at it. By that point in time I was looking for a heater, and we had brought Chyna."
Historically speaking, when a wrestler wanted to bring in a big, bruising enforcer, the role was always filled by a man. Chyna, a bodybuilder, broke the mold and subverted conventional wisdom within the wrestling world.
"It was completely different. No one had ever had a female [enforcer] before, especially one like that. It just worked out. The timing was right," Levesque said.
As a trio, Michaels, Triple H and Chyna helped push the envelope as to what was accepted on TV. Their antics, catchphrases and personas made them three of the most recognizable WWE stars of the mid-to-late 1990s. Toward the tail end of their run as a trio, they were all involved in the WrestleMania XIV main event between Michaels and "Stone Cold" Steve Austin in 1998 that famously included Mike Tyson in an enforcer role.
"For me, it was the break of a lifetime, right? My career was on the upswing, and then it had its downswing, due to a lot of [different] reasons. That was an opportunity for me to kind of get back on the right path, get out there and show what I could do. Being next to Shawn, the experience was so great, to be around that level of performer. From [The Undertaker], to Bret [Hart], to everybody else -- the learning experience was massive. "
Among this group of six entering the WWE Hall of Fame together, Chyna's inclusion in the Hall of Fame class is likely to garner the most attention. Joanie "Chyna" Laurer left the WWE in 2001 under tense circumstances and never returned. Her post-WWE career included acting, time in the reality television world and several forays into the adult entertainment industry. She died in April 2016.
With the recent push toward expanding the spotlight on women's wrestling, fans have clamored for Chyna's role in WWE history to be better recognized, and her inclusion as part of DX's induction into the Hall of Fame is a major step forward in that regard.
"Look, people believe what they want to believe. When I said a few years ago on the Austin podcast, or show, or whatever you want to call it, there's complexities around it," Levesque said. "But absolutely, definitely deserves to be in there. It'd be tough to pick a female that was more impactful on the business. She did something that was completely so out of left field that it wasn't even being considered when we first brought it up for her to come in. It wasn't even a consideration ... it wasn't an easy thing, and against all odds she did all of that. She earned everybody's trust. She won over the fans. She won over the boys. She did all of it.
"From that standpoint, absolutely 100 percent deserves to be in the Hall of Fame, and should probably be more than once -- as a group, but individually as well. There's more complexity to that than meets the eye, but here we are. I'm just happy that it's here. I'm happy for her family, the people that she was close to, that hopefully this is super-meaningful to them. I know it would be to her. It's a great thing -- very deserving."
Chyna was also part of the second version of D-Generation X. After Michaels stepped away from the WWE the night after WrestleMania XIV, Triple H brought together his own vision for DX. He introduced Sean Waltman, who had previously been known as 1-2-3 Kid in WWE and then went to WCW and joined the nWo as Syxx, and had just re-signed with WWE; eventually he'd be known as X-Pac. Later that night, X-Pac, Triple H and Chyna helped the New Age Outlaws win the tag-team championship, and the group was official.
"By then, Shawn had had injuries, and when Shawn stepped away for a bit to deal with his injuries, the timing was perfect. Kid [X-Pac]'s contract was up at WCW; he wanted to come back. The New Age Outlaws had gotten hot, and the combination of the group could just mean more than the individuals -- and it took off again."
The New Age Outlaws -- Road Dogg and Billy Gunn -- had been a part of the DX discussion in the early days of the group.
"You had Jesse James and you had Rockabilly, who were two guys with a lot of talent doing nothing, and we had kind of had a talk with Vince like, 'We'll put 'em together and maybe we do like a bigger group with them. Put them together as a tag and let them kind of run,'" recalled Levesque. "They went together as the New Age Outlaws, they started to get over on their own and they really didn't need to be with us, so we just kind of said, 'Look, let 'em do their own thing and we'll do our thing and if the time is right and it needs to be, we'll put 'em together.'"
As a quintet, DX executed one of the most famous moments in the "Monday Night War" between WWE and WCW when they "invaded" a WCW show that was happening a short distance from that Monday's edition of Raw. Over the next few years the group shifted and changed shape, before ultimately beginning to fade away. Triple H teased a reunion with Michaels in 2002, only to turn on him, but the pair ultimately reformed under the D-Generation X name in 2006 and teamed up a number of times over the next few years. The last time Michaels and Triple H teamed as DX was on Nov. 2, 2018, as Michaels came out of retirement to take on the team of Kane and The Undertaker at WWE's Crown Jewel event in Saudi Arabia.
When the WWE recognizes a group to go into its Hall of Fame, sometimes it specifies a version of a group -- as was the case when the Four Horsemen were inducted in 2011. When it comes to DX, both versions of the group are linked together in the minds of fans, and while either version could make a case for Hall of Fame candidacy, each legacy is intertwined.
Still, each fan has his or her own concept of what comes to mind when they hear "D-Generation X" -- and it's typically consistent to when they started watching the WWE.
"If you mention DX, depending on your age group and time, I think the unique thing about DX is for a lot of people they see DX and they go, 'It's Shawn, Hunter, and Chyna,' Levesque said. "To an even bigger group, during the prime Attitude Era when everything was the hottest, it was the group of the five of us. It was Dog, Billy, me, Kid and Chyna."
Tickets for the WWE Hall of Fame ceremony at Barclays Center, which takes place the night before WrestleMania 35, go on sale Friday.
#2

Marvel Cinematic Universe • Marvel Television • Jeph Loeb • Daredevil • Luke Cage • Netflix • The Punisher • Jessica Jones • Iron Fist • The Defenders Marvel – Home
[embed]https://www.facebook.com/Marvel/photos/p.10156850117182488/10156850117182488/?type=1&theater[/embed]
https://www.facebook.com/Marvel/photos/p.10156850117182488/10156850117182488/?type=1&theater
One of the most popular Netflix original shows of all time is Jessica Jones. Premiering on the streaming service as an original series in late 2015, the show features Krysten Ritter as the title character, a former superhero who opens her own detective agency in order to better deal with her own issues of post-traumatic stress and anxiety.
Jessica Jones became an instant hit for Netflix and has garnered thousands of fans, who love the dark themes and intricate storytelling. However, recent happenings between the streaming service and Disney, Marvel's parent company, have fans wondering if one of their favorite shows will continue or end up canceled.
What is going on with Netflix and Marvel?
It's no secret that Netflix has been slowly, methodically canceling all their Marvel original shows from the platform. Popular shows Iron Fist and Luke Cage were both pulled after successful early seasons, and another fan-favorite series, The Punisher, is facing an uncertain future. While The Punisher's second season hit the platform in January 2019, there has been no official word on a possible third season. Fans are clamoring for more of the intense, dramatic series, which features Jon Bernthal of The Walking Dead fame as anti-hero Frank Castle, but there's a very real reason why The Punisher might be going the way of previous Netflix/Marvel collabs.
There seems to be bad blood between Netflix and Marvel studios, which started several years ago. According to some recent reports, the real reason that Netflix is canceling their Marvel shows is because of the impending arrival of Disney's new streaming service, Disney+, which will arrive sometime in late 2019. Since Marvel is tied to Disney, shows on Netflix that feature characters from the Marvel universe could be seen as advertising for a brand-new, rival streaming service, Disney+
While this isn't exactly good news for fans of the two remaining Marvel shows on Netflix that haven't been canceled, The Punisher and Jessica Jones, at the very least, the shows themselves won't disappear from the platform entirely. It is likely that since Netflix will still retain ownership of the original shows, they will be available for streaming for years even if there are no new episodes being produced.
Did 'Jessica Jones' get canceled?
Fortunately, there is some good news for 
Jessica Jones
 fans. The third season of the popular show is 
reportedly in post-production
 and should drop on Netflix in late 2019. No release date has been given, but this is in line with Netflix's marketing strategy, as they frequently don't announce the release date of certain shows until several weeks before they are dropped.
All of that being said, the third season of Jessica Jones will likely be the last. An official cancellation has not been released by Netflix, and probably won't be until well after the third season drops, but the writing does seem to be on the wall, based on the fate of all of Netflix's other Marvel shows.
Although fans will mourn the ending of the groundbreaking series, don't count on Netflix to throw in the towel on all superhero-centric content. The streaming giant has proven remarkably adept at tracking viewer's tastes and watching patterns, and with the wealth of original movies and shows that they have released in the past several years, it is likely that they will start to create superhero content that will try to replace the Marvel shows.
Until then – Jessica Jones fans can anticipate the eventual release of the third season and plan epic watch parties in order to celebrate a show that has become truly iconic in its time.
'Legion': Marvel TV's Jeph Loeb Confirms X-Men Series Wasn't Cancelled
But Marvel TV boss Jeph Loeb made it clear that Legion's circumstances are different, as this is the story showrunner Noah Hawley always wanted to tell. While speaking with Decider about the end of the X-Men villain's series, Loeb stated that the end of Legion should prove to be a satisfying experience.

"When Noah [Hawley] came in the first day and told us what he wanted to do he told us the end of the story," said Loeb. "It wasn't like 'I haven't really figured out where this is gonna go, but this is what I wanna do.' I've very often referred to being on the show as being on the Magical Mystery Tour and that Noah was our bus driver and that eventually he was going to say 'Okay, time to get off.'"

The producer went on to explain that they've had meetings with a lot of talented creators to help make the shows, but talent isn't the key to working with Marvel Television.

"I'm assuming that if you've got close enough for us to have a conversation that you have a talent, that's sort of a given. So it really comes down to passion," Loeb said.

He went on to explain that Marvel never sets out to make a series about people with superheroes, but that part comes secondary to what their content is all about. Instead, they focus on telling a story that focuses on characters.

"Legion is a perfect example. Legion is a story about a damaged man who is looking to be loved. That's the story," Loeb explained. "The fact that he can change reality with his mind is the Marvel of it, but if you don't buy into that first part then the rest of it is just noise."

But even though this could be the end of Noah Hawley's take on Legion, Loeb insists the story could continue down the line.

"When you think about Marvel heroes and villains in general, it says 'The End' and then at the bottom it says 'To be continued….'" Loeb explained. "I don't feel like there's a world where the story ends."

The third and final season of Legion is expected to premiere on FX later this year.
#3

Vietnam • Methamphetamine • Laos • Vietnamese language
Lao man nabbed for trafficking 300 kg of meth in Vietnam
Vietnamese police Sunday detained a Lao man and is hunting for other people involved in a central Vietnam drug trafficking ring.
Vangchueyang Briachear was captured on Sunday. Photo courtesy of Ha Tinh Border Guards
Vangchueyang Briachear, 25, was captured at 1 a.m. in a forest in the central province of Ha Tinh.
The police found 294 kilograms of methamphetamine, divided into 278 packs in 12 bags.
"At least one other man was involved in transporting the drugs. The police are searching for him in the forest," said Vo Tien Nghi, commander in chief of Ha Tinh Border Guards.
The nationality of the second man is unknown.
The drugs were contained in 12 bags. Photo courtesy of Ha Tinh Border Guards
Briachear told the police that he entered Vietnam Saturday and stayed at a motel about 30 kilometers from the border with Laos to wait for the packages. He was caught soon after he received them.
Drug trafficking and consumption have persisted and worsened in Vietnam of late, despite the country having some of the world's toughest anti-drug laws.
Those convicted of possessing or smuggling more than 600g of heroin or more than 2.5kg of methamphetamine face the death penalty in Vietnam.
#4

Australia • China • Chinese language The Australian – Home
ASIO denies discrimination after stripping Chinese billionaire Huang Xiangmo's permanent residency
Posted about 11 hours ago
Australian security agencies were c
The head of Australia's domestic spy agency has rejected allegations that it is targeting the Chinese community in the wake of the Huang Xiangmo controversy.
Key points:
The Department of Home Affairs stripped billionaire Huang Xiangmo's permanent residency status
Chinese language newspapers and Chinese community groups condemned the decision
ASIO tried to assure Chinese Australians they have nothing to fear from security agencies
The Department of Home Affairs stripped Mr Huang of his permanent residency while he was overseas. Security agencies were concerned about the billionaire's links with the Chinese Communist Party, and had warned political parties about accepting donations from him.
But the decision to effectively bar Mr Huang has stirred unease in parts of Australia's Chinese community.
Three large Chinese language newspapers in Australia published identical letters defending Mr Huang and attacking intelligence agencies.
The letter was signed by more than 100 community groups.
"What happened to Mr Huang Xiangmo today may happen to any of us tomorrow," the statement read.
"If we do not defend Huang Xiangmo's legitimate rights and interests today, no one will be able to defend our legitimate rights and interests tomorrow.
"We strongly protest against that Mr Huang has been deprived of his permanent residence visa for false charges by relevant intelligence agencies.
"The unfair treatment suffered by Mr Huang has dealt a heavy blow to the legitimate political participation of people from Chinese or other ethnic minorities. It made the underprivileged people from the Chinese community and other ethnic minorities even more vulnerable."
However, the Australian Values Alliance — a group also from the Australian Chinese community — made a statement showing support for the Australian Government's decision.
The statement said it was "a new step in the right direction" for Australia to "reject the virus of corruption" — referring to Mr Huang's involvement in political donations before his visa got cancelled.
'It's critical that we avoid commentary that will instil fear'
ASIO director-general of security, Duncan Lewis, told a senate estimates committee that the attacks on his organisation were inaccurate.
"I am concerned at reporting in Australian, in foreign, and in foreign-language newspapers over this weekend, wrongly asserting that the Chinese community is a target for ASIO," Major General Lewis said.
"This is simply not so ... ASIO does not investigate people based on their ethnicity, religion or cultural background."
But Major General Lewis tried to reassure Chinese Australians that they had nothing to fear from security agencies.
"It's critical that we avoid commentary that will instil fear and taint such a community which makes such a positive contribution to Australian life, our economy and our culture," he said.
"And as the DG of security I can say categorically that from a security point of view the overwhelming majority of people of Chinese heritage are of no investigative interest to ASIO as they are of no security concern. We should not impugn the many for the actions of a few."
Major General Lewis also issued a broader warning about the challenge posed by foreign interference.
"The current scale of foreign intelligence activity against Australian interests is unprecedented," he told the committee.
"Hostile intelligence activity poses a real and existential threat to Australian security and sovereignty."
#5

Lightsaber • France • Star Wars France Has A Lightsaber Academy
Star Wars Lightsaber Academy Is Jedi Boot Camp
NEW YORK - I've played with a few gadgets that have promised to make me a Jedi master, but the latest toy from Hasbro might soon become my favorite. Launching in Fall 2019 (priced at $49.99), Star Wars Lightsaber Academy will let you train with up to five Masters in the force -- either Sith or Jedi via an app-connected lightsaber.
At a glance, the lightsaber looks like any other toy replica. It's made of a fairly weighty plastic, lights up different colors and offers a few sound effects when you're play fighting. But what sets this saber apart is its Smart-Hilt. Outfitted with Bluetooth and a motion sensor, the toy can connect to the free app (Android, iOS) and begin the path from Padawan to Master.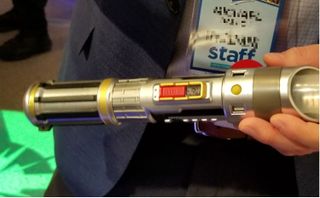 From what I could see at my Toy Fair 2019 demo, connecting the lightsaber to the app is fairly easy, after launching the app, it will enter pairing mode. From there, you press the corresponding button on the saber and you're ready to go. Once paired, you twist the hilt upward to reveal its kyber crystal. Using a simple press, you can choose your preferred master.
For the demo, Rey, Darth Vader and Yoda were available, but I wouldn't be surprised if Luke Skywalker or Darth Sidious rounded out the five Masters. After you select your Master, the crystal and saber will glow the character's corresponding color so blue for Rey, red for Vader and green for Yoda. From there, you'll go through a series of exercises teaching you how to correctly wield the weapon, earning more points for correct posture.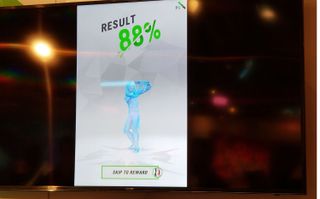 While I'm sure this app puts the "fun" in fundamentals, there's only one reason anyone should train to be a Jedi or Sith in first place (I mean besides the pursuit of peace or power) -- it's to fight your friends in epic lightsaber battles. And you can absolutely do that, provided your friend also has an Academy lightsaber. In two-player mode, you'll engage in duels, scoring points for successful hits while whittling down your opponent's health. Score the K.O. and you can perform a Force Finisher and win the round.
The Academy lightsaber will run on several AA batteries, but Mattel declined to give estimated battery line. Guess we'll have to wait until to wait until we get them in the office and test them with hours of heavy-hitting duels to find out.
#6

National Football League Draft • 2019 NFL Draft Murray Will Never Be A Starting QB in the NFL
George Kittle speaks after 49ers end season with loss to Rams
Defense is the way to go for the 49ers. At least that's what a handful of draft analysts are saying.
In a roundup of mock drafts last week, it was a two-man race between Kentucky edge Josh Allenand Alabama defensive lineman Quinnen Williams.
That race hasn't changed, but it is leaning more toward one candidate.
Will one of them have his named called when the three-day NFL draft kicks off April 25 in Nashville, Tenn.? That remains to be seen.
Here's a sampling of the latest mocks for the No. 2 pick:
Updated Feb. 12
The league's official website provides mock drafts from five analysts: Bucky Brooks, Maurice Jones-Drew, Daniel Jeremiah, Chad Reuter and Lance Zierlein. Jones-Drew has most recently checked in, tabbing Kentucky edge Josh Allen as San Francisco's pick.
According to NFL.com, Allen is a "true hybrid linebacker with elite physical traits who has the ability to float between coverage and pass rush duties. ... He's fine-tuned a couple of go-to rush moves but will need to continue to diversify his rush portfolio as a pro."
Jones-Drew: "The 49ers get the kind of edge rusher they need. Another first-rounder gives them one of the best young D-line units in the league."
Updated Feb. 13
CBS Sports has doubled its analyst count from last week. The site has mocks from six men: Will Brinson, Jared Dubin, Pete Prisco, Chris Trapasso, R.J. White and Ryan Wilson. The most recent post comes from Dubin, who also has Allen going to the 49ers.
Dubin: "Kyle Shanahan can turn pretty much any pieces into a good offense, but his team badly needs help pressuring the edge on the other side of the ball. Enter Allen, who provides something much different than any of the 49ers' recent defensive-line draft picks and makes for a perfect fit in defensive coordinator Robert Saleh's system."
Updated Feb. 13
Draft analyst Eddie Brown keeps the Allen train going.
Brown: "The 49ers lack a consistent pass rush despite using so much recent draft capital on the defensive line. Allen tied for sixth nationally with 21.5 tackles for loss and ranked second in the FBS in both sacks (17) and forced fumbles (five). He's capable of making a Khalil Mack-like jump at the next level."
Updated Feb. 13
Walter Cherepinsky is a frequent updater on his mocks, but his selection for the 49ers hasn't changed from last week.
He has Alabama defensive lineman Quinnen Williams as a good fit for the red and gold. According to his draft profile on NFL.com, "Williams is an instant starter with Pro Bowl potential. ... His play strength is good, but his lack of mass and length will show up at times against NFL competition."
Cherepinsky: "It would be ideal for the 49ers to trade down with a team that needs a quarterback. Quinnen Williams is the best player available, but the 49ers aren't filling a need with him. That said, he's the likely pick if there's no deal, as San Francisco can't pass up on someone as talented as him. Williams had a breakout performance this season. ... Williams is now a likely top-three selection."
Updated Feb. 15
NFL writer Kristopher Knox offers his first-round list, but doesn't go into detail on the selections. For now, he writes that "the draft picture can only be based on what players have put on film, a few college all-star practices and recent developments."
He also has Allen as the 49ers' pick.
Not recently updated
Longtime ESPN analysts Todd McShay and Mel Kiper Jr. haven't recently updated their mocks. Since McShay's was published in this roundup last week, to give a different take, let's go back to Jan. 17, when Kiper last posted. He also had San Francisco selecting Allen.
Kiper: "The 49ers took defensive linemen in the first round in three straight years (2015 to '17), but DeForest Buckner is the only true star of the group. And none of those picks has the edge-rushing potential of Allen, who racked up 17 sacks for the Wildcats this season. If you're talking about pure pass-rushing ability, the 6-foot-5, 230-pound Allen is right up there with (Ohio State's Nick) Bosa. San Francisco needs to add offensive weapons this offseason, but none is worth taking this high."
Not recently updated
Draft analyst Michael Middlehurst-Schwartz also hasn't updated his mock in the last week. He also liked Williams as San Francisco's choice when he last posted Feb. 5.
Middlehurst-Schwartz: "When general manager John Lynch held the No. 2 overall selection in 2017, an arms race for quarterbacks helped him swing a deal with Chicago to move back one slot and bolster his draft capital. A similar bidding war this year for passers might be beneficial for San Francisco, as the defense has several areas that need to be addressed. Should the 49ers stay put, their best move might be to grab Williams, who built a strong case for the title of college football's most dominant defender last year with his formidable strength and surprising quickness."