Modal Trigger
President Trump crowed over violent protests in Paris on Saturday, saying they prove he was right to withdraw the US from the global pact to fight climate change.
"The Paris Agreement isn't working out so well for Paris," Trump tweeted Saturday morning, as a day of violence and arrests unfolded.
"Protests and riots all over France. People do not want to pay large sums of money, much to third world countries (that are questionably run), in order to maybe protect the environment. Chanting 'We Want Trump!' Love France."
About 130 people were injured and authorities made 1,000 arrests on the fourth straight weekend of anti-government protests in Paris.
The movement started out in opposition to a gas tax hike, which was in fact aimed at curbing greenhouse-gas emissions as part of the Paris Agreement.
French President Emannuel Macron suspended the hike last week, but protesters have continued to criticize the government, saying Macron only cares about the rich.
As for Trump's claim that protesters have chanted, "We want Trump," French news wire Agence France-Presse and leading French daily Le Monde said their reporters found no evidence to support that.
Paris was on lockdown Saturday, with armored trucks and the hiss of tear gas filling central Paris. A ring of steel surrounded the president's Elysée Palace, while many shops were closed during what's usually a busy holiday shopping season.
Police and protesters also clashed in other French cities including Marseille, Toulouse and Bordeaux, and in neighboring Belgium.
As the chaos continued, Trump doubled down on his morning missive.
"Very sad day & night in Paris," he tweeted. "Maybe it's time to end the ridiculous and extremely expensive Paris Agreement and return money back to the people in the form of lower taxes?"
Trump's comments appearing to sympathize with dangerous protesters in a friendly country went against longstanding precedent for US presidents.
"His comments about the French protests are completely out of character typically for a sitting US president," said Michael Geary of the Wilson Institute's Global Europe Program. "He has said nothing about his hopes for a return to calm."
With Post Wires
Paris under siege: Tear gas, fury on the Champs-Elysees

PARIS – Late Friday night, the air on the Champs-Elysees was thick with perfume: heady blends of lavender, rose and other enticing scents wafting out of chic boutiques and perfumeries aglitter with Christmas tinsel.
A day later, on what turned out to be yet another angry Saturday, Paris' most famous boulevard simply reeked of tear gas. Clouds of the stuff hung in the air, burning throats but not silencing the sullen, rebellious crowds.
"To arms, citizens!" the yellow vests sang. "Form your battalions, let's march!"
It was "The Marseillaise" — France's national anthem.
Sang in joy in July, when France won soccer's World Cup, the anthem was now an expression of defiance, spat out by protesters at phalanxes of heavy-geared riot police. Regularly, the officers broke ranks to toss tear gas grenades, fire rubber pellets and make arrests — nearly 1,000 of them, according to the country's interior minister.
Those brief outbreaks of song from the protesters were among the few fleeting moments Saturday when the demonstrations resembled something coherent.
From all corners of the country, French protesters — the vast majority of them men — came by the thousands in trains, buses and cars. But once together in the capital, the most concrete thing they shared was simply fury.
Fury at President Emmanuel Macron. At taxes. At jobs that don't pay the bills. At politicians they accuse of stuffing their own pockets. At the elite. At banks. At 'the system.' At life in general.
"Ras-le-bol" — which translates as "fed up" — was their common complaint.
But without leaders or clearly expressed goals, lacking shared slogans or even an agreed-upon route through Paris, the protesters mostly milled around, roaming the streets like a giant florescent caterpillar.
And that, for many, was just fine.
Simply by being in Paris, by being so visible in their vests, by bringing their grievances from France's many pockets of neglect, they felt they were making their point: We're here. We exist. We cannot, will not, be ignored any longer.
"They said that no one would come, so with my kids we said, 'Right, we'll go,'" said protester Romian Pascal.
The construction materials salesman, made redundant last year at 59, said he had never demonstrated in his life before this. He drove five hours from the west coast of France with his adult sons, Brice and Anthony.
"What we want is that the government be shaken up and not be governed by banks and fat cats," he said. "The people must be heard."
Initially, Saturday's demonstrations in the French capital were peaceful. Police sealed off the presidential Elysee Palace, blocking surrounding streets with flat-bed trucks that unfurled giant metal barricades, forming a ring of steel around France's seat of power.
Police opened gaps in the barriers when residents needed to pass. A surreal scene: Two men in full Scottish Highland dress, with kilts and sporrans, were allowed through to go to a wedding, they said.
The police layout had the effect of funneling demonstrators down usually busy but now eerily quiet streets toward the Champs-Elysees. To get to one of the most beautiful boulevards in the world, protesters passed through repeated police checks. Lines of officers searched bags and patted people down looking for weapons and gas masks. They let protesters keep their yellow vests.
Many had written slogans on the back, with demands as diverse as the protesters themselves: "Pacifist resistance," ''Death to taxes," ''Macron resign."
As the crowd grew to thousands strong, the mood soured. Soon, the air was thick with gas. Eyes streaming, people ran. The better equipped pulled out eye drops to flush the chemicals out. They sputtered curses. And then they gathered again.
Over and over, the infernal cycle was repeated — gas, flee, gas, flee — that spoke of a France deeply divided.
In the mayhem, small groups of vandals in Paris smashed store fronts, set fire to cars, built and torched barricades, hurled whatever they could find at police and sprayed graffiti on store fronts. In a vandalized Starbucks store, a telephone rang, unanswered.
On the window of a shop selling expensive beds, a slogan sprayed in thick blue captured the mood of revolt:
"The plebs are going to sleep at the princes' places," it said. "Macron, we're coming!"
Yellow vest protest in Paris sees police detain hundreds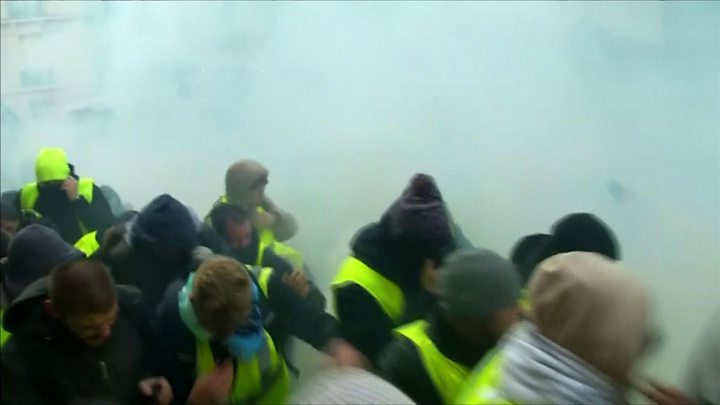 Police in Paris have fired rubber bullets and tear gas as a fourth weekend of anti-government protests across France turned violent.
Almost 1,000 people have been taken into custody nationwide.
Parisian hospital authorities said 126 people had been injured in the city, but none seriously. At least three police officers were also hurt.
The "yellow vest" movement opposed fuel tax rises but ministers say it has been hijacked by "ultra-violent" protesters.
An estimated 125,000 demonstrators gathered across the country during the day, with 10,000 of them in the capital, where the scenes were the most destructive.
Looters have been seen smashing shop fronts, and cars have been set on fire.
In a television address on Saturday evening, Prime Minister Edouard Philippe said the "casseurs" (troublemakers) were still at work.
He called for more communication between the government and protesters to resolve the conflict. "The dialogue has begun," he said. "It is now necessary to rebuild the national unity."
What is happening this weekend?
Apart from Paris, there were demonstrations in several other cities on Saturday including Lyon, Bordeaux, Toulouse, Marseille and Grenoble.
Some places also had separate climate change marches taking place.
There have been a number of confrontations in the capital.
Video footage showed one demonstrator being hit in the torso with a rubber bullet while standing in front of a line of police with his hands up. At least three members of the press were also hit.
Water cannon were deployed on a street east of the city centre.
As night fell, protesters converged on Place de la République, and a heavy police presence remained on the Champs-Elysées.
Nearly 90,000 officers were deployed countrywide in anticipation of clashes, including 8,000 in Paris where 12 armoured vehicles were also utilised.
Last week, hundreds of people were arrested and 162 were injured in violence in Paris - some of the worst street clashes in the French capital for decades.
This weekend, six matches in the top tier of France's football league were postponed. The Louvre, Musée d'Orsay and other sites were also closed all day in Paris.


What next for Macron?
By Hugh Schofield, BBC News, Paris
The French government is relieved that its worst forebodings about the protests did not come to pass.
There was certainly some violence in Paris, but it was not on the scale of the week before.
The new tactics of the police - record numbers of officers deployed, moving quickly to occupy the ground and not hesitating to make arrests - paid off. Interior Minister Christophe Castaner said the escalation of violence had been stopped.
It is a relief for President Macron - but not much more. He must know that the moment will be thrown away if he does not move in quickly now with ideas that go some way to satisfying the more moderate of the yellow vests.
The time is for dialogue, the government says, and the president will make an address to the nation early this week.
The question is will he give the protesters what they want, which is something very simple: more money in their pockets. Does he think France can afford to economically?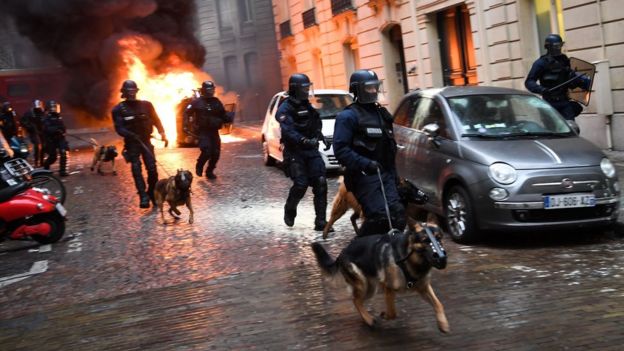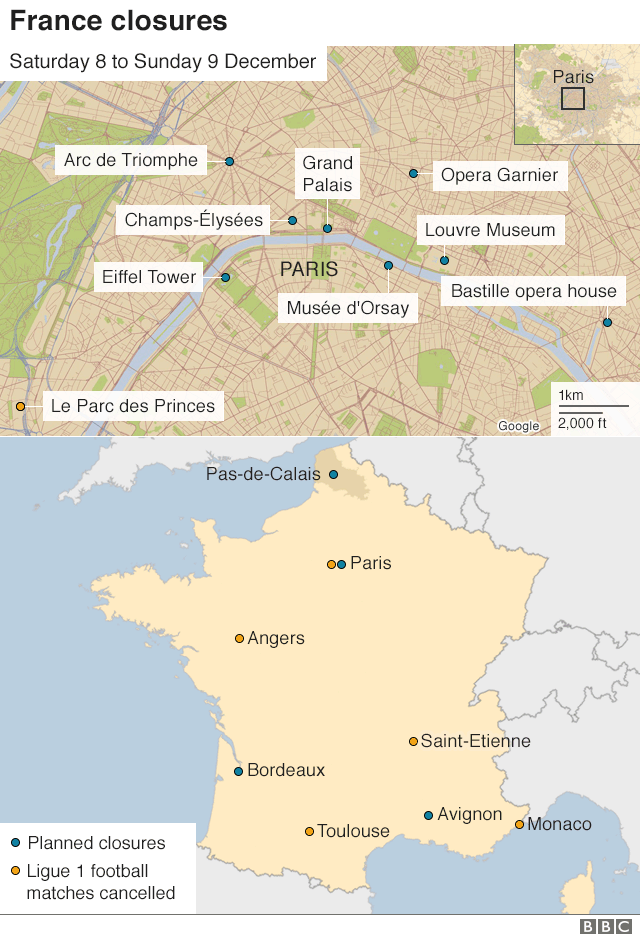 How have the protests spread?
The sentiment of the anti-government protests has inspired other spin-off protests in nearby countries. About 100 people were arrested in the capital Brussels. Some threw paving stones, fireworks, flares and other objects at police, according to AP news agency.
In the Netherlands, a protest was held outside parliament in The Hague, with an estimated 100 participants.
Where are we with the yellow vest movement?
The "gilets jaunes" protesters are so-called because they have taken to the streets wearing the high-visibility yellow clothing that is required to be carried in every vehicle by French law.
Over the past few weeks, the social media movement has morphed from a protest over fuel prices to a leaderless spectrum of interest groups and differing demands.
Its core aim, to highlight the economic frustration and political distrust of poorer working families, still has widespread support.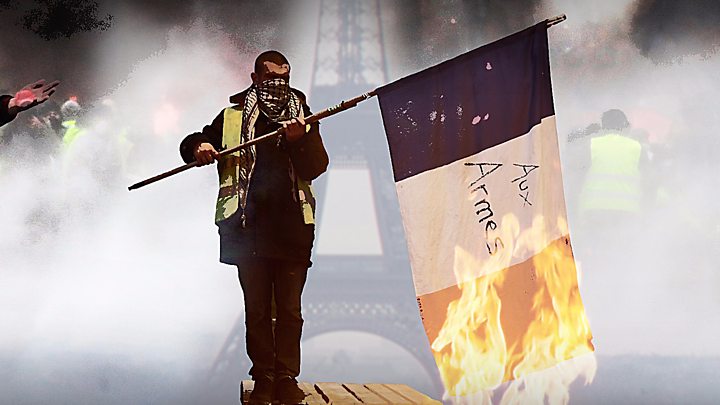 An opinion poll on Friday showed a dip in support for the protests, but it still stood at 66%.
Meanwhile, President Emmanuel Macron's ratings have fallen to 23% amid the crisis, polls suggest.
What has the government conceded?
The government has said it is scrapping the unpopular fuel tax increases in its budget and has frozen electricity and gas prices for 2019.
The problem is that protests have erupted over other issues.
Granting concessions in some areas may not placate all the protesters, some of whom are calling for higher wages, lower taxes, better pensions, easier university requirements and even the resignation of the president.
Some of Mr Macron's critics call him "the president of the rich".
Hits: 9