Lindsay Lohan's 'Mean Girls' Reunion Photos With Jonathan Bennett Celebrated His Gig On Her Reality Series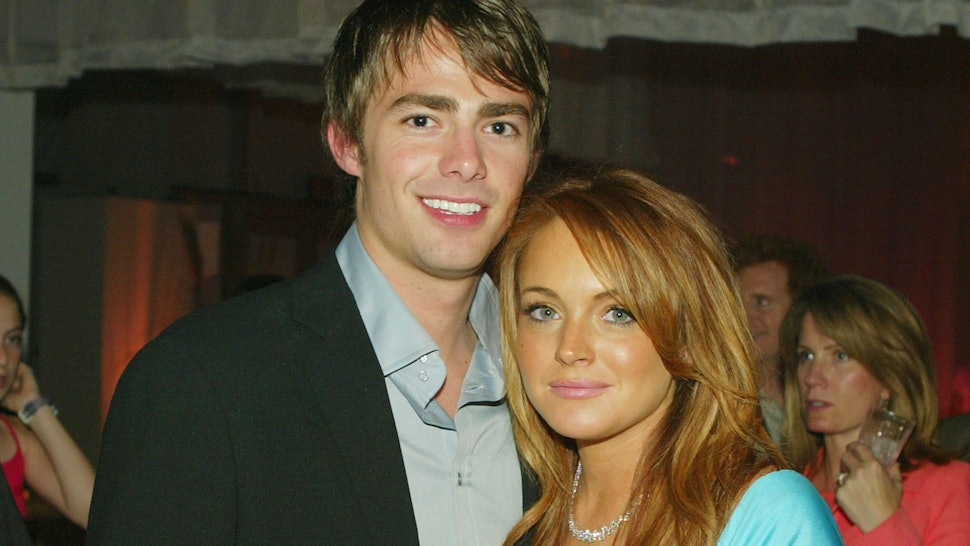 Kevin Winter/Getty Images Entertainment/Getty Images
If
fetch
is ever going to happen, now actually might be the perfect time.
Lindsay Lohan's Mean Girls reunion photos with Jonathan Bennett
will instantly transport you back to 2004 when Lohan's Cady Heron was telling Bennett's Aaron Samuels his hair looked sexy pushed back, and also may or may not have been writing "Mrs. Aaron Samuels" all over her notebook. (Or was that just a rumor Regina George started?
Irregardless
...)
When Lohan posted the Instagram photo in the early hours of Saturday, Jan. 5, she kept her caption simple, only tagging the official account of her
upcoming MTV reality show, Lindsay Lohan's Beach Club
, along with a
Mean Girls
hashtag. Bennett, on the other hand, fully embraced the nostalgia.
"Aaron Samuels + Cady Heron forever ?Reunited with my girl @lindsaylohan," he captioned the same selfie that Lohan shared on her page. In a subsequent professional version of the shot that he also posted on Instagram, Bennett wrote: "A reunion? Grool."
The reason for the reunion — not that Mean Girls fans ever need one — is that Bennett will be hosting Lindsay Lohan's Beach Club: After the Show, a 30-minute program airing immediately after her series' January 8th premiere at 8 p.m. ET/PT, MTV revealed in a press release. For the aftershow, Lohan will join Bennett in MTV's Times Square studio in NYC, where fans "get up close and personal to ask questions about her journey abroad and growing business empire," per the network.
The evening's main event, however, will, of course, be Lohan's
Vanderpump Rules
-esque series, which follows the star filling the LVP role as the managerial voice of reason as she opens her titular Mykonos resort. (It can't be all work and no play, however, judging by all the
viral #DoTheLiLo dancing memes
.) Being the cool-headed one in charge felt like a departure for Lohan, as she explained in a
new interview with Paper
.
"To kind of have to calm other people down when they're stressed out, which was me in the past — I think back like, 'Oh my God, did I act like that? Ten years ago?'" the actor — who also owns a nightclub in Athens and another Lohan Beach House location in Rhodes, Greece — told the magazine. "I want to make sure these kids are responsible for themselves, but it's a liability and a legal issue, too. We just trademarked my last name."
She added that the party girl persona she earned in the early 2000s is long behind her though: "There's always going to be things that have happened and things people have said in the past that you can't control. But the past is in the past."
For Bennett, however, blasts from the past are much more welcomed. The co-author of The Burn Cookbook recently reminisced with Entertainment Tonight about reprising his Mean Girls role for Ariana Grande's "Thank U, Next" music video:
"It brought me back. There was that moment when you're sitting in the chair, they do your hair and makeup like Aaron Samuels, and they spin you around for the first time and you look in the mirror. That was the first time I saw him in 15 years, and it was like seeing an old friend. It takes you back to that time when life was just simpler."
While it remains to be seen if the former co-stars will also make a trip to use that Walker Brothers Pancake House gift certificate, their Cady and Aaron reunion may have been the best thing to happen since the Toaster Strudel.
Photo courtesy of MTV
Lindsay Lohan Most Memorable 2018 Moments Continues With MTV
Does anyone remember Donald Trump's comment that Lindsay Lohan was deeply troubled and therefore great in bed. Most Lohan fans probably recall that memorable moment. But since Lohan has arguably turned her troubled life around, it may not be so easy to identify Linday's most memorable moments of 2018. Nevertheless, this report will take a stab at it, and perhaps by doing so, make those 2018 moments more memorable.
Recently, Lohan has, once again, been finding herself frequently in newspaper headlines of the gossip sort. While the 32-year-old movie, television and music star no longer resides in the United States, it appears she is making a gossip column comeback. In fact, Lohan has some interesting headline grabbing stories that were featured in 2018 and appears to continue into 2019 with the MTV reality TV Show.
I Like Men
Case in point. In January of 2018, The Wendy Williams Show featured an interview where Williams questioned Lohan about her sexuality. Throughout the interview, Williams continued to press the one time disney child star, asking her if she was sexually fluid. Lohan immediately paused and finally blurted out an emphatic, "No, I like men." But that wasn't enough, the the famous TV talk show diva was locked and loaded as she quickly got straight to the point and asked Lindsay if she still liked girls. Lohan smiled and retorted, "I was living in L.A. I'm not saying it's a band thing." It was a memorable statement and gossip news had their newest Lohan quote as it was not only made the rounds on Twitter, but was frequently Headlined in online and print publications worldwide.
Perhaps the most memorable quote from the Williams interview was "I like men." Truly the first memorable moment for Lohan in the early days of 2018.
New Faith or Publicity Stunt?
February ushered in another memorable moment the American actress. There was much speculation about the religious faith of the Mean Girls star as she was photographed wearing a hijab (headscarf) and holding the Holy Quran. Some in the media speculated that she had converted to Islam while others believed it was simply a publicity stunt. The latter was probably a more reliable interpretation as she used the attention to introduce her new fashion and cosmetic line. What made the news more memorable was that the hoopla occurred doing London's fashion week. At the time, Lohan was ask frequently asked about the Quran and headscarf she had been sporting. She was consistent in her responses to the question, stating that she had tried praying "the Muslim way… it was was hard but it was good. It felt good." Though most may not remember her comments on the subject of faith, no one can forget the image of her exhibiting traditional muslim headscarf and therefore a most memorable moment.
Spokesperson for Lawyers
In March of 2018 Lohan became the newest spokesperson for Lawyer.com. She had been off of probation for only two years when the offer came her way. It was sort of ironic especially since Lawyer.com is known for protecting people from getting caught up in DUI prosecutions. What makes her new gig as the company's new spokesperson so memorable is the fact that she was featured in their commercials which aired nationwide.
Second Nightclub
As the year progressed, Lindsay found herselt knocking on the door of another memorable moment. Lohan was opening up a second nightclub. She already had her name attached to a club in Athens, but now she was opening Lohan Beach House on the Greek island of Mykonos.
Lindsay Who?
In the middle of June, Lohan's name was once again, on the cover of gossip magazines and on the front pages of news websites. The gossip began when Paris Hilton rebuked Lohan in a TMZ interview. Hilton was asked if she was planning on inviting Lohan to her marriage to American actor Chris Zylka. Mind you that the marriage never took place, but it was headlines in June, 2018. Most memorable statement ran in TMZ which had for its headline: "Lindsay Who?"
Lohan's 2018 Most Memorable
Arguably the most memorable moment for Lohan may be when MTV announced that the actress would star in her own reality TV show, Lohan Breach Club. At first it was titled made use of the word house instead of club but has since been changed to are on Tuesday, January 8, 2019. Nevertheless is was memorable as early as July and August of 2018. The new show is set in and around Lohan's second club adventure on the Greek island's Kalo Livadi beach.
From this writer's stand point, Linday's MTV reality show is not only a continuation of her most memorable moments from 2018 but may potentially become a most memorable moment of 2019. Whether it is successful or flops, it is Lindsay that people are interested in seeing win and fail and therefore, nevertheless, memorable.
By DiMarkco Chandler
Sources: 
Huffington Post: Lindsay Lohan Says Past Relationships With Women Were Part Of 'Living In L.A.'
Page 6: Lindsay Lohan lends name to a second Greek club
W Magazine: Paris Hilton Will Not Be Inviting Lindsay Lohan to Her Wedding
TMZ: LINDSAY WHO? She's NOT on My Guest List
CNN: Lindsay Lohan lands MTV reality show
Antonio Brown trade possible, Ben Roethlisberger extension talks likely amid Steelers turmoil
Staff changes are also possible as Pittsburgh deals with a season of drama
• 3 min read
As a rule, the Steelers seek to extend head coaches and quarterbacks before the final year of their deal, and despite all the drama and issues between the Pro Bowl receiver and quarterback this season, that is very likely to remain the case. Ownership must still sort through this maze of issues, and there is a hope within the organization that, through mediation with the players, the situation could potentially improve.
Brown expressed his desire to play elsewhere shortly after the season, sources said, after essentially going AWOL from the team for the third time since training camp and being deactivated for the final game of the season in a must-win situation against the Bengals. Brown has become a figure of much animosity and concern within the locker room and team in general – similar to Le'Veon Bell, who sat out the entire 2018 season rather than play on the franchise tag for a second-straight year.
Stream Saturday night's and Sunday's playoff games on fuboTV, try it for free. Watch the AFC Wild Card Game between the Los Angeles Chargers and Baltimore Ravenslive right here on CBSSports.com. 
However, Brown remains one of the most talented football players on the planet. He has contributed to great Steelers teams over the years and the Rooney family, as a rule, is not prone to capitulate to trade requests or demands. In this instance, sources said it is not out of the question a trade could be facilitated, and while much has been made of the $21M cap hit incurred by moving Brown, the Steelers could facilitate such a trade without it derailing their cap or payroll, according to sources with knowledge of the situation.
The Steelers will determine the extent of the damage done to these relationships over the coming weeks and assess how to proceed with the receiver. That is not expected to impact extension talks with Roethlisberger, who is coming off yet another strong season and who is under no threat to lose his job to 2018 third-round pick Mason Rudolph in the near future.
The relationship between Tomlin and first-time offensive coordinator Randy Fichtner – and that of Roethlisberger and Fichtner – have been under scrutiny within that organization for months, with many believing it may be too close on both parts. The Steelers had issues on both sides of the ball following a 7-2-1 start that appeared to put them in position to win the AFC North, and there are many there who believe Tomlin should make changes to his staff after this collapse.
Tomlin himself has been in no jeopardy whatsoever of losing his job, according to sources with knowledge of the situation, though he has been a focal point of fan and media attention in the wake of the team missing the playoffs. Ownership has not even considered a change of that magnitude, though it is also hard to see this entire staff returning as presently composed.
The Steelers have yet to have formal organizational meetings about their roster, with this season ending earlier than what they are normally accustomed to. Those meetings could begin by the end of next week at what point the Rooney family would provide more Direction on Brown's future. Art Rooney II has yet to meet with brown or general manager Kevin Colbert about this situation, and while many in the organization believe it is not likely they are granted approval to trade Brown in the near future, those discussions have yet to take place. The Steelers also are interested to see what tone Brown takes when he does speak to ownership about his trade request and whether or not things can be tamped down through conversations and meetings.
It's no secret that Antonio Brown and Ben Roethlisberger have a beef. In fact, they've reportedly been at odds for quite some time. Apparently, their beef lingered into the 2018 season.
On Saturday, former NFL receiver James Jones, who is now on the NFL Network, said Roethlisberger criticized Brown in meetings and wanted him off the practice field this season.
"I have talked to a couple people in the Pittsburgh Steelers' organization and they told me this has been lingering on," Jones said. "I've been told in meetings [Roethlisberger] would take shots at AB. Like, 'I don't got to throw you the ball,' and things like that. Wednesday in practice, I heard he ran the wrong route, Big Ben threw the ball on the ground, said, 'Get him out of here. Get somebody else in there,' and that's when AB was at his boiling point and that's when he went off."
Jones also implied that Brown doesn't respect his quarterback enough to discuss their issues face to face.
"I do think it's hard to sit down and have a conversation with a man you do not respect or trust," Jones said. Reports claim that Brown sat out in Week 17 because of a dispute between himself and Roethlisberger.
Furthermore, because of this situation between Brown and the Steelers, Peter King removed the 30-year-old receiver from his All-Pro ballot.
"I thought about it, and I said, 'I can't in good conscience put a guy who took the equivalent of 6 percent of the season, and flushed it down the toilet when the Steelers were in a playoff implication game.' And so Mike [Florio], I ended up voting for Michael Thomas and I took Antonio Brown off my All-Pro ballot," King said on Pro Football Talk Live.
"I'm very, very serious about these votes, and they mean a lot to me. But if a guy takes 6 percent of his season and purposefully flushes it down the toilet … I can't vote for him for anything. He wouldn't be among my top 10 or 20 receivers for the season."
Brown noticed what King did, so he tweeted this:
Hopefully, Brown and the Steelers can put this beef to bed. If not, Pittsburgh may have to trade him over the offseason. And according to the NFL Network's Ian Rapoport, the
Steelers will listen to trade offers.
The NFL turns 100 this year. Get ready to be battered about the head and neck with reminders of that fact once this season ends.
2019 will also be the 20th anniversary of the Kraft-Belichick-Brady Era in New England. The league will spend less time mentioning that.
One-fifth of NFL history has been dominated by a once-plucky Cinderella that morphed into what most of America regards as an arrogant Death Star. That's something the folks working for The Shield regard as...regrettable.
But there is anticipation. How long can this go on? Will 2018's wheeze become a cough leading to pneumonia that finally causes the Patriots to flatline?
It's really all tied to that Kraft-Belichick-Brady troika (tinker with the order as you see fit). Once one goes – and ownership's not going anywhere – the Patriots as we've come to know them are no more.
That's an unpleasant proposition for everyone around here – fans, media, concessions, parking lot attendants, you name it.
But it's especially unpleasant for ownership. Which is probably why Jonathan Kraft sounded like he was trotting through a minefield during an appearance this week on 98.5 The Sports Hub.
Asked about the possibility of Tom Brady receiving a contract extension, it took Kraft a full 10 seconds to begin his answer (here's the audio - note the pause...the question concludes at the 11:50 mark.
"I'm only hesitating because there aren't any adjectives to describe how exceptional he is," Kraft said. "Anybody who doubts that doesn't understand things."
Personally, I doubt whether that person exists. Tom Brady is exceptional. Everyone knows that. Agreed.
The extension?
"Tom is under contract for next year, and I think hopefully people have seen that there's a real understanding between all of us about how that situation is going to work into the future," offered Kraft.
Not really. I don't know anyone who's seen definitively how that situation is going to work into the future. Maybe it's all mapped out on a whiteboard in someone's office but my sense is it's a helluva lot more fluid than that.
What we have seen is a player who at one time stated he wanted to play until 45 and last week stated he wanted to "not only play next year but beyond that."
A player who's never gotten into the final year of a contract without having an extension done.
A player who's taken significantly less than players half as good as him and who this year gave the team a little cap relief by agreeing to incentives he didn't even come close to hitting.
A player who's probably done with the financial benevolence, especially since there's a litany of teams with big-ticket quarterbacks surrounded on both sides of the ball by far more talent than Brady's been surrounded by.
So how does this team – which had the word "VALUE" etched in the concrete when the foundation was laid in 2000 – get its mind around finally paying Brady the going rate not only next year but beyond that?
The first Brady Succession Plan hatched in 2014 was fed into the shredder in 2017 when the Patriots sent his younger would-be successor to San Francisco.
To me, that remains a no-fault accident. The Patriots drafted Jimmy Garoppolo because Brady was in apparent decline in 2012 and '13. Garoppolo turned into a bona-fide talent under their tutelage. Brady turned into, hands-down, the greatest quarterback in NFL history.
Couldn't keep both (spare me the computations that say otherwise). Can't trade Brady, especially when he's still lights-out and the unspoken understanding is that parting with him would be like amputating part of Robert Kraft's soul. Plus, he was so damn affordable.
Now? He doesn't figure to be so affordable.
In April 2014, Bill Belichick explained the drafting of Garoppolo by saying, "We all understand Tom's age and contract situation."
That's when Brady was about to be 37. Now he's about to be 42 and Belichick – who pulled the ripcord on so many past Patriots greats and was preparing to do so with Brady – has done a philosophical 180?
There's no doubting Brady is good to go for 2019 and that Belichick – with no successor in the program – is fine with that.
But if understanding "how that situation is going to work in the future" includes Belichick re-upping with Brady through 2020 or 2021 at the going rate for very good quarterbacks, I don't see it.
According to Tom Brady, maybe the Patriots' subpar regular season isn't a bad thing after all.
Appearing on Westwood One Radio with Jim Gray prior to Saturday's Texans-Colts playoff game, Brady explained how the best teams in the regular season usually don't win the Super Bowl.
"Our coaches have always told us it is not where we play, it is how we play and so much is unpredictable in the postseason," he said. "This isn't four out of seven or three out of five, this is a one-game season and the team that plays the best wins. I would say the team that plays the best over the course of the regular season hardly wins very often, you know, the Super Bowl."
Added Brady: "Again, 16 weeks is different than one week. You wouldn't judge a boxing match on one round, either. But, someone could win a round. That is how it goes in the playoffs and you have 12 teams that have qualified that have had great seasons, but there is only one of those teams that is going to win it all. It is a very challenging thing to do, but it is also a very exciting time of the year because you see all these playoff games and you see pro football being played at its highest and very best."
The Patriots finished 11-5, their worst record since 2009, but they did earn the No. 2 seed in the AFC and a first-round bye.
New England will host their divisional round game next Sunday at 1:05 p.m.
This post was created with our nice and easy submission form. Create your post!
Hits: 44