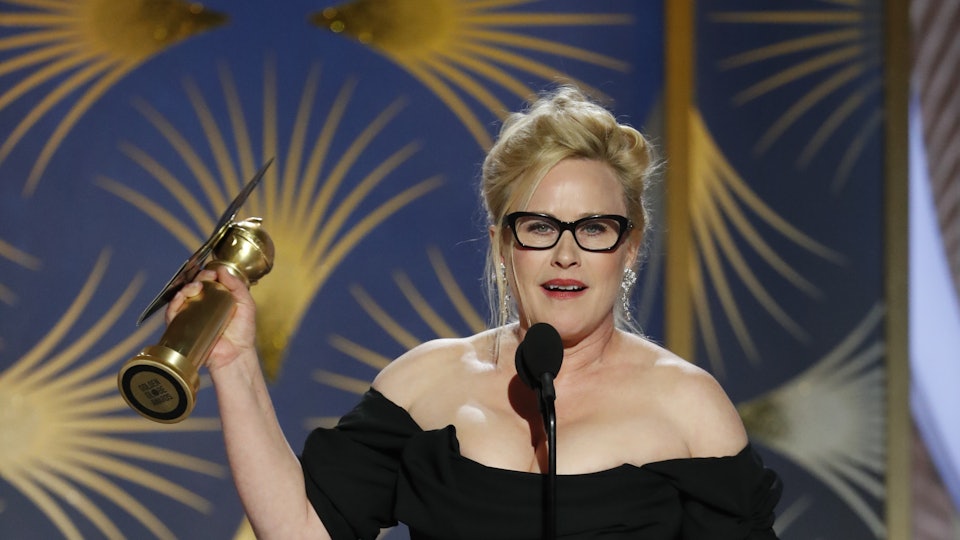 Handout/Getty Images Entertainment/Getty Images
What Did Patricia Arquette Say During Her Golden Globes Speech? She Kept The Censors On Their Toes
Actress Patricia Arquette took home the Golden Globe award for her work in 
Escape at Dannemora 
Sunday night, according to 
Variety,
 but during her speech, Arquette either forgot that she happened to be speaking on live television, or, well, she simply didn't care. Wondering 
what Patricia Arquette said during her Golden Globes speech
? It was at times hard to actually tell, since parts of her speech ended up getting bleeped out.
Arquette beat out nominees Regina King, Laura Dern, Connie Britton, and Amy Adams for her work in the limited Showtime series, in which she played a 
woman who helped two inmates break out of prison
, according to 
Entertainment Weekly
. And it's pretty clear she really loved the role: in her speech, she lavished praise on producer Ben Stiller, telling the crowd, "I love Ben Stiller. And to be an actor to work with Ben Stiller, you're gonna love working with Ben Stiller." Arquette then shared her gratitude for the rest of the cast and crew, though that's also where things started to get a bit dicey.
In reference to her fairly drastic on-screen transformation, Arquette thanked the team who helped her get camera-ready, including prepping her fake teeth, according to The Hollywood Reporter. But, never one to hold back, the actress joked, "How many f*cked up teeth do you need? I was born with f*cked up teeth!"
It sounds like it didn't quite take long though for Arquette to decide that may have not been the most appropriate comment to make. According to 
The Los Angeles Times
, the 
actress acknowledged her blunder backstage
, and said,
I'm so sorry. I'm so sorry, I know you cant take it back can you. I didn't plan that. It was an unplanned F-bomb. I'm very sorry, this is a very elegant occasion. Dental traumas are true, trust me.
With such heavy competition in the category though, it makes sense that Arquette may have felt somewhat caught off-guard. Though she did come prepared with hand-written notes, she told Us Weekly prior to the awards show that she had "been in denial" about her nomination, and joked that she'd "started having a low-grade anxiety attack" just thinking about getting ready for the big night.
Clearly though her fans were totally here for her win, although some *did* think her speech was pretty exhaustive:
Profanity aside, Arquette is definitely no stranger to giving memorable award show speeches. At the Oscars in 2015, the actress gave a headline-making speech during her Best Supporting Actress win for Boyhood, according to Variety, using her time to speak out about wage equality in America. She said,
To every woman who gave birth to every taxpayer and citizen of this nation, we have fought for everybody else's equal rights. It's our time to have wage equality once and for all and equal rights for women in the United States of America.
But it turns out she also managed to stir up some controversy then, too: in 
additional comments to reporters in the press room backstage
, Arquette urged "all the women in America and all the men that love women and all the gay people and people of color that we've all fought for to fight for us now," according to The Huffington Post, which, honestly, felt like a pretty heavy dose of white feminism.
In a later interview with TheWrap, Arquette said that "the way people perceived [the comment] is not the way at all [she] intended," and said she "would have chosen [her] words a little more carefully" if given a do-over.
In comparison, well, Arquette's quip about her teeth really doesn't seem all that bad, even if she did feel the need to apologize for it. And though it may have been uncalled for, hearing her sound so grateful to the people she worked with was pretty heartwarming, even if it may have come out a little less refined than the network may have wanted.
Here's why Christian Bale, Patricia Arquette, Olivia Colman and Steve Carell got bleeped at the Golden Globes
By Libby Hill
Let's hope the newly redesigned Golden Globe trophy doubles as a soap dispenser, because Sunday night's ceremony featured some foul-mouthed Hollywood stars.
Though the language might have seemed relatively mild compared to some of the insults being bandied about the political sphere as of late, some of the winners ran afoul of the censors.
Here's a look at who said what and what they said to get bleeped.
PATRICIA ARQUETTE
Arquette is known for her heartfelt and straightforward speechifying, so her profanity doesn't come as a huge surprise.
During her acceptance speech for performance by an actress in a limited series or a motion picture made for television, Arquette talked about having to wear prosthetic teeth for the role, poking fun at her own less-than-perfect chompers.
"How many [messed]-up teeth does a person need?" she joked. "I was born with [messed]-up teeth!"
What she really said: If we were living in NBC's "The Good Place," Arquette would call her teeth "forked."
CHRISTIAN BALE
While accepting his Golden Globe for actor in a comedy for his portrayal of former Vice President Dick Chaney in "Vice," Bale recounted an anecdote about director Adam McKay.
According to the actor, McKay told him they needed "someone who can be absolutely charisma-free and reviled by everybody" to play the part.
Bale joked that he's looking to begin "cornering the market on charisma-free [jerks]."
What he really said: This is a family-friendly newspaper, so we'll just say that it rhymes with "pass coal."
STEVE CARELL
"The Office" star had the enviable gig of introducing Carol Burnett with a lifetime achievement award, and his ode to the comedian praised the length and breadth of her decorated career.
Carell also pointed out that through it all, Burnett has remained one of the kindest individuals to work in the business.
Or, as he put it, "Carol Burnett makes Tom Hanks look like [a jerk]."
What he really said: Like Bale, Carell, too, opted for "pass coal."
OLIVIA COLMAN
Though a stranger to most American audiences, the English actress was a complete delight during her acceptance speech for actress in a comedy for the role of Queen Anne in "The Favourite."
Colman spoke lovingly of Rachel Weisz and Emma Stone, her costars in the acclaimed film, recounting her feelings about the process.
"I had a … blast," she proclaimed.
What she really said: Colman had a "forking" good time.
ARLINGTON 
The man with the answer to Clemson's long-term football success, and Alabama's future, is a kid from Argyle, Texas who grew up with Texas A&M stuff all over his bedroom, and whose grandfather coached the Crimson Tide.
Tight end J.C. Chalk caught two passes this season for Clemson, and yet he has valuable, inside information for the two programs who will play for the BcS Plus 2 national title game on Monday night in Santa Clara, Calif.
Chalk's grandfather is Gene Stallings, who played for Bear Bryant at Texas A&M and eventually won a national title at Bama in 1992. Stallings coached current Clemson coach Dabo Swinney. Stallings remains fiercely loyal to both Bama and A&M.
Clemson's greatest fear these days is not the team losing to Bama on Monday but losing its coach to Bama eventually. Bama coach Nick Saban will eventually retire, and Clemson's fear is that Stallings will call Swinney and ask that he come to Tuscaloosa to keep the Tide rolling.
"I don't think that is going to happen," Chalk said after Clemson defeated Notre Dame in the national semifinal game, the Cotton Bowl, on Dec. 30. "I can't speak for Coach Swinney by any (means), but I think he loves where he's at right now. He loves Clemson. He's built a great tradition here at Clemson. He has everything the way he wants it here. For right now he's very satisfied to be at Clemson."
A similar circumstance happened in men's college basketball when North Carolina coach Dean Smith retired after the 1997 season. Then-Kansas coach Roy Williams, who was close to Smith and UNC ties, was the man the Tar Heels wanted. Williams declined.
After another coaching change at Chapel Hill occurred in '03, Smith called Williams and pressed him again to take over the UNC program. Williams said yes.
Saban is 67, has more money than he can count, and can retire today knowing his legacy is equal or greater than that of Bear Bryant. A compelling case can be made that Nick Saban is the great college football coach who ever lived.
Why would Swinney want to inherit that standard?
He played there, and Bama is the top job in college football. And, money. A phone call from a revered mentor, like Stallings, can influence a decision.
Nonetheless, Chalk, who is a redshirt sophomore and the only Clemson player from Texas, doesn't see Swinney leaving for Bama.
STALLINGS PROGRESSING
The best news Chalk had after Clemson's most recent win is that Stallings is doing well. Or improving.
Stallings went through a stretch where he suffered a stroke, followed by a heart attack, and then another stroke.
"For a little bit he was not looking too good but in the past month or so he's really come around," Chalk said. "He's doing a lot better. He's made a turn for the good."
Stallings visited Clemson's practice before the Cotton Bowl. Chalk said his grandfather is walking around, and his speech is fine.
CHALK CHOSE CLEMSON BECAUSE OF SWINNEY
Coming out of Argyle in 2015, Chalk had offers from Texas A&M, Clemson, Mississippi and "just about every Big 12 and SEC school."
Everything about Chalk said he was going to Texas A&M. Not only is he a legacy, but his bedroom is covered in all things Aggie.
"I was a huge fan of A&M until my freshman year of high school and then I started getting recruited a little bit and my fandom started to change," Chalk said. "It was more, realistically, 'Do I want to go there?' But I was a big A&M fan. In fact, if you go to my room right now, it's covered in Texas A&M stuff.
"I had a big 'ATM' painted on the wall."
Despite his ties, and child-like passion, for all things Aggies and College Station, he picked Clemson for one reason: Dabo.
"The culture here is totally different than some other schools. Coach Swinney was a big factor and the relationship I built with him," Chalk said. "I wanted to go somewhere I could encourage my relationship with the Lord. Here they really emphasize recruiting not just good players but good people."
About the only thing that has not flourished for Chalk since he finished a dominant career at Argyle is that success has not translated at the same rate at Clemson.
He redshirted as a freshman, and he has four career receptions in two seasons of playing. Take into account most college tight ends don't catch many passes, so don't expect big numbers.
"I had lofty goals coming in but I did not realize the difference between high school and college football," he said. "When I first got here that was a little frustrating, but I figured out if I worked hard enough I'm going to be able to play. I can have success. It's gone the way I planned but it's taken a little longer than I thought it would."
And he doesn't see his head coach leaving.
The secret to Clemson's flawless team culture? Rugby
Fast forward a bit, and the leadership book "Legacy" arrives on Swinney's desk. The book chronicles the success of the All Blacks, New Zealand's national rugby team. The All Blacks are widely considered the best in the world. Swinney read "Legacy" and quickly made a realization: "Holy crap that guy was in my office."
That guy is Steve Hansen, the All Blacks' world champion head coach, featured prominently in "Legacy." Swinney soon devoured the book.
"I felt like an idiot," Swinney said. "He was like the 
Tom Landry
 of rugby."
The Landry of rugby has continued to have an indirect impact on Clemson's program. After Swinneyand the Tigers reached the playoffs for the first time in 2015 and then won a national title in 2016,Swinney wanted to find a way to continually motivate his players. He hoped to identify principles that allowed others to find annual success. He found that in "Legacy."
Despite knowing nothing about the All Blacks or rugby before discovering the book, ideas like "sweeping the shed" resonated with Swinney. Sweeping the shed means no individual is bigger than the team and its history. The players in the present are responsible for the details of maintaining the program's legacy. That means after every year and every championship, the All Blacks begin anew.
"They've always done the little things probably better than everybody, and they've focused on their culture and take a lot of pride in that," Swinney said.
And so through Swinney, the All Blacks' culture has seeped into the pores of the Clemson football program.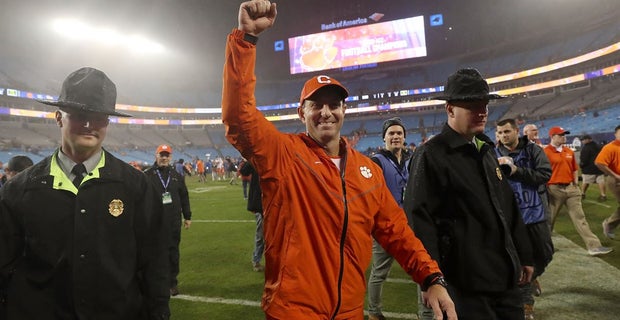 When redshirt junior defensive end Clelin Ferrell heard Swinney bring up the All Blacks for the first time, he thought, "What is this?" Then he listened, and the incoming classes of freshman Tigers havesubsequently done so over and over again.
Swinney doesn't bring the All Blacks up every day – usually it's motivational video fodder every month or two – but Clemson players say the All Blacks' principles align with what the Tigers do daily. When Swinney tries to drive a point home about a championship culture, he often cites the rugby team from another hemisphere.
"Coach Swinney does a great job finding ways to really reach our guys with something new and fresh," Clemson co-offensive coordinator Jeff Scott said. "That's something he goes to every few months with one less that's applicable to where we are in the season."
All-American linebacker Tre Lamar knows nothing about rugby except he likes the sport's tackling form. But he can appreciate a winner when he sees one.
"They're dogs," Lamar said. "They go out there to not beat the other team but beat the standard they set for themselves."
That's the point Swinney is trying to drive home with his obscure rugby connection.
Swinney makes the book available in his office to anyone on the team who'd like to read it, and Ferrell said he can see many parallels between the All Blacks and what Swinney's produced. People often bring up the unique nature of Clemson's family-oriented, seemingly happy-go-lucky program. To Ferrell those principles aren't new.
"People say our program is based entirely off the All Blacks organization," Ferrell said. "I wouldn't say it's as unique as, 'Oh, Dabo just thought about it.' The All Blacks are a player-led team. I feel like it takes that."
Clemson's set to play for a third national championship in four seasons Monday.
"It was great for me to read," Swinney said.The Tigers aren't quite at an All Blacks level of success yet. But it's a comparisonSwinney will continue to make as Clemson deals with the trappings of success.
Matt Nagy's reaction to field-goal miss becomes meme
Stunned Chicago Bears coach Matt Nagy became a meme Sunday after his kicker devastatingly missed a game-winning field goal attempt to end the team's season.
After Cody Parkey hit both the upright and crossbar on a 43-yard try for the win, NBC cameras cut to Nagy, whose face defied description after seeing the makeable field goal go all wrong.
Inside the Golden Globes 2019 After-Parties: Taylor Swift and Joe Alwyn's PDA and More!
By 
Getty Images
After a night of surprises, snubs,fake feuds, and viral moments at the 2019 Golden Globe Awards, the stars hit up the after-parties across town to celebrate their wins, nominations, and the immense talent represented at the annual show.
Following her unexpected appearance as a presenter at the Golden Globes, Taylor Swift was ready to party with her British boyfriend, Joe Alwyn, by her side.
New parents Hilary Duff and Matthew Koma also had a glam night out, just two months after welcoming their daughter, Banks. The stunning couple took a moment to talk with ET's Lauren Zima at the Amazon party, but weren't the only stars spotted by ET insiders.
Here's what went down after the cameras turned off and the real partying began:
Fox, FX and Hulu Golden Globes After-Party at the Beverly Hilton Hotel: Love Is In the Air!
Swift joined Alwyn at Fox's party at the Beverly Hilton Hotel. The instant she entered the event, the "Gorgeous" singer made a beeline for The Favourite star, putting her head on his shoulder and hand on his chest. Swift didn't leave Alwyn's side, posing for photos and chatting with Alwyn's co-star, Nicholas Hoult, as she kept her hand around Alwyn's waist. At the end of the evening, the two exited through the back of the venue and away from the crowds.
Meanwhile, Chrissy Metz similarly couldn't keep her hands off her man, Hal Rosenfeld, at the soiree. She packed on the PDA with the music composer while chatting with friends.
Also at the soiree were the members of Queen, who were celebrating Bohemian Rhapsody's wins alongside leading man and Golden Globe winner Rami Malek. Malek, who played the late Freddie Mercury in the film, held up his trophy to pose for some pics with the group. He also shared a loving moment with his co-star girlfriend, Lucy Boynton, who held his hand and wrapped her arm around the actor to congratulate him. Tragically, by the time Queen's song, "Bohemian Rhapsody," played at the event, the cast and band members were no where to be seen.
HBO's Official 2019 Golden Globe Awards After-Party: No-Shoe Fun!
Whoops! Emma Stone was so caught up in her conversation with a brunette pal that she didn't realize she was holding up the drinks line at the HBO party. Clearly she didn't understand that it was a grab-and-go bar and continued to talk to her friend while her glass of champagne waited on the edge of the bar for her. The faux pas caused a line of people, including Kieran Culkin, to have to wait to get their drinks.
Heels weren't getting in the way of Caitriona Balfe's fun! The Outlander star kicked off her tall black stilettos, calling them "evil" while drinking vodka tonics with a group of friends.
Tiffany Haddish livened up the party, getting Saturday Night Live star Pete Davidson to pose for a photo with her with their tongues out.
InStyle After Party at the Beverly Hilton Hotel: Modern Couples!
Jenna Dewan and her boyfriend, Steve Kazee, entered the party and did a lap before hitting the dance floor. The pair were spotted kissing on the dance floor before having a friend take photos of them together. The kissing didn't stop as the two waited for their car together outside the Beverly Hilton Hotel.
On-screen sisters Sarah Hyland and Ariel Winter attended the InStyle soiree separately with their respective beaus, Wells Adams and Levi Meaden. Hyland was stunning in an aqua J. Mendel dress. Earlier in the night at the HBO party, the 28-year-old told ET's Keltie Knight that she planned to get into trouble tonight. Though they didn't pose together, the Modern Family stars had plenty of fun with their dates in InStyle's elevator video series. Hyland was caught stuffing her bra with tissues, while Winter gave Meaden a passionate kiss before leaving him behind in the elevator.
Similarly, Hilary Duff and boyfriend Matthew Koma locked lips in the elevator in a funny clip.
Black Panther stars Michael B. Jordan, Lupita Nyong'o, and Danai Gurira also shared a sexy elevator moment, when Gurira walks in on Jordan and Nyong'o making out. The ladies toss Jordan out to share a steamy smooch of their own.
Fresh off her Golden Globes win, Lady Gaga was spotted giving her fiance, Christian Carino, a passionate kiss with her trophy still in hand.
Kate Beckinsale rocked an eyebrow-raising look in a daring white strapless gown with tiered leg cutouts and lace detailing.
Heidi Klum was keen to show off her stunning new engagement ring on the carpet, flashing her blinged-out fingers for the camera.
Jim Carrey was seen kissing his new girlfriend, Ginger Gonzaga, once inside the event. Earlier in the evening, Carrey gushed about Gonzaga with ET's Nancy O'Dell, saying, "She's not only beautiful, she's wickedly talented and amazing and smart."
Agents of S.H.I.E.L.D. star Chloe Bennett spotted a lone clutch purse and was seen asking the women around her if it belonged to them. When she eventually found the purse's owner, the woman was very appreciative and thanked her. Chloe celebrated by ordering another tequila on the rocks with a lime.
In addition to posing for pics with Tiffany Haddish, Pete Davidson and his pal, Machine Gun Kelly, lit up in the InStyle elevator (literally!), making sure to tip the operator in the process.
Amazon Prime Video's Golden Globe Awards After-Party at The Beverly Hilton Hotel: New Parent Alert!
Hilary Duff and her boyfriend, Matthew Koma, hit the red carpet at Amazon's bash at the Beverly Hilton Hotel. The couple welcomed their daughter Banks in late October and recently revealed that the little one is suffering from colic. Despite the tough time, the parents were glowing at the event, with Duff rocking a one-shoulder black gown and faux-fur jacket. Duff told ET's Lauren Zima that she was having a "mama's night out" with her man. The couple are loving life with their little girl and Duff's son, Luca, and told ET that they aren't looking to add a third baby to the mix anytime soon.
What's an award show without a little scandal? Ben Wishaw, the Golden Globe-winning star of A Very English Scandal, admitted to ET's Zima that he was "a bit drunk" at the after-party. Who could blame the British cutie after his first Golden Globes win?
So, how did he feel after the big moment? In a word, "lovely."
Inside the party, Timothee Chalamet had a blast with his mom, dancing the night away to "Don't Stop 'Til You Get Enough." The Beautiful Boy actor filmed his mom dancing as she ditched her shoes for the moment.
NBCUniversal's Golden Globes After-Party at the Jean-Georges Restaurant at the Waldorf Astoria Beverly Hills: More PDA and Romantic Connections
Jameela Jamil and her boyfriend, James Blake, shared a sweet kiss while waiting for a drink. The Good Place star told her fans on Instagram Stories that she'd been wanting to attend the Globes "since I was a kid."
Pete Davidson also attended this after-party with his pal, Machine Gun Kelly. After a year of ups and downs, the comedian was overheard asking Kelly while stepping off the red carpet and into a waiting car, "What about that girl from before?"
Andy Samberg and Sandra Oh's Private Golden Globes After-Party: Cheers!
The hosts of the Golden Globes were ready to kick back and relax after their big night! Sandra Oh, who both hosted the show and won an award, switched into sneakers and a loose-fitting suit, to cheers her co-host, Andy Samberg, with some Tequila Don Julio 1942.
"We had such a great time hosting the show, it only made sense to keep the night going with some of our closest friends, colleagues and complete strangers," the co-hosts said at their after-party. "They say the Globes is Hollywood's biggest party, but this was the REAL party!"
Netflix Golden Globes After-Party: Dancing the Night Away!
The stars at Netflix's party couldn't help but bust a move. GLOW actress Alison Brie kicked things off, hitting the dance floor solo and swirling her Vera Wang gown around.
On the carpet, actresses Debra Messing and Patricia Clarkson clasped hands and twirled around together in excitement following Clarkson's big Golden Globes win.
Pete Davidson and Machine Gun Kelly also had a run-in with Davidson's SNL boss, Lorne Michaels, and his daughter Sophie. The group was spotted chatting at the event.
Cyntoia Brown granted clemency by Tennessee governor
Gov. Bill Haslam granted Brown a full commutation to parole. She will be eligible for release Aug. 7 on time served and will remain on parole for 10 years.
Cyntoia Brown appears in court during her clemency hearing at the Tennessee Prison for Women in Nashville, Tennessee, May 23, 2018. Lacy Atkins / AP
 / Updated 
By Janelle Griffith
Cyntoia Brown, a Tennessee woman who was convicted as a teenager for killing a man while she said she was a sex trafficking victim, was granted clemency, Gov. Bill Haslam said Monday.
Brown was granted a full commutation to parole. She will be eligible for release Aug. 7 after serving 15 years in prison and will remain on parole for 10 years.
Haslam said the decision comes after careful consideration of "what is a tragic and complex case."
"Cyntoia Brown committed, by her own admission, a horrific crime at the age of 16," Haslam said in a statement. "Yet, imposing a life sentence on a juvenile that would require her to serve at least 51 years before even being eligible for parole consideration is too harsh, especially in light of the extraordinary steps Ms. Brown has taken to rebuild her life."
Brown thanked the governor and her supporters in a statement released Monday by her attorneys.
"Thank you, Governor Haslam, for your act of mercy in giving me a second chance," Brown said. "I will do everything I can to justify your faith in me."
Brown said she is grateful for the support, prayers, and encouragement she has received, including from Tennessee Department of Corrections officials.
Her case became a national rallying point for criminal justice reform and awareness about the toll of human trafficking. Several dozen supporters of Brown attended a rally Saturday in Nashville, pleading for her clemency from Haslam, who leaves office Jan. 19.
Brown, now 30, was tried as an adult in 2006 and imprisoned in Tennessee following her trial and life sentence for the death of Johnny Mitchell Allen, who paid Brown for sex. She was also convicted of aggravated robbery.
Last month, the Tennessee Supreme Court ruled Brown must serve51 years in jail before she is eligible for release. The ruling sparked outrage online among Brown's supporters, including many celebrities who have called for her release.
More than half a million people have signed petitions for Brown's freedom online and a slew of celebrities including LeBron James, Rihanna, Kim Kardashian West, Meek Mill and Amy Schumer, have rallied for her release on social media with the hashtag #freecyntoiabrown. Rihanna was among the first celebrities to weigh in on Brown's case in a November 2017 Instagram post that helped highlight the need for criminal justice reform.
Her case inspired a 2011 documentary titled "Me Facing Life: The Cyntoia Brown Story," that thrust her into the spotlight.
While in prison, Brown has earned a GED and an associate degree in 2015 through the Lipscomb Initiative for Education Program with a 4.0 GPA, Haslam said. Brown said she is scheduled to earn her bachelor's degree in May.
Brown said Monday she is committed to live the rest of her life helping others, especially young people.
"My hope is to help other young girls avoid ending up where I have been," she said.
Cyntoia Brown Is Granted Clemency in Case That Drew National Spotlight
Cyntoia Brown, a sex trafficking victim who was serving a life sentence for killing a man when she was 16, during her clemency hearing in Nashville last year. She was granted clemency on Monday and will be released to supervised parole in August.CreditPool photo by Lacy Atkins
A statement from the office of Governor Haslam, a Republican, said Ms. Brown would be released to supervised parole on Aug. 7, 2019, after serving 15 years in prison.
"Cyntoia Brown committed, by her own admission, a horrific crime at the age of 16," Mr. Haslam said in the statement. "Yet, imposing a life sentence on a juvenile that would require her to serve at least 51 years before even being eligible for parole consideration is too harsh, especially in light of the extraordinary steps Ms. Brown has taken to rebuild her life."
"Transformation should be accompanied by hope," he said. "So, I am commuting Ms. Brown's sentence, subject to certain conditions."
Ms. Brown's mother, who abused drugs and alcohol, placed her for adoption as a child, according to court documents. At 16, Ms. Brown ran away from her adoptive family and started to live in a motel with a pimp who raped her and forced her to become a prostitute.
In 2004, Johnny M. Allen, 43, a real estate broker, picked up Ms. Brown at a restaurant in Nashville and drove her to his home, after she agreed to engage in sexual activity for $150, court documents say.
After they got into bed, Ms. Brown said she thought he was reaching for a gun to kill her. She later shot him in his sleep with a handgun from her purse, took money and two guns, and fled, documents say.
Ms. Brown, tried as an adult, was convicted by a Davidson County jury in 2006 of first-degree murder and aggravated robbery. She was sentenced to life in prison and would not have been eligible for parole consideration until 2055.
Governor Haslam said in his statement that Ms. Brown earned her high school equivalency diploma and an associate degree with a 4.0 GPA while imprisoned. She is continuing her education, the statement said, and is expected to earn a bachelor's degree in May.
"Numerous Department of Correction employees and volunteers attest to her extraordinary personal transformation while incarcerated, which will allow her to be a positive influence on the community upon release," the governor said.
In a statement released by her lawyers, Ms. Brown thanked the governor "for your act of mercy in giving me a second chance. I will do everything I can to justify your faith in me."
She also thanked officials in the Department of Corrections who helped her get an education and "saw something in me worth salvaging."
Kevin Spacey appears at courthouse to face sex assault charges
The Oscar-winner, facing felony indecent assault and battery, was accused by Heather Unruh of groping her then 18-year-old son in July 2016 in Nantucket.
By David K. Li and Adam Reiss
NANTUCKET, Mass. — A Massachusetts judge on Monday ordered Kevin Spacey to stay away from his accuser, during the actor's first courtroom appearance on sex-abuse charges.
The Oscar winner, facing felony indecent assault and battery, showed no emotion during his 10-minute-long hearing before Nantucket District Court Judge Thomas Barrett.
Defense lawyer Alan Jackson entered a not-guilty plea on behalf of his client, according to court documents. Spacey was ordered to have no contact with the alleged victim or his family.
"Sir, you'll meet with probation. You'll sign those conditions," Barrett told Spacey. "You're required to stay away and have no contact, direct or indirect, with the alleged victim."
Barrett granted a defense request that cell phone data of the accuser be preserved for a six-month period after the July 7, 2016 incident.
Jackson said there could be texts or social media chatter there, helpful to his client.
"This is data that we believe is, not only potentially exculpatory, but likely exculpatory for Mr. Spacey," Jackson told the court. "I simply don't want to see any of that data deleted, destroyed — even inadvertently."
In a court filing on Monday, Jackson previewed his defense strategy and attacked the victim as unreliable, accusing him of creating "an entirely false persona" during that 2016 encounter.
"He claimed he was a 23-year-old college students studying business at Wake Forest University," wrote Jackson, a former prosecutor from Los Angeles best known for winning a murder conviction against famed music producer Phil Spector.
"In fact, aside from his name, everything (the victim) told Mr. Fowler was a lie. In point of fact, (the victim) was 18 years old, not in college and had taken a summer job bussing tables on the island."
Spacey's next pre-trial hearing was set for March 4. The judge ruled Spacey could skip that hearing, but had to be near a telephone in case the court had any questions for him.
Spacey — who wore a gray suit, dark vest, a purple-and-white floral pattern shirt and a purple tie with white dots — was mobbed by reporters and camera crews as he arrived and left court.
A court clerk read the charges, calling him by his birth name. "Kevin S. Fowler." But throughout the hearing, he was called by his acting name, Spacey.
The charges Spacey faces stem from an allegation that first came to light in November 2017 when the accuser's mother, a former Boston TV news anchor, came forward.
Heather Unruh, said Spacey groped her then 18-year-old son during a random meeting in July 2016 at the Club Car Restaurant in Nantucket.
Unruh's son had said he wouldn't be in court for Monday's hearing.
"By reporting the sexual assault, my client is a determined and encouraging voice for those victims not yet ready to report being sexually assaulted," the accuser's lawyer, Mitchell Garabedian, said in a statement on Monday before the hearing. "My client is leading by example."
Spacey faces up to five years behind bars, if convicted of all charges.
Spacey has generally kept a low-profile since several men have accused him of sexual misconduct — allegations he denied.
Unruh made her accusations just five days after Netflix, makers of his hit show "House of Cards," cut ties with Spacey.
The actor tweeted a video on Christmas Eve looking into the camera and speaking in a southern accent that appeared to mimic his "Cards" character, President Frank Underwood. He seemed to reference his "Cards" termination.
"Despite all the poppycock, the animosity, the headlines, the impeachment without a trial. Despite everything," said Spacey, wearing a Santa Claus apron and standing in a kitchen. "Despite even my own death, I feel surprisingly good and my confidence grows each day that soon enough you will know the full truth."
Adam Reiss reported from Nantucket, David K. Li reported from New York.
Kevin Spacey pleads not guilty, and his attorneys want key texts to be preserved
Spacey, the 59-year-old Hollywood actor, was arraigned on a charge of indecent assault and battery, a felony charge that comes with up to five years in prison.
Prosecutors asked that he stay away from the alleged victim and his family, and the court agreed. Defense attorneys asked the court to preserve cell phone data and other text messages from the victim from the date of the incident until six months afterward, which defense attorneys said would be "likely exculpatory" for Spacey.
The next court appearance is scheduled for March 4. The judge agreed to waive Spacey's right to appear at that hearing at the downtown Nantucket courthouse, but he must be reachable by phone.
The charge stems from an incident in July 2016 at the Club Car, a restaurant and bar on Nantucket. According to the 
criminal complaint
, an 18-year-old busboy at Club Car told Spacey that he was 23 and befriended the actor, known for his roles in the film "The Usual Suspects" and the Netflix series "House of Cards."
The busboy's shift ended at midnight, after which he changed his clothes and began talking to Spacey. According to the complaint, the busboy told police Spacey bought him a number of alcoholic drinks, bragged to him about the size of his penis, and tried to get him to go back to the actor's house afterward.
Later, as the two stood near the piano player in the bar, Spacey reached over and began to rub the busboy's thigh, the complaint states. Spacey then unzipped the accuser's pants and rubbed his penis, both in and out of his pants, for about three minutes, he told police.
The busboy filmed a short part of the alleged groping on Snapchat and sent the video to his girlfriend, the complaint states. In his interview with police, investigators showed the busboy that video and confirmed his and Spacey's clothing that night.
After several minutes, Spacey got up to go to the bathroom and the 18-year-old left the bar and went home, the complaint states.
Last week, Spacey's attorneys had asked that he be allowed to waive his right to be physically present at Monday's arraignment, saying he lived out-of-state and believed his presence would "amplify the negative publicity already generated" in the case.
Defense previews its strategy
Spacey's arraignment comes more than a year after the busboy's mother went public with the allegations against Spacey. Heather Unruh, a former TV news anchor in New England, held a press conference in November 2017 saying her son had been sexually assaulted by Spacey.
The busboy told his family about the alleged assault at the time but did not report the incident to police until more than a year later. He decided to come forward and tell police because he did not want what happened to him to happen to someone else, he said in the complaint.
In a recent hearing to determine if there was enough evidence for Spacey to be charged, Spacey's lawyers questioned a Massachusetts state trooper about the video.
Their questioning hinted at their strategy, focusing on the amount of time it took the accuser to go to police and his behavior on and off camera.
The Snapchat video is less than one second long. It shows a hand making contact with a shirt, but no body parts are visible in the video, Trooper Gerald Donovan said.
"Instead of walking away or moving away or moving back or grabbing the wrist or slapping the hand, he indicated to you that, during that 3-minute time period, that he was texting and Snapchatting?" lawyer Alan Jackson asked, referring to the busboy's statements to police.
"That's correct," Donovan responded.
Spacey and the #MeToo movement
Once one of Hollywood's most famous and recognizable actors, Spacey's career collapsed in November 2017 following several allegations of sexual assault and harassment.
First, actor Anthony Rapp accused Spacey of making a sexual advance toward him in 1986 when he was 14 years old and Spacey was 26, Rapp told 
BuzzFeed News
.
In a Twitter statement, Spacey said he did not remember the incident but offered an apology. In that same statement, he came out as a gay man, a 
decision sharply criticized
 for its seeming attempt to conflate his sexuality with a serious allegation of wrongdoing.
"Coming out stories should not be used to deflect from allegations of sexual assault," Sarah Kate Ellis, president and chief executive officer of GLAAD tweeted at the time. The actor did not respond to CNN's request for comment.
Netflix fired Spacey days later 
following a CNN report
 in which several current and former members of the "House of Cards" production staff came forward with allegations of sexual harassment. One former production assistant told CNN that Spacey sexually assaulted him during one of the show's early seasons.
Spacey had been silent since his apology until late December, when he posted a 
video to his Twitter account 
speaking directly to the camera in the persona of his "House of Cards" character Frank Underwood. The character was killed off in the show after Spacey was fired.
"Of course some believed everything and have just been waiting with bated breath to hear me confess it all," he said with the character's Southern accent. "They're just dying to have me declare that everything said is true and that I got what I deserved. Wouldn't that be easy if it was all so simple? Only you and I both know it's not that simple, not in politics and not in life."
"But you wouldn't believe the worst without evidence, would you? You wouldn't rush to judgment without facts, would you? Did you?" he said.
Hits: 13