https://www.instagram.com/p/BshL6KlHVm2/
Drew Brees 'is an amazing dude': What the QB's teammates are saying about their leader
If you survey the New Orleans Saints' locker room, it's nearly impossible to find someone who has something bad to say about Drew Brees.
Here are eight recent comments from Brees' teammates and coaches that speak to the quarterback's skill, determination and motivation.
RELATED: Saints vs. Eagles: Game time, how watch and follow live updates, predictions, storylines, more
Steelers Saints Football
Steelers Saints Football
Steelers Saints Football
Steelers Saints Football
Steelers Saints Football
APTOPIX Panthers Saints Football
Saints Brees Accuracy Football
Nikki Bella & John Cena Are Not Back Together After Split
Nikki Bella is back for the fourth season of the E! reality series Total Bellas. This season will detail the aftermath of Bella's broken engagement with John Cena, to the extent that promo clips have seen Bella admit that she still has feelings for the WWE star. But don't get any ideas. Bella and Cena are not back together. In fact, the other season four promos shows that the former is eager to move on with her love life.
According to Page Six, Bella and Cena called off their wedding on April 15, 2018. The couple stayed together in the months that followed, but they decided to officially end things in June. "After I called off the engagement, we tried to work on our relationship to get back to where it was, and in order to move forward with our wedding," Bella told PEOPLE. "After much time and soul-searching alone and together, we have decided to officially part ways. I had a beautiful and loving six-year relationship with a wonderful man. I have the utmost respect for John, but I know this is what's best for me."
Bella & John Cena Have No Plans to Get Back Together
Bella sparked rumors that she and Cena had gotten back together on Thanksgiving weekend. She posted an Instagram photo of her and Cena in a hot tub together, while reflecting on everything she's been through during the year. "I'm so thankful for so many wonderful things in my life as well as so many incredible people in my life," she wrote. Scroll through to see the photo in question above.
"So thankful for my family and best friends, always there when I need them, the women I share the WWE ring with," she added. "Such an amazing group of hard working, passionate women that together started an Evolution, my Total Bellas and Total Divas production team, crew and glam squad, they all work so hard all year long and do it all away from their families, love you all!" Following the confusion, sources close to Bella told TMZ that she is still "very much single" and was simply looking back on the year.
Bella Is Rumored to Be Dating Her Former 'DWTS' Co-Star Artem Chigvintsev
The season four promos for Total Bellas show that she has moved on and begun dating other people. According to Life & Style, she is currently seeing Russian dancer Artem Chigvintsev, whom she previously met on season 25 of Dancing With the Stars. Bella has also considered leaving her San Diego home to clear the air of her past with Cena.
In a sneak peek clip, Bella's twin sister Brie Bella tells her husband and fellow WWE wrestler Daniel Bryan about the news. "Did I tell you that Nicole might be moving to LA?" she said. "I just think Nicole is at a different point in her life right now. And she's single. She wants to be free and I feel like she wants to go back to her 20s. I have no idea."
Dak Reflects On A Missed Opportunity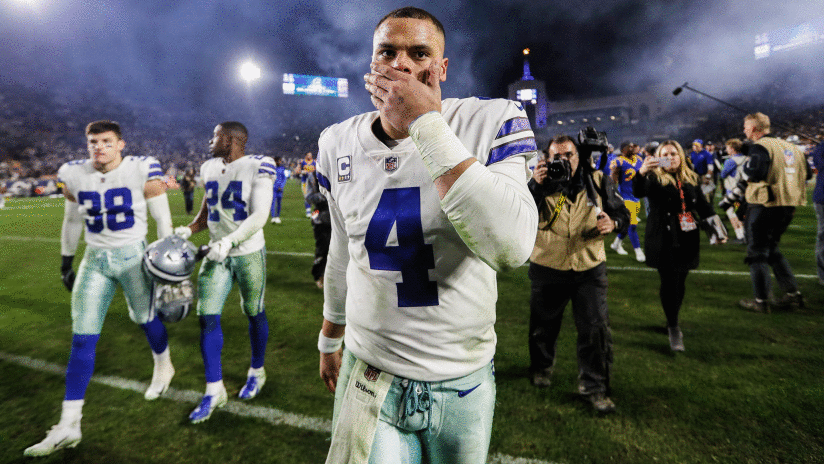 LOS ANGELES – There were a ton of talking points to come out of the Cowboys' exit from the playoffs on Saturday night, but Dak Prescott summarized the whole thing as brutally as possible.
"We missed an opportunity, and we don't know when we get it back," he said.
This was not a storybook sendoff by any stretch of the imagination. The Cowboys' 30-22 loss didn't come down to the final play, as the Rams ground out the final 2:11 of game clock without allowing their visitors another shot at the ball.
There was no last-minute heroism and no throng of media. Prescott's third NFL season ended in a makeshift tent, inside one of the cavernous tunnels at the L.A. Coliseum. The backdrop was hardly befitting of the journey, after the Cowboys clawed back from a 3-5 record to see their season end one touchdown short of the NFC Championship Game.
"I'm proud of this team," Prescott said. "But, any time you lose, especially when you know the team that we have and as close as we thought we were, it's not a good feeling."
The Cowboys' defensive lapses will steal the headlines for this game, but there's blame enough to go around. Prescott was solid, throwing for 266 yards and a touchdown and helping to spark the Dallas offense when it trailed, 23-7. His one-yard rushing touchdown with two minutes to play gave the Cowboys at least slim hope of tying the game.
For every success, though, there were plenty of shortcomings. As good as the Rams were on the ground, the Cowboys' own rushing attack sputtered. Ezekiel Elliott managed just 47 yards on the night, and Prescott carried the ball just twice – with both of those attempts coming late in the fourth quarter.
"They did a good job up front, just with their front, playing base front, the big guys they have," Prescott said. "You've got to credit this team we played. The guys they have up front, the guys that they have on their defense – just the whole team."
Those failures helped contribute to perhaps the most jarring stat of the entire night. From the time they traded for Amari Cooper, the Cowboys had been one of the best third down offenses in the entire league – but it didn't show on Saturday night.
The Cowboys went 1-of-10 on third downs in the game, which meant that three of their eight possessions lasted just four snaps or less.
"You can't win games, especially crucial games like this, when you have that stat on third down," Prescott said. "It's important to keep drives going. It keeps the defense well-rested, it keeps us on the field and gives us a chance to score. When you don't do that, it's hard."
Third down problems eventually carried over to fourth down, which helped to turn the game for good. Trailing, 23-15, on the first play of the fourth quarter, Prescott handed off to Elliott on a crucial 4th-and-1 at the Los Angeles 35-yard line – only to see him stuffed by Rams defenders.
Twelve plays later, C.J. Anderson scored his second rushing touchdown of the night, putting Dallas in a 15-point hole with 7:16 to play.
"You get that, we're still running the ball, we're throwing the ball," Prescott said. "We're doing everything, and it's not 'Hey, we've got to drop back and throw it every single time.' We just weren't able to execute, and it hurt."
Many of these problems don't fall at Prescott's feet. He missed throws and left plays on the field, without question. But the Cowboys' third-year quarterback played turnover-free football, took just one sack against a ferocious Rams front and kept his team in the game.
He's still the quarterback, however, and the criticism will still come. And in the face of another missed opportunity, all he could do was resolve to be ready for the next one.
"It just means I've got to get back to it again come February, simple as that," he said. "It's not anything you can dwell over. You can't change anything now. It's just about getting better, making sure I become a better player, making sure the people around me become a better player. We're going to turn the page and do that pretty soon."
If the NFL is going to go out of its way to protect quarterbacks, sometimes it's going to work both ways.
We've seen plenty of questionable calls on hits by defensive players help offences, and on Saturday night we saw the very rare call that was designed to protect the quarterback yet hurt an offence.
The Dallas Cowboys trailed 20-7 late in the first half and finally got a drive going into Rams territory.
On a third down, Dak Prescott scrambled out of the pass rush but stopped. The whistle was blown very quickly on a rare "in the grasp" call by officials.
The play was dead, the Rams were given a sack and the Cowboys punted on fourth down.
The replay made it look worse. Cowboys offensive lineman La'el Collins had actually instinctively grabbed Prescott to usher him away from the rush.
The Rams had hands on Prescott but nothing that approached a sack. The only person that had Prescott in the grasp was his teammate.
It was simply a bad call.
If Dak was "In the grasp" then I was sacked 1,879,987 times
4,333 people are talking about this
THAT WASN'T IN THE GRASP. AWFUL CALL. DAK WAS LOOSE AND ABOUT TO MAKE A PLAY. REFS HAVE JUST TAKEN THIS AWAY FROM DALLAS.
2,780 people are talking about this
Here's the refs calling a Dak sack because the #Cowboys had their own QB in the grasp. Stunningly bad.

Matthew Postins

@PostinsPostcard

In the grasp? More like two-hand touch. Bizarre. And not the right call. #CowboysNation #FinishThisFight #DALvsLAR @fishsports
396 people are talking about this
21 people are talking about this
The penalty on Byron Jones.

The in the grasp whistle.

Two horrific calls by tonight's officials.
250 people are talking about this
80 people are talking about this
Is there a rule about being in the grasp of your teammate? #Cowboys #NFC
See Patrick's other Tweets
42 people are talking about this
"'In the grasp' means that one opponent has you in the grasp, with a second opponent bearing down on you and you look to protect the quarterback," Fox officiating analyst Mike Pereira said.
"On this one, I don't quite see that."
It wasn't the first questionable call that went against the Cowboys.
Dallas' defence thought it got a third-down stop, but there was a penalty. It was a shaky illegal hands to the face call on Cowboys defensive back Byron Jones, and an automatic first down came with it on third-and-14.
Todd Gurley scored a 35-yard touchdown two plays later to give the Rams a 20-7 lead, and an eventual 30-22 win.
The Cowboys had enough issues against a talented Rams team on Saturday night, and they didn't get a lot of help from the officials.
Cowboys vs. Rams highlights | NFC Divisional Round
See all the best plays from the NFC Divisional Round matchup between the Dallas Cowboys and the Los Angeles Rams.
Frank Schwab – Yahoo Sports