Millie Bobby Brown, 14, Claps Back at Trolls Saying 'Act Your Age' After Wearing Midi Dress
Millie Bobby Brown/Instagram
Millie Bobby Brown has no time for haters.
Brown, 14, had a message for the internet trolls who shamed her for wearing a tight snakeskin midi dress and heels.
The Stranger Things actress posted a photo of the glam outfit on Instagram on Saturday, captioning the image with a fun request, "write a caption."
Commenters were quick to shame Brown for the mature outfit. One wrote, "Act your age for once ?." Another wrote, "Don't be in such a hurry to grow – enjoy being a kid cause it doesn't last long."
On Sunday, many more commenters had chimed in to support Brown. One wrote, "I love people telling her to act her age… yet they are sitting on Instagram trying to bully a 12 year old… you know who does that??? Other 12 year olds. Perhaps you should take your own advice??" Another added, "♥️♥️♥️♥️BEAUTIFUL."
In a since-deleted Instagram Story, Brown wrote, "ik everyone on my last pic wants me to 'act my age' but quite frankly its my instagram and if I choose to post that picture and you don't like it… scroll past it."
On Saturday, Brown added another simple message to her Instagram Story, posting a quote that read, "If we could spread love as quickly as we spread hate and negativity, what an amazing world we would live in."
PAID CONTENT
Leave You Mark
Be unforgettable—in rouge. See how you can make a bigger statement with less.
From L'Oréal Paris
Millie Bobby Brown/Instagram
The third season of Stranger Things returns to Netflix on July 4, 2019.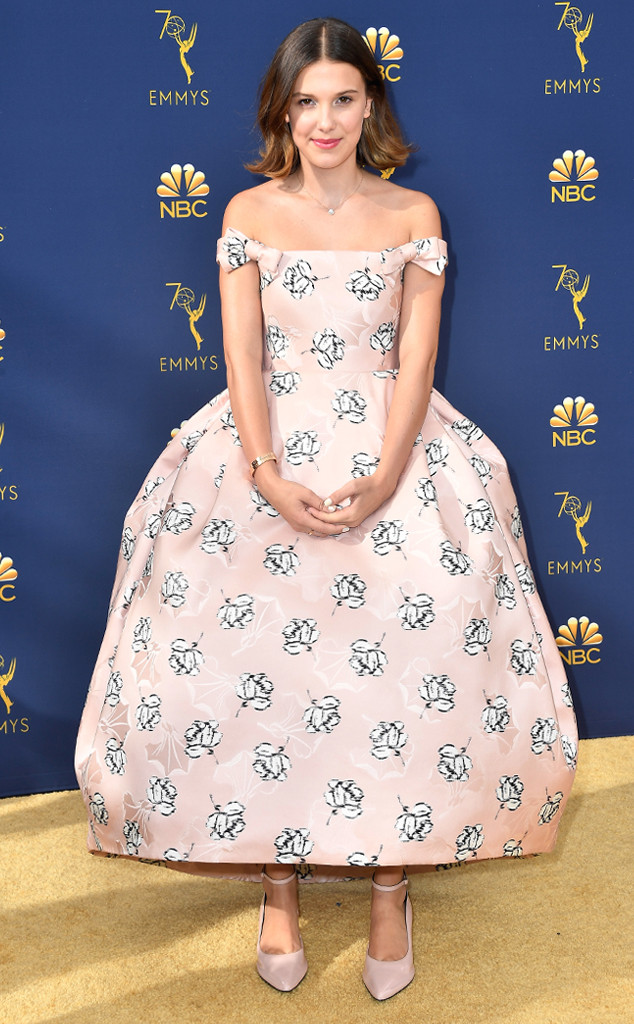 Frazer Harrison/Getty Images
Millie Bobby Brown could care less about mean remarks in her comments section.

The Stranger Things star clapped back at an Instagram user who told her to "act your age." On Saturday, Brown posted two photos of herself standing on a set of stairs as she struck a pose and laughed. She wore a knee-length bodycon dress with a snakeskin pattern on it. She also had on a pair of black studded heels. She encouraged her followers to "write a caption" in the comments section, which is where she faced some backlash.

One person apparently typed in, "Act your age" with a skull emoji. Other people on her Instagram page left both positive and critical comments. Another user wrote, "I thought u were 14...not 19?!?"

Yet another person critiqued, "Take your mother's dress off and go put something age appropriate on that little girls body of yours!!"
On a positive note, one fan called the 14-year-old "lovely" and her dress "perfect."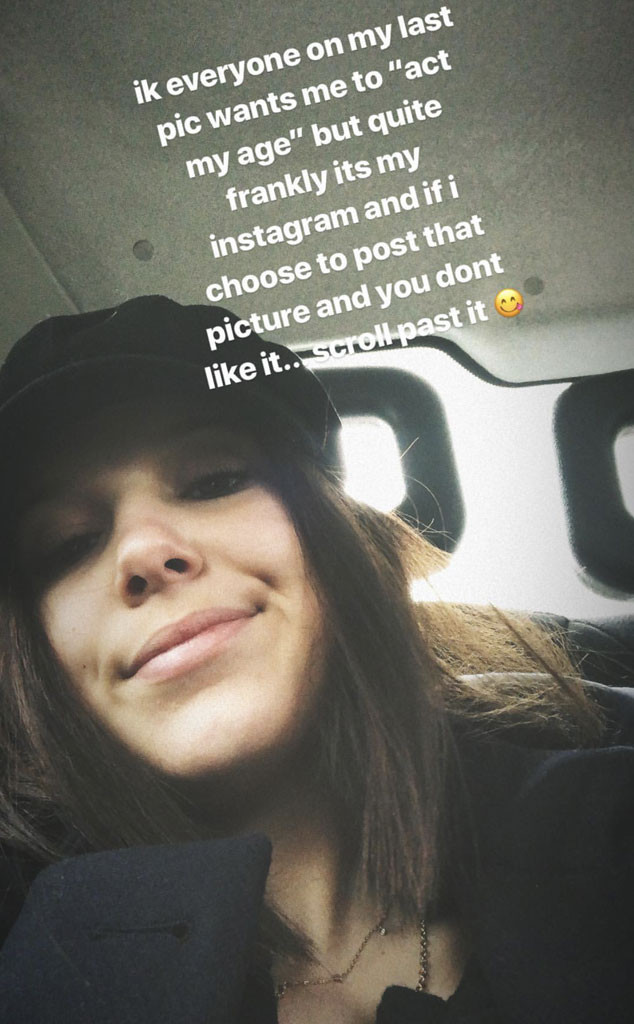 Instagram
Even Brown's ex-boyfriend Jacob Sartorious chimed in. "Stunning," he said with a heart emoji.

Well, the Godzilla actress was pretty fed up with the hate and decided to comment on it on her Instagram Story. She posted a selfie from the backseat of a car and responded to what people had to say about acting and dressing her age. "ik everyone on my last pic wants me to 'act my age' but quite frankly its [sic] my instagram and if i choose to post that picture and you don't like it...scroll past it."

Brown has since deleted the picture.

Plus, she has bigger fish to fry. Brown hinted a few months ago that season three could be the end of Stranger Things, but quickly put to rest any unease about it during a chat with Stephen Colbert on The Late Show. Fans began wondering if the show would be over for good after Brown posted a photo of herself crying on the last day of the show's filming for the season.

"I'm a very emotional person. I can't say goodbye to people. It gives me serious, like, sadness and anxiety," she told the host. "So when I had to say goodbye to my best friend, Sadie, I just broke down. Also, catering, that was a tough one."

The Netflix hit recently released the show's episode titles and its release date. Warm up your toasters and get your Eggos ready because it's back on July 4!
It seems like a few negative Instagram comments are nothing compared to having to go up against the likes of the Demagorgon.
Chris Pratt and Katherine Schwarzenegger Are Engaged: 'Sweet Katherine, So Happy You Said Yes!'
RoundPondEstate/Instagram
Chris Pratt and Katherine Schwarzenegger are engaged!
The couple is ready to tie the knot following a whirlwind romance that saw them fall for each other over the summer and spend plenty of quality time with Pratt's 6-year-old son Jack.
Pratt shared the exciting news in a touching Instagram post early Monday morning.
"Sweet Katherine, so happy you said yes! I'm thrilled to be marrying you. Proud to live boldly in faith with you. Here we go! ??♥️," he captioned a photo of himself cuddling up to Schwarzenegger, whose engagement ring was front and center.
Pratt and Schwarzenegger were first spotted out together on Father's Day, when they had a picnic in the park in Santa Barbara. They were later seen on dates around Los Angeles and outings with Jack in tow.
WATCH: Going Strong! Chris Pratt and Katherine Schwarzenegger Do Dinner with Her Family After Church Date
"They're both serious about the relationship and hopeful for the future," a source close to the couple recently told PEOPLE. "Chris doesn't just date to date, and neither does Katherine. She's very excited."
"Chris and Katherine are very happy together," added the source. "They're very compatible and have a lot in common."
Pratt and Schwarzenegger have also spent time with their respective families. Pratt joined her family for dinner at Shriver's house in August, with her brother Patrick Schwarzenegger posting videos of the two happily laughing with the family at the head of the table.
Schwarzenegger later spent time with Pratt's brother Cully at the Round Pond Estate winery in Napa, California in early September. The winery shared a picture of the two adorably posing together and mentioned that they were "every bit as warm and hilarious as you'd think!"
Pratt and Faris settled their divorce in November and each waived their right to spousal support. They'll continue to co-parent Jack and stipulated they live within a 5-mile radius of each other until their son completed the sixth grade.
The exes hit the streets to trick-or-treat with Jack, with Pratt sticking close to Schwarzenegger and Faris holding hands with her cinematographer boyfriend Michael Barrett, 48.
"Along with Katherine and Michael, they all took Jack trick-or-treating in Pacific Palisades," a source told PEOPLE. "It seems they all get along really well. Everyone had a good time. They were making an effort to make sure Jack had a great Halloween."
Chris Pratt engaged to Katherine Schwarzenegger
(CNN)Chris Pratt and Katherine Schwarzenegger are headed to the altar.
The "Guardians of the Galaxy" star made the announcement on his Instagram account early Monday.
"Sweet Katherine, so happy you said yes!" the 39-year-old actor wrote. "I'm thrilled to be marrying you. Proud to live boldly in faith with you. Here we go!"
On Schwarzenegger's 29th birthday last month, Pratt wrote in an Instagram post that he was "thrilled" to be with the author.
"Your smile lights up the room. I've cherished our time together," he wrote.
Schwarzenegger is the daughter of Arnold Schwarzenegger and Maria Shriver.
Pratt and his ex-wife, actress Anna Faris, announced their 
separation
 in 2017 after eight years of marriage.
Pratt and Faris have one son together.
Hits: 11