#1

Ilhan Omar on Instagram: "This amazing Minneapolis progressive could smash several glass ceilings in Tuesday's congressional election. @ilhanmn Watch the full video…"
Rep. Omar apologizes after House Democratic leadership condemns her comments as anti-Semitic tropes
Rep. Ilhan Omar (D-Minn.) apologized Monday afternoon for what many saw as anti-Semitic comments perpetuating the stereotype that Jews control politics with money.
"Anti-Semitism is real and I am grateful for Jewish allies and colleagues who are educating me on the painful history of anti-Semitic tropes," Omar said on Twitter. "We have to always be willing to step back and think through criticism, just as I expect people to hear me when others attack me for my identity. This is why I unequivocally apologize."
Omar's mea culpa came as prominent members of both parties denounced the first-term congresswoman's statements and urged her to apologize.
Earlier Monday, House Speaker Nancy Pelosi (D-Calif.) and other Democratic leaders said in a statement that Omar's use of "anti-Semitic tropes and prejudicial accusations about Israel's supporters is deeply offensive," but added that her critiques of Israel's policies and its treatment of Palestinians are protected by free speech.
Leaders issued the intra-party reprimand after three rancorous weeks of emoji-laced Twitter spats where Omar faced multiple accusations of anti-Semitism — the final straw apparently coming Sunday night, after Omar suggested House Minority Leader Kevin McCarthy (R-Calif.) supported Israel only for campaign donations.
In Omar's apology, which she prefaced by saying she's "listening and learning, but standing strong," she reiterated her criticism of the American Israel Public Affairs Committee, or AIPAC, an influential pro-Israel lobbying group.
"I reaffirm the problematic role of lobbyists in our politics, whether it be AIPAC, the NRA or the fossil fuel industry," she wrote. "It's gone on too long and we must be willing to address it."
Two Jewish House Democrats, alarmed by what they consider anti-Semitic comments from new Muslim colleagues, had urged Pelosi and her top lieutenants to denounce the divisive rhetoric and take action to stop it.
Reps. Josh Gottheimer (N.J.) and Elaine Luria (Va.) are gathering signatures on a letter that asked senior Democrats to confront Omar and Rep. Rashida Tlaib, a freshman congresswoman from Michigan, by "reiterating our rejection of anti-Semitism and our continued support for the State of Israel."
"As Jewish Members of Congress, we are deeply alarmed by recent rhetoric from certain members within our Caucus, including just last night, that has disparaged us and called into question our loyalty to our nation," the letter reads.
The letter didn't name Omar or Tlaib, but its intention is clear. In recent weeks, Jewish lawmakers have huddled privately to discuss what they should do about their new colleagues, who openly criticize Israel and have made insensitive comments about Jews and Jewish Americans.
Omar's comments about McCarthy on Sunday seemed to trigger their more formal response.
"It's all about the Benjamins baby," she wrote, an apparent reference to the 1997 Puff Daddy single featuring the Notorious B.I.G., Lil' Kim and The Lox.
Omar was responding to a tweet from Glenn Greenwald, a journalist who argued on Twitter that the GOP's move to equate Omar and Tlaib's criticism of Israel to the embrace of white supremacist rhetoric by Rep. Steve King (R-Iowa) "is obscene."
An hour later, Omar elaborated, writing that she thinks AIPAC is paying American politicians to take pro-Israel stances.
AIPAC, which is not a political action committee, does not make campaign contributions to politicians, but its individual members can make donations, and the organization spends millions on lobbying efforts for pro-Israel legislation every year. In 2018, AIPAC spent more than $3.5 million lobbying for pro-Israel measures, according to lobbying disclosure filings maintained by the Senate's Office of Public Records.
Omar's spokesman responded to a request for comment with a link to the congresswoman's tweeted apology. Tlaib's spokesman has not responded to a request for comment.
Jonathan Greenblatt, chief executive and national director of the Anti-Defamation League, said Omar's words only serve to fuel bigotry.
"As the people's House, the House of Representatives must not tolerate any bigotry against any community in our nation," Greenblatt said in a statement.
Omar, who supports the anti-Israel movement called BDS, for "boycott, divestment and sanctions," has persistently fought accusations of anti-Semitism by maintaining that her condemnation of the Israeli government for its treatment of Palestinians does not equate to condemnation of Jewish people. She has also claimed to be the victim of GOP attacks seeking to misrepresent her position on Israel as anti-Semitic.
But the fallout from this latest exchange has been swift and bipartisan.
Some of the most ardent pro-Israel Democratic members of the House condemned the tweets Monday, including House Judiciary Committee Chairman Jerrold Nadler (N.Y.), House Appropriations Committee Chairwoman Nita Lowey (N.Y.) and Florida Rep. Ted Deutch.
Nadler called the tweets "deeply disappointing and disturbing" and said lawmakers can debate the influence of any particular group on policymaking, but must "be extremely careful not to tread into the waters of anti-Semitism or any other form of prejudice or hate."
Deutch, who has emerged as a leading Democratic voice against anti-Semitism, also said the tweets reflected "anti-Semitic tropes."
"The use of stereotypes and offensive rhetoric by Members of Congress, whether anti-Semitic or racist, must come to an end," he said. "They should never be a part of any conversation about the policies of Congress. They do not belong in any conversation, period."
Eliot L. Engel (D-N.Y.), chair of the House Foreign Affairs Committee, on which Omar also serves, said "I fully expect that when we disagree on the Foreign Affairs Committee, we will debate policy on the merits and never question members' motives or resort to personal attacks. Criticism of American policy toward any country is fair game, but this must be done on policy grounds."
Several Republicans, including House Minority Whip Steve Scalise (R-La.), Rep Liz Cheney (R-Wyo.) and GOP Chairman Ronna McDaniel, have called for Omar's removal from the committee.
McCarthy promised Republicans would also take action against Omar, though he didn't say how.
Omar's comments come on the heels of escalating Republican ire for the positions that she and Tlaib have put forth in Congress, joining a small group of lawmakers willing to challenge the United States' traditional support for Israeli policy.
McCarthy urged Democratic leaders to admonish Omar and Tlaib for their backing of the BDS movement, which is intended to put economic pressure on Israel to end its occupation of the West Bank. Sen. Marco Rubio (R-Fla.) urged Pelosi to call a vote on an anti-BDS bill the Senate passed last week with bipartisan support.
The American Jewish Committee called Omar's suggestion that AIPAC is paying American politicians for their support "demonstrably false and stunningly anti-Semitic." The organization linked to a 2018 Gallup pollfinding that 64 percent of Americans sympathize with the Israelis over Palestinians, saying, "American politicians are pro-Israel because Americans are."
But others have defended Omar and Tlaib, arguing, like Omar, that critics conflate the lawmakers' condemnation of the Israeli government with anti-Semitism. Women's March organizer Sophie Ellman-Golan accused McCarthy of attacking Omar and Tlaib "in the name of 'defending' Jews." She called out McCarthy for tweeting anti-Semitic conspiracy theories about Jewish billionaire philanthropist George Soros.
Some who agree with Omar's position on Israel argued that she could criticize the Israeli government or the pro-Israel lobbying establishment without using stereotypes that Jews find offensive.
J Street, a nonprofit liberal advocacy group, called the entire debacle a "war of words" that "does nothing to advance the true interests and needs of Israelis or Palestinians, nor those of the American Jewish community." While elected officials need to be aware of harmful Jewish stereotypes, they also should refrain from labeling all criticisms of Israel as anti-Semitic, the group said.
Monday was the second time in three weeks that Omar walked back comments on Israel. Last month, she acknowledged that she "unknowingly" used an anti-Semitic trope after a 2012 tweet surfaced in which she said, "Israel has hypnotized the world, may Allah awaken the people and help them see the evil doings of Israel."
Omar had initially said she didn't understand why American Jews would be offended by the statement, which critics argued evoked ugly Nazi conspiracies about Jewish people's power to "hypnotize" the world. She backtracked and apologized after a New York Times columnist explained to her why Jews could find it offensive. And she later expressed regret while on "The Daily Show With Trevor Noah," saying she had to "take a deep breath and understand where people were coming from and what point they were trying to make."
Kareem Hunt signs with Browns
The Cleveland Browns signed troubled running back Kareem Hunt on Monday.
A source told ESPN's Adam Schefter that Hunt signed a one-year contract. He will be a restricted free agent after the contract expires, meaning the Browns will control his rights after next season.
The 
Kansas City Chiefs
 released Hunt in December after a video surfaced that showed him shoving and kicking a woman last February at his residence in Cleveland.
He neither was arrested nor faced charges for the February incident. He also was accused of punching a man in June.
The NFL placed Hunt on the commissioner's exempt list shortly before he was released. He is not eligible to play until the NFL completes its investigation into the incidents and a decision on potential discipline is made.
A source close to the situation told ESPN's Dan Graziano that the discipline process was "still ongoing and nowhere near done." A source told Graziano that Hunt met with NFL investigators in January as part of the process.
Hunt, now that he has signed, will again be placed on the commissioner's exempt list until the NFL makes a final decision on discipline.
Browns general manager John Dorsey drafted Hunt for the Chiefs in 2017, when Dorsey was the team's GM.
"My relationship and interaction with Kareem since 2016 in college was an important part of this decision making process but we then did extensive due diligence with many individuals, including clinical professionals, to have a better understanding of the person he is today and whether it was prudent to sign him," Dorsey said in a statement.
"There were two important factors: one is that Kareem took full responsibility for his egregious actions and showed true remorse and secondly, just as importantly, he is undergoing and is committed to necessary professional treatment and a plan that has been clearly laid out."
Hunt, 23, apologized to the woman in the February incident, the Chiefs organization and his family in an interview with ESPN after his release.
He apologized again in the Browns' statement on Monday.
"First off, I would like to once again apologize for my actions last year. What I did was wrong and inexcusable. That is not the man I was raised to be, and I've learned a great deal from that experience and certainly should have been more truthful about it after the fact. I'm extremely grateful that John Dorsey, Dee and Jimmy Haslam and the Cleveland Browns organization are granting me the opportunity to earn their trust and represent their organization in the best way possible on and off the field," he said.
"I am committed to following the necessary steps to learn and to be a better and healthier person from this situation. I also understand the expectations that the Browns have clearly laid out and that I have to earn my way back to the NFL. I'm a work in progress as a person, but I'm committed to taking advantage of the support systems that I have in place to become the best and healthier version of myself."
"I am committed to following the necessary steps to learn and to be a better and healthier person from this situation. I also understand the expectations that the Browns have clearly laid out and that I have to earn my way back to the NFL."

Kareem Hunt
Dorsey said the Browns "fully understand and respect the complexity of questions and issues in signing a player with Kareem's history and do not condone his actions."
"Given what we know about Kareem through our extensive research, we believe he deserves a second chance but certainly with the understanding that he has to go through critical and essential steps to become a performing member of this organization, aside from what the NFL determines from their ongoing investigation," Dorsey said.
"We fully understand that Kareem is subject to discipline by the NFL. Here at the Browns, there is a detailed plan with expectations laid out that he understands and must follow, because any similar incident will not be tolerated. We will support Kareem through this process and utilize our resources, however permitted, to help him become successful on and off the field as long as he continues to show the commitment necessary to represent this organization."
Hunt led the NFL in rushing in 2017 as a rookie with 1,327 yards and eight touchdowns in helping Kansas City qualify for the playoffs. He also had 53 receptions for 455 yards and three touchdowns. Last season, he rushed for 824 yards and seven touchdowns in 11 games and had seven receiving touchdowns before he was released.
Hunt's signing is a bit of a surprise given the Browns have a talented corps of backs. 
Nick Chubb
 ran for 996 yards in nine starts as a rookie, and averaged 5.2 yards per carry. The team also has 
Duke Johnson
, who is a very accomplished change-of-pace back and receiver out of the backfield. Johnson also averaged 5 yards per carry (on 40 carries) in 2018, and in 2017 had 1,041 total yards and seven touchdowns. The Browns signed Johnson to a three-year, $15.6 million contract last June. He is under contract with the Browns through the 2021 season.
ESPN's Pat McManamon contributed to this report.
Harris takes on questions about her 'blackness'
(CNN)
Sen. Kamala Harris directly confronted critics Monday who have questioned her black heritage, her record incarcerating minorities as a prosecutor and her decision to marry a white man.
In an interview with The Breakfast Club hosts DJ Envy and Charlamagne Tha God that aired Monday, the show's hosts asked the California Democrat to address a series of derogatory memes that have circulated on social media. One of the hosts cited a meme that said Harris is "not African-American" because her parents were immigrants born in India and Jamaica and she spent her high school years in Canada.
"So I was born in Oakland, and raised in the United States except for the years that I was in high school in Montreal, Canada," Harris responded with a laugh. "And look, this is the same thing they did to Barack (Obama). This is not new to us and so I think that we know what they are trying to do."
"They are trying to do what has been happening over the last two years, which is powerful voices trying to sow hate and division, and so we need to recognize when we're being played," Harris said.
One of the hosts followed up by asking Harris how she responds to people who question "the legitimacy of your blackness."
"I think they don't understand who black people are," Harris replied. "I'm not going to spend my time trying to educate people about who black people are. Because right now, frankly, I'm focused on, for example, an initiative that I have that is called the 'LIFT Act' that is about lifting folks out of poverty," she said, detailing her plan for a $6,000 tax credit for middle class Americans.
"I'm black, and I'm proud of being black," she said at a later point in the interview. "I was born black. I will die black, and I'm not going to make excuses for anybody because they don't understand."
Harris, a former California state attorney general, said she makes no apologies for pursuing violent criminals to keep communities safe, but added that she wished she could have done more to affect change "from the inside." Pressed by the hosts of the Breakfast Club to address some of the most searing criticism of her record as a prosecutor, she was asked what she had done as a prosecutor "to hurt black people" and whether there were decisions that she regretted.
"I regret not having done enough," said Harris, who was elected district attorney of San Francisco before becoming California's attorney general. "If I had been there longer, if I had had more in terms of bandwidth, I would have done more around creating initiatives, for example, in the juvenile justice system. That was something that was always on my agenda to focus on, and I didn't get around to that."
But she noted her work on recidivism and re-entry initiatives as a prosecutor, as well as her work with Senate colleagues to reform the nation's bail system. She acknowledged that some voters will reject her candidacy simply because she was a prosecutor.
"There are some people who are just going to say, 'we don't want prosecutors.' And I don't know that I'm going to be able to convince them," she said.
Harris said the criminal justice system is deeply flawed but makes no apologies for pursuing violent criminals.
"Let's not buy into the myth that black folks don't want law enforcement. We do," Harris said. "We don't want excessive force. We don't want racial profiling -- but certainly if somebody robs, burglarizes my house, I'm going to call the police."
The California senator added that she believed some of the glaring problems within the system could be tackled from within.
"There is no question that this system is deeply flawed, that there is systemic racism in the system. We have a problem with mass incarceration, in particular of black and brown men," she said. "No mother or father in America should have to sit down when their son turns 12 and start having the talk with that child about how he may be stopped, arrested or killed, because of the color of his skin, there is no question."
She also highlighted her support for legalizing marijuana. She said she has smoked -- a joint, to be specific, adding with a laugh, "I did inhale."
"I think it gives a lot of people joy," she said, "And we need more joy."
The junior senator from California was also asked about criticism she has faced on social media for marrying a white man.
"Look, I love my husband, and he happened to be the one that I chose to marry, because I love him—and that was that moment in time, and that's it," Harris said. "And he loves me," she added laughing.
Taylor Swift and Joe Alwyn Make Rare Public Appearance
Taylor Swift and Joe Alwyn. 
Photo: Blitz Pictures/REX/Shutterstock
Taylor Swift skipped the Grammys on Sunday night; instead, she opted to attend the BAFTA celebrations in London to support her boyfriend Joe Alwyn, who appears in The Favourite. And the typically elusive couple marked the special occasion by making the rare move of not only stepping out in public together, but also by (gasp) holding hands in front of the paparazzi.
Unlike some of her previous relationships (ahem, Hiddleswift), the Reputationsinger has kept things with Alwyn pretty much under wraps since they started dating almost two years ago. At first, there were a few sightings here and there, and stories about them hiding out in London together. (He's British). Slowly but surely, as things began to progress between the two of them, we started to have more and more sightings of the couple out together. But generally speaking, we've really just seen creeper shots at industry parties they both attended or pictures of them strolling down the street together. Images of any semblance of PDA have been few and far between.
But on Sunday night, we finally got images of the Swift (in a Stella McCartney gown and Max Mara coat) and Alwyn leaving Annabel's Club in London together after a BAFTA party. The pair didn't walk the red carpet of the awards ceremony together, but they didn't appear to have any issue with being seen together (and holding hands) after the fact — especially as tons of paparazzi were all around them. Hmmm. Does this mean we can expect another sighting of the pair together at the Oscars?
What you need to know about Kyler Murray's decision to pursue a career in football
Oklahoma quarterback Kyler Murray announced Monday that he will fully commit to an NFL career and at least put on hold his interest in baseball.
Here's what you need to know about a potentially historic decision.
Murray would be the first person ever drafted in the first round of both the NFL and Major League Baseball drafts, according to the Elias Sports Bureau. The Oakland Athletics drafted him as an outfielder at No. 9 overall in 2018.
First round in the NFL, though? Isn't he 5-foot-10?
Actually, he's 5-foot-9 ⅞ in socks, according to Oklahoma assistant athletic director Mike Houck. There's no doubt that Murray's height adds a layer to his evaluation. According to Elias, only five quarterbacks listed at 5-foot-10 or shorter have thrown an NFL pass since 1960. The last was Doug Flutie in 2005.
Again, first round?
Murray won the Heisman Trophy and will enter an NFL that is, at least in some quarters, less reliant on conventional scouting and more attuned to finding a way to utilize natural ability in all shapes and sizes. (See: Seattle Seahawks quarterback Russell Wilson, who is 5-foot-11.)
Murray is the kind of dual-threat player that NFL teams are more than willing to take on. In his 2018 season at Oklahoma, he posted 4,361 passing yards and 1,001 rushing yards. In their most recent mocks, ESPN draft analysts Mel Kiper and Todd McShay each projected him going to the Miami Dolphins at No. 13 overall. McShay wrote that Murray "has an electric arm and some of the best athleticism I've seen at the position in years."
Murray would be the shortest quarterback selected in the first round since the common draft began in 1967. According to Elias, there have only been two quarterbacks listed at shorter than 6-foot-1 drafted in the first round: Michael Vick and Johnny Manziel, both of whom were listed at 6 feet.
Is this a personal or financial decision?
Probably both. In a statement he posted on Twitter, Murray wrote that "football has been my love and passion my entire life." And though there is a perception that baseball players earn more money than football players because of their guaranteed contracts, highly drafted and/or successful quarterbacks compete well on the financial ledger.
First-round picks in the NFL get guaranteed four-year contracts. Last year's No. 1 overall pick, fellow former Oklahoma quarterback Baker Mayfield, received $32.7 million guaranteed from the Cleveland Browns. The No. 32 pick, Baltimore Ravens quarterback Lamar Jackson, was guaranteed $8.1 million. Those slots will increase along with the still-to-be-determined rise in the 2019 salary cap.
How much would he have earned with the A's?
Oakland guaranteed him $4.66 million after drafting him. His next contract would have been contingent on major league success. By contrast, more than half of active NFL quarterbacks have earned at least $10 million in their careers, compared to 28 percent of outfielders, according to Spotrac. And about 11 percent of NFL quarterbacks have made at least $100 million, compared to 5 percent of outfielders.
Does he get to keep the $4.66 million?
No. According to ESPN MLB insider Jeff Passan, Murray will return $1.29 million of the $1.5 million installment he has already received from the A's. He will forfeit the remaining $3.16 million due on March 1.
Do the A's get any compensation?
Nope. They do retain his rights if he ever returns to baseball, but they won't receive a compensatory draft pick because those are reserved for teams whose draft picks never sign a contract.
Does that mean Murray wouldn't play both sports?
Probably so, but he could always revisit it over time. The standard NFL contract prohibits players from participating "in any activity other than football which may involve a significant risk of personal injury."
The model set forth by Russell Wilson is one to keep in mind. After playing minor league baseball while he was in college, Wilson has visited major league spring training as an NFL quarterback, working out with other players and sitting in the dugout during games. He did receive one at-bat during an exhibition game, to which the Seahawks agreed beforehand.
OK, what's the next step now that he's made up his mind?
Murray will spend the next two weeks preparing for the NFL scouting combine, which opens Feb. 26. At some point, we'll find out if he intends to throw at the combine or save that portion of the evaluation for Oklahoma's Pro Day. Teams typically seek out private meetings and workouts with quarterback prospects as well. The draft itself will take place April 25-27 in Nashville, Tennessee.
Valentine's Day came early for Melissa Benoist.
On Sunday, the "Supergirl" actress revealed she and co-star Chris Wood are engaged.
"Yes yes yes it will always be yes," Benoist, 30, posted to Instagram, revealing her stunning Jennifer Meyer-designed engagement ring.
Wood, also 30, took to social media as well, where he shared the same photo and captioned the shot, "The happiest."
The actor also shared another photo of the future newlyweds, joking, "Not from our wedding BUT IT WILL BE SOON."
This will be Benoist's second marriage, as she was previously wed her "Glee" co-star, Blake Jenner, in 2013. After calling it quits in 2016, their divorce was finalized a year later.
As for Benoist and Wood, the couple appeared on the CW series as on-screen pair Kara Danvers and Mon-El.
It might not be a cliché Valentine's Day proposal, but love is in the air this February for 
Melissa Benoist
 and her co-star Chris Wood. Benoist and Wood took to Instagram on Feb. 10 to share the news that they will soon wed. Now that they are well on their way to 
marriage
, you are probably wondering when their relationship started and what it means for 
Supergirl
.
When did Melissa Benoist begin dating Chris Wood
Benoist, who has been married before, started seeing her 
Supergirl 
co-star, Wood, in March 2017 shortly after Wood joined the cast. The pair were first spotted 
cuddling in Mexico
; then they officially took their relationship public.
Wood and Benoist have been working on a mental health awareness campaign together. The campaign is near to Wood's heart who lost his father to mental illness. Benoist opened up about the program, and the need for better mental health awareness in interviews, referencing Wood's involvement in the project.
Wood joined the cast of Supergirl in 2016 to play Benoist's love interest, Mon-El. Benoist stars in the show as Kara Zor-El.
Who designed Melissa Benoist's engagement ring?
Wood popped the question to Benoist in what looks like a quiet evening, according to the Instagram photo Benoist posted. Jewelry designer Jen Meyer created the ring. Meyer took to Instagram to congratulate the couple and thank them for allowing her to be a part of the process. According to the post, Wood helped design the custom ring specifically with Benoist in mind.
Not her first on-screen/off-screen romance
While Wood and Benoist play love interests on Supergirl, things began heating up off screen early i their working relationship. It's not the first time that Benoist has found love on the set. Prior to her relationship with Wood, Benoist was married to Glee co-star Blake Jenner.
Jenner joined the cast of Glee in the show's fourth season. Jenner and Benoist began dating in 2013 and married in 2015. By 2016 they had separated. Benoist filed for divorce in December 2016, citing irreconcilable difference, according to Us Magazine. The divorced was finalized in December 2017.
Ella Mai On Grammy Win: I've Dreamed Of This Moment Since I Was A Little Girl'
Mai and Mustard, who took home the Best R&B song prize for their track, found out about the win ahead of the show when they were on their way to the red carpet. Mai confesses that she went crazy when she heard the news, while DJ Mustard started crying.
"I feel like I've dreamed of this moment since I was a little girl," Mai tells Billboard, "And to do it with Mustard, as well, is incredible."
Asked what's next for her following her big win, Mai replies, "Honestly, I'm trying to get through tonight, and then I'll figure out what's next. I think there's just such a whirlwind of emotions going on right now, I just want to really live in this moment, and we'll think about tomorrow tomorrow."
As for how the win feels for DJ Mustard, he states, "This means that I knew what I was talking about, and I'm happy that everybody sees what I've been seeing in her since I met her."
You can check out the full video interview with Ella Mai and DJ Mustard above
Ella Mai Snags Her First Grammy Award And Debuts A New Look On The Red Carpet
The 24-year-old songbird hit the red carpet with a cute new hairstyle and her first Grammy Award under her belt.
2018 was quite the year for breakout R&B songbird Ella Mai and 2019 is keeping the momentum going.
The 24-year-old London native has kicked off the year with one of her biggest accomplishments to date, snagging her very first Grammy Award for 2018's chart-topping single "Boo'd Up." She also debuted a new look on the red carpet, posing for the cameras in a gorgeous royal blue dress and switching things up from her signature long & curly tresses to a short, straight bob.
While the win wasn't among those televised, it was revealed earlier in the day that "Boo'd Up" took home the Grammy gold for Best R&B Song.
The songstress took to Twitter to celebrate with the perfect reaction shortly after learning of the win.
The song's producer, DJ Mustard, also shared his reaction via Twitter.
Other nominees in the category included Miguel feat. J.Cole – Come Through and Chill, H.E.R. – Focus, Childish Gambino – Feels Like Summer and Toni Braxton – Long As I Live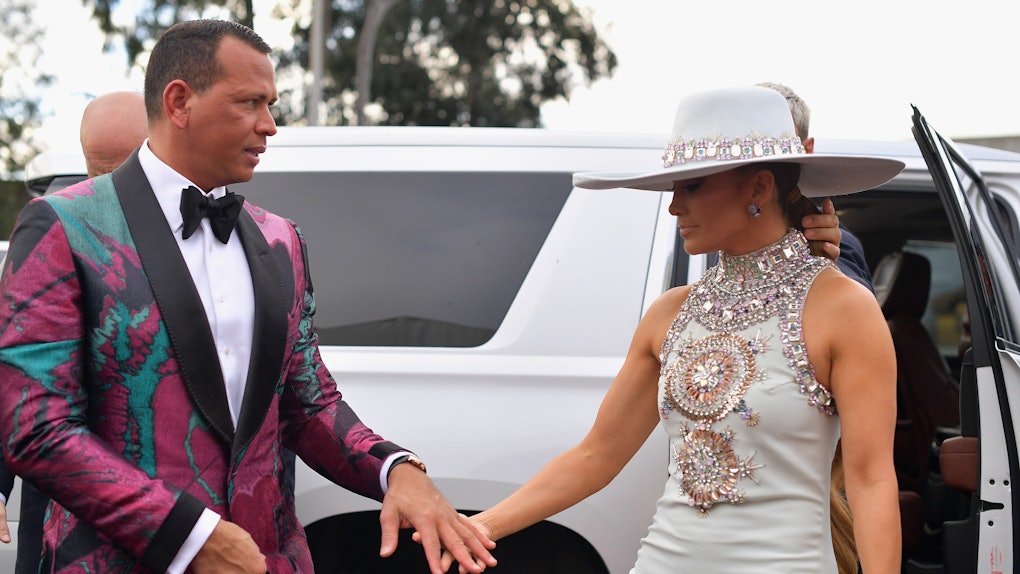 MATT WINKELMEYER/GETTY IMAGES ENTERTAINMENT/GETTY IMAGES
Jennifer Lopez & Alex Rodriguez's Body Language At The 2019 Grammys Is Strong & Steady
Make Valentine's Day Delicious at The Fresh Market
Treat your sweetheart to swoon-worthy entrées, sweet treats, stunning roses and more.
Ad by The Fresh Market
See More
At Sunday night's Grammys, Lopez was out in full force. Not only did she serve some serious fashion looks on the red carpet, but she also took to the stage to belt out a highly talked-about Motown performance. Rodriguez was all over his lady on the red carpet, but you should've seen his face as he watched her on stage doing her thing. Seriously, his picture belongs in the dictionary next to "Doting Partner."
Considering how in love the two seem on social media and at public events, does their body language reflect the personas they portray? Do J.Lo and A-Rod have what it takes to make their love last? Body language expert Patti Woodbreaks it down, so read on.
1

HE LETS HER SHINE.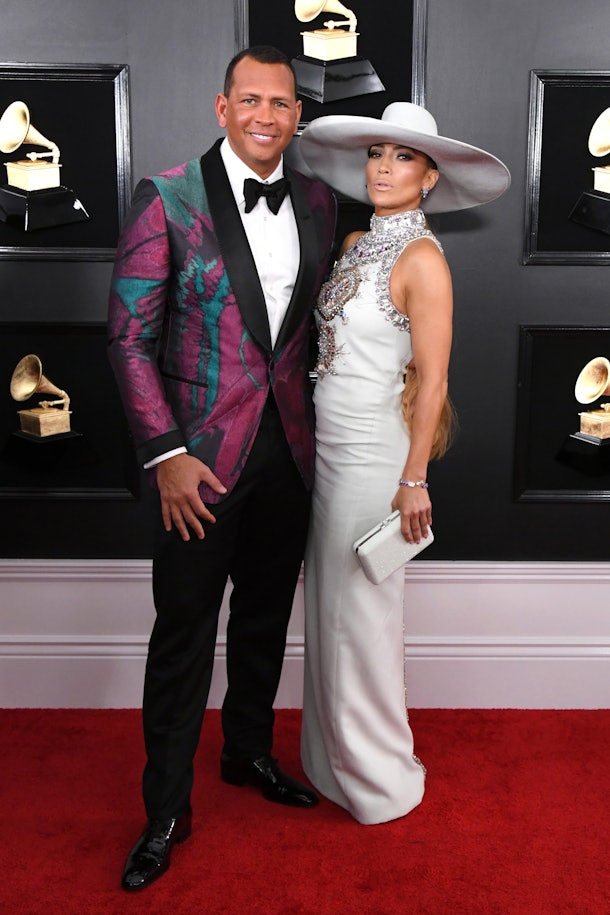 According to Wood, Lopez really stood out on the red carpet, and Rodriguez totally supported her. "She is in all-out model pose," Wood explains. "I have been analyzing her body language for a long time and she likes to pull away or step away from her partner and be seen and noticed first, and here she does just that, leaning back and away from him, shoulder back."
More, Wood says that Lopez's accessories are saying more than you might first think. "Even her hat, called a 'nonverbal artifact,' makes her the center of the focus and keeps him from drawing closer in this photos. He slightly leans into her with his upper body and head, but keeps the fingers of his hand on her waist and hip slightly away and open as if he might break her."
Sure, they aren't smiling wide and acting all lovey-dovey, but that doesn't mean they aren't connected.
2
HE WANTS HER TO BE HAPPY.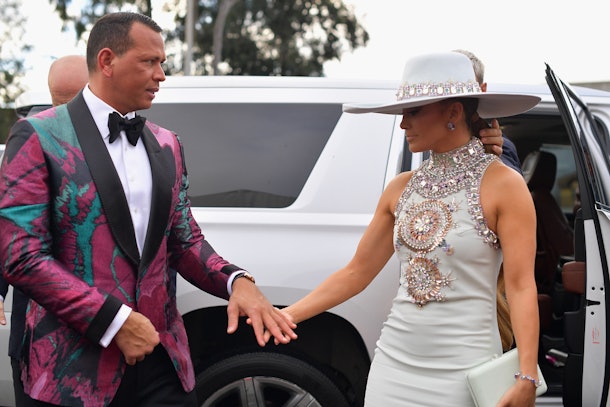 Grammys night is very much considered music's biggest night, and seeing as how Lopez is a musical icon, it's safe to say Rodriguez knew Lopez was going to take center stage. "Here you see him focus on her expressions to see how she is and what she wants," she says. "Note the way his hand and fingers are spread out."
Wood says that "in this moment, he wants to do as she would like. Remember this is her event, her industry rather than his so you see him show that." Again, Rodriguez is totally OK with letting his bae shine, and that's pretty awesome.
3
HE CAN STILL TAKE CHARGE.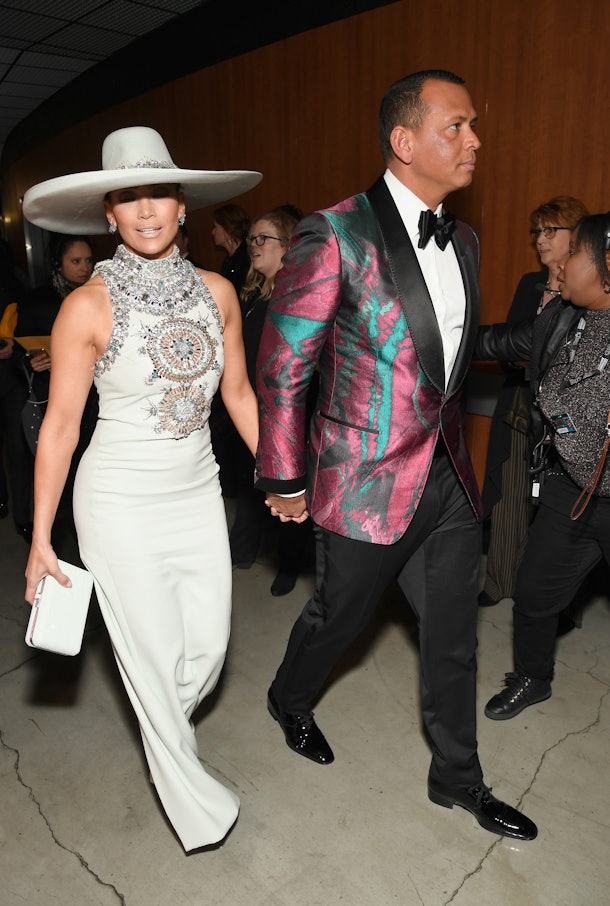 Finally, Wood says that Rodriguez and Lopez still have a balanced partnership, taking turns taking the lead. "He is leading the way," Wood says, about this photo. "Over the years we haven't seen a lot of men leading her," she adds, so it's interesting to see Rodriguez take charge. "Now we see him leading her, showing he is in charge, showing their relationship has two power people in it," Wood explains.
Looking gorgeous as ever, the body language between these two proves that Rodriguez is just as caring and doting as he looks in photos, but he can still be an anchor for her in their relationship. Nothing like a strong and steady Hollywood romance to restore your faith in love!
La foto en la cama de Jlo y Alex Rodríguez con el único 'pecado' de los celulares
La cantante Jennifer López y su novio Alex Rodríguez posaron para una foto tras la ceremonia de los Premios Grammy, fue desde su habitación donde la intérprete de raíces boricuas mostró que son solo ellos dos "al final del día".
López actuó durante la entrega más importante de premios de la música en un homenaje a la música de Motown Records.
JLo interpretó temas como "Dancing in the Street", "Please Mr. Postman", "The Best Things in Life Are Free", "Do You Love Me", "Money", "Papa Was a Rolling Stone", "My Girl", entre otros.
Lo cierto es que la foto en la cama de las dos estrellas no muestra más que ellos usando sus teléfonos celulares, ella tomando una foto y él quizás revisando sus redes sociales.
Con Rodríguez, Jennifer ha tocado años de estabilidad emocional, pues ha asegurado que Alex es el amor que necesitaba.
Jeremy Lin finalizing buyout with Hawks, to sign with Raptors
Atlanta Hawks guard Jeremy Lin is finalizing a contract buyout, clearing the way for him to sign with the Toronto Raptors, his agents told ESPN.
Agents Jim Tanner and Roger Montgomery were expected to complete the buyout with the Hawks as soon as Monday, they said, and Lin could sign with the Raptors as soon as midweek.
Lin's salary -- $13.8 million for the 2018-19 season -- makes it impossible for a team to claim him off waivers.
Lin's arrival in Toronto takes on greater importance with Raptors guard Fred VanVleet expected to miss at least three weeks with a partially torn ligament in his left thumb. The team says VanVleet will wear a splint for approximately three weeks before it's re-evaluated.
Lin, 30, has averaged 10.7 points, 3.5 assists and 2.3 rebounds for the Hawks this season. He has had stops with the Warriors, Knicks, Rockets, Lakers, Hornets and Nets in his eight-plus seasons in the league.
The Raptors find themselves short on backcourt depth thanks to VanVleet's injury and a blockbuster trade deadline deal that sent Delon Wright and CJ Miles to the Grizzlies for Marc Gasol.