#1

Joe Gibbs • Daytona 500 • J. D. Gibbs • Daytona Beach • NASCAR
https://www.instagram.com/p/BtjCsghgBu4/
Hamlin has must-win mindset at Daytona 500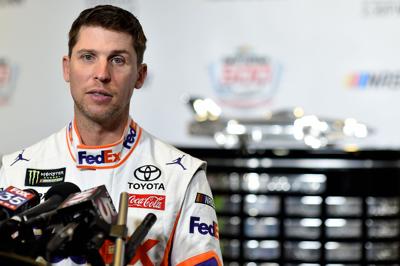 DAYTONA BEACH, Fla. — Denny Hamlin readily acknowledges that when he shows up at Daytona International Speedway, he is a race favorite. He's earned that distinction as a former Daytona 500 winner.
But this year a victory in the sport's biggest race wouldn't only be of historical significance of but put an end to the longest winless streak in the 38-year-old Virginian's decorated Monster Energy NASCAR Cup Series career. Last year, he did not win a race for the first time since his 2006 rookie season.
"I feel pretty optimistic," Hamlin said, sitting down to meet with reporters during the annual Daytona 500 Media Day. "I would say about the same as usual to be honest with you.
"I thought The Clash (last Sunday afternoon) kind of gave us an indication that we were able to kind of get up front even starting last. We got up front in a timely manner. No surprises really from that, so there's no reason to think otherwise that we can't win."
This year, his showing in the Daytona 500 will be especially important and, frankly, sentimental as he has dedicated his season to one of his biggest supporters. J.D. Gibbs died last month at age 49 after a long illness.
Gibbs, son of Joe Gibbs Racing founder Joe Gibbs, died on Jan. 11 from degenerative neurological disease. J.D. was not only president of the NASCAR championship organization but he was the person who signed a 23-year-old Hamlin to the team in 2005. It was a relationship established on talent but built on equal parts friendship and business. And this week, Hamlin still looked pained and sentimental thinking of the loss.
"It'll be super-important (to do well)," Hamlin said. "Everyone knows how important he was for me and my career and everything he did for us, so certainly having success on track will be crucial for that. Now that I pledged $111 for every lap that we lead, it's going to be important for me to get up front and get up front often."
Up front is a reasonable and likely place to find Hamlin at Daytona International Speedway. His work in the Daytona 500 — specifically — and Speedweeks in general, is undoubtedly a career highlight reel. He is the 2016 Daytona 500 winner, earned three victories in the Duel at Daytona qualifying races and three wins in the Advance Auto Parts Clash — including his career first Cup-level victory as a rookie in the 2006 Clash non-points race.
His total of 267 laps led in the Daytona 500 is most in this year's field, as are his 407 total laps led at Daytona International Speedway (also including the summer Coke Zero 400).
Hamlin is also among the sport's most elite company, winning both the Clash and the Daytona 500 in the same year — something that's occurred only six times.
This season Hamlin's No. 11 FedEx Toyota will have a new crew chief in Chris Gabehart, who moved up from JGR's NASCAR Xfinity Series stable. Interestingly, as much pressure as there is in the sport's most celebrated race, Hamlin thinks the Daytona 500 restrictor plate race may well be the best kind of transition for a new crew chief.
"I think it's actually a good race to start with a new crew chief because you're not really talking about handling that much," Hamlin said. "It's a good one to just kind of get your feet wet on the communication side of things. What his lingo is on the radio versus mine, so I think it's actually a good start to the year.
"Even for the drivers that are in new situations to start a year on a superspeedway where you're not really having to fix the car much. It's kind of more about the driver and how he strategically makes his way through the pack."
A win or even a good showing in the 500 would certainly continue the kind of positive energy Hamlin showed in the end of last year.
He finished a season-best runner-up twice (at Dover, Del. and Martinsville, Va.) during the 10-race 2018 Playoffs to end the season, and finished 11th in the overall standings. He earned four pole positions and sat on pole for the season finale at Homestead, Fla.
It's all eyes ahead.
"I'm looking forward to this one more than looking back on the last one simply because there's just nothing I can change from this past year," Hamlin said. "I couldn't help the bad breaks that we had or the things that went wrong. All you can do is just figure out how can that not happen again. With a new crew chief, you're obviously also working on what do we need to do to communicate better?
"You always feel like you have something to prove, but certainly this year in particular, I'm very fired up to go out there and win. Not one race, not two races, not even three — just like multiple races and show that we are a contender each and every week just like I know that we are. You can always talk about the ones that got away last year, but that was last year. So what, now what? We've got to figure out what we're going to do to change the narrative of our team that we're on the decline."
Jussie Smollett Says He Is "Further Victimized" By False Rumors Regarding His Assault
Jussie Smollett is speaking out against a spate of reports that suggest he orchestrated his own ambush and assault. He's also hired a top tier legal team in Chicago, comprised of lawyers known for high-profile civil and criminal cases.
Smollett's legal team issued their statement Saturday night, which was within days of Rob Elgas, a reporter at ABC 7 Chicago, reporting that "multiple sources" said Smollett orchestrated his own assault in the city's tony Streeterville neighborhood. Also on Saturday, CNN reported a story with their own sources stating belief that Smollett's account was untrue. Now Smollett - through his attorneys - denies those reports and adds that he is being "further victimized."
"As a victim of a hate crime who has cooperated with the police investigation, Jussie Smollett is angered and devastated by recent reports that the perpetrators are individuals he is familiar with," says the statement, submitted to Forbes via Smollett's team, and written by attorneys Todd S. Pugh and Victor P. Henderson. "He has now been further victimized by claims attributed to these alleged perpetrators that Jussie played a role in his own attack. Nothing is further from the truth and anyone claiming otherwise is lying."
It's been a tough week for Smollett, from speaking out on Good Morning America with Robin Roberts to dealing with the fall-out of a number of investigative leaks that seem to directly attempt to refute Smollett's narrative of the January assault. In that GMA interview, Smollett notably told Roberts that he never said that his attackers were wearing  "MAGA" hats, and that he didn't need to add that detail as a "cherry on top of a racist sundae." Later in the week, two persons of interest - brothers Ola and Abel Osundairo - were arrested, questioned and released in connection with the attack and now police reportedly have new leads to follow. At least one of the brothers is reportedly an Empireextra from an earlier season, and police informed media that Smollett knew the two. At the same time, Chicago's police superintendent has said that Smollett is still being treated as the victim of a crime wherein two masked men attacked him, poured an unknown chemical substance on his body and placed a rope around his neck while also shouting "MAGA country," and racist and homophobic obscenities.
The roller coaster of fast news this week also included several outlets reporting that the Empire star had hired Michael Monico, a former federal prosecutor in Illinois' Northern District and an attorney most recently known for representing Michael Cohen. (Cohen, who is President Donald Trump's former personal attorney, hired Monico to help represent him regarding federal charges.)  On Thursday, Monico told a Chicago talk radio program, WGN's "The Roe Conn Show,"  that he was hired by Smollett "at the moment." But Smollett's team confirmed, on Saturday night to Forbes, that Monico does not represent the actor at this time.
The court of public opinion is obviously divided on whether or not they believe Smollett's account of events. Public discussions of the assault swiftly become politically-tinged as the openly-gay actor's story is dissected by millions of interested parties.
Regarding news that Smollett knew one of the persons of interest, his attorneys state that this is true. One of the men wanted for questioning was "Jussie's personal trainer who he hired to ready him physically for a music video," the statement says. "It is impossible to believe that this person could have played a role in the crime against Jussie or would falsely claim Jussie's complicity."
Regarding the remainder of the investigation, Smollett's team are waiting on Chicago police for updates.
"Jussie and his attorneys anticipate being further updated by the Chicago Police Department on the status of the investigation and will continue to cooperate. At the present time, Jussie and his attorneys have no inclination to respond to 'unnamed' sources inside of the investigation, but will continue discussions through official channels."
Adrienne Gibbs is a Chicago-based journalist. Follow her @adriennewrites on FB and Twitter.
Almost immediately after suffering from what he told cops was a violent, anti-gay and racist attack, "Empire" star Jussie Smollett insisted on going on TV to tell his story, The Post has learned.
Smollett was quickly "adamant" that he wanted to appear on ABC's Good Morning America, said one source with knowledge of the GMA booking decision.
His case took a dark turn Saturday night, when Chicago police told Fox that they now believe Smollett paid two pals to fake the crime.
"When Kim Kardashian was the victim of that horrific burglary in Paris, she went to ground, she closed down, she gave no interviews for months. You can see how shaken she was.
"But Jussie was adamant that he wanted TV right away. He raised his voice and said, 'I need to do this right now. I'm a black gay man and people need to know what happened to me. I want to tell my story.' He wanted media right away."
During his Feb. 14 appearance on the show, Smollett tearfully told GMA being beaten about the head and berated with racist and homophobic insults.
"This is MAGA country, n—–!" he said he was threatened by the two strangers, who he said he believed were white.
Chicago police: Jussie Smollett assault case has 'shifted'
CHICAGO —Chicago police said Saturday the investigation into the assault reported by Jussie Smollett has "shifted" due to information received from two brothers questioned in the case, and attorneys for the "Empire" actor blasted reports alleging he played a role in his own attack.
Chicago police had arrested, then released the two Nigerian brothers without charges late Friday and said they were no longer suspects in the attack.
"We can confirm that the information received from the individuals questioned by police earlier in the Empire case has in fact shifted the trajectory of the investigation," Chicago police spokesman Anthony Guglielmi said in an emailed statement Saturday. "We've reached out to the Empire cast member's attorney to request a follow-up interview."
Guglielmi did not elaborate on what he meant by a shift in the case.
Smollett's attorneys later Saturday issued a statement saying the actor would continue to cooperate with police, but felt "victimized" by reports that he might have been involved in the attack.
"Nothing is further from the truth and anyone claiming otherwise is lying," the statement from attorneys Todd Pugh and Victor P. Henderson said.
Smollett, who is black and gay, has said he was physically attacked by two masked men shouting racial and anti-gay slurs and "This is MAGA country!" He said they looped a rope around his neck before running away as he was out getting food at a Subway restaurant. He said they also poured some kind of chemical on him.
On Wednesday, Chicago police picked up the brothers at O'Hare International Airport as they returned from Nigeria. They described them as "suspects" in the assault, questioned them and searched their apartment.
Then, late Friday evening they released the two men without charges and said they were no longer suspects. They said they had gleaned new information from their interrogation of them.
One of the men is Smollett's personal trainer who he hired to get him physically ready for a music video, the statement from Smollett's attorneys said.
"It is impossible to believe that this person could have played a role in the crime against Jussie or would falsely claim Jussie's complicity," the statement said.
Police have said they were investigating the attack as a possible hate crime and considered Smollett a victim. Reports of the assault drew outrage and support for him on social media, including from U.S. Sen. Kamala Harris of California and TV talk show host Ellen DeGeneres.
Smollett gave an emotional speech during a concert in West Hollywood, California, on Feb. 2 saying that he went ahead with the show because he couldn't let his attackers win.
Smollett also gave an interview to Robin Roberts of ABC News that aired Thursday, saying that he was "pissed" at people who did not believe he was attacked.
"I've heard that it was a date gone bad, which I also resent that narrative," he said. "I'm not gonna go out and get a tuna sandwich and a salad to meet somebody. That's ridiculous. And it's offensive."
Earlier this week, police said reports that the attack against Smollett was a hoax are unconfirmed.
Producers of the Fox television drama have supported Smollett, saying his character on "Empire," James Lyon, was not being written off the show.
Police said they combed surveillance video in the heavily-monitored downtown Chicago area but were unable to find any footage of the attack.
Smollett turned over redacted phone records that police said were not sufficient for a criminal investigation.
Former Virginia star Joe Harris wins NBA 3-point contest
Harris, who plays for the Brooklyn Nets made 12 consecutive shots at one point in the final round on his way to a score of 26 points. Curry was second with 24 in the finals, and Sacramento's Buddy Hield was third with 19 points.
The Warriors' star made his first nine shots of the final round, then missed three of five shots from the top of the key.
Stephen Curry won the first round with 27 points out of a possible of 34. Hield was second with 26 points, and Harris finished with 25 to grab the last spot in the finals.
"Obviously, it's incredible," Harris said. "Steph is the greatest shooter of all time. But, again, shooting off of the rack for a minute is not indicative of being a better shooter than Steph Curry. I don't want anybody to get it twisted at all."
There were 10 players in the event, and seven went out in the first round.
Defending champion Devin Booker made his final seven shots but was eliminated in a tie for fourth with Danny Green with 23 points. The other competitors who did not advance: Dirk Nowitzki and Damian Lillard (17), Seth Curry (16), Kemba Walker (15) and Khris Middleton (11)
#4

Hamidou Diallo "Hami" Diallo on Instagram: "Was @hami.diallo looking IN THE RIM 🤯 #thunder"
Hamidou Diallo wins dunk contest; Jayson Tatum best in skills challenge
CHARLOTTE, N.C. -- Oklahoma City Thunder guard Hamidou Diallo knew he'd have to make an impression to win the slam dunk contest. So he decided to find a way to make the biggest one possible: by dunking over the biggest person in the building.
Wearing a Superman shirt underneath his teal Thunder jersey, Diallo threw down a slam after jumping over 7-foot-1 Hall of Famer Shaquille O'Neal and then hung on the rim by his elbow to steal the show and come away as the winner of this year's competition.
"Yeah, I was sure," Diallo said of whether he knew he could dunk over O'Neal. "I wouldn't have brought him out there if I wasn't sure.".
Diallo's dunk was one of the few highlights of a competition that featured some compelling slams -- including New York Knicks guard Dennis Smith Jr. dunking over rapper J. Cole while wearing Cole's high school jersey and Atlanta Hawks forward John Collins jumping over a plane prop -- but also lengthy delays because a few contestants required multiple tries in order to complete their dunks.
Two players -- Smith and Charlotte Hornets forward Miles Bridges -- failed to convert one of their attempts.
Smith's failed attempt came on his first dunk in the final round, but he earned a 50 on his second dunk of the final, jumping over Dwyane Wade while getting an alley-oop from Stephen Curry.
Diallo needed at least a 43 on his second dunk of the final to win the title. After pulling rapper Quavo out of the crowd and having him hold the ball over his head, Diallo leaped over him, took the ball out of his hands and slammed it home to score a 45.
As it turns out, Diallo had actually planned on dunking over Wade, his childhood idol, but when Smith used Wade for his dunk, Diallo switched to Quavo.
"It was great," Diallo said of winning the competition. "Dennis stole my third dunk. I was going to use D-Wade last. That was my favorite player growing up. But it all worked out."
The dunk contest was boring enough that the skills challenge -- typically the least interesting event of the night -- was arguably more compelling.
Tatum hits half-court shot to win skills challenge.
Jayson Tatum needs a half-court shot to knock off Trae Young in the finals of the skills challenge.
That was thanks to the theatrics Boston Celtics forward Jayson Tatum, who fell behind in each of his three rounds -- first to Memphis Grizzlies guard Mike Conley, then to Denver Nuggets center Nikola Jokic, and finally to Atlanta Hawks guard Trae Young -- but rallied to win each and start the night off with a victory.
"No, that was not the plan," Tatum said with a smile.
It certainly wasn't his plan to beat Young the way he did -- by throwing in a heave from half court when it appeared Young was all but certain to win.
Tatum said his hope was to at least knock Young's shot away, but he did one better by banking in a shot to edge the Atlanta rookie and earn himself a trophy in the process.
"The previous two rounds the guy was ahead of me, and figured I'd let him get a shot attempt so I'd get closer to the 3-point line," Tatum said. "But I didn't want to give Trae a chance.
"I didn't know I'd make it, but wanted to give myself a chance."
Tatum's win came on the heels of a 30-point performance in a victory in Friday night's Rising Stars Challenge as part of Team USA.
And Tatum, whose nickname is Taco Jay, said he hopes winning the skills challenge -- which was sponsored by Taco Bell -- might allow him to get one more win out of this weekend.
"I'm going to call Taco Bell tomorrow and tell them I need a deal," Tatum said. "I need to be on the commercial.
"I love tacos."
#5

Kim Zolciak-Biermann • Brielle Biermann • Ariana Biermann • Don't Be Tardy • The Real Housewives of Atlanta
'RHOA' Alum Kim Zolciak-Biermann Doesn't Want Her Daughters Getting Plastic Surgery 'At This Time'
"I tell them, you know, when you're done having kids and all that good stuff," she told the outlet. "Worry about all that stuff later on down the road, if that's what you want to do, but you guys are beautiful and so young."
The Real Housewives of Atlanta alum also pointed out that she doesn't consider fillers and other injectable treatments to be plastic surgery, as she and her oldest daughter, Brielle Biermann, have both had their lips done. Both the Bravo TV star and her daughter have been extremely open about the process and the 21-year-old has even said she feels more confident post-fillers.
It's clearly hard for the mom-of-six to convince her daughters to love everything about themselves as they are — isn't that hard for all of us? But Kim admitted that the availability and commonality of plastic surgery doesn't help things, especially considering she has had some work done herself.
Kim Zolciak Fuels Rumors That Her Butt Is Fake
Kim Zolciak shares a photo of her butt in a thong bikini and fans think it's fake.
Though Kim 
has denied
 getting a nose job in the past, she was forthcoming with the outlet about once having a tummy tuck but said it didn't change her positivity towards her own body. "When I went in to have my tummy tuck, I went in a size two/four and I came out a size two/four, I didn't go in and change my body size and body makeup," she explained. "I'm very open with [my daughters] about feeling my best."
Her daughter Ariana BiermannOpens a New Window. in particular is struggling with body positivity and Kim is clearly doing all she can to help her daughter, 17, recognize her natural beauty. Fans will be able to see how the former singer handles it during the upcoming season of the Bravo show.
No matter what, we love that the RHOA alum is teaching her family "that beauty shines from, truly, within." Well said, girl.
Don't Be Tardy season 7 premieres on Bravo February 17 at 9 p.m. ET.
#6

Image may contain: 12 people, text
#7

Heather Nauert • United States Ambassador to the United Nations • Donald Trump • United States Department of State
Nauert Withdraws From Consideration for UN Post
Last Updated: February 17, 2019 0:20 AM
State Department spokesperson Heather Nauert on Saturday said she has withdrawn her name from consideration for the post of U.S. ambassador to the United Nations.
In December, President Donald Trump had announced he was picking Nauert to fill the vacancy caused when Nikki Haley stepped down from that position, leaving at the end of 2018.
Media reports said late Saturday Nauert has withdrawn due to complications surrounding her employment of a nanny who was in the country legally, but not legally allowed to work.
According to The Washington Post, the nanny had worked for the Nauerts for 10 years and was paid in cash, but she had not paid taxes. When the family discovered that taxes had not been paid, The Post reported, the Nauerts demanded that the tax bill be paid.
Earlier Saturday, before news of the the nanny complication emerged, Nauert said, in a statement, "I am grateful to President Trump and Secretary (Mike) Pompeo for the trust they placed in me for considering me for the position of U.S. Ambassador to the United Nations. However, the past two months have been grueling for my family and therefore it is in the best interest of my family that I withdraw my name from consideration.
"Serving in the Administration for the past two years has been one of the highest honors of my life and I will always be grateful to the President, the Secretary, and my colleagues at the State Department for their support," Nauert said in a statement released by the State Department Saturday.
In the statement, Secretary of State Pompeo praised Nauert for performing her duties with "unequalled excellence," and wished her the best "in whatever role she finds herself."
In nominating Nauert, Trump said she was "very talented, very smart, very quick. And I think she's going to be respected by all."
Broadcast journalist
Nauert joined the State Department in April 2017 after a career in broadcast journalism, first serving under former Secretary of State Rex Tillerson and then under Pompeo. In addition to serving as spokesperson, Nauert also served as acting undersecretary for public diplomacy and public affairs from March to October of this year.
She came to State from Fox News, where she co-anchored Fox and Friends, the morning program that Trump says he watches regularly. The president's other recent hires from Fox News include White House communications chief Bill Shine and national security adviser John Bolton.
Nauert likely would have faced tough questioning during her Senate confirmation hearings about her apparent lack of diplomatic or policymaking experience.
The Wilson Center's Aaron David Miller said Nauert had a different profile from past U.S. ambassadors to the United Nations.
"I think Heather Nauert is smart. She is a quick study. She will learn the brief. But, I think it [the U.S. ambassador job] is not going to be what it was under Nikki Haley, which was a serious competitor under a vacuum at the NSC [National Security Council] and at the State Department under Tillerson."
Miller, who advised several secretaries of state under Republican and Democratic administrations, said Haley took advantage of the "empty space" created by media-averse Tillerson to stake out positions on a whole range of foreign policy issues, and that was not likely going to be the case with Nauert.
Smaller role seen
"Heather Nauert is not going to be a big-time player in the deliberations on substance in the administration," he said. "I doubt, on an issue like Syria, unless it pertains to the U.N., that the president is going to call her up and say, 'What do you think?' "
Both Trump and Pompeo have been highly critical of the United Nations and other multilateral institutions, with Pompeo noting in a Brussels speech earlier this week that "multilateralism has become viewed as an end unto itself. The more treaties we sign, the safer we supposedly are. The more bureaucrats we have, the better the job gets done."
During Nauert's twice-weekly briefings at the State Department and her own trips, she has shown a passion for human rights issues. While serving with Tillerson, Nauert took trips on her own initiative, visiting Myanmar and Bangladesh last year to meet with Rohingya refugees.
She also visited Israel and strongly defended Trump's controversial decision to move the U.S. Embassy to Jerusalem.
Nauert is a graduate of Columbia University's Graduate School of Journalism and Mount Vernon College in Washington. The 48-year-old is a wife and mother of two young sons, and was born in Rockford, Ill.
Steve Herman at the White House, and Cindy Saine and Nike Ching at the State Department contributed to this report.
#8

Rory McIlroy • Genesis Open • Justin Thomas
Red-hot putter propels Rory to 63 on Saturday morning
LOS ANGELES – Apparently all Rory McIlroy needed to get things going at the Genesis Open was some extra sleep and a little bit of sun.
McIlroy struggled in the opening round at Riviera Country Club, carding a 1-over 72, and he didn't fare much better in the rain and wind Friday afternoon as he began the second round. But the Ulsterman looked like a new man Saturday morning when play resumed, playing his final six holes in 4 under, holing one putt after the next.
The tally on the greens for McIlroy was more than respectable: a 19-footer to start the morning on No. 4, a 35-footer on the next hole and a 31-footer on No. 8. It added up to an 8-under 63, two shots off the course record. At 7 under for the week, he now heads into the final two rounds with a head of steam.
"Played nicely. Just saw most of my stats there that were a little better than the first day," McIlroy said. "I hit more fairways, hit more greens. I hit it closer to the hole and obviously made more putts, so that all adds up to a much better round of golf."
McIlroy was part of the wave that didn't see the course Thursday after a seven-hour weather delay, as he and wife Erica instead spent the day "enjoying L.A." Now four shots behind co-leaders Justin Thomas and Adam Scott and facing another break, he plans to lay low during the interlude between the second and third rounds before returning to Riviera in hopes of keeping his putter red-hot.
"Just recharge and rest up. Probably come back out here for a couple hours before my afternoon tee time and do a little practice and get ready," he said. "I don't mind it. I sort of like that I can get away, go to the hotel, not spend all day at the golf course. Don't mind getting away from the circus."