Just in time for the elections.
The American midterms are tomorrow and celebrities are doing the usual "go out and vote" social media posts. Even Diddy, during an interlude in his 'happy birthday to me I'm going to parachute into the Playboy mansion' Instagram post, took a moment to implore the people of the USA to go out to the polls on Tuesday.

Other than Diddy, not many celebrities are able to break up the monotony of this kind of content and also, what qualifies an actor or musician to give political advice? Well Chelsea Handler is one celebrity who is actually involved, hosting a telethon to encourage people to go to advance polls. Handler took her dedication to a new level on her Instagram live yesterday, when she undressed while telling her followers to vote like their lives "depend on it."

Although the video's time has lapsed and it's no longer, Handler made a similar political post in 2014. The photo was posted in protest of Instagram's nudity policy that Handler and many others believe is full of double standards and one that is particularly glaring: the male nipple is allowed but the female nipple is explicit content. To protest this and to mock Vladimir Putin, Handler posted this image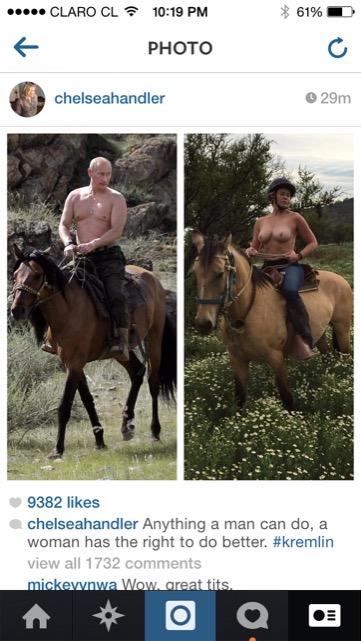 This post was created with our nice and easy submission form. Create your post!
Hits: 241