Ruth Bader Ginsburg: US Supreme Court judge fractures ribs in fall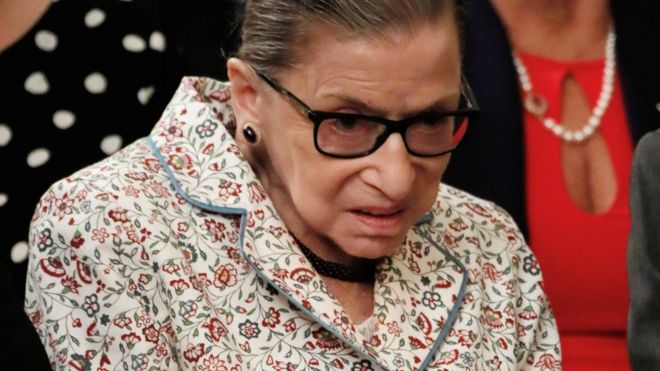 US Supreme Court judge Ruth Bader Ginsburg has fractured three ribs in a fall on Wednesday, the court says.
The fall happened in her office at the Supreme Court in Washington.
Ms Ginsburg, 85, went home but was in discomfort and went to George Washington University hospital on Thursday morning, a statement said.
Tests showed that she had fractured three ribs on her left side and she has been admitted for observation and treatment.
It meant that Ms Ginsburg - the most senior justice on the court's liberal wing - was not present for Thursday's investiture of Brett Kavanaugh, whose appointment led to protests following allegations of sexual misconduct.
The appointment, confirmed last month by the Senate, restores the nine-member court's conservative majority. The court has the final say on issues such as abortion, gun control and voting rules.
President Donald Trump, who nominated Mr Kavanaugh and described the claims against him as a "hoax", attended his investiture.
On Twitter, many were quick to offer the liberal justice assistance in the form of extra ribs and human shields to ensure she made it through the Trump presidency
This post was created with our nice and easy submission form. Create your post!