#1

Last show of the Melodrama era. Now we have to wait for L3. #melodrama #lorde
Lorde celebrates 22nd birthday with rumoured beau
Kiwi Grammy Award winner Lorde celebrated her 22nd birthday with her rumoured boyfriend Justin Warren. 
The couple were seen strolling through the Auckland suburbs last week and stopped for breakfast at a cafe in Westmere, reported Woman's Day.
The magazine reported  the pair showed "regular public displays of affection" and have been inseparable since the music executive and the two time Grammy award winner returned from a trip to New York.
Warren told the magazine that he and Lorde are just "good friends" and that reports of a romance are "ridiculous".
Lorde broke up with her boyfriend of three years, photographer James Lowe, at the end of 2015. Her hit song Green Light, a tune she admits is about heartbreak, is believed to be about their split.
"It's more about finding yourself through that situation. You go through the thing and it's so awful and you just wish you could let go. The green light thing is saying 'I'm not okay right now but I'm going to be okay," ​ she told ZM's Fletch, Vaughan and Megan.
Last week Lorde caused a big stir after she took to Instagram accusing Kanye West and Kid Cudi of stealing the idea of performing in a suspended glass box from one of her previous performances.
She posted pictures of her own and West's stage design saying, "Don't steal - not from women or anyone else - not in 2018 or ever."
#2

Saumya Tandon #SaumyaTandon is pregnant pic by @sachin113photographer
Why is Saumya Tandon leaving Bhabiji Ghar Par Hai!? Here's the real reason
Actor Saumya Tandon aka Gori Mem of Bhabiji Ghar Par Hain! will reportedly shoot for the show till next month. The reason, as per sources is that besides being unwell, the actor is apparently also pregnant, which is why she is being extra cautious about her health.
TV Updated: Jul 24, 2018 13:47 IST
However, a source in the know says that the actual reason of the actor leaving the show is that she is expecting. Apparently, she is two months pregnant, and even a slight baby bump is visible. Now with the health issues, Saumya and her husband, Saurabh Devendra Singh, have become extra cautious about her health and therefore she has already put in her papers. She will be shooting only till next month.
"Saumya has not been keeping well for some time and was on leave for a few days. From what we know, she is expecting. And, she and her husband are making sure that nothing goes wrong and are taking extra care to avoid any complication. She is also careful about what she is eating," says the source.
Saumya's co-star on the TV show, Shubhangi Atre Poorey, who portrays the character of Angoori Manmohan Tiwari aka Angoori Bhabi, confirmed that she isn't keeping well, but she has no idea about her being pregnant. "I neither know about her leaving the show or being pregnant. Motherhood is the best thing that can happen to a woman but I don't know anything concerning her. She was on a break for health reasons and I am yet to meet her," she adds.
When we contacted Saumya, she said she can't talk about the reports of quitting the show. Asked about her pregnancy, she says, "I would love to become a mother. But right now I don't have any news to share. But whenever there's any good news I will definitely announce."
Author tweets @Shreya_MJ
Follow @htshowbiz for more
#3

Detective Pikachu grace ? on Instagram: ""i will ELECTROCUTE you." ⠀ ⠀ for @spiiderwoman @mercutioh @mistyyday⚡️ ⠀ song: buttercup – jack stauber"
Here's Why Realistic Pokemon From 'Detective Pikachu' Are Creeping People Out
Pokemon go... far, far away, please.
The movie, based on the video game of the same name, revolves around Pikachu (voiced by Ryan Reynolds), who's teamed up with the only human person who can understand him (Justice Smith as the character Tim Goodman) to solve crimes.
All right, the plot sounds innocuous enough. But unlike the classic animated 2D versions of "Pokemon," this movie is live action, filled with realistic-looking CGI creatures ― some of which are the brain children of the designers who put together those "real" Pokémon lists.
And those realistic creatures are freaking people the heck out.
HuffPost reached out to a number of experts in psychology and design to get to the bottom of our collective chills, and some of their answers were more onix-pected than others. Here are a few reasons realistic Pokémon feel like waking nightmares:
The uncanny valley.
One of the most compelling theories speculated on offered by psychologists and designers alike is: We're in "uncanny valley" territory.
The term "uncanny" has roots in an essay by Sigmund Freud in 1919 called "Das Unheimliche," explained Ken Goldberg, a professor and department chair of industrial engineering and operations research at University of California, Berkeley.
"This idea of the uncanny has a lot of interesting resonance in a lot of classic gothic literature and a lot of art, and it's used by artists through history," he said. "It's where you have something that is normally familiar and then it becomes deeply unfamiliar."
Goldberg said the term "uncanny valley" came about in 1970 when roboticist Masahiro Mori made a conceptual discovery while looking into how people react to prosthetics. The "more humanlike" artificial limbs got, Goldberg said, the "more comfortable up to a point" people were around them.
"And then there's this big dip."
The thing was, even though the robotic work so closely resembled human limbs, they weren't absolutely convincing as human limbs. And that made people feel, well, weird. Think of a classic creep-fest like "Polar Express." The closer a character in the animated movie appears to a human, the more you feel like Tom Hanks wants to murder you.
"When people start talking about using the term creepy, it's a good signal," Goldberg said of the critics bemoaning the too-real Pokémon appearances. "Because creepy is the closest thing we have to the emotion of the uncanny, that Freud talked about. We don't have a word for it in English, but creepy is pretty close. So it could be called the creepy valley, right?"
The uncanny valley isn't a perfect theory to explain the eeriness of the CGI Pokémon, though.
Peter Lunenfeld, a professor and vice chair in the design and media arts department at UCLA, told me it's "a little bit odd" that people are bringing up the uncanny valley to describe how they feel about the Pokémon, because the concept applies to images that are "trying to approach a human" and Pokémon were never real.
In this case, he said, the term "uncanny valley" isn't being used as its definition intended. Rather, it's acting like a meme.
"You can identify the uncanny valley now as a meme. It's not something that has that much relationship to the scientific or academic literature, but they want to invoke why it feels creepy to them," he said.
According to Lunenfeld, there are different ways into the uncanny valley.
"Walt Disney approaches the uncanny valley from the classic route, which is with the Hall of Presidents and animatronics, whereas somebody like Hugh Hefner approaches the uncanny valley in the opposite direction, where he takes real people, i.e. playmates, and turns them into denizens of the uncanny valley," he said, reiterating an idea he'd outlined in the essay "The Factory Model of Desire."
"This is yet another route to the uncanny valley, where 8-bit characters turn into illustrations on cards who then turn into anime who were then turned into various [3-D generations] of gaming," he said.
He added, "The question is, 'Why when you get to this moment, literally 30 years after the first thought of [Pokémon]… why is it that this iteration in this particular narrative space breeds this online discussion?'"
Part of the discussion hinges on a character that perhaps better fits the traditional definition of the uncanny valley: Mr. Mime, a humanoid demon-clown-jester-looking Pokémon. Of all the characters in the trailer, Mr. Mime is probably the creepiest, and Goldberg explained why.
"This particular guy... he does look a little like an evil clown and has got this fleshiness to him," he said. "The little hairs on his head are particularly troubling people, and that is often a sign. This little bit of realism that goes to far."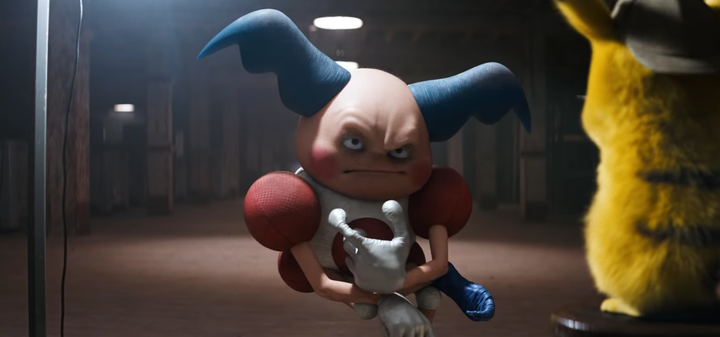 Elizabeth Jochum, an associate professor in art practice and robotics at Aalborg University in Denmark, agreed.
"I think that has to do with the creepy human factor where it's somewhere in between. We don't know where to put it. It's not quite animated, and it's not quite fantastical, and it's not quite human," she said. "The other thing is we're trying to understand what it says, but we don't really understand it."
We also went to someone who's studied what actually makes things creepy, Frank McAndrew, a professor of psychology at Knox College in Illinois. He admitted that Mr. Mime's face is working against him.
"The eyes in particular, with the eyebrows going up ― very expressive, very human-looking," he said. "But there's no nose and no lips and no teeth, so once again you've got this [conflict]... if you just were to focus on the eyes and the eyebrows you would think it actually is a human being, but then it's embedded in this other thing where you don't even know what it is. Think of it as a cognitive tension."
"You know we don't like uncertainty," he continued. "We want to be able to categorize these things, so we look at something like this and we struggle. Because what the hell is it is it supposed to be? A person? Is it supposed to be something else? We don't know."
Expectations.
Jochum provided us with a few other thoughts on the Pokémon heebie-jeebies.
"I found it uncanny for another reason, which had to do with the voice ― which completely did not mix at all with the Pikachu design or with previous kinds of iterations of Pikachu that we know from film or the Japanese anime. In that regard, I think the uncanny is triggered by this dissonance between this cute little animated character and the voice of this middle aged man."
Again, Pikachu is voiced by Ryan Reynolds, age 42.
Like the shock of hearing a deep voice come out of a yellow electrified rodent, some of our creeped-out-ness has to do with plain ol' expectations.
Here's Jigglypuff from the animation:
Here's Jigglypuff in the movie:
A lot of the experts we talked with didn't find the Pokémon all that particularly disturbing.
"I gotta say, in the universe of creepy things, I think Pokémon are pretty far down the list," McAndrew said.
But that's because he didn't have a history with them.
″Uncanny literary means 'unfamiliar' ― and is provoked when we are met with something that should be familiar to us but we experience as unfamiliar," Jochum said. "So, it's not about nostalgia, per se, but about the dissonance or discomfort we experience when we encounter something we think we know, but doesn't match up to our expectations."
"It's not the uncanny valley so much, or even the unheimlich (the Germans have the best words for being creeped out)," Lunenfeld said, "as the unhappiness a subset of the Pokémon 'community' feels with this 3D-motion-capture-CGI-furred-celebrity-actor-voiced Pikachu. This unhappiness is driven by a mixture of nostalgia and unfulfilled desire. If I were to come up with a word for it, I'd call it 'fannui' which combines 'fan' with 'ennui,' which is a kind of exhaustion."
"I think the issue here is also about the development and endless mutations and power of contemporary fan culture," he said, "where people are both desperate to have all of the juvenilia turn into new entertainment, but they want their juvenilia to be exactly the way they want it."
Dialectical opposition, aka people just want to be turds.
Still another reason for the backlash could be that people just like their backlash.
"Part of the reason is simply there's nothing in pop culture right now that doesn't bring about some sort of dialectical opposition move," Lunenfeld concluded. "Whatever comes up, somebody is going to say I love it, somebody is going to say I hate it."
The good news for future Pokémon trainers.
Whether you found the Pokémon uncanny or not, some people online confessed that after watching the trailer repeatedly they ended up enjoying the designs, because the effects from uncanniness wore off over time.
"We're no longer afraid of it," Jochum said, "because our brain tells us to be afraid of things we can't really distinguish. The uncanny really is a physical response, and it is connected to our fight or flight mechanism. Is it friendly? Can I eat it? Is it going to eat me? Our brain makes very quick decisions about these things, and if we can't immediately recognize if it's friend or foe, human or non-human, then we have trouble with it and we stay on our guard."
Sure, repeated viewings of the trailer might take the edge off dear Pikachu. We still choose you, buddy... eventually.
#4

David Byrne If you have a minute or 120, I did a long interview about process, creativity and honoring your self (and guitars) w @everyonelovesguitar Link is in bio. ENJOY. Let's talk about it. Great photo by @emmme_lee #Repost @everyonelovesguitar with @make_repost・・・Jonathan Lam ?from Sinkane LIVE: A top NYC electric, pedal and lap steel guitar player, Jonny has also played w David Byrne, Norah Jones, Billie Joe Armstrong, EmmyLou Harris, Busta Rhymes, Benny Blanco, Keb Mo, Sean Paul, Steve Earle, Pharaoh Sanders, The Blind Boys of Alabama, Jamie Lidell, Charles Lloyd, Taj Mahal, Jim Campilongo, Alexis Taylor (Hot Chip). Jonny talks about the interesting reason he started playing slide, a cool story about working w Busta Rhymes, some important personal discoveries that shaped Jonny's outlook on music & life, loads of interesting personal insights & thoughts. VERY sincere convo http://elg.fun/lam #jonnylam #sinkane #davidbyrne #norahjones #bustarhymes #billyjoearmstrong #emmylouharris #bennyblanco #kebmo #seanpaul #steveearle #pharoahsanders #blindboysofalabama #jamielidell #charleslloyd #tajmahal #jimcampiongo #alexistaylor #hotchip
The expectation was through the roof. Back in his Talking Heads days Byrne fronted the greatest concert movie ever filmed, Stop Making Sense. A meticulously thought out and joyously executed performance that caught a ferociously talented band right at their creative and commercial peak.
Three decades on it still hasn't been topped. Although it's fair to say Byrne gave his younger self a run for his money last night.
This was a show. Band members regularly appeared and disappeared from the stage, there was choreographed routines and synchronised dancing, there was David Byrne holding a brain in one hand and detailing what the different parts of it did with the other...
The famed lamp from Stop Making Sense even made a cameo, although it didn't appear as you'd expect during the classic This Must Be the Place (Naive Melody).
Which kind of sums up the night. The past was recognised, acknowledged and celebrated, but Byrne wasn't beholden to it. It's pretty safe to say that people were there for the Heads hits and Byrne delivered, but he also dipped into his own critically celebrated solo discography and cherry picked from his new album, American Utopia.
That can sometimes be a bummer. Not here.
After opening with new track Here - and putting the brain away - he lurched straight into Lazy, his 2002 deep house hit. It's urgent four-to-the-floor beat and Byrne's idiosyncratically delivered vocals - "I'm wicked and I'm laaaaaaaa-zy" - saw an enthused crowd jump straight out of their seats.
From there, it was right into I, Zimbra, Talking Head's afro-pop exploration, and then the call and response of their classic Slippery People.
Byrne didn't talk much, but when he did it was a delight. His odd, awkward character detailing his day trip walking up Rangitoto or explaining how the music you were hearing was being performed live by the onstage musicians without the aid of loops or samples or other trickery.
This deconstruction of the drum kit, matched with many percussionists, a guitarist, bassist, synth player and backing vocalists was often visually stunning, with Byrne freewheeling around the stage as his band formed circles that expanded and contracted and weaved in and out of each other as the beat went on.
A slapstick, exaggerated stagger at the front of the stage introduced a vital Once in a Lifetime, I Dance Like This saw Byrne busting out a solid robot while the jerky-funk freak out of Born Under Punches (The Heat Goes On) was just phenomenal.
By the time he got to Road to Nowhere and Burning Down the House I couldn't see anyone left sitting in their seats. The infectious enthusiasm of Byrne and his band, coupled with those monster hits, compelled you to dance along with them.
Byrne has always approached his music with the mindset of an artist and his performance last night had many, many moments that visually impressed, whether it was the use of light to cast enormous shadows behind him, the dizzying onstage movements of his 12 piece band or even staging certain set-pieces purely for the video screens that flanked the stage.
No, Byrne wasn't fooling around. But it was a party, it was a disco. It was one of the best shows of the year.