#1

Chloë Grace Moretz I'm going to post some of chlo's red carpet makeup looks. Since I'm going to try to be more active.#chloëmoretz #chloëgracemoretz #chloegracemortezedit #chloemoretzfan #chloemoretzedit #chloegracemoretz #chloegmoretz #cgm #chloegrace #moretz
Chloe Moretz pictured kissing Playboy model Kate Harrison following split from Brooklyn Beckham
The pair are reportedly living together, too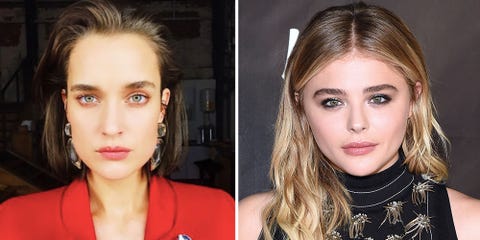 There's a new romance on the scene for Chloe Grace Moretz, who was pictured kissing Playboy model Kate Harrison in the street in Malibu.
The actress, who broke up with Brooklyn Beckham eight months ago, was papped going to Nobu in Los Angeles for dinner, before heading to Soho House. Though the pair haven't publicly announced they're dating, TMZ say they're living together, and fans have noticed them commenting on each other's Instagram photos.
Chloe has never confirmed her LGBTQ+ identity (nor should she have to), having only publicly dated men. However, she did hit back at criticism of a 'straight' actress playing a queer character in her latest film, The Miseducation of Cameron Post.
"I think what's important is don't assume anyone's sexuality. I mean, across the board, don't assume," she told The Independent. "I think it comes down to the line that's in the movie - 'I don't see myself as a homosexual, I don't see myself as anything'.
"These are all societal pressures that we're being labelled as. We're all human, trying to be with the people that we fall in love with, and be the best person that we can be. But don't assume people's sexualities. And don't project your own issues onto them. Why don't we let people be who they wanna be?"
You keep doing you, Chloe.
#2

Lena Dunham @aw 😍🔥Like and note her from 1 to 10! Follow 👉🏻@beauty_land01 👈🏻
Freedom From Entitlement: How I Learned to Embrace My Disdain for Lena Dunham
In my lifetime of watching white women have excuses made for them, none has reached the levels of peak eye-rolling the way Lena Dunham has. The same generation that has had no problem throwing the baby out with the bathwater when it came to Britney Spears, Lindsey Lohan, and Amanda Bynes, who have had a mockery made of their public lives due to mental health issues (and problematic behavior).
Yet, there has always been a camp willing to excuse and prop up Lena Dunham because she represents the same mainstream soft-wave New Yorker feminism that is popular among white women just learning to "rebel." Her failures as an ally are just met with sighs of "Oh, she's doing it again," rather than a real callout by her white feminist sisters.
This problem isn't just Lena Dunham herself; it's the way society portrays her ignorance as a sorry side effect of privilege. When women like Cardi B live their truth, as problematic as it may be, the fact that she did not have access to education and language in her life doesn't stop people from calling her "ghetto."
Despite her putting herself in position to be lionized, Dunham wants to cry foul when she is held to any sort of standard. That's because Dunham is the kind of person white feminists want on their side, to the point that they will light a candle to invoke wisdom for her every few months, but will mock other, less privileged women, who try to find ways to make feminism work for them, though the movement has rarely ever taken the time to see them as people, let alone as equal women worth educating or protecting.
Back in 2017, when Girls was ending, in an interview with The Hollywood Reporter, the cast was going through the show's history, and the criticism it faced the issue of race, naturally, came up first, followed by nepotism:
DUNHAM The race stuff blew up first. [The series was criticized for having an all-white cast.] The second night we aired was the first time I met my boyfriend [musician Jack Antonoff]; we were on a blind date. I had been metabolizing the criticism all week, and I made a really, really dumb joke that I'm perfectly fine to repeat now 'cause I was f—in' 25. I said, "No one would be calling me a racist if they knew how badly I wanted to f— Drake." He said, "Don't say that in public; that's not going to help you." I just didn't get it. I was like, "I have the three most annoying white friends, and I'm making a TV show about it."

KONNER I knew [the lack of diversity] would be an issue, but I didn't think the criticism would be at the level it was …

DUNHAM … Or that the conversation about race would turn into a conversation about racism.

KONNER But at the time, we were so focused on the struggle of women and the fact that we'd gotten four women on TV.

DUNHAM We had four real women who weren't famous. I remember Jemima going, "I just had a baby, and I have two different-sized boobs, and I've got a huge butt right now because I'm f—in' breast feeding and I'm the hot girl."

BLOYS We knew we were doing something that was provocative, but I was still surprised [by the criticism]. There was the diversity stuff, the charges of nepotism [all four lead actresses have famous parents in the arts and media world, including Dunham, whose mom is a renowned photographer], which never made sense. … I think some of it had to do with the fact that Lena represented a new generation breaking through, and that can be unsettling for people, especially because she was a woman and she was someone who was comfortable not being a rail-thin actress.
Yes, the reason black and brown women were criticizing the show's whiteness was because … we are not comfortable with her not being a rail-thin actress? We who have embraced Queen Latifah as a romantic lead without fat-girl angst and showed Monique, Amber Riley, and others as dynamic, charismatic leads?
Calling out the show for nepotism or its lack of diversity is valid when Dunham's career is built on her parents' wealth and access, which … you know what? Do you, girl. If my parents could fund my writing career, I wouldn't cry over it.
Do you see Willow and Jaden Smith crying over the access attained by being related to two of the most noticeable people on Earth? No, they have used that privilege to carve out their own identity, separate from their parents, and have taken heat for that very reason. They know their father is Will Smith, and that will always be a factor in their lives.
Dunham's 2010 directorial debut, Tiny Furniture, with a budget of  $65,000, is what allowed her to get mentors and become the star and writer of Girls in 2012. Two years and a career that was made up of cameos turned into an HBO series that went on for six seasons. Compare that to Issa Rae, whose Insecure took years to get off the ground and came after Rae created the web series Awkward Black Girl in 2011, through a through Kickstarterthat gained $56,269 from 1,960 donations.
This isn't to say Dunham doesn't deserve her success. According to people who enjoy her show, Girls was something that spoke to them,and even I can appreciate her bringing attention HPV, having a character get an abortion on television, and being okay with showing her body. That doesn't mean she's above criticism.
Within some (mostly white) feminist circles, there exists an inclination to give Lena Dunham the freedom to fail like a white man: to have mediocre talent, be subpar woke, and promote a brand of empowerment that focused on her own self-esteem. The problem is that isn't even a standard society normally applies to other white women.
People have no problem crushing women who mess up, even if they never gave themselves a platform the way Dunham has. The elitism that empowers Dunham to be whom she is isn't just on her, it's the way people view her. For some reason, people are okay with the fact that, despite living in New York City and being part of the elite, her Girls character had no non-white friends, as if there are no people of color in that bracket she's living in.
When that's brought up, people will scream, "But Friends! But Sex and the City!" as if we didn't have those complaints then (and for the record, Girls is less diverse than Sex and the City).
Last week, The Cut published an amazing profile of Dunham by Allison P. Davis, which was so excellent in the way it allowed Dunham to expose her own bullshit through quotes and pure facts:
"Dunham lists the reasons for the hate — with her explanations for why she is the way she is — as if she were reciting a poem imprinted on her brain in grade school: She grew up privileged in New York, which led to what people perceive as a sense of entitlement. Her parents are Soho art-scene royalty, and she was raised around 'very specific, liberal provocateurs,' who taught her she could say things that 'might now warrant a trigger warning,' which informs her sense of humor. (For instance: the joke she made on her podcast, Women of the Hour, about never having had an abortion but wishing she had.) Race is a chronic blind spot for her because she didn't grow up with a lot of diversity in her New York City private school, she explains.

"An incomplete list of things Dunham has been asked to apologize for: the nondiverse casting on Girls; casting Donald Glover as a black Republican boyfriend the season after she got in trouble for having an all-white cast; saying in an interview, 'No one would be calling me a racist if they knew how badly I wanted to fuck Drake'; declaring herself 'thin for, like, Detroit'; writing a New Yorker essay called 'Dog or Jewish Boyfriend? A Quiz'; constantly being naked; tweeting a photo of herself wearing a scarf around her head like a hijab; accusing a Spanish magazine of airbrushing her photos (it did not); comparing Bill Cosby to the Holocaust; giving Horvath a brown baby at the end of Girls (and casting a baby that was Puerto Rican and Haitian, not half-Pakistani, as the script dictated); comparing the reading of negative Jezebel coverage to getting beaten in the face by an abusive husband; accusing NFL player Odell Beckham Jr. of not wanting to sleep with her; saying she disliked India because of the visible poverty; apologizing but never learning."
That last part is key: apologizing but never learning. Yesterday, Dunham wrote a guest letter for The Hollywood Reporter, apologizing for her disgusting dismissal of actress Aurora Perrineau, a black woman who accused Murray Miller, a close friend of Dunham, of sexual assault (something that caused Judd Apatow to say, "I don't think this is what you meant to do. That's not how, in this day and age especially—this isn't how we talk about women").
Dunham speaks about how she internalized the "dominant male agenda" and it led her to make her statements against Aurora, calling the woman a liar:
"My job now is to excavate that part of myself and to create a new cavern inside me where a candle stays lit, always safely lit, and illuminates the wall behind it where these words are written: I see you, Aurora. I hear you, Aurora. I believe you, Aurora.

"This space is yours to do with as you please, when you please. I will keep holding this space—it will always be here."
She says in the guest letter that she is sorry, but to me, it just continues to feel like her typical combination of self-flagellation mixed with trying to redeem her space. It's not Aurora's responsibility to turn her experience into a way for Lena Dunham to know not to lie on behalf of someone who is accused of sexual assault. (Dunham claimed that she had inside information when the claims were initially raised against Miller, but now admits that was a lie).
It is fair to say that Dunham has to earn that confidence and faith that she wants the general public to have in her, because she squandered it, and she, of all people, should know better. White feminism allowed Dunham to use that as shield despite not fully earning that status, and that's because Dunham, with her whiteness, privilege, and "sense of humor," embodies the same middle-class aesthetic feminists have loved for generations. White feminism does not give less privileged women the same space to err the way it gladly gives it to Dunham and asks all other non-white feminists to cosign.
I can empathize with Dunham in many ways—as a weirdo, as a writer, and as someone deeply wants to be adored and understood. I can also say that it's gross and unproductive to mock her about her weight, mental illness, and health issues. I have made mistakes, I have been dragged, and I have had to learn, but I also do that with the full knowledge that feminism will not be there to dust me off and restore me to some unseen pedestal.
I don't have her freedom to fail. Most black women don't, no matter how high they have reached, and as long as Dunham continues her feminist version of arrested development, we have the right to say that she is not entitled to our forgiveness, because she's fully earned our distrust.
Lena Dunham lied to discredit an alleged rape victim and then wrote her worst apology yet
Heidi StevensContact ReporterBalancing Act
Today we will talk about Lena Dunham's apology (a word I'm applying extremely loosely), and then I hope we will return to the proper amount of talking about Lena Dunham, which is never.
A year ago, Dunham lied in order to discredit a woman who had just gone to the police to report a
On Wednesday, she penned a rambling, pretentious opus about women in Hollywood ("Heroines have emerged. We are cracking open windows and beating down doors. The air is circulating and the light is pouring in,") and sneaked a whiny, halfhearted mea culpa into the ninth paragraph.
We're so used to Dunham apologizing at this point (Lena Dunham Apologizes is an actual Twitter handle) that we went ahead and lumped this garbage onto her giant apology pile.
But before we toss them aside, her words are worth examining, if only as a reminder that when we screw up, which all of us do, we should apologize directly, authentically and humbly.
Dunham did nothing of the sort.
First, let's back up: In November 2017, actress Aurora Perrineau filed a police reportaccusing "Girls" writer and executive producer Murray Miller of raping her in 2012, when she was 17 years old. ("Girls" was Dunham's HBO show.) Miller said Perrineau was making the whole thing up and accused her of trying to extract money from him.
Dunham sent a statement to The Hollywood Reporter, co-written with "Girls" showrunner Jenni Konner, saying, "While our first instinct is to listen to every woman's story, our insider knowledge of Murray's situation makes us confident that sadly this accusation is one of the 3 percent of assault cases that are misreported every year. ... It is a true shame to add to that number, as outside of Hollywood women still struggle to be believed. We stand by Murray and this is all we'll be saying about this issue."
Until Wednesday, when she admitted the "insider knowledge" thing was a bunch of baloney.
"And so I made a terrible mistake," Dunham wrote in Wednesday's piece, after talking about Harvey Weinstein, wage equality, systemic bias, "layers of crinoline and repressed rage," an op-ed she wrote last year and disguising her own pain with medication and chronic overwork.
"When someone I knew, someone I had loved as a brother, was accused, I did something inexcusable: I publicly spoke up in his defense," she continued. "There are few acts I could ever regret more in this life. I didn't have the 'insider information' I claimed but rather blind faith in a story that kept slipping and changing and revealed itself to mean nothing at all."
(Should have been her first paragraph.)
"I wanted to feel my workplace and my world were safe, untouched by the outside world," she continued.
(Who doesn't?)
"… and I claimed that safety at cost to someone else, someone very special."
(Claimed that safety? Try "lied." "Lied" is clearer.)
(Also: She didn't address the worst line of all in her original defense of Miller, "It is a true shame to add to that number." A true shame? The shame is Dunham's and Dunham's alone, for turning Perrineau into a statistic, for scolding her, for changing the subject to false accusations, when the conversation belonged on the accusation at hand.)
Next, Dunham addressed Perrineau directly. (But, like, in a magazine, so we can all follow along.)
"To Aurora: You have been on my mind and in my heart every day this year. I love you. I will always love you. I will always work to right that wrong. In that way, you have made me a better woman and a better feminist."
(Is she turning another woman's assault into her own teaching moment?)
"You shouldn't have been given that job in addition to your other burdens ..."
(THEN DON'T GIVE IT TO HER.)
"... but here we are, and here I am asking: How do we move forward? Not just you and I but all of us, living in the gray space between admission and vindication."
(I don't know what that means.)
"It's painful to realize that, while I thought I was self-aware, I had actually internalized the dominant male agenda that asks us to defend it no matter what, protect it no matter what, baby it no matter what," Dunham wrote. "Something in me still feels compelled to do that job: to please, to tidy up, to shopkeep. My job now is to excavate that part of myself and to create a new cavern inside me where a candle stays lit, always safely lit, and illuminates the wall behind it where these words are written: I see you, Aurora. I hear you, Aurora. I believe you, Aurora."
At this point, Dunham's apology is little more than performance art. The latest episode of her favorite show: Project Lena.
The more we watch, the deeper she digs into her own not-that-fascinating psyche, tuning out the lived experiences and thoughts and pain of other people, except as they relate to hers.
Enough. I can't watch anymore. I feel complicit in her marginalization of literally every person whose orbit she enters. Farewell, Lena Dunham. Please get better soon.
hstevens@chicagotribune.com
#3

Natalie Portman Cinema.inc – Cinema | Movies on Instagram: "Closer (2004) 🎬✨"
Natalie Portman apologizes to Jessica Simpson after backlash for bikini, virginity comments
Natalie Portman is backpedaling from her comments about Jessica Simpson's ability to wear a bikini and still be a virgin.
The brief war of words began when Portman, 37, told USA Today, "I remember being a teenager, and there was Jessica Simpson on the cover of a magazine saying 'I'm a virgin' while wearing a bikini, and I was confused. Like, I don't know what this is trying to tell me as a woman, as a girl."
Simpson, 38, fired back on Twitter, writing, "I was disappointed this morning when I read that I 'confused' you by wearing a bikini in a published photo taken of me when I was still a virgin in 1999," she wrote on Instagram. "As public figures, we both know our image is not totally in our control at all times, and that the industry we work in often tries to define us and box us in. However, I was taught to be myself and honor the different ways all women express themselves, which is why I believed then – and I believe now – that being sexy in a bikini and being proud of my body are not synonymous with having sex."
Social media reactions to the feud were mixed on the issue, with some sticking up for Simpson and others defending Portman's comments:
On Wednesday night, Portman explained that her intention wasn't to shame the singer.
"I would never intend to shame anybody and that was absolutely not my intention," Portman told Entertainment Tonight. "I was really talking about mixed media messages out there for young women and completely apologize for any hurt it may have caused because that was definitely not my intention."
She added, "What I said was I was confused by mixed messages when I was a young girl growing up, and there are a lot of messages for how women should be, and women should be allowed to do whatever they want."
Portman also acknowledged she could have made her point without mentioning Simpson by name.
#4

Kyler Murray Krys Highlights on Instagram: ""Tuscan Leather" 💯 Tag @Kyler1Murray"
KYLER MURRAY NAMED AP PLAYER OF THE YEAR
By Eric Hollier
Associate Director of Communications
DECEMBER 06, 2018
NORMAN — Oklahoma quarterback Kyler Murray has been named The Associated Press college football Player of the Year, the AP announced Thursday.
Murray is the second straight OU quarterback and fifth Sooner overall to win the award since it was established in 1998. He received 39 first-place votes and a total of 145 points, topping finalists Tua Tagovailoa of Alabama (117 points) and Dwayne Haskins of Ohio State (55 points) in voting among 56 AP college football poll voters who submitted player of the year ballots.
Murray joins former Sooners Josh Heupel (2000), Jason White (2003), Sam Bradford (2008) and Baker Mayfield (2017) as previous winners from Oklahoma. No other school has had more than two players win AP Player of the Year.
"It's humbling and an honor to be named AP Player of the Year — to be mentioned in the same realm as a lot of great players, a lot of hall of famers," said Murray, who is currently in Atlanta for the Home Depot College Football Awards show which airs Thursday at 6 p.m. CT on ESPN. "It's a special deal for me and hopefully I can continue to make my family and teammates proud. It's been a long journey with a lot of waiting, but I think it's all been worth it. All the hard work with my teammates has really paid off."
"It's been a long journey with a lot of waiting, but I think it's all been worth it."
- Kyler Murray
It was also announced Thursday that Murray is a finalist for the Earl Campbell Tyler Rose Award. He is already a finalist for the Heisman Trophy, Walter Camp Player of the Year Award, Maxwell Award, Davey O'Brien Award and Manning Award. The winner of the Earl Campbell Tyler Rose Award will be announced at an award banquet in Tyler, Texas on Jan. 9, 2019.
Murray leads the nation in total yards (school-record 4,945), points responsible for (306), passing efficiency rating (205.7; FBS record is 198.9), yards per pass attempt (11.9; FBS record is 11.1) and yards per completion (16.8; tied). He also ranks second in completion percentage (.709; first among Power Five players).
The Allen, Texas, product has completed 241 of 340 passes this year for 4,053 yards and 40 touchdowns against seven interceptions. He has also rushed for 892 yards and another 11 scores. He needs 108 rushing yards to become just the second player in FBS history to throw for at least 4,000 and run for at least 1,000 in a season (Clemson's DeShaun Watson did it in 2015 with 4,109 passing and 1,105 rushing in 15 games).
Murray has thrown at least two touchdown passes in 12 of 13 games this season, and has thrown at least three TD passes in 10 contests. He had his school- and Big 12-record streak of eight games with at least three TD passes snapped in a win against Oklahoma State on Nov. 10.