December 27, 2018 9:19am ESTDecember 27, 2018 7:32am ESTDenver Nuggets, Houston Rockets, Minnesota Timberwolves, San Antonio Spurs, English, Chris Paul, James Harden, Brooklyn Nets, Chicago Bulls, Derrick Rose, Charlotte Hornets, NBAThe Timberwolves guard got "MVP" chants from Bulls fans as he returned to the city where he played eight seasons.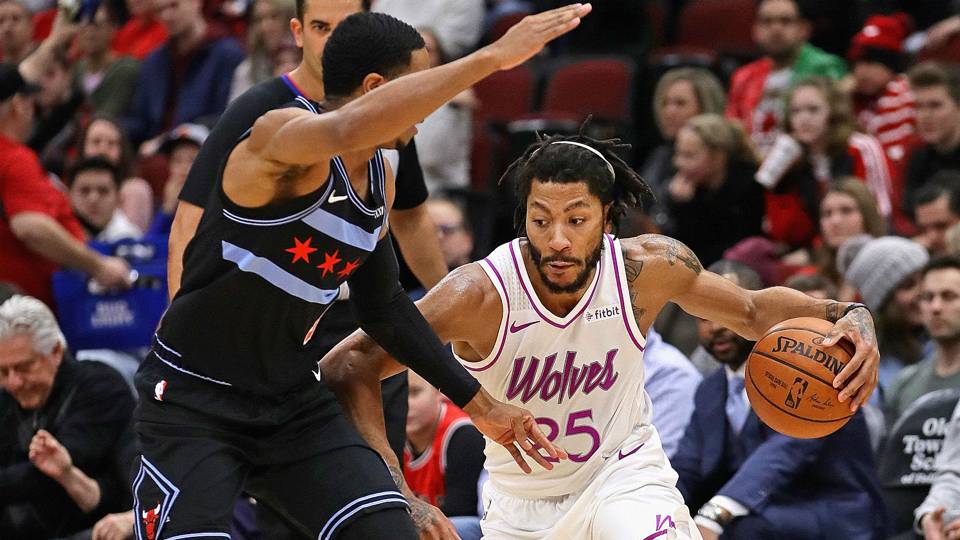 After the NBA's marquee teams and biggest stars gave fans a Christmas Day feast Tuesday, the rest of the league returned to action Wednesday. And some players were clearly more pumped than others.
Timberwolves guard Derrick Rose made a triumphant return to Chicago, where he starred for eight seasons, scoring 24 and handing out eight assists in a 119-94 win over the Bulls. The crowd greeted Rose, the 2011 NBA MVP, with chants of "MVP" during his performance.
In one of the night's biggest games, the Spurs defeated the visiting Nuggets 111-103. The loss knocked Denver (21-11) out of first place in the Western Conference. They're now a half game behind the Warriors, who were idle.
DeMar DeRozan scored 30 points and LaMarcus Aldridge added 27 as the Spurs (19-16) won for the fifth time in six games.
Studs of the Night
High-scoring sixth man Spencer Dinwiddie scored a career-high 37 to lead the Nets to a double-overtime win over the Hornets.
Karl-Anthony Towns had 20 points and 20 rebounds in the Timberwolves' win over the Bulls.
Devin Booker poured in 35 points to help the Suns escape with a 122-120 victory over the Magic.
Rookie star Luka Doncic scored 21 points and added 10 assists and nine rebounds in the Mavericks' 122-119 win over the Pelicans.
Kent Bazemore scored 32 points in the Hawks' loss to the Pacers.
Dud of the Night
Nuggets guard Jamal Murray made only four of his 19 shots and had a minus-20 rating in Denver's loss to San Antonio.
Highlights
Hassan Whiteside spins his way to a big dunk
About Last Night: Rose's triumphant return
Timberwolves guard Derrick Rose thrills Bulls fans with 24 points and eight assists in his second game in Chicago against his former team
Dan McCarney, NBA.com
Dec 27, 2018 2:02 AM ET
It was 2010-11 all over again at the United Center on Wednesday, where Derrick Rose dominated to the tune of 24 points and eight assists in 38 minutes.
That his excellence came at the expense of the home team mattered little to the Chicago faithful, who treated the native son and former Bulls star to MVP chants late in Minnesota's 119-94 victory.
Rose, seemingly washed up entering his 11th season after years of injuries and atrophy, couldn't help but grin as the affection washed over him. While not as emotional as his improbable 50-point eruption for the Timberwolves on Oct. 31, after which he burst into tears, it might have been even more meaningful.
"I had to crack a smile a little bit," Rose said. "It made me reminisce about some of the old days and how grateful I was to be in that position at a young age. Just trying to take it all in. The year I'm having is very special."
Thursday marked the second time Rose has ever played for the opposition in Chicago, the city he was born and raised in before going on to spend eight seasons with the team he grew up rooting for.
That stretch ran the gamut from his peak as league MVP in 2010-11 to a series of major knee injuries that negated much of his jaw-dropping athleticism and eventually resulted in his trade to New York in 2016.
Rose bottomed out last season with mediocre stints between the Knicks and Timberwolves. His career hanging in the balance, he's responded with a comeback season for the ages, averaging 18.5 points and 4.6 assists entering Wednesday's homecoming.
Rose acknowledged before the game that, in years past, he might have sought vengeance against the team that sent him packing. Now, however, he's happy just to have his game back. As reported by the Minneapolis Star-Tribune:
"I'm not looking for revenge no more. When I was injured, when I was trying to get back, I was playing revenge basketball. I think that mindset left right when I got more comfortable with knowing who I am as a person and what I wanted out of my career and life."
And, of course, major adjustments to his game. Once one of the most explosive players for his size in NBA history, the 6-foot-3 Rose has dunked just once in 31 games this season. (Compare that to 43 during his MVP campaign.)
But that doesn't mean he still can't find his way onto a highlight reel. Indeed, his ridiculous hanging runner from behind the backboard stacks up well with just about anything from his prime:
Rose went on to make more 10 baskets after that, with assists on eight others. And for one night, at least, he and the fans he used to thrill on such a regular basis were able to enjoy the way it used to be, regardless of what jersey he was wearing.
"It was great, man," said Rose, sporting a "Chicago Native" beanie. "I didn't expect it to be like this. It was overwhelming at some points. You can tell the support is still here. It meant a lot."
The game's been over for several hours at publication, and we're still trying to figure it out. What we do know for sure is that the Nets outlasted the Hornets 
134-132 in double overtime
, battling through 22 ties and 18 lead changes in the process.
Kemba Walker scored 35 points, including a red-hot stretch late in regulation that forced the Nets to go Norman Dale with an old-school box-and-one. But he and Malik Monk also committed crucial gaffes that allowed the Nets to force overtime and, 10 hard-fought minutes later, finally win.
Joe Harris forced the latter miscue, stripping Monk and driving for the winning layup with 3.4 seconds left in OT No. 2. A clock malfunction allowed the Hornets to get a second shot at a potential tying or winning shot, but Monk's desperation 3 was off to give the Nets their ninth win in the past 10 games without leading scorer Caris LeVert.
Harris finished with a season-high 27 points, while Spencer Dinwiddie, with 37 points and 11 assists, became only the fifth player since the NBA began tracking starts to register at least 35 and 10 off the bench in those categories. Dinwiddie also drilled seven 3-pointers, and scored 20 points in the fourth quarter and overtimes.
Despite those outbursts, Nets coach Kenny Atkinson was loath to single any one player out after such a thrilling win.
''Just a total team win,'' he said. ''Sure Spencer, Spencer hit some amazing shots, but there were a lot of big plays from the whole group and that's kind of how we're built. That's how we're going to keep going forward.''
Unexpected company
Durant. Westbrook. Danny Green?
Believe it or not, the veteran role player isn't just a quality wing defender. He's also one of the most dependable late-game shooters in the NBA. Indeed, he joined some fairly notable company on Wednesday, drilling a wide-open 3 with 22.7 seconds left to put the Raptors ahead for good as they outlasted the Heat 106-104.
Green's 3 capped a comeback from 17 down midway through the fourth quarter as the Raptors improved their league-best record to 26-10.
Lone Star roller coaster
The Spurs have lost seven games by double digits this season. They've also won 12 games by double digits, and would have added a 13th if not for a late but ultimately meaningless letdown in their 111-103 victory over the Nuggets.
While their overall record still looks decidedly un-Spursish at 19-16, good for eighth in the ever-brutal Western Conference, eight wins in 10 outings has them sitting just four games behind the Warriors, who vaulted into first past the Nuggets.
''It just shows you that we can go out there and compete with the best and why we should look at ourselves as one of the best teams in this league as well,'' said DeMar DeRozan, who scored 30 points. ''Because when we go up against the best, we perform and come out like we did tonight. It's definitely a confidence builder for all of us to understand we can do this.''
Blazing Sun
Even with five wins in seven outings, the Suns are still mired in last place in the West by six games. That's through no fault of star shooting guard Devin Booker, who continued his strong play with 35 points, eight rebounds and seven assists as the Suns edged the Magic 122-120 in overtime.
It marked his sixth straight game with at least 25 points, during which he's averaging 30.7 points, 5.3 rebounds and 8.0 assists.
Highlights for naught
While they weren't enough to avert the Wizards' collapse against the Pistons, these were pretty good as far as unexpected poster slams go:
Pop was asked about Nikola Jokic "revolutionizing" the center position in the NBA. Pop: "When I think of revolutions, I think of people like Che Guevara and Vladimir Ilyich Lenin. I don't think of Jokic, so I think you are a bit hyperbolic there. But he is one heck of a player."
Hits: 51