AMD Stock Could Continue to Climb — It's Not Too Late to Chase It
Markets are still nervous but AMD stock continues to deliver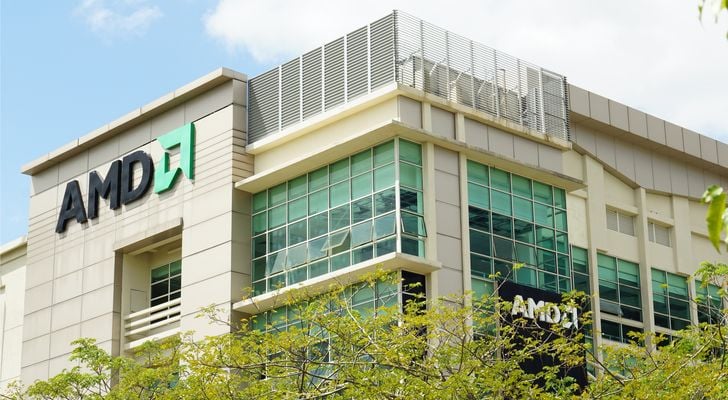 The semiconductor trade has been a tricky one in 2019. For most of last year, the sector had been under fire, but at least this year we have many big winners. Advanced Micro Devices(NASDAQ:AMD) is one. They reported last night and it's getting a lot of love this morning. It also helps that Apple (NASDAQ:AAPL) and Boeing (NYSE:BA) stocks are also doing well this morning.
Coming into the earnings I was nervous about the short term reaction that AMD could suffer given what we saw happen to Nvidia (NASDAQ:NVDA) on Monday. On the dip, I wrote about avoiding NVDA since it was two strikes in a row for management and that more pain could be coming.
Today I am suggesting that the AMD rip is the start of more gains to come. Luckily, even though I was nervous about the reaction to earnings, I took a small bullish bet favorable toward the AMD earnings outcome. I sold a credit put spreads to finance buying a debit call calendar. This will pay today.
If you don't know options, don't worry. This has nothing to do with today's setup. It merely says that I come into today with profits in my pocket so I can afford to be brave and chase. Before you label me a perma-bull for AMD, I assure you that I am not. I have also suggesting shorting the stock when it ran to $30 per share. Those trades also paid well.
My thesis today is simple — I am betting that equity markets in general will rally this year, and AMD stock will rally with them. The fundamentals in it are not cheap. This is a stock that seems bloated from the traditional sense, but the story is long term.
We now need technology for every aspect of our lives and under the leadership of Lisa Su, AMD is positioned to grow with the need for tech for decades to come. In other words, for now I focus on growth and valuation is not a concern.
Other Positives for AMD Stock
I have other, shorter-term reasons to believe that AMD is headed higher. Technically, the stock looks frisky even after this spike. This is a ultra-momentum stock so it runs fast in either direction. This also makes it difficult to trade.
Last year the markets struggled and suffered the first loss since the financial debacle — but not AMD. It was up 50% while the rest struggled. This year it shares the spotlight with other like Xilinx (NASDAQ:XLNX). They are up 15% and 30% year-to-date. Compare that to the VanEck Vectors Semiconductor ETF (NYSEARCA:SMH) which is only up about 7%.
This is a fancy way of saying that there is another potential breakout coming. If Advanced Micro Devices stock can rise above $22, it could trigger a buy signal that would invite more buyers into chasing it.
The size of the move could be another $4 from the neckline. So $26 would then be within range, but with potential resistance at $23.50, where it  failed in a big way back in early December.
While the technical reason I cite here sounds short-term and technical, it fits with the overall longer-term fundamental reason to own the shares, so why not start the bet now? If I am long, I stay long and perhaps add a little to my position. If I am starting a new AMD position then I may want to start now and leave some room to add.
Why the caution? We still have to contend with several deadlines looming on the tariff and political fronts. Politicians often have a way of messing up good things. For those who know how to trade options, I'd buy half the shares and commit to buying the rest by selling puts below. This reduces the out-of-pocket expense and gets me long AMD stock now but with room for error. If the stock falls then I'd own the full shares at a discounted entry point.
Nicolas Chahine is the managing director of SellSpreads.com. As of this writing, he did not hold a position in any of the aforementioned securities. You can follow him as @racernic on Twitter and Stocktwits.
Despite a rough first-quarter outlook, the chip company still foresees revenue growth this year.
What happened
Shares of chip company Advanced Micro Devices (NASDAQ:AMD) soared on Wednesday following a mixed fourth-quarter report. AMD produced less revenue than expected, and its earnings were in line with analyst estimates. The company's guidance for the first quarter called for a steep revenue decline, but its solid full-year guidance gave investors reason to cheer. The stock was up about 15.2% at 11:30 a.m. EST.
So what
AMD reported fourth-quarter revenue of $1.42 billion, up 6% year over year but about $20 million below the average analyst estimate. Computing and graphics revenue rose 8.6% year over year on the strength of the company's Ryzen PC processors. The enterprise, embedded, and semi-custom segment posted flat revenue, with growth in EPYC server CPU sales offsetting lower semi-custom revenue.
Non-GAAP earnings per share came in at $0.08, up from $0.01 in the prior-year period and in line with analyst expectations. Non-GAAP gross margin was 41%, up 7 percentage points from the prior-year period, with the improvement driven by Ryzen and EPYC.
AMD's first-quarter guidance was downright awful thanks to the bursting of the cryptocurrency bubble. The company expects revenue of $1.25 billion, plus or minus $50 million, which represents a year-over-year decline of 24%. AMD is still working through excess graphics card inventory, and expected growth from Ryzen and EPYC won't be nearly enough to offset the graphics weakness.
However, AMD still expects to grow revenue in 2019. The company sees high-single-digit revenue growth this year, driven by Ryzen, EPYC, and the company's data center GPU products. That optimistic full-year outlook is likely what's driving the stock higher.
AMD will launch a new generation of Ryzen CPUs, built on a 7nm manufacturing process, sometime in mid-2019. The second generation of its EPYC server processors is also coming soon, and AMD is aiming to win a double-digit share of the lucrative data center market.
Growth from the CPU business will need to offset a slumping GPU business. AMD is going to start off 2019 with a steep revenue decline, but it's betting that a strong second half will more than offset its GPU troubles. With the stock rocketing higher, investors are buying into that story.
10 stocks we like better than Advanced Micro Devices
When investing geniuses David and Tom Gardner have a stock tip, it can pay to listen. After all, the newsletter they have run for over a decade, Motley Fool Stock Advisor, has quadrupled the market.*
David and Tom just revealed what they believe are the ten best stocks for investors to buy right now… and Advanced Micro Devices wasn't one of them! That's right — they think these 10 stocks are even better buys.
*Stock Advisor returns as of January 1, 2019
Timothy Green has no position in any of the stocks mentioned. The Motley Fool has no position in any of the stocks mentioned. The Motley Fool has a disclosure policy.
Hits: 1