Ariel Winter Claps Back Against a Fan Who Claims She Had Plastic Surgery
Listen! Up!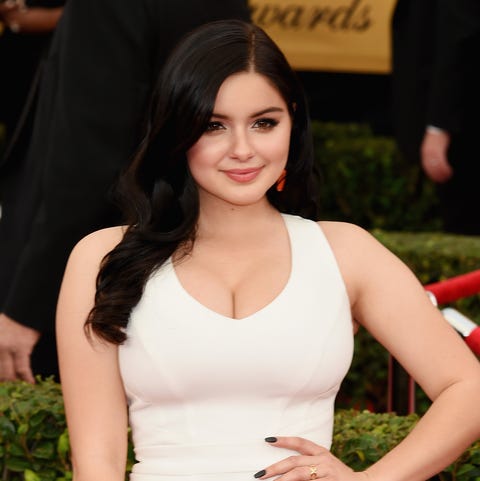 The other day, Ariel Winter was minding her own damn business online, and decided to post this cute pic to Instagram:
"Nothing wrong with being honest and telling her we liked her better before 'the change,'" the "fan" wrote. "She was so beautiful before she started chopping up her body and if me saying so helps one gurl out there to feel beautiful who's thinking of PS its worth it."
Naturally, Ariel wasn't about to let that comment go, and she politely fired back "I appreciate you wanting to help girls love themselves the way they are, but you are also kind of cutting someone (me) down which isn't what I think you were trying to do? I also didn't get plastic surgery. That is also not supportive of women if you're just assuming about the way they look."
Say it with me: YUP.
Ariel Winter Really Isn't Here For Your Critique Of Her Body, But It Poses An Interesting Point About Diet Culture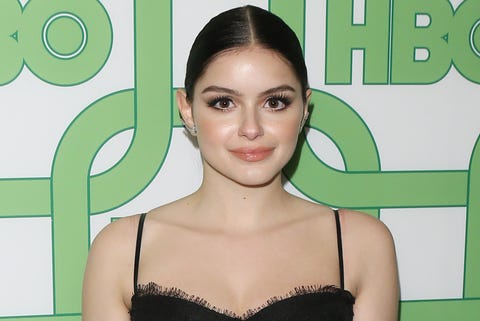 Can we just take a good long minute to remember that a woman's body is really her own to do with what she wills?
As Modern Family's Ariel Winter deals with yet another barrage of trolls, shaming her for whatever shape her body happens to be in currently, we're reminded that diet culture is a very disagreeable beast. And mostly, a lose-lose situation, designed to pit women against each other.
The 21-year-old, L.A. based actress took to Instagram this weekend, to lambast everyone giving her a hard time for her slimmed down shape.
Posting to her IG account, Winter shared a picture to celebrate her friend's 21st birthday. While many of the comments were positive, certain Instagram users went in on the actress, criticising her for losing weight.
Some people expressed fairly innocuous surprise: 'Whoa you slimmed down hella. Where are thr curves?!'
While others had more overtly negative things to say:
'Too skinny now..where's the curves go????its a sad day.'
'I don't get why Ariel got all skinny, she looked way better in like season 4 of modern family'
'I'm sorry you felt the need to so dramatically change your appearance. I liked you just as you were'

'She lost everything ?? not hot anymore'
'Omg you lost yur butt ?'
Offended by the remarks, Winter felt the need to reply, commenting:
I appreciate you wanting to help girls love themselves the way they are, but you are also kinda cutting someone (me) down, which isn't what I think you were trying to do? I also didn't get plastic surgery. That is also not being supportive of women if you're just assuming something about the way they look.
The fact that Winter felt obliged to address her weight loss is certainly disheartening (really, in a post about somebody's birthday, she wasn't trying to make her body the focus), but the whole exchange serves to highlight one of the key problems with diet culture, as it evolves into 2019.
And that's the fact that we still have a culture around dieting at all.
Where once the predominant beauty standard was to be thin – with every magazine and website peddling get-skinny-quick fixes – now as we continue through the movement of plus size models and body positivity, it seems that the paradigm (the model of perfection) hasn't disappeared, but morphed and multiplied.
Body positivity has had the rewarding effect of inviting more women to the table, with a range of different shapes and sizes finally being celebrated, but it hasn't done very much to discourage the public's entitlement to pass remark on a woman's physicality. Or to discount the idea that looks are the predominant female currency.
Instead, one might argue that we've encouraged even more ferocious scrutiny than ever before.
As we discuss ideas of 'big is beautiful,' feelings of anti-size zero, orthorexia and all manner of other body-oriented zeitgeist, we force people to take up positions, digging in their heels from their particular vantage point.
The effect of this on those in the public eye is that, often, celebrities and influencers feel the need to actually embody a particular stance, becoming a champion of a body type, or a particular way of discussing dieting. For example, being 'plus size' becomes your USP and indivisible from your personality.
And, frequently, it follows that the people taking up these positions then attract a following of other people who support their views.
Sadly, the pitfalls of this morphed diet culture are just as severe as they ever were. Armies from different movements take up arms against each other, fighting over which is the new body ideal.
And as an archetype for one of these newly celebrated forms of beauty, you're open to criticism if you deviate from your position.
In other words, once you've been labelled an ambassador of 'plus size', 'curves' or 'strong is the new skinny'-esque movements, there's no freedom to just be human.
This is, of course, the problem for Ariel Winter. As an adolescent, she spoke up about her body, and inadvertently became a poster girl for young women with curves:
'Dear sorry body-shamers, I looked HOT in that dress. And if you hate it, don't buy it. But please get a hobby. XOXO Ariel #EmbraceYourBody' – Ariel Winter on Instagram.
So when her curves were perceived to have disappeared, she was targeted for letting the side down.
Realistically, Ariel Winter is just a 21-year-old human girl, whose body will fluctuate as much as her political or cultural positions. She doesn't need to be the poster girl for anything, if she doesn't want to be – it's not the foundation on which she's built her career – and so it is unfair for us to put her on that pedestal.
It's unclear where we should go from here. Broadening the horizon for beautiful bodies and inviting more and more women to conversations about things like physical wellbeing and self-confidence ought to be a very good thing, but somehow we have to find a way to reduce the vitriol.
Body positivity should spell out broader acceptance, rather than giving us new positions from which to throw our spears. And, arguably, the ideal diet culture is no diet culture at all, because a woman's value system will be something other than the thickness of her thighs.
Hits: 1