Lindsay Lohan's 'Mean Girls' Reunion Photos With Jonathan Bennett Celebrated His Gig On Her Reality Series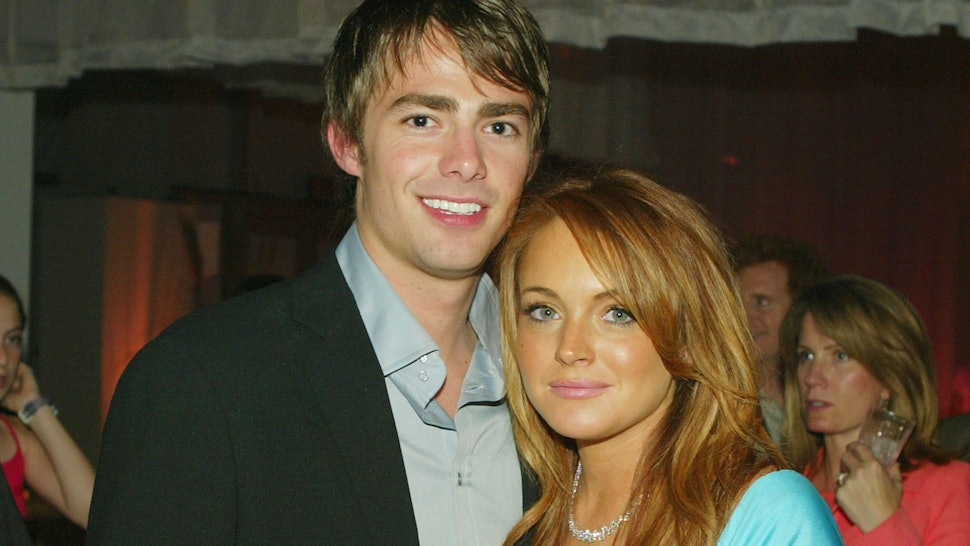 Kevin Winter/Getty Images Entertainment/Getty Images
If
fetch
is ever going to happen, now actually might be the perfect time.
Lindsay Lohan's Mean Girls reunion photos with Jonathan Bennett
will instantly transport you back to 2004 when Lohan's Cady Heron was telling Bennett's Aaron Samuels his hair looked sexy pushed back, and also may or may not have been writing "Mrs. Aaron Samuels" all over her notebook. (Or was that just a rumor Regina George started?
Irregardless
…)
When Lohan posted the Instagram photo in the early hours of Saturday, Jan. 5, she kept her caption simple, only tagging the official account of her
upcoming MTV reality show, Lindsay Lohan's Beach Club
, along with a
Mean Girls
hashtag. Bennett, on the other hand, fully embraced the nostalgia.
"Aaron Samuels + Cady Heron forever ?Reunited with my girl @lindsaylohan," he captioned the same selfie that Lohan shared on her page. In a subsequent professional version of the shot that he also posted on Instagram, Bennett wrote: "A reunion? Grool."
The reason for the reunion — not that Mean Girls fans ever need one — is that Bennett will be hosting Lindsay Lohan's Beach Club: After the Show, a 30-minute program airing immediately after her series' January 8th premiere at 8 p.m. ET/PT, MTV revealed in a press release. For the aftershow, Lohan will join Bennett in MTV's Times Square studio in NYC, where fans "get up close and personal to ask questions about her journey abroad and growing business empire," per the network.
The evening's main event, however, will, of course, be Lohan's
Vanderpump Rules
-esque series, which follows the star filling the LVP role as the managerial voice of reason as she opens her titular Mykonos resort. (It can't be all work and no play, however, judging by all the
viral #DoTheLiLo dancing memes
.) Being the cool-headed one in charge felt like a departure for Lohan, as she explained in a
new interview with Paper
.
"To kind of have to calm other people down when they're stressed out, which was me in the past — I think back like, 'Oh my God, did I act like that? Ten years ago?'" the actor — who also owns a nightclub in Athens and another Lohan Beach House location in Rhodes, Greece — told the magazine. "I want to make sure these kids are responsible for themselves, but it's a liability and a legal issue, too. We just trademarked my last name."
She added that the party girl persona she earned in the early 2000s is long behind her though: "There's always going to be things that have happened and things people have said in the past that you can't control. But the past is in the past."
For Bennett, however, blasts from the past are much more welcomed. The co-author of The Burn Cookbook recently reminisced with Entertainment Tonight about reprising his Mean Girls role for Ariana Grande's "Thank U, Next" music video:
"It brought me back. There was that moment when you're sitting in the chair, they do your hair and makeup like Aaron Samuels, and they spin you around for the first time and you look in the mirror. That was the first time I saw him in 15 years, and it was like seeing an old friend. It takes you back to that time when life was just simpler."
While it remains to be seen if the former co-stars will also make a trip to use that Walker Brothers Pancake House gift certificate, their Cady and Aaron reunion may have been the best thing to happen since the Toaster Strudel.
Photo courtesy of MTV
Lindsay Lohan Most Memorable 2018 Moments Continues With MTV
Does anyone remember Donald Trump's comment that Lindsay Lohan was deeply troubled and therefore great in bed. Most Lohan fans probably recall that memorable moment. But since Lohan has arguably turned her troubled life around, it may not be so easy to identify Linday's most memorable moments of 2018. Nevertheless, this report will take a stab at it, and perhaps by doing so, make those 2018 moments more memorable.
Recently, Lohan has, once again, been finding herself frequently in newspaper headlines of the gossip sort. While the 32-year-old movie, television and music star no longer resides in the United States, it appears she is making a gossip column comeback. In fact, Lohan has some interesting headline grabbing stories that were featured in 2018 and appears to continue into 2019 with the MTV reality TV Show.
I Like Men
Case in point. In January of 2018, The Wendy Williams Show featured an interview where Williams questioned Lohan about her sexuality. Throughout the interview, Williams continued to press the one time disney child star, asking her if she was sexually fluid. Lohan immediately paused and finally blurted out an emphatic, "No, I like men." But that wasn't enough, the the famous TV talk show diva was locked and loaded as she quickly got straight to the point and asked Lindsay if she still liked girls. Lohan smiled and retorted, "I was living in L.A. I'm not saying it's a band thing." It was a memorable statement and gossip news had their newest Lohan quote as it was not only made the rounds on Twitter, but was frequently Headlined in online and print publications worldwide.
Perhaps the most memorable quote from the Williams interview was "I like men." Truly the first memorable moment for Lohan in the early days of 2018.
New Faith or Publicity Stunt?
February ushered in another memorable moment the American actress. There was much speculation about the religious faith of the Mean Girls star as she was photographed wearing a hijab (headscarf) and holding the Holy Quran. Some in the media speculated that she had converted to Islam while others believed it was simply a publicity stunt. The latter was probably a more reliable interpretation as she used the attention to introduce her new fashion and cosmetic line. What made the news more memorable was that the hoopla occurred doing London's fashion week. At the time, Lohan was ask frequently asked about the Quran and headscarf she had been sporting. She was consistent in her responses to the question, stating that she had tried praying "the Muslim way… it was was hard but it was good. It felt good." Though most may not remember her comments on the subject of faith, no one can forget the image of her exhibiting traditional muslim headscarf and therefore a most memorable moment.
Spokesperson for Lawyers
In March of 2018 Lohan became the newest spokesperson for Lawyer.com. She had been off of probation for only two years when the offer came her way. It was sort of ironic especially since Lawyer.com is known for protecting people from getting caught up in DUI prosecutions. What makes her new gig as the company's new spokesperson so memorable is the fact that she was featured in their commercials which aired nationwide.
Second Nightclub
As the year progressed, Lindsay found herselt knocking on the door of another memorable moment. Lohan was opening up a second nightclub. She already had her name attached to a club in Athens, but now she was opening Lohan Beach House on the Greek island of Mykonos.
Lindsay Who?
In the middle of June, Lohan's name was once again, on the cover of gossip magazines and on the front pages of news websites. The gossip began when Paris Hilton rebuked Lohan in a TMZ interview. Hilton was asked if she was planning on inviting Lohan to her marriage to American actor Chris Zylka. Mind you that the marriage never took place, but it was headlines in June, 2018. Most memorable statement ran in TMZ which had for its headline: "Lindsay Who?"
Lohan's 2018 Most Memorable
Arguably the most memorable moment for Lohan may be when MTV announced that the actress would star in her own reality TV show, Lohan Breach Club. At first it was titled made use of the word house instead of club but has since been changed to are on Tuesday, January 8, 2019. Nevertheless is was memorable as early as July and August of 2018. The new show is set in and around Lohan's second club adventure on the Greek island's Kalo Livadi beach.
From this writer's stand point, Linday's MTV reality show is not only a continuation of her most memorable moments from 2018 but may potentially become a most memorable moment of 2019. Whether it is successful or flops, it is Lindsay that people are interested in seeing win and fail and therefore, nevertheless, memorable.
By DiMarkco Chandler
Sources: 
Huffington Post: Lindsay Lohan Says Past Relationships With Women Were Part Of 'Living In L.A.'
Page 6: Lindsay Lohan lends name to a second Greek club
W Magazine: Paris Hilton Will Not Be Inviting Lindsay Lohan to Her Wedding
TMZ: LINDSAY WHO? She's NOT on My Guest List
CNN: Lindsay Lohan lands MTV reality show
Hits: 0