ARLINGTON 
The man with the answer to Clemson's long-term football success, and Alabama's future, is a kid from Argyle, Texas who grew up with Texas A&M stuff all over his bedroom, and whose grandfather coached the Crimson Tide.
Tight end J.C. Chalk caught two passes this season for Clemson, and yet he has valuable, inside information for the two programs who will play for the BcS Plus 2 national title game on Monday night in Santa Clara, Calif.
Chalk's grandfather is Gene Stallings, who played for Bear Bryant at Texas A&M and eventually won a national title at Bama in 1992. Stallings coached current Clemson coach Dabo Swinney. Stallings remains fiercely loyal to both Bama and A&M.
Clemson's greatest fear these days is not the team losing to Bama on Monday but losing its coach to Bama eventually. Bama coach Nick Saban will eventually retire, and Clemson's fear is that Stallings will call Swinney and ask that he come to Tuscaloosa to keep the Tide rolling.
"I don't think that is going to happen," Chalk said after Clemson defeated Notre Dame in the national semifinal game, the Cotton Bowl, on Dec. 30. "I can't speak for Coach Swinney by any (means), but I think he loves where he's at right now. He loves Clemson. He's built a great tradition here at Clemson. He has everything the way he wants it here. For right now he's very satisfied to be at Clemson."
A similar circumstance happened in men's college basketball when North Carolina coach Dean Smith retired after the 1997 season. Then-Kansas coach Roy Williams, who was close to Smith and UNC ties, was the man the Tar Heels wanted. Williams declined.
After another coaching change at Chapel Hill occurred in '03, Smith called Williams and pressed him again to take over the UNC program. Williams said yes.
Saban is 67, has more money than he can count, and can retire today knowing his legacy is equal or greater than that of Bear Bryant. A compelling case can be made that Nick Saban is the great college football coach who ever lived.
Why would Swinney want to inherit that standard?
He played there, and Bama is the top job in college football. And, money. A phone call from a revered mentor, like Stallings, can influence a decision.
Nonetheless, Chalk, who is a redshirt sophomore and the only Clemson player from Texas, doesn't see Swinney leaving for Bama.
STALLINGS PROGRESSING
The best news Chalk had after Clemson's most recent win is that Stallings is doing well. Or improving.
Stallings went through a stretch where he suffered a stroke, followed by a heart attack, and then another stroke.
"For a little bit he was not looking too good but in the past month or so he's really come around," Chalk said. "He's doing a lot better. He's made a turn for the good."
Stallings visited Clemson's practice before the Cotton Bowl. Chalk said his grandfather is walking around, and his speech is fine.
CHALK CHOSE CLEMSON BECAUSE OF SWINNEY
Coming out of Argyle in 2015, Chalk had offers from Texas A&M, Clemson, Mississippi and "just about every Big 12 and SEC school."
Everything about Chalk said he was going to Texas A&M. Not only is he a legacy, but his bedroom is covered in all things Aggie.
"I was a huge fan of A&M until my freshman year of high school and then I started getting recruited a little bit and my fandom started to change," Chalk said. "It was more, realistically, 'Do I want to go there?' But I was a big A&M fan. In fact, if you go to my room right now, it's covered in Texas A&M stuff.
"I had a big 'ATM' painted on the wall."
Despite his ties, and child-like passion, for all things Aggies and College Station, he picked Clemson for one reason: Dabo.
"The culture here is totally different than some other schools. Coach Swinney was a big factor and the relationship I built with him," Chalk said. "I wanted to go somewhere I could encourage my relationship with the Lord. Here they really emphasize recruiting not just good players but good people."
About the only thing that has not flourished for Chalk since he finished a dominant career at Argyle is that success has not translated at the same rate at Clemson.
He redshirted as a freshman, and he has four career receptions in two seasons of playing. Take into account most college tight ends don't catch many passes, so don't expect big numbers.
"I had lofty goals coming in but I did not realize the difference between high school and college football," he said. "When I first got here that was a little frustrating, but I figured out if I worked hard enough I'm going to be able to play. I can have success. It's gone the way I planned but it's taken a little longer than I thought it would."
And he doesn't see his head coach leaving.
The secret to Clemson's flawless team culture? Rugby
Fast forward a bit, and the leadership book "Legacy" arrives on Swinney's desk. The book chronicles the success of the All Blacks, New Zealand's national rugby team. The All Blacks are widely considered the best in the world. Swinney read "Legacy" and quickly made a realization: "Holy crap that guy was in my office."
That guy is Steve Hansen, the All Blacks' world champion head coach, featured prominently in "Legacy." Swinney soon devoured the book.
"I felt like an idiot," Swinney said. "He was like the 
Tom Landry
 of rugby."
The Landry of rugby has continued to have an indirect impact on Clemson's program. After Swinneyand the Tigers reached the playoffs for the first time in 2015 and then won a national title in 2016,Swinney wanted to find a way to continually motivate his players. He hoped to identify principles that allowed others to find annual success. He found that in "Legacy."
Despite knowing nothing about the All Blacks or rugby before discovering the book, ideas like "sweeping the shed" resonated with Swinney. Sweeping the shed means no individual is bigger than the team and its history. The players in the present are responsible for the details of maintaining the program's legacy. That means after every year and every championship, the All Blacks begin anew.
"They've always done the little things probably better than everybody, and they've focused on their culture and take a lot of pride in that," Swinney said.
And so through Swinney, the All Blacks' culture has seeped into the pores of the Clemson football program.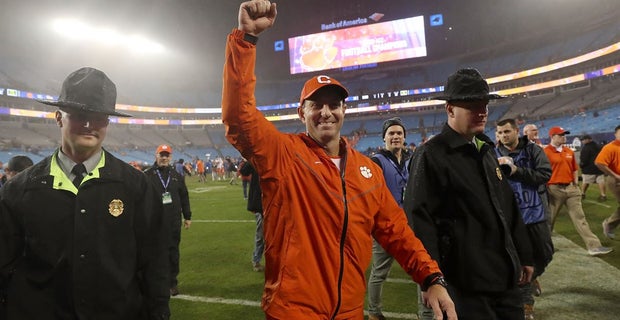 When redshirt junior defensive end Clelin Ferrell heard Swinney bring up the All Blacks for the first time, he thought, "What is this?" Then he listened, and the incoming classes of freshman Tigers havesubsequently done so over and over again.
Swinney doesn't bring the All Blacks up every day – usually it's motivational video fodder every month or two – but Clemson players say the All Blacks' principles align with what the Tigers do daily. When Swinney tries to drive a point home about a championship culture, he often cites the rugby team from another hemisphere.
"Coach Swinney does a great job finding ways to really reach our guys with something new and fresh," Clemson co-offensive coordinator Jeff Scott said. "That's something he goes to every few months with one less that's applicable to where we are in the season."
All-American linebacker Tre Lamar knows nothing about rugby except he likes the sport's tackling form. But he can appreciate a winner when he sees one.
"They're dogs," Lamar said. "They go out there to not beat the other team but beat the standard they set for themselves."
That's the point Swinney is trying to drive home with his obscure rugby connection.
Swinney makes the book available in his office to anyone on the team who'd like to read it, and Ferrell said he can see many parallels between the All Blacks and what Swinney's produced. People often bring up the unique nature of Clemson's family-oriented, seemingly happy-go-lucky program. To Ferrell those principles aren't new.
"People say our program is based entirely off the All Blacks organization," Ferrell said. "I wouldn't say it's as unique as, 'Oh, Dabo just thought about it.' The All Blacks are a player-led team. I feel like it takes that."
Clemson's set to play for a third national championship in four seasons Monday.
"It was great for me to read," Swinney said.The Tigers aren't quite at an All Blacks level of success yet. But it's a comparisonSwinney will continue to make as Clemson deals with the trappings of success.
Hits: 0