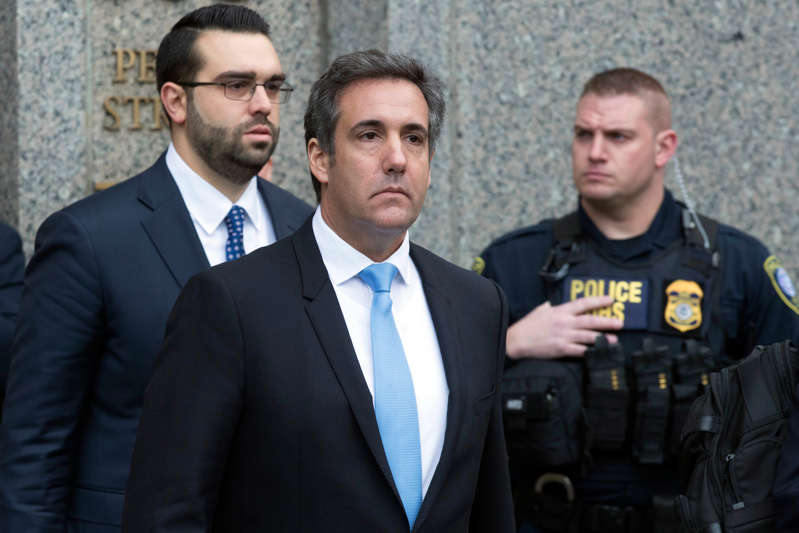 © AP Photo/Mary Altaffer/File
In a Monday, April 16, 2018 file photo, Michael Cohen, President Donald Trump's personal attorney, center, leaves federal court, in New York.
In early 2015, a man who runs a small technology company showed up at Trump Tower to collect $50,000 for having helped Michael Cohen, then Donald Trump's personal lawyer, try to rig online polls in his boss's favor before the presidential campaign.
In his Trump Organization office, Mr. Cohen surprised the man, John Gauger, by giving him a blue Walmart bag containing between $12,000 and $13,000 in cash and, randomly, a boxing glove that Mr. Cohen said had been worn by a Brazilian mixed-martial arts fighter, Mr. Gauger said.
Mr. Cohen disputed that he handed over a bag of cash. "All monies paid to Mr. Gauger were by check," he said, offering no further comment on his ties to the consultant.
Mr. Gauger owns RedFinch Solutions LLC and is chief information officer at Liberty University in Virginia, where Jerry Falwell Jr., an evangelical leader and fervent Trump supporter, is president.
Mr. Gauger said he never got the rest of what he claimed he was owed. But Mr. Cohen in early 2017 still asked for — and received — a $50,000 reimbursement from Mr. Trump and his company for the work by RedFinch, according to a government document and a person familiar with the matter. The reimbursement — made on the sole basis of a handwritten note from Mr. Cohen and paid largely out of Mr. Trump's personal account — demonstrates the level of trust the lawyer once had within the Trump Organization, whose officials arranged the repayment.
… To Read more, please click here
Hits: 4