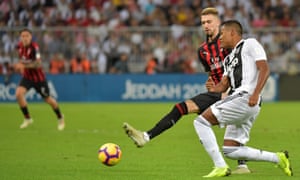 45+3 mins: That's half time. There have been no great chances, but a bit of fouling and shooting, and very occasionally saving.
45+2 mins: Castillejo brings down Matuidi from behind, and is booked.
45+1 mins: There will be about two minutes of stoppage time.
45 mins: Save! Calhanoglu goes down the left then tries to work the ball inside to Paqueta. It rebounds back to him, though, and he hammers a low shot goalwards, which Szczesny holds!
44 mins: Pjanic is booked, for sliding in on Calhanoglu about two yards from the referee. Again, a free kick would probably have sufficed there, but maybe the referee thought doing that right in front of him was a bit cheeky.
… To Read more, please click here
Hits: 1