Betsy DeVos Defends Slashing Funds for the Special Olympics
BY HILLARY LEUNG  3:48 AM EDT
Education Secretary Betsy DeVos defended plans to slash funding for the Special Olympics during a testimony before a House subcommittee, saying the department "had to make some heavy decisions."
Devos appeared in front of lawmakers on Tuesday to review the Education Department's proposed budget for the coming fiscal year.
According to the budget made public on March 11, the department plans to eliminate 29 programs for an annual savings of $6.7 billion. Among the programs, Special Olympics will see $17.6 million slashed from its funding.
When asked by Wisconsin Rep. Mark Pocan if she knew how many children would be affected by the cut, DeVos said she did not.
"It's 272,000 kids," Pocan said.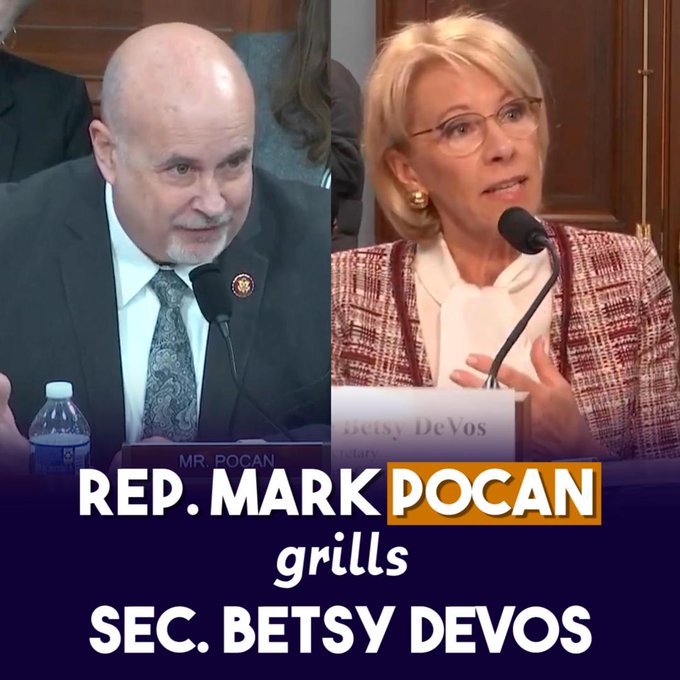 In @BetsyDeVosED's budget, there are major cuts to programs like the Special Olympics. Sec. DeVos didn't know the number of kids who would be hurt by that cut, so I made sure she now knows that 272,000 kids are seeing their support taken away.30.9K2:08 PM – Mar 26, 201915.4K people are talking about thisTwitter Ads info and privacy
In 2017, DeVos met with Special Olympics athletes, tweeting after that it was "great to spend time with them."
Last year, the Education Secretary donated part of her salary to the Special Olympics, according to Politico.
The proposed budget includes $500 million for opening and expanding public charter schools and their facilities, in accordance with the department's outlined priority of increasing access to school choice. DeVos, a charter school advocate, said in her prepared statement that the budget has been set "so that families can find the best educational setting for their children."
DeVos' comments during the testimony were met with condemnation online.
These are years we can't get back for our children. The damage that Betsy DeVos' actions have on our children will take years to address and for some it is irreparable harm.Greg Hogben✔@MyDaughtersArmyIt's not just cutting funding for the Special Olympics. Please take the time to watch this. It's infuriating, but people need to see what Betsy DeVos is doing. Well done to @repmarkpocan for publicly exposing these cuts and the effects they will have.1,5135:02 PM – Mar 26, 2019Twitter Ads info and privacy819 people are talking about this

Student loan debt now exceeds $1 trillion in this country.
The American dream is falling further out of reach for the millennial generation.
But Betsy Devos wants to dramatically cut student loan forgiveness programs and slash Pell grant funding.
Why is she still around?10K11:31 PM – Mar 21, 2019Twitter Ads info and privacy4,303 people are talking about this
DeVos was sworn in as Education Secretary in 2017 and has since rolled back a number of Obama-era policies in favor of charter and magnet schools.
Noah Centineo is back with another rom-com to steal your hearts
After the success of To All the Boys I've Loved Before and Sierra Burgess Is a Loser, heartthrob Noah Centineo will star in another Netflix movie The Perfect Date.
The trailer came out on Tuesday, and gives us the same 'chick-flick' vibes as the previous two movies. Centineo will be sharing the screen with Riverdalestar Camila Mendes and former Disney Channel star Laura Marano.
The story is of a high-school student Brooks Rattigan who tries to save up for his Yale tuition and creates an app where girls can pay him to go on a date. Mendes and Marano will play the roles of his customers turned love interests.
[/read]
The movie releases on April 12.
[wdi_feed id="6″]
Monica • Shannon Brown • Rocko
Singer Monica Files for Divorce from Ex-NBA Player Shannon Brown
EXCLUSIVE
[read more]
Monica's officially calling it quits with her ex-NBA baller husband, Shannon Brown … she's filed for divorce.
The singer filed the paperwork earlier this month in Atlanta. Monica and Shannon have a 5-year-old daughter named Laiyah together, and she has 2 sons from a previous relationship with rapper Rocko.
So far there are no details on whether she's seeking child or spousal support … but we've learned Monica was unsuccessful in sealing the divorce docs.
The couple wed in 2010, but there was speculation they were separated in October 2018 … until she shared a loving photo of the 2 together on Instagram. She hasn't been wearing her ring in Instagram photos for a few weeks though.
Monica famously claimed that Shannon — best known for his time with the Lakers — performed better on the court after he had sex with her … especially when he played for the Phoenix Suns.
Looks like those days are long gone.
[/read]
[wdi_feed id="10″]
Uri Geller • Brexit • Theresa May • United Kingdom • Spoon bending
Uri Geller says he will stop Brexit "telepathically" by bombarding May's mind
© AFP archives
"As much as I admire you, I will stop you telepathically from doing this – and believe me I am capable of executing it."
Best known for bending spoons 'with his mind', and supposedly stopping Big Ben, Uri Geller has now set his sights on stopping Brexit by essentially beaming into Theresa May's mind telepathically.
In an open letter addressed to May, Geller claims to have already stopped Corbyn from ever entering 10 Downing Street as prime minister, and says that he has already "influenced many high ranking officials around the world."
He also claims that his powers "have been validated by the CIA, MI5 and Mossad".
Shockingly, this appears to be at least partially true – an old document available on the CIA websitestates: "As a result of Geller's success in this experimental period, we consider that that he has demonstrated his paranormal perceptual ability in a convincing and unambiguous manner."
That said, the document refers to experiments wherein Geller attempted to perceive what another person was drawing – a far cry from controlling their mind from across a continent.
[/read]
Tiger Woods • WGC Match Play • World Golf Championships
Leave the WGC-Match Play alone, you bullies
3 hours ago
I regret to inform you that it's happening again. The tournament that nobody will leave alone is once again under attack, and this time, the call is coming from inside the house. If you love the WGC-Dell Technologies Match Play, this detail from Doug Ferguson's latest AP column should give you the shivers:
[Paul] Casey said one sponsor proposal sent to—and rejected by—the Players Advisory Council was match play until the weekend, two players from each group advancing and 32 players competing in stroke play over the final two days. That would be about the size of the Tour Championship field.
One problem.
"What would you call it?" Casey said, chuckling at the idea that stroke play would decide the Match Play champion.
As Geoff Shackelford pointed out at Golfweek, the implication is clear: The sponsor ain't happy. And the reasons are probably the same ones we've heard over and over throughout the existence of this tournament: Because the field dwindles over the week, ending with just four players on Sunday, it gets less—not more—exciting in prime TV viewing hours. Also, matches don't always go 18 holes, or even 17, or even 15, which is sad for the poor wealthy souls getting enjoying a few cocktails in hospitality tents above those greens—they have essentially paid big money to while away their weekend hours staring at an empty, if well-manicured, if idyllic, if downright arcadian … pasture.
And the usual godawful solutions have been bandied about: Start with match play, end with stroke play! Start with stroke play, end with match play! Only play nine-hole matches! Play 18-hole matches, but only on the back nine! Play the championship first, and then do the opening rounds on the weekend! Keep the format exactly the same, but instead of having head-to-head matches, put players out in groups of two and have them keep their own score relative to a standard we call "par," and then use that standard to compare each player to all the other players, not just one opponent, over the course of 72 holes played over four days, while winnowing the field by half after 36 holes!
You get the idea. For a certain type, discontent reigns.
Here's my counter-offer regarding what's about to transpire this week at Austin Country Club: Leave it alone. All you grubby, handsy tinkerers, heed this. Leave it alone. Go away. Stop meddling. Stop griping. Mow your lawns, read a book, take the weekend off. Leave our precious gem alone.
The WGC-Match Play already made two smart changes, the first of which was to end the very bad idea of having a 36-hole championship, the second of which was to institute group play over the first three days that kept the best players in the world from being eliminated while most fans were still sipping tepid coffee in their cubicles on Wednesday afternoon.
No more changes are necessary. None.
Yes, OK, let's concede the point: This is never going to be perfect. There will always be some dead air on Sundays. Once in a while you'll get a classic Jason Day-Victor Dubuisson final (has it really been five years?!?), but other times you'll get Bubba Watson trouncing Kevin Kisner in 12 holes while the poor TV crew pretends to be excited about Alex Noren winning a consolation match. The best days will always be in the beginning, with rare exceptions, and yes, the format lends itself to anticlimax. Excitement will peak sometime around Friday mid-afternoon, and slowly ebb over the weekend, like gas leaking out of a hot-air balloon as it slowly crashes into the side of a mountain.
My message to anyone with any power is this:
Who cares? It's fine.
And maybe it's not fine for you, because of money. But it's fine for everyone else, because buried in all these complaints about precisely how excited we feel on Sunday at 4 p.m., or how the vice president of the Texas Iniquity Oil Trust feels as he stares in a melancholy stupor at the empty 18th green while wearing the remains of a taco on his gingham shirt and sipping a watered-down margarita … well, aside from all that, the Match Play is blatantly, unapologetically awesome.
My God, you ingrates, will you just open your eyes!? It's Wednesday, and on a day when normally there is no golf, you will turn on your television to watch Jason Day play Jim Furyk (what??). On Thursday, you get to see Bryson DeChambeau play Kiradech Aphibarnrat (what???)! ON FRIDAY, YOU WILL WATCH PATRICK REED PLAY SERGIO GARCIA!!
This is bizarre, this is wonderful, this is singular!
Appreciate it, you thankless wretches! And if you can't, be silent! Take your boorish opinions to the grave!
There are like … 48 weeks of stroke play every year. Shelve your complaints and just try to enjoy this one precious week of (mostly) pure match play. Don't tweak it. Don't moan about sponsors. Don't say, "Match play is good, but, hear me out for a second … what if it was more like stroke play?"
[/read]
[wdi_feed id="12″]
Marcia Cross • Anal cancer • Desperate Housewives
Almost a year and a half after getting diagnosed with anal cancer, Marcia Cross is starting to feel like herself again, but a different version — "a new me," she tells PEOPLE exclusively in this week's issue.
[read more]
The former Desperate Housewives star, 57, says that the experience changed her — after three months of "gnarly" treatment and several more of finding her new normal, the self-described "introverted extrovert" decided to share her story publicly. Cross started with an Instagram post where she asked for advice on managing hair loss from cancer, and eventually opened up about the disease.
"I want to help put a dent in the stigma around anal cancer," she says. "I've read a lot of cancer-survivor stories, and many people, women especially, were too embarrassed to say what kind of cancer they had. There is a lot of shame about it. I want that to stop."
Cross learned that she had anal cancer in Nov. 2017 during her annual checkup with her gynecologist. Her doctor administered a digital rectal exam and immediately sent Cross to a colon and rectal surgeon. Two biopsies later, doctors confirmed that she had anal cancer, and started her on six weeks of radiation and chemotherapy.
For more of Cross' exclusive interview, pick up a copy of PEOPLE, on newsstands Friday
"Surgery wasn't recommended, which was a relief. You want to preserve sphincter muscles if possible," she says. "Having woken up to its importance, I am now a big fan of the anus!"
Cross read that the treatment would be "difficult," so she made a point to find the humor in everything.
"In the beginning, I just sort of lay down for the parting of the cheeks and I would float away," she says, laughing. "Because what are you going to do?"
Now nearly a year in remission and with a low chance of a recurrence, according to her doctor, Cross is grateful to have everything working properly.
"Every time I go to the bathroom, I think, 'That's awesome! Thank you, body,' " she says.
RELATED VIDEO: Olivia Newton-John Opens Up About Recent Health Scare, Death Rumors and How She's Really Doing with Cancer
And she wants people to be aware of the symptoms — which can include anal bleeding, pain, itching and lumps — so they they can discuss any concerns with their doctor.
"If something doesn't feel right, listen to your body and talk to your doctor," says Cross. "Don't let it go. It's a very curable cancer if caught early, which mine was."
"If you or a loved one are diagnosed, the Anal Cancer Foundation is an amazing resource," she adds. "And one I turned to often."
 [/read]
[wdi_feed id="13″]
Ellen DeGeneres • Portia de Rossi • Beverly Hills • Mansion
Ellen DeGeneres, Portia de Rossi Seek Sale of Iconic Villa in Beverly Hills
Buckle up. Here they go again. Property mad chat show host Ellen DeGeneres and equestrian-minded "Arrested Development" star Portia de Rossi have flipped an iconic, showbiz-pedigreed residence in the expensively fashionable Trousdale Estates area of Beverly Hills back on the market at almost $18 million after buying it less than seven months ago for exactly $15 million. Designed in his signature Hollywood Regency style by acclaimed architect John Elgin Woolf and built in 1962, the soignée villa was extensively refreshed several years ago by the renown architecture firm Marmol Radziner and then again, per current marketing materials, "completely restored and updated in 2019" with "all new systems/finishes." Once home to Anne Archer's actress mother Marjorie Lord and her third husband, banker Henry Volk, the single-level sprawler contains five bedrooms and 4.5 bathrooms in about 5,100 playfully theatrical and seriously sophisticated square feet.
Re-engineered for a high-tech modern lifestyle, the gated and extensively secured residence retains a trove of Woolf's quintessential Hollywood Regency flourishes. Dramatically tall Pullman entry doors open to a glamorous circular foyer and a delicately carved antique stone fireplace lends ancient régime patina the combination living and dining room where lightly striated beige marble floor tiles extend out and beyond a full wall of glass to a deep, slightly bowed loggia with an extravagant quartet of fluted columns and spine-straightening view across a wide swathe of the L.A. basin. Each of the en suite guest bedrooms open to a private courtyard or terrace while the decadently done up marble master bathroom provides access to a serene, high-walled courtyard garden.
It's not too much of a surprise DeGeneres and de Rossi would seek to sell the house after less than a year of ownership since they're famous in property gossip circles for buying, gussying up and selling often architecturally distinguished multi-million dollar properties with the same frequency most people change their shower curtains. And, indeed, they've owned literally dozens of extraordinary and extraordinarily expensive residences, primarily in and around both Los Angeles and Santa Barbara.
Last fall (2018) they cashed in on the clandestine, $35 million off-market sale of a modestly proportioned mid-century residence hidden down a long driveway along one of the more exclusive streets in Beverly Hills — they bought the property three years earlier for just under $16 million — and in the fall of 2017 they shelled out almost $7.2 million for an historic equestrian ranch that borders Oprah Winfrey's Promised Land estate in Montecito that they quickly and lucratively unloaded in the spring of 2018 for $11 million to Tinder founder Sean Rad.
Also in the fall of 2017, nearly a year before they sold a 13-plus acre compound in Montecito for $34 million to Netflix honcho Ted Sarandos, they plunked down $18.6 million for a contemporary beachfront estate in Carpinteria and earlier this year they shelled out a purse clutching $27 million for a 8.25-acre Balinese inspired compound in Montecito that's only about a two-minute drive from an historic, ten-ish acre ranch property they surreptitiously snatched up over the summer of 2018 for $6.7 million.
Presumably the couple, married in 2008 in the backyard of a Beverly Hills mansion they bought in 2007 for a bit below $30 million from "Will and Grace" co-creator Max Mutchnick and sold to entertainment industry mogul Ryan Seacrest in 2012 for
$36.5 million
, has already set their real estate and design savvy sights on their next project or projects. Stay tuned.
Listing photos: Westside Estate Agency
[/read]
[wdi_feed id="14″]
[/vc_column_text][/vc_column][/vc_row][vc_row full_width="stretch_row" gap="30″ equal_height="yes" content_placement="top" css=".vc_custom_1490269205951{padding-top: 100px !important;padding-bottom: 100px !important;background-color: #ededed !important;}"][vc_column width="1/2″ css=".vc_custom_1490269374350{border-top-width: 7px !important;border-right-width: 7px !important;border-bottom-width: 7px !important;border-left-width: 7px !important;padding-top: 50px !important;padding-right: 50px !important;padding-bottom: 50px !important;padding-left: 50px !important;background-color: #ffffff !important;border-left-color: #3a3a3a !important;border-left-style: solid !important;border-right-color: #3a3a3a !important;border-right-style: solid !important;border-top-color: #3a3a3a !important;border-top-style: solid !important;border-bottom-color: #3a3a3a !important;border-bottom-style: solid !important;}"][vc_custom_heading text="Interaction Design" font_container="tag:h2|font_size:60|text_align:left|color:%233a3a3a" google_fonts="font_family:Voltaire%3Aregular|font_style:400%20regular%3A400%3Anormal"][vc_column_text 0=""]Design is the creation of a plan or convention for the construction of an object, system or measurable human interaction.[/vc_column_text][vc_btn title="Read Full Story" style="custom" custom_background="#3a3a3a" custom_text="#ffffff" shape="square" i_align="right" i_type="material" i_icon_material="vc-material vc-material-arrow_forward" add_icon="true"][/vc_column][vc_column width="1/2″ css=".vc_custom_1490269382146{border-top-width: 7px !important;border-right-width: 7px !important;border-bottom-width: 7px !important;border-left-width: 7px !important;padding-top: 50px !important;padding-right: 50px !important;padding-bottom: 50px !important;padding-left: 50px !important;background-color: #ffffff !important;border-left-color: #3a3a3a !important;border-left-style: solid !important;border-right-color: #3a3a3a !important;border-right-style: solid !important;border-top-color: #3a3a3a !important;border-top-style: solid !important;border-bottom-color: #3a3a3a !important;border-bottom-style: solid !important;}"][vc_custom_heading text="Manufacture" font_container="tag:h2|font_size:60|text_align:left|color:%233a3a3a" google_fonts="font_family:Voltaire%3Aregular|font_style:400%20regular%3A400%3Anormal"][vc_column_text 0=""]Additional definitions, Design is planning to manufacture an object, system, component or structure. Then, the word "design" can be used as a noun or a verb.[/vc_column_text][vc_btn title="Read Full Story" style="custom" custom_background="#3a3a3a" custom_text="#ffffff" shape="square" i_align="right" i_type="material" i_icon_material="vc-material vc-material-arrow_forward" add_icon="true"][/vc_column][/vc_row]
Hits: 16