#1

Mexico sets up new process for migrants headed toward U.S.
CIUDAD HIDALGO, Mexico – A new caravan of some 1,800 Central Americans is making its way toward the U.S. They started crossing into Mexico from Guatemala late last week and continued arriving through the weekend.
On a bridge near the border where you enter Mexico from Guatemala, the lines of migrants extend as far as you can see. They're waiting to be officially registered by the Mexican government, reports CBS News correspondent Adriana Diaz.
In a new process that started a week ago in preparation for the caravan, the Mexican government gives people wrist bands to register them, their identities are verified, and five days later they get humanitarian visas allowing them stay in Mexico for a year to work and to live. 
It's a stark contrast to last October when an earlier caravan that had more than 7,000 migrants at its height. The same bridge was packed and migrants jumped from the bridge to swim to Mexico. In that caravan, some 2,600 who reached the U.S. border and tried crossing illegally were arrested by U.S. border patrol. About 1,300 opted to return to their home countries. Roughly 2,900 received Mexican visas. Fewer than 700 are still in Tijuana along the U.S. border trying to get U.S. asylum.
Some people here have told us despite getting visas to stay in Mexico, they still plan to go to the U.S. border more than 2,000 miles away. One father saw that Diaz was American and asked her if the U.S. is letting migrants in if they are traveling with children.
... To Read more, please click here
#2

Venezuela quells soldiers' revolt, top court blasts congress
CARACAS, Venezuela — Venezuela plunged deeper into turmoil on Monday as security forces put down a pre-dawn uprising by national guardsmen that triggered violent street protests and the Supreme Court outlawed the opposition-controlled congress' defiant new leadership.
The mutiny triggered protests in a poor neighborhood just a few miles (kilometers) from Venezuela's presidential palace. It was dispersed with tear gas as residents set fire to a barricade of trash and chanted demands that President Nicolas Maduro leave power.
The military said in a statement said that it had recovered all the weapons and captured those involved in what it described as "treasonous" acts motivated by "obscure interests tied to the far right."
It said at around 2:50 a.m. (06:50 GMT), a small group of guardsmen took captive a captain in charge of a police station in western Caracas and then moved across the capital in two military trucks to the poor neighborhood of Petare, where they stole a cache of weapons from another outpost.
They were caught a few hours later at a national guard outpost 3 kilometers (2 miles) from the Miraflores presidential palace.
... To Read more, please click here
#3

Congress to pursue divergent paths to reopening government, but stalemate no closer to resolution
Congress takes up legislation this week to reopen the federal government after a new offer from President Trump, but divergent efforts in the House and Senate look destined to go nowhere, leaving the month-old stalemate no closer to resolution.
The Senate, led by Majority Leader Mitch McConnell (R-Ky.), will take up a proposal announced by Trump on Saturday to reopen the government — trading temporary protections for young undocumented immigrants and other immigration provisions for $5.7 billion in border wall funding. Democrats have rejected the proposal, which would fund the government through the rest of the fiscal year and fund disaster relief efforts, so it appears unlikely to garner the 60 votes necessary to advance.
The House, led by Speaker Nancy Pelosi (D-Calif.), will pass a series of spending bills that would reopen portions of the government that have nothing to do with the wall. The legislation will include some security priorities supported by both parties, including a total of about $1 billion for immigration judges and ports of entry along the border. But the House legislation is dead on arrival in the Senate, where McConnell has made clear he will not advance any spending bills Trump won't sign.
Subscribe to the Post Most newsletter: Today's most popular stories on The Washington Post
The partial government shutdown, already the longest in U.S. history, entered its 31st day Monday.
... To Read more, please click here
#4

Polar plunge: Record low temperatures roll into Midwest, East behind snowstorm
High winds and brutally cold temperatures greeted brave souls armed with shovels digging out Monday from up to two feet of snow that fell across a wide swath of the nation.
"In some cases, temperatures may plummet 40 degrees," AccuWeather meteorologist Alex Sosnowski said.
The storm has been blamed for three deaths across the country.
Adding to the temperature troubles: Wind gusts of up to 50 mph capable of knocking down tree limbs and electrical lines and disrupting power.
Temperatures across the Northeast were forecast to dip about 20 degrees below average for the time of year. The entire state of Michigan was below zero early Monday, and the wind chill temperature in Rudyard dipped to 46 degrees below, the National Weather Service reported.
... To Read more, please click here
#5

Nathan Phillips, Nick Sandmann encounter: a viral video shows a different side
A video that shows white high school students in Make America Great Again hats and shirts mocking a Native American elder shocked the country, leading to widespread denunciations of the teens' behavior.
It was a moment in a bigger story that is still unfolding.
A new video that surfaced Sunday shows what happened before and after the encounter Friday in front of the Lincoln Memorial in Washington.
In the new video, another group taunts the students from Covington Catholic High School in Kentucky with disparaging and vulgar language. The group of black men, who identify as members of the Hebrew Israelites, also shout racist slurs at participants of the Indigenous Peoples Rally and other passersby.
The new video adds context to an encounter viewed by many as the latest sign of bigotry infecting the country. Screenshots of a smirking teen staring down Omaha tribe elder Nathan Phillips spread through the internet, sparking widespread outrage.
... To Read more, please click here
#6

In Trump country, Republicans cheer on shutdown: The 'government is our biggest enemy'
CRAIG, Colo. – Ten words in faded red ink adorn the glass door of the federal building: "Please hold mail for duration of government shutdown. Thank you."
Load Error
Here in this northern Colorado coal town, those 10 words, and the unplowed parking lot of that Bureau of Land Management facility, are among the few obvious signs that the nation's federal government is partially closed, resulting in nearly 1 million American workers not getting their taxpayer-paid paychecks.
Many of Craig's 9,000 residents are just fine with that.
In this low-slung Western town that still celebrates cowboys and cattle rustlers, Christmas and Christ, and where the smokestacks of coal-fired power plants bracket the broad valley, residents wonder aloud: Doesn't the shutdown prove their long-held argument that the federal government is too big, too powerful and too expensive?
... To Read more, please click here
#7

Erykah Badu defends R Kelly: 'I love you. Unconditionally'
Erykah Badu has defended R Kelly after a TV documentary series reiterated multiple allegations of sexual abuse against the R&B singer. Kelly has repeatedly denied all claims.
During a performance at the Aragon Ballroom in Chicago on 19 January, Badu told the crowd: "I dunno how everybody else feel about it but I'm putting up a prayer right now for R. I hope he sees the light of day if he done all those things that we've seen on TV and heard those ladies talk about. I hope he sees the light of day and comes forward."
Then 27, Kelly allegedly marries protegée Aaliyah, then 15, in an illegal ceremony in Cook County, Chicago.
Tiffany Hawkins files lawsuit alleging injuries and emotional damage from a three-year relationship with Kelly, beginning when she was 15 - it is settled out of court.
... To Read more, please click here
#8

Sen. Kamala Harris announces 2020 presidential bid
#9

Kamala Harris Joins Democratic Presidential FieldKamala Harris Joins Democratic Presidential Field
#10

Kamala Harris to run for president in 2020
#11

Kevin-Prince Boateng completes surprise loan move to Barcelona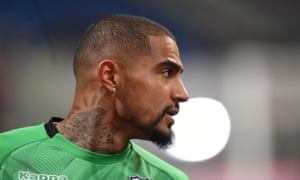 Kevin-Prince Boateng has joined Barcelona in a shock move from the Italian side Sassuolo. The La Liga leaders have announced the arrival of Boateng on an initial loan deal with the option for an €8m (£7.05m) permanent move in the summer.
Barcelona confirmed the forward's arrival shortly after Boateng told reporters in Italy that the transfer was complete. The 31-year-old will sign his contract on Tuesday before a photo session and press conference at Camp Nou.
"FC Barcelona and US Sassuolo have arrived at an agreement for the loan of the player Kevin-Prince Boateng for the remainder of the 2018/19 season," a statement on Barcelona's website read. "The agreement includes an €8m purchase option."
"Barça, I'm coming!" Boateng told Sky Sport earlier on Monday. "I'm sad to leave Sassuolo but it's a great chance."
Boateng also brushed off newspaper reports that he was a Real Madrid fan when growing up. "Don't ask me about Real Madrid … it's just the past," he said. "I only want to focus on Barcelona, and I hope to score at the Bernabéu [in] the next Clásico."
... To Read more, please click here