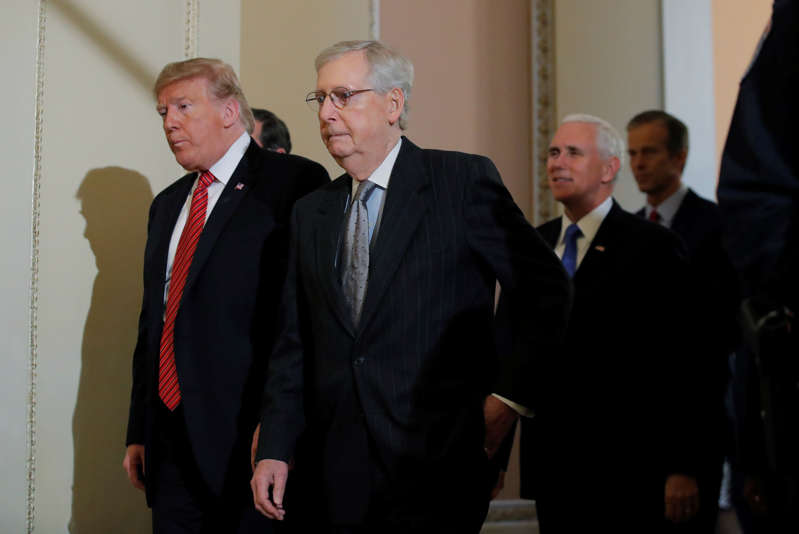 © Jim Young/ REUTERS
U.S. President Donald Trump departs with U.S. Senate Majority Leader Mitch McConnell and Vice President Mike Pence after addressing a closed Senate Republican policy lunch as a partial government shutdown enters its 19th day on Capitol Hill in Washington, U.S., January 9, 2019. REUTERS/Jim Young
Senate Republicans are pushing ahead with a 1,300-page funding bill that would give President Donald Trump the $5.7 billion he wants for an expansion of the southern border wall, grant temporary protections for "Dreamers" and finally end the longest government shutdown in history.
Democrats have called the bill dead on arrival, but only partly because it includes Trump's full request for wall funding. They say the protections for Dreamers are not nearly enough, and complain that the bill was stuffed with unrelated, anti-immigration measures that would dramatically expand immigration enforcement in the U.S. and cut back the ability of foreigners to request asylum.
Republicans call the bill a reasonable compromise to end the partial government shutdown that makes a sound investment toward border security. Democrats call it a "Trojan horse" that provides only short-term help for Dreamers in exchange for long-term threats against them.
A senior Department of Homeland Security official said on Tuesday that the bill, which was crafted by Senate Republicans with help from the Trump administration, was a "starting point" that is open for negotiation.
"We have no illusions that we have drafted the world's first perfect piece of legislation, and we would be happy to have conversations with Democrats and anybody who would like to come to the table and talk about ways to improve this legislation and find a consensus to pass it," said the official, who spoke on condition of anonymity to brief reporters on the details of the bill.
... To Read more, please click here
Hits: 328