WASHINGTON – President Donald Trump said Wednesday that an American woman who was the bride of an Islamic State fighter and now wants to come home will not be allowed back in the United States.
"I have instructed Secretary of State Mike Pompeo, and he fully agrees, not to allow Hoda Muthana back into the Country!" Trump wrote on Twitter.
Muthana traveled to Syria and married and had a child with an ISIS fighter and now wants to face the U.S. justice system.
But Pompeo said earlier Wednesday that Muthana is not an American citizen and "does not have any legal basis, no valid U.S. passport, no right to a passport," contradicting statements by her family and her Florida-based lawyer, who said she was born in Hackensack, New Jersey, in 1994. 
Muthana, who was raised in Alabama, left the United States to join ISIS four years ago at age 19. In Syria, she called for Americans to be attacked, and she spread the group's propaganda online. 
... To Read more, please click here
"Empire" actor Jussie Smollett has been arrested for allegedly filing a false police report claiming he was the victim of a hate-crime attack in Chicago, a police spokesman said early Thursday.
Smollett was charged Wednesday with felony disorderly conduct for the allegedly false report he made with Chicago police on Jan. 29, according to the Cook County State's Attorney's Office. In it he claimed he was assaulted by two masked men who hurled racist and homophobic slurs.
The actor, 36, who is black and gay, also said his attackers poured what he believed was bleach over him and put a noose around his neck.
Chicago Police Department spokesman Anthony Guglielmi said Smollett was in the custody of detectives, who had earlier contacted Smollett's legal team "to negotiate a reasonable surrender for his arrest." He could face probation or up to three years in prison if convicted, a Cook County State's Attorney office spokeswoman told NBC Chicago.
© Chicago Police Dept.
Image: Jussie Smollett
The actor is due in court for a bond hearing at 1:30 p.m. CT Thursday.
... To Read more, please click here
VATICAN CITY — With his moral authority in question and his papal legacy in the balance, Pope Francis opened a historic summit meeting at the Vatican on Thursday devoted to clerical child sexual abuse, an issue that has for decades devastated some corners of his vast church while being utterly ignored and denied in others.
"We hear the cry of the little ones asking for justice," Francis told the 190 leaders of the Roman Catholic Church who had assembled from around the world in the Vatican's Synod Hall at the start of a four-day conference intended to instruct them on the depth and universality of the problem and how to deal with it.
"The holy people of God look to us and expect from us not simple and obvious condemnations, but concrete and effective measures," Francis said.
Sign Up For the Morning Briefing Newsletter
Survivors of clerical abuse, their advocates and faithful disheartened and disgusted by the failure to address the abuses are demanding that the church enshrine in Canon Law a policy of zero tolerance for abusive priests and the bishops who cover for them.
... To Read more, please click here
A U.S. Coast Guard lieutenant and self-identified white nationalist was arrested after federal investigators uncovered a cache of weapons and ammunition in his Maryland home that authorities say he stockpiled to launch a widespread domestic terrorist attack targeting politicians and journalists.
Subscribe to the Post Most newsletter: Today's most popular stories on The Washington Post 
Christopher Paul Hasson called for "focused violence" to "establish a white homeland" and said, "I am dreaming of a way to kill almost every last person on the earth," according to court records filed in U.S. District Court in Maryland. Though court documents do not detail a specific planned date for an attack, the government said he had been amassing supplies and weapons since at least 2017, developed a spreadsheet of targets that included House Speaker Nancy Pelosi (D-Calif.) and searched the Internet using phrases such as "best place in dc to see congress people" and "are supreme court justices protected."
"The defendant intends to murder innocent civilians on a scale rarely seen in this country," the government said in court documents filed this week, arguing that Hasson should stay in jail awaiting trial.
Hasson, 49, of Silver Spring, is expected to appear before a judge for a detention hearing in federal court in Greenbelt at 1 p.m. Thursday.
... To Read more, please click here
HONG KONG — Some would say she cheated. Others would say she found an efficient way to finish her tedious assignment and ought to be applauded for her initiative.
Load Error
The debate lit up Chinese social media this week after the Qianjiang Evening News reported that a teenage girl had found a loophole for her homework: She bought a robot that mimicked her handwriting. Instead of having to manually copy phrases or selections from a textbook dozens of times, a repetitive task common in learning Chinese, she could just teach the robot to do it for her.
Sign Up For the Morning Briefing Newsletter
On Weibo, a popular social media platform, commenters who had suffered through endless hours of similar homework themselves were split, though most appeared to be sympathetic or even impressed.
... To Read more, please click here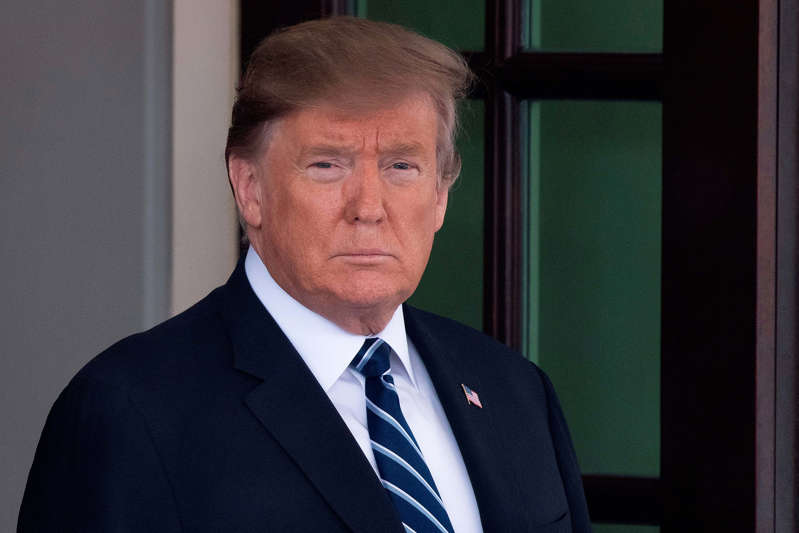 © JIM WATSON/AFP/Getty Images
The Trump administration has been looking for ways to speed the deployment of faster wireless communications systems.
WASHINGTON — President Donald Trump on Thursday called on U.S. telecommunications companies to boost their work to build faster 5G wireless communications networks, saying they were lagging and at risk of being left behind other countries' efforts.
"American companies must step up their efforts, or get left behind," Trump said in a pair of tweets.
"I want the United States to win through competition, not by blocking out currently more advanced technologies," he added, although he did not explain what blockage he was referring to. Representatives for the White House could not be immediately reached for comment.
The Trump administration has been seeking ways to speed the deployment of faster wireless communications systems that could help a number of industries.
Last year, the Federal Communications Commission chairman moved to eliminate regulatory barriers to 5G deployment by capping local fees and requiring faster application reviews.
... To Read more, please click here
Earlier this month, Niantic promised a feature called "Go Snapshot" that would turn Pokémon Go into an AR photo machine. Now, the feature is live -- for Android devices, at least. You'll also have to be a Level 5 or above trainer to be able to be able to access Go Snapshot, so you may want to walk around and go capture monsters if you want to take a photoshoot with your favorite Pokémon.
While you can already take pictures of the monsters you see in the wild, this new feature gives you a way to take photos of Pokémon you've already captured with the real world as their backdrop. You only have to toss a Pokéball towards your chosen background -- you'll even be able to make your Pokémon pose to interact better with real-life objects. Or, you know, to find its cutest angle. Unfortunately, Niantic hasn't revealed a release date for iOS yet and has only advised "trainers on other devices" to "stay tuned."
Trainers, #GOsnapshot is now live for level 5 Trainers on Android devices! Level 5 will be the minimum level for Trainers to access this feature. Trainers on other devices, stay tuned! pic.twitter.com/47RVFh4PpD
... To Read more, please click here
Welcome to TNW Basics, a collection of tips, guides, and advice on how to easily get the most out of your gadgets, apps, and connected services.
Load Error
Facebook is notorious for capturing user data to create profiles that advertisers can target – and that includes the location data from your phone. If that makes you uncomfortable, you can stop the Facebookmobile app from tracking your location completely, or allow it to do so only when you're using the app.
The company has rolled out new location control for Android app users, and it's sending an alert to users – both on iOS and Android – to check their location settings for the app.
Here's how you can change your location permission:
... To Read more, please click here
Some potential buyers might have backed out of buying Garmin's music-focused Vivoactive 3 fitness watch, because it didn't support Spotify when it launched in mid-2018. ow, the wearables maker is finally patching that compatibility hole. The Vivoactive 3 Music watch now supports Spotify like the company's other fitness watches already do.
Garmin didn't say why it took time to roll out Spotify for the device, seeing as the service landed on the Fenix 5 Plus series and the Forerunner 645 Music models in October 2018. But we'll bet those waiting for this to happen will be happy to see that they can finally enjoy their Spotify tunes through the device.
They don't even have to bring their phones to workout sessions anymore. So long as they have a Premium account, they'll be able to download their tunes to the watch -- it has the capacity to store up to 500 songs in all -- and listen to them offline. All they have to do is to create playlists, sync them with the watch via WiFi and then access them through the device's Spotify app. That application is now available for download from Garmin's Connect IQ store.
... To Read more, please click here
Samsung announced on Wednesday its first ever 5G smartphone: the Galaxy S10 5G.
It's the first device able to run on uber-fast 5G wireless networks. The phone will be available in 2019's second quarter for Verizon customers for an unknown price, and will come to other wireless carriers later this summer.
While the phone is a major step in the rollout of 5G, the network itself is still not widespread enough to revolutionize mobile connections.
"A 5G phone is strategically important for Samsung, particularly in markets where 5G is being rolled out first such as the US, South Korea and China," Ben Wood, director of research at market data firm CCS Insights told CNN Business.
... To Read more, please click here
A sneaky piece of advertising software may be responsible for driving up millions of Android users' mobile data usage and wasting their device's battery life, according to researchers at the technology company Oracle. 
The code, which Oracle said Wednesday is at the heart of a massive ad fraud operation it's calling "DrainerBot," works by quietly downloading gigabytes of video ads to a consumer's smartphone and then displays them — invisibly — to users of apps that have been infected by the bot.
The software affects hundreds of Android apps that have been downloaded collectively more than 10 million times, the researchers said.
Because the invisible advertisements rely on the phone's mobile data connection and processing power, the bot can lead to more than 10 GBs of extra data usage per month, Oracle said, exposing some cellphone users to possible data overage fees.
Consumers aren't the only ones potentially harmed by the bot, said Eric Roza, senior vice president at Oracle. The bot wastes marketers' money by selling ads that nobody sees, and it tarnishes the app developers who were likely unaware of its existence, he said.
... To Read more, please click here
Hits: 7