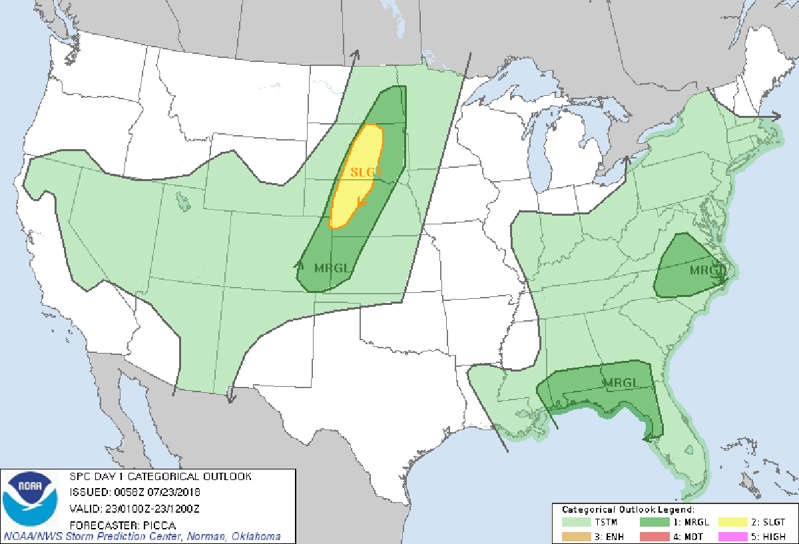 A switch to a cooler weather pattern in the midwestern United States will come at the expense of violent thunderstorms prior to the middle of the week.
"A storm system will zip eastward out of the northern Rockies and into the northern Plains spanning Tuesday afternoon into Wednesday morning and trigger a round of strong to severe storms," said AccuWeather Meteorologist Kyle Elliott.
Eastern portions of Wyoming, the Black Hills of South Dakota and western Nebraska will be at risk for these feisty storms. 
"The primary threats from the storms will be brief, heavy downpours, damaging wind gusts upwards of 60 mph and large hail," Elliott said.
As soon as you hear thunder, see lightning or spot tall, darkening clouds, head indoors immediately. If no building is nearby, a hard-top vehicle is also a suitable shelter from lightning.
... To Read more, please click here
Chad Merrill, 25, was a brand new father of a 5-month-old baby when he was shot to death in the parking lot of his favorite bar in York County, Pa., early Saturday morning.
Load Error
Subscribe to the Post Most newsletter: Today's most popular stories on The Washington Post 
It happened just moments after the alleged shooter, James Saylor, hurled racial slurs and the n-word at Merrill's friend inside the Red Rose Restaurant and Lounge, according to a probable cause affidavit.
And now police say Merrill may have been trying to "right the wrong" when he confronted Saylor in the parking lot in defense of his African American friend, according to the York Daily Record.
... To Read more, please click here
Hits: 35