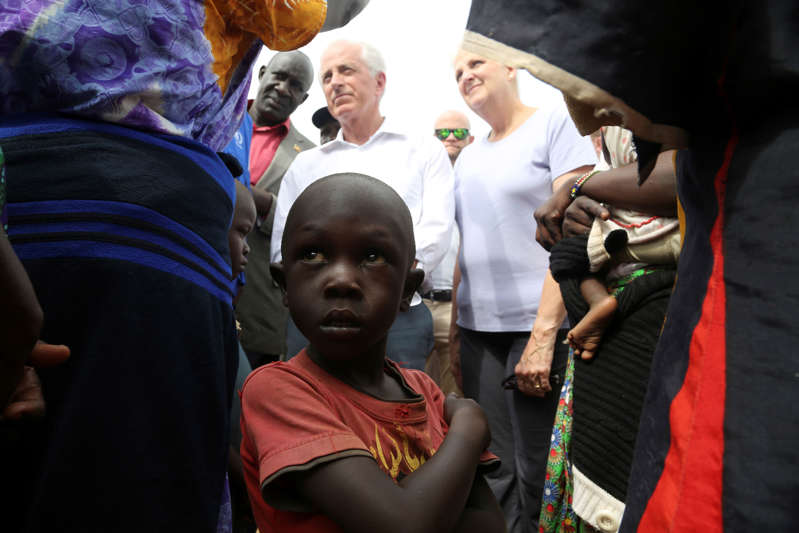 © ASSOCIATED PRESS
In this photo taken on Friday April 14, 2017 photo, a child looks up while U.S Senator Bob Corker, center, speaks to recent refugees from South Sudan at a registration center in Bidi Bidi, Uganda. In a political climate dominated by President Donald Trump's slogan of "America First," two U.S. senators are proposing making American food aid more efficient after meeting with victims of South Sudan's famine and civil war. After visiting the world's largest refugee settlement in northern Uganda, Democratic Sen. Chris Coons of Delaware told The Associated Press that the U.S. "can deliver more food aid at less cost" through foreign food aid reform. (AP/Photo/Justin Lynch)
The Trump administration is considering taking back more than $3 billion in foreign aid that Congress already approved, in a move that senators from both parties are calling questionably legal and promising to resist.
The Office of Management and Budget instructed the State Department and the U.S. Agency for International Development earlier this month to provide a balance sheet of foreign aid projects that have not yet been funded. Unless Congress intervenes, the money may be returned to the U.S. Treasury at the end of fiscal year on Sept. 30.
A scramble is on to allocate the money before the administration announces the expected change, which would freeze the billions of dollars left.
Subscribe to the Post Most newsletter: Today's most popular stories on The Washington Post
In his previous two budgets, President Trump proposed steep cuts to foreign aid, but Congress restored them. Lawmakers from both parties view the last-minute move as a back-door attempt to get the cuts, despite their objections, before they can do anything about them.
... To Read more, please click here
Hits: 3