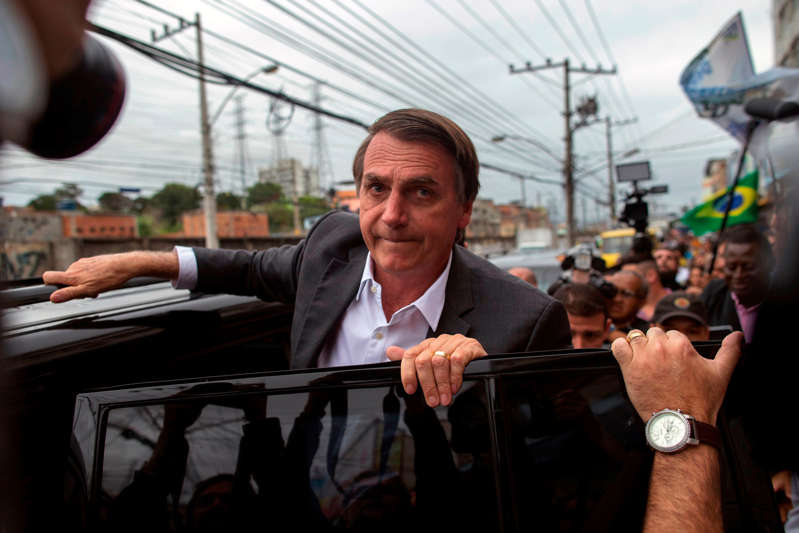 © MAURO PIMENTEL/AFP/Getty Images
Brazilian presidential candidate Jair Bolsonaro
A presidential candidate in Brazil said on Tuesday that police officers should be rewarded for killing criminals instead of being prosecuted.
"These kinds of people [criminals], you cannot treat them as if they were normal human beings, OK? We can't let policemen keep dying at the hands of those guys. If he kills 10, 15 or 20 with 10 or 30 bullets each, he needs to get a medal and not be prosecuted," Jair Bolsonaro said in an interview on Brazil's channel TV Globo.
Bolsonaro, a right-wing congressman who is known for his history of controversial comments, is currently polling in second place with 19 percent, trailing jailed politician Luiz Inacio Lula da Silva. Lula may not be allowed to run in the October presidential election, however, due to a Brazilian law stating that people with a conviction that has been upheld on appeal are not allowed to run for office.
"His adversaries might use that quote saying he will kill people using many bullets. He is saying you can fight violence with more violence, and average Brazilians don't agree with that," Alberto Almeida, a political science writer said, according to The Star.
Brazil has one of the world's highest homicide rates, with a record of 63,880 people being killed in 2017, a three-percent increase from 2016. Human rights groups say that police killings are a regular occurrence.
... To Read more, please click here
Hits: 35