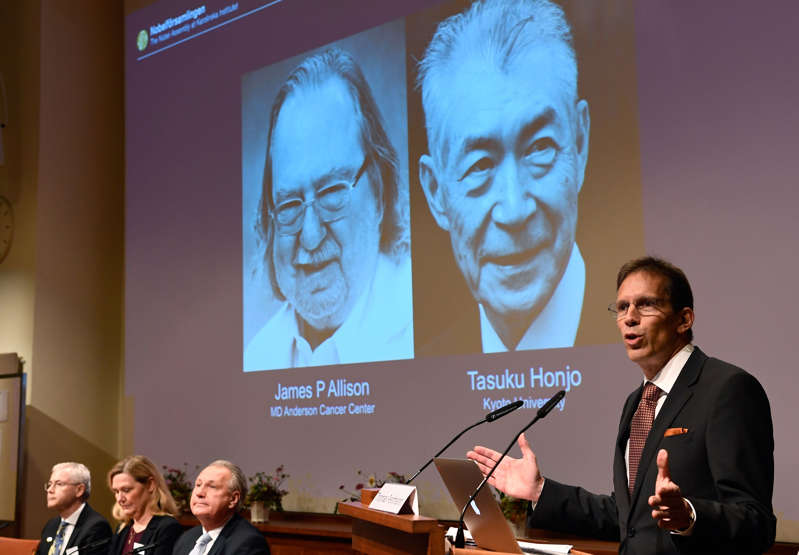 © JONATHAN NACKSTRAND/AFP/Getty Images
Secretary of the Nobel Committee for Physiology or Medicine, Thomas Perlmann (R) stands next to a screen displaying portraits of James P Allison (L) and Tasuku Honjo during the announcement of the winners of the 2018 Nobel Prize in Physiology or Medicine, during a press conference at the Karolinska Institute in Stockholm, Sweden, on October 1, 2018. - James P Allison of US and Tasuku Honjo of Japan won Nobel Medicine Prize for their achievements in cancer treatment.
STOCKHOLM/LONDON, Oct 1 (Reuters) - American James Allison and Japanese Tasuku Honjo won the 2018 Nobel Prize for Physiology or Medicine on Monday for game-changing discoveries about how to harness and manipulate the immune system to fight cancer.
The scientists' work in the 1990s has since swiftly led to new and dramatically improved therapies for cancers such as melanoma and lung cancer, which had previously been extremely difficult to treat.
Load Error
"The seminal discoveries by the two Laureates constitute a landmark in our fight against cancer," the Nobel Assembly at Sweden's Karolinska Institute said as it awarded the prize of nine million Swedish crowns ($1 million).
"Allison and Honjo showed how different strategies for inhibiting the brakes on the immune system can be used in the treatment of cancer," it said.
... To Read more, please click here
This post was created with our nice and easy submission form. Create your post!