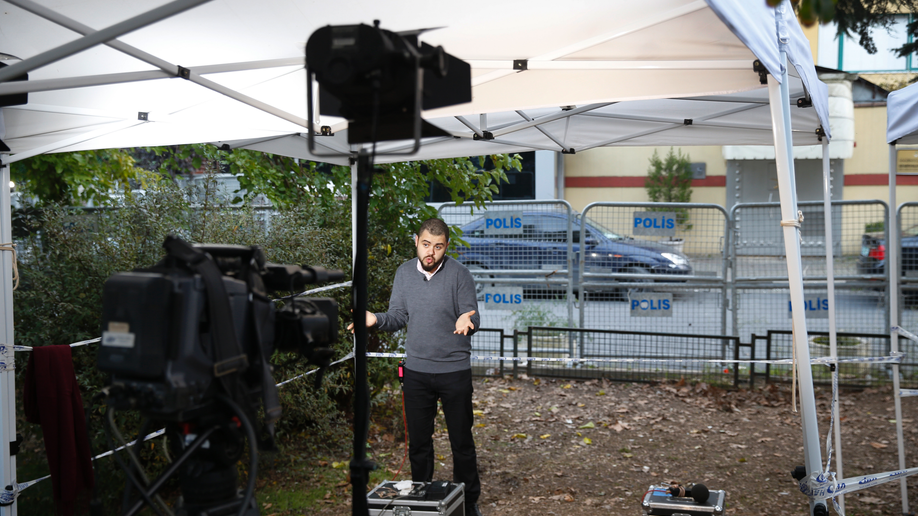 Media report outside Saudi Arabia's consulate in Istanbul, Sunday, Oct. 21, 2018. The chairman of the Senate Foreign Relations Committee says Saudi Arabia's Crown Prince Mohammed bin Salman "crossed a line" in the killing of journalist Jamal Khashoggi and must pay a price. Tennessee Republican Bob Corker says that based on his briefings he believes the royal known as MBS was behind the killing of the Saudi critic.(AP Photo/Lefteris Pitarakis)
A security guard patrols outside Saudi Arabia's consulate in Istanbul, Sunday, Oct. 21, 2018. The chairman of the Senate Foreign Relations Committee says Saudi Arabia's Crown Prince Mohammed bin Salman "crossed a line" in the killing of journalist Jamal Khashoggi and must pay a price. Tennessee Republican Bob Corker says that based on his briefings he believes the royal known as MBS was behind the killing of the Saudi critic. (AP Photo/Lefteris Pitarakis)
ISTANBUL – Saudi Arabia's crown prince "crossed a line" in the killing of journalist Jamal Khashoggi and must pay a price, a leading U.S. Senate Republican said Sunday, in a sign of growing tensions between the United States and its Gulf ally.
Bob Corker, chairman of the Senate Foreign Relations Committee, said Saturday on CNN's "State of the Union" that he believed Mohammed bin Salman, the Saudi royal known as MBS, was behind the killing of Khashoggi, who vanished after entering the Saudi consulate in Istanbul on Oct. 2. Pro-government media in Turkey have reported that a hit squad traveled from Saudi Arabia to kill the Saudi critic.
Saudi Arabia gave a different version of events on Saturday, saying Khashoggi died in a "fistfight" in the consulate and that 18 Saudi suspects were in custody and intelligence officials had been fired. Although officials close to Prince Mohammed were targeted, Saudi Arabia stopped short of implicating the heir-apparent of the world's largest oil exporter.
... To Read more, please click here
Hits: 66