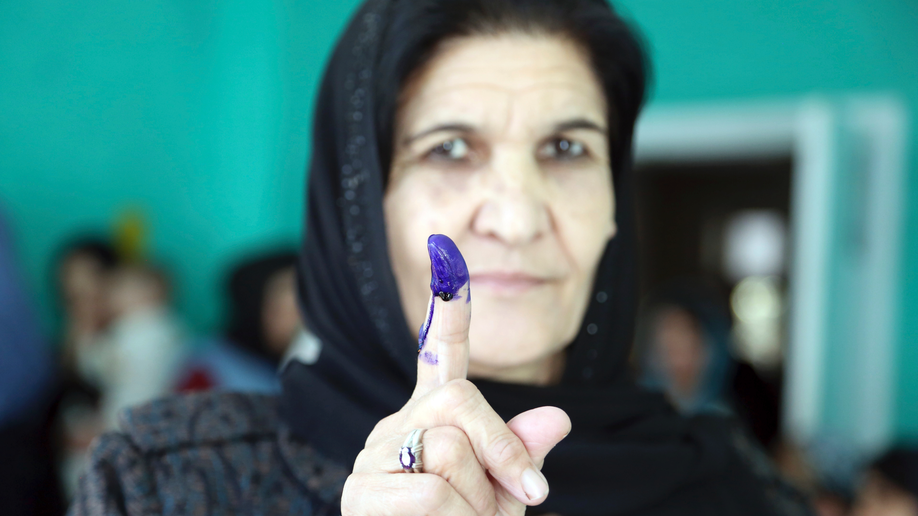 An Afghan woman shows her inked finger after casting her vote at a polling station during the Parliamentary elections in Kabul, Afghanistan, Saturday, Oct. 20, 2018. Tens of thousands of Afghan forces fanned out across the country as voting began Saturday in the elections that followed a campaign marred by relentless violence. (AP Photo/Rahmat Gul)
Afghan women line up to cast their votes, outside a polling station during the Parliamentary election at a polling station in Kabul, Afghanistan, Saturday, Oct. 20, 2018. Tens of thousands of Afghan forces fanned out across the country as voting began Saturday in the elections that followed a campaign marred by relentless violence. (AP Photo/Rahmat Gul)
KABUL, Afghanistan – Afghanistan's parliamentary elections entered a second day on Sunday following violence and chaos that caused delays and interruptions on the first day of polling.
Independent Elections Commission Chairman Abdul Badi Sayat said more than 3 million people out of 8.8 million registered voters cast their ballots on Saturday. The biggest turnout was in Kabul and the lowest in the southern Uruzgan province.
Polling on Sunday continues in 401 voting centers, including 45 in Kabul. Polls close at 4 p.m. (1130 GMT). The results of the polling will not be released before mid-November and final results will not be out until December.
... To Read more, please click here
Hits: 35