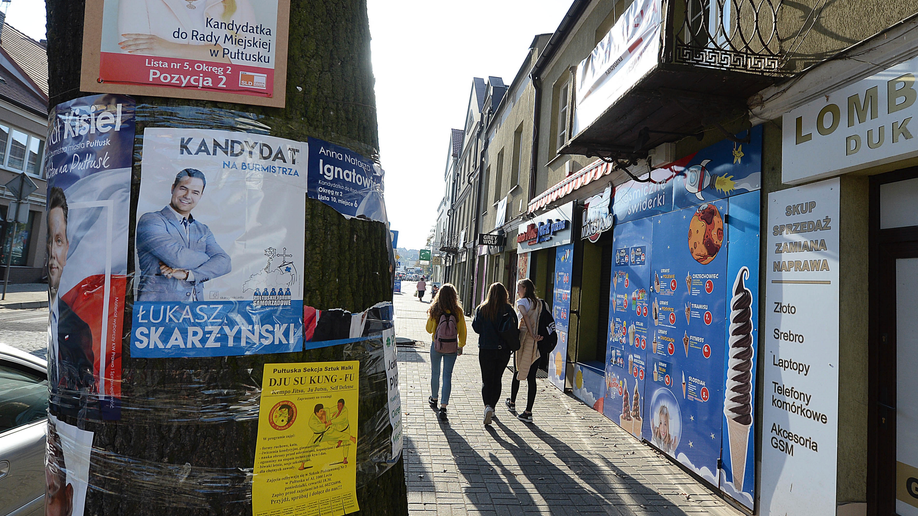 In this Oct. 18, 2018 photo people walk past electoral posters in Pultusk, Poland. Local elections on Sunday are expected to measure popular support for Poland's conservative ruling party, whose policies have produced street protests and repeated clashes with European Union leaders. (AP Photo/Czarek Sokolowski)
Warsaw city mayor candidate in the upcoming local elections Patryk Jaki, right, from the Law and Justice party meets supporters during campaigns in the last minutes in Warsaw, Poland, Friday, Oct. 19, 2018. Poland's ruling conservative Law and Justice party, whose policies have drawn massive street protests and repeated clashes with its European Union partners, faces a major test of support in Sunday's local elections, the first in a string of votes that can strengthen or chip its firm grip on power.(AP Photo/Czarek Sokolowski)
WARSAW, Poland – Polish voters were casting ballots in local elections Sunday that were the first nationwide test of support for the conservative ruling party, whose policies have produced street protests and repeated clashes with European Union leaders.
The election is for offices from city mayors to village councilors. The ruling right-wing Law and Justice party is hoping to strengthen its firm grip on power, which has been buoyed by handing out social benefits and questioning how much authority the EU should have over member nations.
EU leaders say changes the ruling party has made to Poland's judiciary threaten the rule of law in the country and have triggered a sanctioning procedure.
... To Read more, please click here
Hits: 35