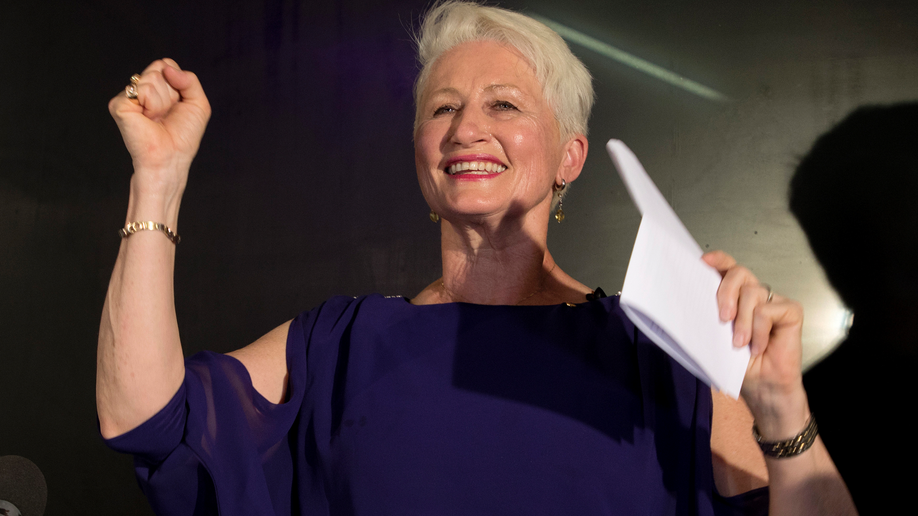 Independent candidate Kerryn Phelps delivers her victory speech at a Wentworth by-election evening function at North Bondi Life Saving Club in Sydney, Saturday, Oct. 20, 2018. Australia's ruling coalition will be forced into minority government after a heavy defeat in a by-election for former Liberal Party Prime Minister Malcolm Turnbull's old seat. With 15 percent of votes counted Saturday, Liberal candidate Dave Sharma conceded defeat to Phelps. (Chris Pavlich/AAP Image via AP)
Independent candidate Kerryn Phelps, right, is congratulated by supporters as she arrives for a Wentworth by-election evening function at North Bondi Life Saving Club in Sydney, Saturday, Oct. 20, 2018. Australia's ruling coalition will be forced into minority government after a heavy defeat in a by-election for former Liberal Party Prime Minister Malcolm Turnbull's old seat. With 15 percent of votes counted Saturday, Liberal candidate Dave Sharma conceded defeat to Phelps. (Chris Pavlich/AAP Image via AP)
SYDNEY – Australia's ruling coalition was forced into minority government on Saturday after a massive swing against its senior partner, the Liberal Party, in a by-election for the seat of the prime minister the party itself had dismissed.
In a stinging backlash from the electorate after the fourth toppling of an Australian leader by internal party vote in just eight years, a swing of more than 20 percent against the sitting Liberals propelled independent candidate Kerryn Phelps to a decisive victory.
The result cost the conservative Liberal-National party coalition its one-seat majority in the House of Representatives, forcing Prime Minister Scott Morrison to rely on deals with independent lawmakers to guarantee confidence in his government, enact legislation and ensure money supply.
... To Read more, please click here
Hits: 35