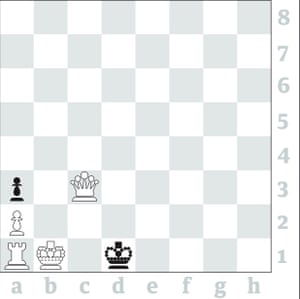 Magnus Carlsen retaining the crown on tie-break was always one of the likely ways for the world championship to end, but it was the 12 straight draws with Fabiano Caruana in the classical games which provoked anguish from some chess fans.
It would have been different if Carlsen had taken his chances in game one, and/or Caruana in game eight. These were winning positions which world title contenders would normally convert, so why didn't they?
Carlsen seemed to have a mindset at the start that a solid draw with Black was ideal. Yet past world championships show that game one is often a banana skin, including for José Raúl Capablanca in 1927, Mikhail Botvinnik in 1960,and Bobby Fischer in 1972. Caruana's wimping out in game eight can be related to over-optimism about his tie-break chances, stemming from his two wins and a draw in his one-to-one rapids against Carlsen in recent years.
Fide, the global chess body, will ignore the more outlandish suggestions to reduce draws such as introducing Chess960 random games, but the clamour for change is strong. Expect some tweaks to be made to the rules for Carlsen's next title defence in 2020 such as a slightly faster time limit in classical games and fewer rest days. There is a balance to be struck, for while chess fans dislike draws they can also be turned off by classical games chock full of blunders.
As Carlsen admitted after the match, his opening preparation more than once turned out to be poor, highlighted by his two white games against the Petroff Defence 1 e4 e5 2 Nf3 Nf6, which was clearly going to be Caruana's main king pawn reply and was even confirmed by the video leak of the American's planned repertoire. Carlsen's long standing chief aide, Peter Heine Nielsen, may have some awkward questions to answer.
... To Read more, please click here
Video by CNN
ANCHORAGE, Alaska (AP) — Back-to-back earthquakes measuring 7.0 and 5.8 rocked buildings and shattered roads Friday morning in Anchorage, sending people running into the streets and briefly triggering a warning to residents in Kodiak to flee to higher ground for fear of a tsunami.
The warning was lifted a short time later. There were no immediate reports of any deaths or serious injuries.
The U.S. Geological Survey said the first and more powerful quake was centered about 7 miles (12 kilometers) north of Anchorage, Alaska's largest city, with a population of about 300,000. People ran from their offices or took cover under desks.
Cracks could be seen in a two-story downtown Anchorage building, and photographs posted to social media showed fractured roads and collapsed ceiling tiles at an Anchorage high school. One image showed a car stranded on an island of pavement, surrounded by cavernous cracks where the earthquake split the road.
... To Read more, please click here
BREAUX BRIDGE, La. — Bryson Sassau's application would inspire any college admissions officer.
A founder of T.M. Landry College Preparatory School described him as a "bright, energetic, compassionate and genuinely well-rounded" student whose alcoholic father had beaten him and his mother and had denied them money for food and shelter. His transcript "speaks for itself," the founder, Tracey Landry, wrote, but Mr. Sassau should also be lauded for founding a community service program, the Dry House, to help the children of abusive and alcoholic parents. He took four years of honors English, the application said, was a baseball M.V.P. and earned high honors in the "Mathematics Olympiad."
Sign Up For the Morning Briefing Newsletter 
The narrative earned Mr. Sassau acceptance to St. John's University in New York. There was one problem: None of it was true.
... To Read more, please click here
Hits: 0