https://youtu.be/8aHkihCdQGk
Sarah Michelle Gellar: Selma Blair facing multiple sclerosis 'with dignity, grace'
Geller expressed support for her longtime pal as her former "Cruel Intentions" co-star battles the debilitating disease.
Michael Kovac / Getty Images
Feb. 27, 2019, 12:29 PM EST / Source: TODAY
By Eun Kyung Kim
Sarah Michelle Gellar showered her longtime friend Selma Blair with support, applauding the way her "Cruel Intentions" co-star has taken on her challenging battle with multiple sclerosis.
Geller took to Instagram to speak about Blair's very busy week, which started with her first public appearance since announcing her diagnosis and a pair of media interviews.
"To say I'm proud, would be a gross understatement," Geller wrote in the caption of a photo of Blair dressed up for the Vanity Fair Oscar party Sunday night. "When I have a cold, I want to hide from the world under my covers. But not Selma. She is facing this diagnosis, the way she faces everything, with dignity, grace and head on."
Geller, 41, has been friends with Blair, 46, since the pair starred together in the 1999 movie "Cruel Intentions."
"I know the support and encouragement that she has received on this platform has truly been a source of strength for her," Geller wrote in her most recent post Monday. "This is not an easy journey, but Selma will not let this define her."
Over the weekend, Blair made her way down the red carpet at Sunday's Vanity Fair Oscar party with a cane inscribed with her monogram and featuring a pink diamond. It was her first public appearance since Blair revealed in October that she had been diagnosed with MS.
A television interview Blair conducted days before the Oscars then aired Tuesday, the same day Vanity Fair posted an interview in which she discussed why she wants to be open about the challenges of living with MS.
"There's no tragedy for me," she told the magazine for its March issue. "I'm happy, and if I can help anyone be more comfortable in their skin, it's more than I've ever done before."
https://youtu.be/iXwHHd8hh3U
https://youtu.be/IkSprbfcFMc
Ivanka Trump doesn't understand work. No one in the Trump administration does.
The obvious consequences of putting people who were born rich in charge of the government.
In an interview with Fox News Monday night, senior White House adviser Ivanka Trump took time out of her usual tasks of failing to positively influence her father or materially affect the Trump administration's policy to opine to Fox host Steve Hilton about the minimum-guaranteed-income plank of Alexandria Ocasio-Cortez's Green New Deal plan. "I think that this idea of a guaranteed minimum is not something most people want," Trump said, providing no evidence whatsoever. "They want the ability to be able to secure a job. They want the ability to live in a country where's there's the potential for upward mobility."
Guaranteed minimum incomes are, many economists state, precisely what some people need to have upward mobility — they are drivers of it, not inhibitors. Trump's assumptions about the relationship between work and poverty are typical of her father's administration's obliviousness to the needs and circumstances of Americans who are struggling financially. Trump, her father, President Trump, her husband, Jared Kushner, and many of their colleagues — Commerce Secretary Wilbur Ross, Treasury Secretary Steven Mnuchin, etc. — who claim to be acting on behalf of the working classes behave as if they've never encountered members of that particular economic strata.
That's because for the most part, they haven't. Aside from the service workers they encounter and people they employ in working-class jobs, they spend the bulk of their time around other wealthy elites. But worse, none of them has experienced the conditions that lead people to need basic income guarantees or how dangerously close many Americans are to poverty even when fully employed. When the government shut down for a record length of time earlier this year, Ross suggested that furloughed federal workers just take out loans to cover expenses for things such as food and housing, then pay them back once salaries resumed. (His own agency's credit union was offering short-term loans at 9 percent interest.) In a country where 40 percent of American households are one paycheck away from living at the poverty level, Ross said he didn't "really quite understand why" federal workers were going to food banks after going a few weeks without pay. For a rich guy, of course, who cares if the cost of the shutdown and Trump's inability to negotiate gets dumped on the workers, in the form of interest and fees the government has no intention of reimbursing them for, to cover the sudden disappearance of the salaries they were due? Let them eat cake, Ross argued, and let them pay extra for it because we're all out of bread, and it's their fault, somehow.
Why are members of the Trump family and the Trump administration — indistinguishable in some cases — so oblivious to the needs and lives of poor and struggling Americans? One reason is that they all view themselves as essentially "self-made" despite having grown up with wealth that has enabled them to get much further ahead than the Americans whose work ethic they judge. In fact, they started out ahead. President Trump portrays himself as a successful bootstrapped businessman, although his father gave him what he calls a "
small loan
" that amounted to $60 million. Ivanka Trump wrote a book titled "
Women Who Work
" that's mostly an exercise in self-congratulation for holding down a job in her father's corporation while supported by a small army of nannies and household help.
I've experienced this personally with Kushner, who was my boss at the New York Observer several years ago, when he was still ostensibly a Democrat. I mentioned in the course of conversation that my dad had been a local lineman for Alabama Power and had worked as a contractor on the side to make ends meet — entrepreneurialism by necessity. Kushner replied that he could relate because he thought of himself as "self-made" in a way. When I asked him to elaborate, he conflated entrepreneurialism in general with bootstrapping and waxed about his first real business: buying up residential real estate in Cambridge, Mass., during his tenure at Harvard (admission secured by a generous donation to the university) and flipping it.
Even though this line of thinking is utterly appalling, I have to cut Kushner some slack because I've heard it in various incarnations from many people who have gobs of family money that they've used to capitalize entrepreneurial ventures. It is not unique to Kushner. It's endemic to a certain type of wealthy person, who will not or cannot acknowledge, even to themselves, that they've started the marathon we're all forced to run well rested at mile 25. It's too ego-bruising, and an acknowledgment might force introspection and realistic evaluation of one's own abilities. If you're at the top of the heap with the smart people and genuine high achievers, it's deeply flattering to state that you're there because you, too, are a smart high-achiever and not because you had access to an education you didn't work for and were raised in a way that afforded you safety and security and took care of your needs (however expansively defined). And if you're white — which, statistically speaking, most of the richest people in the United States are — you're afforded a second layer of advantages in that no one will question your competency, underestimate your pain or view you as a threat solely because of your skin color. It is easy for the Trumps, Kushner and others in the administration to delude themselves into thinking that they earned their places at the top of the pile, that much of it wasn't just handed to them.
But when they entertain these self-delusions, it negatively affects their orientation toward other people.
Trump and his crew have never been in danger of facing dire economic situations, and not only because they're fully employed. There are things that ruin people's lives financially every day that have nothing to do with work ethic — and that could never happen to a core member of the Trump administration. No one close to Trump will get thrown into jail for a couple days because they were wrongly entered into a gang database solely by virtue of living in a specific part of public housing or wearing the wrong color shirt, then lose their job because they didn't show up to work. None of them will ever have to face the possibility of medical bankruptcy while working 60 hours a week. None of them had to drop out of high school or college to care for a sick parent. None of them have to worry about not having access to abortion if birth control fails and being saddled with a child they can't afford or spending thousands of dollars in medical expenses for carrying a fetus to term and giving the baby up for adoption (which is the only available trajectory that Republicans and the Trump administration want women in this situation to have).
None of the people who face these scenarios deserve to be poor, and we have no meaningful safety net for them. Where there are assistance options, people in this administration 
worked to make them so onerous
that the most vulnerable can't meet impossible eligibility requirements.
[The game was rigged in Ivanka Trump's favor. How did her brand manage to fail?]
So when Ivanka Trump says that there should be no minimum guaranteed income because people want to work for their money, there are two possibilities: One is that her imagination and sense of empathy are so egregiously stunted that she cannot envision the large and not exactly invisible portion of the population who cannot just work their way out of poverty and genuinely need basic income as a result. The other is that she knows these people exist, and is callously indifferent to whether they live because it doesn't affect her one way or the other. She can render them abstract because she's never been personally exposed to the circumstances they face, and barring a giant reversal of her own fortunes, she'll never have to face or understand their problems.
And of course, she didn't cultivate this mentality in a vacuum. It comes directly from her father, the president, who's already demonstrated that he's willing to damage our entire democracy for personal gain because in his mind, he is the only person who truly matters. And it's reflected in other members of the administration. Ross doesn't have to worry about missing a paycheck, so he doesn't worry about other people missing theirs. White House aide Stephen Miller's ancestors are immigrants, but he's in no danger of being deported, so he's happy to pull the ladder up. Trump's close circle does not appear to state they have any obligations to other Americans who don't have their advantages and are suffering because of their policies. Those people just need to get to work.
But telling people to pull themselves up by the bootstraps — an expression that originated as a way to describe an impossible or absurd act — is not a policy prescription. It's the useless advice of someone enjoying the view from a higher altitude who's wrongly convinced themselves that they climbed there.
https://youtu.be/ybdjph15yjk
Better Things Is Back—And Pamela Adlon Is Doing Just Fine
Pamela Adlon's alter ego Sam Fox, the heroine of her semi-autobiographical FX comedy Better Things, is a woman who speaks her mind. In the show's season three premiere, which will air on Feb. 28, that candor is briefly directed at her eldest daughter Max (Mikey Madison), just after the college freshman abandons her mom in favor of some new acquaintances. "I want my big, life, This Is Usmilestone moment goodbye hug!" Sam whines, her arms outstretched. And she gets it—a long, sweet embrace that melts into a sort of slow dance, then evaporates in a mist of kisses.
The scene comes close to encompassing the range of apparently contradictory elements from which Adlon constructs the show. Better Things doesn't have a terribly innovative premise: Sam—a journeyman actor and divorced mother of three girls—struggles to maintain an often demeaning career while caring for her close but ungrateful family (including her own declining mom) and intermittently looking for romance. Yet the writing artfully mingles cynicism and sincerity, shaggy storylines, earthy humor and lofty ideas about family and fulfillment. Relationships evolve slowly; it took two full seasons for Max, a mess of teenage anxieties, to reciprocate Sam's affection. Without straying far from the quotidian, Adlon creates moments of (sometimes simultaneous) transcendence and crisis. Episodes evoke the same range of emotions as, yes, This Is Us but always feel much closer to real life than to melodrama.
C.K.'s absence is indeed palpable in season three. Those climactic scenes that set social media on fire are his specialty: He has the sole writing credit, for instance, on a striking episode from the second season in which Sam stages her own funeral, forcing her family to finally express some appreciation for her sacrifices. When they collaborated on scripts, Adlon seemed to rein in C.K.'s excesses, emphasizing small, true character beats while avoiding provocation for its own sake. In season two, when they shared writing duties but she began directing every episode, Better Things surpassed Louie, evolving into a comedy with the revelatory quality of meditation.
The third season, for which Adlon hired her first writers' room, starts out equally thoughtful but less focused. As Sam toils on an unsafe movie set and weathers the physical and emotional indignities of perimenopause, she must attend to her family's various minor maladies: Sam's mother Phyllis (Celia Imrie) sinks further into dementia. Max gets homesick. Middle child Frankie (Hannah Alligood) grows increasingly bitter about her parents' divorce, and takes out that anger on Sam. Even cuddly preteen Duke (Olivia Edwards) bristles at her mom's obsession with a school bully. Instead of escalating to an apex, the first three episodes meander. The story never accelerates.
It's an experimental season, one whose subtle shifts seem more suited to film than TV—and might be easier to appreciate on a streaming service than in 12 episodes spread out over three months. But if you watch it at the right pace, two or three half-hour installments a day, it starts to recall the radically organic storytelling of Virginia Woolf and, more recently, Argentine filmmaker Lucrecia Martel (Zama, The Headless Woman). In these artists' work, as in the new Better Things, you barely notice narratives coalescing until they're fully formed. That lends their plots an uncommon naturalism. And it certainly jibes with Adlon's recent praise for the late indie film pioneer John Cassavetes' documentary-like style. Like him, she's making choices bold enough to alienate some viewers—ones that introduce a voice strong enough to stand on its own.
https://youtu.be/OxnQn3EZrRM
Hear Todd Snider Summon 'The Ghost of Johnny Cash' in New Song
Sparse track is the latest sampling of Snider's upcoming 'Cash Cabin Sessions, Vol. 3' album
Johnny Cash would have turned 87 this week. To honor the Man in Black on his birthday, folk singer Todd Snider unveiled the new single "The Ghost of Johnny Cash" from his forthcoming album Cash Cabin Sessions, Vol. 3, which will be released March 15th via Aimless Records/Thirty Tigers.
The dark ballad was co-written by Snider and John Carter Cash, the son of Johnny Cash, who died on September 12th, 2003, and June Carter Cash, who passed away just months before her husband in May of the same year.
Snider recorded his acoustic-driven new effort at Johnny Cash's Cash Cabin Studio (now owned by John Carter) in Hendersonville, Tennessee. The album's latest release, anchored by sparse, country-blues picking, nods to a recording session at the same studio a few years earlier, when Loretta Lynn made her 2016 album Full Circle. In an interview with Garden & Gun shortly after her album's release, Lynn claimed she saw the deceased Cash walk into the studio while she was singing.
In the lyrics, Snider sings about John Carter recounting the incident and ties it to a broader reach for spiritual connection in the chorus: "When Loretta Lynn goes dancing with the ghost of Johnny Cash, Father Time take forever and make it look like less than lightning flash."
Snider will tour this spring in support of Cash Cabin Sessions, Vol. 3, which he's stated was inspired by a recurring dream about Cash. He next performs in New York City at the Gramercy Theatre on March 13th.
https://youtu.be/Vj7zwl74b3g
Iniesta reveals which Barcelona signing the club have 'done very well' to purchase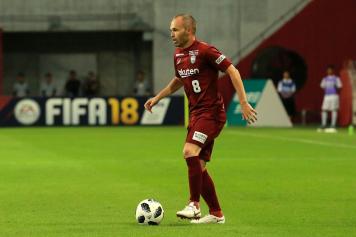 27 February at 15:00
Speaking in an interview with Goal.com, former Barcelona midfielder and current Vissel Kobe midfielder Andres Iniesta revealed more about his thoughts on his former club, as well as speaking on several other matters.
"Barcelona have a good advantage but the championship is not won in February. There are still many matches to play. Not only La Liga, the Champions League also has entered its crucial phase. Do not forget Atletico, currently the first rival of the blaugrana: it will be a good fight until the end.
"​Real Madrid? In the first part of the year they did not collect as many points as they wanted, getting fewer points than expected: this allowed Barcelona to generate the current advantage. Let's not forget that the 'Blancos' are still fighting in the Champions League and the Copa del Rey, as well as in the championship.
"The club has done very well to sign Arthur, he has a great personality and always knows what to do with the ball, but he is very young, he will need some time to get used to the team completely, I am sure he will have a great time with them.
"Dembele? He can decide a match on his own thanks to his play, he has wit, speed, determination and genius, a pity for the injury that has blocked him a bit, and in the next few years he will be very important for Barça."
"Messi? I continue to enjoy his performance, he remains an exceptional player who can make the difference, he has scored more than any other and helps the team a lot, he can do whatever he wants, as long as he wants."
https://youtu.be/ifPTpoJEhp4
Yarmuth and Massie vote against Trump emergency
The U.S. House, as expected, on Tuesday passed a Resolution of Disapproval blocking President Trump's national emergency declaration. The final vote was 245-182. And as expected, Rep. John Yarmuth, the only Democratic congressman from Kentucky, voted with the rest of the Democrats in passing the resolution.
What was not expected was that he was joined by Rep. Thomas Massie, who voted against his party and the president in supporting the resolution.
The resolution now moves to the Senate, where according to the National Emergencies Act, the Senate is required to vote on it within eighteen days. The president can still veto the resolution, but Congress can override his veto if two-thirds vote to do so.
Here is Congressman Yarmuth's statement on the passage of the Resolution of Disapproval in the House:
"President Trump may not fully understand the Constitution, but it is still his sworn duty to uphold it. Declaring a fake national emergency to fulfill a campaign promise on a border wall is not only a subversion of the will of Congress and the American people, it is also unconstitutional. I am proud to have stood with a majority of members of the House of Representatives today—Democrats and Republicans alike—in exercising and defending Congress's authority over the power of the purse."
Congressman Massie shared his thoughts via Twitter:
Thomas Massie

✔@RepThomasMassie

I support President Trump and I support the wall. In fact I voted to fund the wall for the full amount requested by @realDonaldTrump. I also called out President Obama when he tried to use his pen and phone to sidestep Congress on immigration, war, healthcare, and gun control.
In order to be consistent in preserving the constitutional structure of our Republic, I will be voting for the resolution to prevent the President from using a national emergency declaration to re-appropriate money for the wall.
622 people are talking about this
Thomas Massie

✔@RepThomasMassie

In order to be consistent in preserving the constitutional structure of our Republic, I will be voting for the resolution to prevent the President from using a national emergency declaration to re-appropriate money for the wall.
The appropriations process belongs within Congress according to the Constitution. To the extent that Congress has in the past relinquished some of that authority broadly, it has done so recklessly.
135 people are talking about this
Kentucky's other four Republican representatives voted to support President Trump's emergency declaration.
https://youtu.be/YZKGLFEu33g
Trump activist Jacob Wohl is banned from Twitter after bragging about plans to meddle with 2020 election - as it's revealed he was operating three fake accounts to peddle conspiracies
Jacob Wohl said he was going to use fake accounts to deceive voters in 2020
Planned to 'steer left-wing votes in primaries to weaker candidates than Trump'
Wohl 'was suspended for multiple violations of rules, specifically creating and operating fake accounts,' Twitter said
Wohl alleged Special Counsel Robert Mueller had sexually assaulted a woman
An infamous Trump activist and far-right online troll has been banned from
Twitter
after threatening to interfere in the 2020 presidential election.
The decision was made after Jacob Wohl bragged about how he was going to peddle his right-wing conspiracy theories during an interview with USA Today.
Wohl came under fire last October when he launched a smear campaign alleging Special Counsel Robert Mueller had sexually assaulted a woman.
The 21-year-old from Coronoa, California, revealed he planned to create 'deceptive Facebook and Twitter accounts and use those to steer the left-wing votes in the primaries to what we feel are weaker candidates compared with Trump'.
Jacob Wohl bragged about how he was going to peddle his right-wing conspiracy theories and meddle with the 2020 elections
Wohl's vicious claims against Mueller came ahead of the 2018 midterm elections.
His 'account was suspended for multiple violations of the Twitter rules, specifically creating and operating fake accounts,' Twitter told 
NBC News
.
The online troll operated @Women_4_Schultz, where he pretended to be a supporter of former Starbucks CEO and presidential hopeful Howard Schultz.
One of the most popular tweets from the now deactivated account was about Democrat candidate Kamala Harris.
It said: 'Kamala Harris does not represent American Women. Unlike Howard Schultz (who is 100% self-made) she traded sexual favors for public office.'
The sexist tweet - which received hundreds of retweets and likes - was entirely made up.
He also operated two other banned Twitter accounts - @jacobwohltreason and another where he posed as a diversity director from Minnesota.
Wohl came under fire last October when he launched a smear campaign against Special Counsel Robert Mueller, claiming he'd raped a woman
Bizarrely, he used those tweets to insult himself on his main account.
When asked about his trolling, Wohl told NBC News that he believed 'it is not illegal, unethical, or untoward for Americans to steer an American election.'
Jacob Wohl first rose to prominence at 18 as a self-described 'Wohl of Wall Street' and claimed to be the youngest hedge-fund manager in the world.
https://youtu.be/p0EVSOIWoco
The name Lanny Davis came up first before Michael Cohen's testimony even began as the president's former lawyer appeared before Congress.
Rep. Jim Jordan, the ranking Republican on the committee questioning Cohen, asked if a man named Lanny Davis orchestrated the testimony Wednesday. Davis sat just behind Cohen during the testimony, the Washington Post reported.
"They've got to find somebody somewhere to say something to remove the president from office," Jordan said in his opening remarks. "They didn't find him. Lanny Davis found him."
"So now Clinton loyalist, Clinton operative Lanny Davis has persuaded the chairman of the oversight committee to give a convicted felon a forum to tell stories and lie about the president of the United States," Jordan said.
Asked why Davis was not getting paid now for representing Cohen, Cohen said, "I guess he thinks it's important."
Cohen was the president's lawyer, and now Davis is Cohen's lawyer, Rolling Stone reported. Davis was also President Bill Clinton's special counsel, the magazine reported, and represented a Ukrainian oligarch with alleged mob connections, the magazine reported.
Politico described Davis as "as a Democratic strategist and attorney with close connections to Bill and Hillary Clinton."
Cohen has pleaded guilty to tax fraud, making false statements to a bank and campaign fraud while working for Trump, The Washington Post reported. He faces a three-year prison sentence.
Cohen said he brokered a $130,000 payment in 2016 to adult film star Stephanie Clifford, also known as Stormy Daniels, in exchange for a non-disclosure agreement about an affair Clifford said she had with Trump in 2006, The Wall Street Journal reported.
Cohen has been cooperating with special counsel Robert Mueller's investigation into allegations of campaign fraud and Russian influence in the 2016 election, according to USA Today.
Cohen began testifying before Congress on Tuesday in a closed session, CNN reported. Following his public testimony before Congress on Wednesday, he is set for another closed session on Thursday.
He's expected to accuse Trump of "racist language, lies about his wealth and possible criminal conduct," The New York Times reported.
https://youtu.be/kXXIfUq6e_Q
The incident occurred with three minutes remaining during the third quarter. Westbrook was handling the ball when the whistle blew, and a young fan sitting courtside reached out and pushed him.
Westbrook reacted calmly, pausing to speak with the young fan and his father after the incident. The adults with the boy were seen smiling after the conversation, which would suggest that Westbrook kept a decent sense of humor about the whole thing.
After the game, Westbrook spoke out, saying that "there's too much leeway for the fans to be able to touch the players and get away with it." He also revealed what he said to the young fan and his father.
"He hit me," Westbrook said, "So I told his dad, 'be careful, man, you can't have your son just hitting random people. I don't know him, he don't know me. So, just letting him know, 'You've just got to control your kids.'"

At the end of the conversation, Westbrook gave the young fan a reassuring pat on the leg. Westbrook said at first he didn't know who had touched him. He just felt contact.

"For all fans though, there's too much leeway for the fans to be able to touch the players and get away with it, and then you can't react and do the things that we need to do to protect ourselves. … But I can't do nothing. What am I going to do, hop in the stands? But there has to be some type of rule or some type of boundaries set that you can't allow that."
Here is video of him talking with press:
Westbrook is of course right, and behaved admirably when he felt contact from behind him. It was a young kid making a silly mistake, and his parents will no doubt nip that in the bud. (One would sort of have to think.)
But the NBA should be concerned about the behavior of fans that close to players, and make sure that they don't have repeats of other horrifying incidents of fans interacting with players like they have in the past.
https://youtu.be/UQQLLQHINp0
Johnny Manziel released by Montreal, banned from Canadian Football League
The Canadian Football League ended its relationship with Johnny Manziel on Wednesday, with the league saying the quarterback "contravened the agreement which made him eligible to play in the league."
Manziel, 26, was released by the Montreal Alouettes and the CFL told its teams it would not approve another contract for the embattled quarterback.
"Mr. Manziel violated a condition of his agreement with the league," Montreal General Manager Kavis Reed said Wednesday afternoon at a news conference. "He was given opportunities to rectify the situation with the league and chose not to. . . . The league and our team put a lot of infrastructure in place for Mr. Manziel to be successful."
Before Manziel signed with the Hamilton Tiger-Cats in May, he met with CFL Commissioner Randy Ambrosie, who cleared the quarterback to sign with the league in late 2017. Manziel would have to "meet a number of conditions in order to remain eligible," Ambrosie said in a statement then. "These conditions, while extensive and exacting, remain confidential."
Reed on Wednesday declined to elaborate on what conditions of that agreement Manziel had violated.
The CFL's move again leaves Manziel with an uncertain football future. The Cleveland Browns selected the former Heisman Trophy winner with the 22nd pick in the 2014 NFL draft. He started eight games in two years, but his play was inconsistent and he was often in trouble with the team for his off-field exploits. The Browns released him shortly after the end of the 2015 season.
Manziel tweeted Wednesday that his time in Canada "reestablished my love for the game of football and the work that goes into it" and that he is looking forward "to exploring new options within the United States."
Manziel spent much of 2017 negotiating with the Tiger-Cats, who held his rights. Manziel eventually signed on to play for the developmental Spring League in 2018 and then signed a two-year deal with Hamilton in May.
"I believe this is the best opportunity for me moving forward and I'm eager for what the future holds," 
he said at the time
.
He never started a game for Hamilton, and he was traded to the Alouettes in a massive July deal that included a pair of first-round draft picks. His tenure in Montreal was brief and underwhelming. In his first game for Montreal, he threw four interceptions on 11-of-20 passing for 104 yards. He finished the season completing 64 percent of his passes for 1,290 yards with five touchdowns and seven interceptions, while making eight starts.
Reed said the Alouettes would not have released Manziel if not for the league's edict.
"Mr. Manziel's performance on the field indicated he had a very strong upside," Reed said. ". . . When we made the trade for Mr. Manziel we knew the risks that went with it."
https://youtu.be/-RFUC6_sHQ0
INDIANAPOLIS — Quarterback Nick Foles, the former Super Bowl MVP who led the Philadelphia Eagles back to the playoffs this past season, will be an unrestricted free agent in mid-March, unencumbered by the franchise tag.
The Eagles announced Wednesday at the NFL Scouting Combine that they will not use their franchise player designation on Foles, making him one of the more coveted players in this year's free agent market.
"After a lot of conversation, we think letting him become a free agent is the right thing to do," said Howie Roseman, the Eagles' executive vice president of football operations. "He's a tremendous player, Super Bowl MVP, and someone we feel is a top-15 quarterback in this league. We were incredibly fortunate to have him and wish him the best of luck in the future."
Foles can sign with any team beginning March 13, when free agency opens. There had been speculation that the Eagles might use the franchise tag on Foles and then attempt to trade him. Instead, he will be able to choose his next team.
Many within the league seem to expect Foles will end up in Jacksonville as the Jaguars' replacement for Blake Bortles. The Miami Dolphins could try to sign him as an alternative to Ryan Tannehill. The Washington Redskins could consider him to take over for the injured Alex Smith, although a price tag expected to exceed $20 million per season could be too costly for them. There also has been talk of the New York Giants, Cincinnati Bengals or Oakland Raiders chasing him.
Foles took over as the Eagles' starter late in the 2017 season, after Carson Wentz suffered a season-ending knee injury in December, and led the team to a Super Bowl win over the New England Patriots. Foles got the Eagles back into the playoffs this past season with Wentz sidelined by a back injury, winning an opening-round game at Chicago before losing an NFC divisional-round game at New Orleans.
"I think the big thing is what the city means to me," Foles said after the season-ending defeat to the Saints. "It's always welcomed me and my family. It's really been a joy to live there and be a part of everything, wear the green and wear the jersey. No matter what, you can't ever take that away. We were able to do some really special things. We'll see what happens. But I'll tell you this: I've enjoyed every single moment, and it'll always have a special place in my heart — the city, the fans, the people, everything about it."
The Eagles have said they are committed to Wentz as their starter. They exercised their $20 million option for next season in Foles's contract, but Foles then exercised his $2 million buyout of that mutual option. That set up Wednesday's farewell announcement.
"We made this decision as an organization and we feel very comfortable about it," Roseman said Wednesday. "Again, [it was a] hard decision. Nick is someone that means a lot to us professionally and personally. But at the end of the day, as an organization we felt like it was the right thing to do."